During a stretch of Tottenham's match against Manchester United, Shinji Kagawa, tipped as one of the bright stars of the new campaign, was almost invisible to the naked eye.
He was on the pitch, for sure, but finding him was difficult with a looming white specter chasing him all across the ground at Old Trafford.
As Tony Mabert pointed out and what was predicted as a key matchup elsewhere came to pass for Tottenham, as Sandro played a pivotal role in stymieing Manchester United's attack.
Such has been Sandro's impact in the Premier League this term that Scott Parker, one of last term's key performers, may have a hard time cracking the starting XI once he returns to full fitness.
After what looked to be a shaky start at Newcastle, Sandro has relished being the destroyer in Andre Villas-Boas' modified 4-3-3 system.
But to limit Sandro simply by labeling him as a destroyer would be limiting the impact the Brazilian has had on the squad in various forms of attack and defense.
Thus, in order to understand why Sandro has become a key figure so early in the 2012-2013 campaign, it would behoove us to understand what the midfielder is doing during a match.
Primary Role: Destroyer
Of course, to start, it helps to explain the destroying role Sandro is tasked with.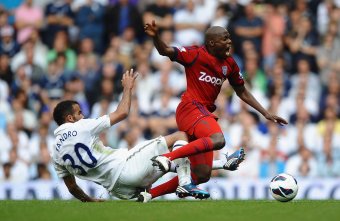 Laurence Griffiths/Getty Images
In Villas-Boas' preferred system, the deepest defender shields off the back four. That is a simple enough description.
In the first two matches, alongside Jake Livermore at the beginning, the two simply sat in front of the defense, played passes between themselves and rarely broke forward.
Since Mousa Dembele's arrival, however, Sandro has been given sole charge of the deep-lying role and has taken the chance with relish.
Knowing that Dembele is moving forward to join the attack, Sandro is required (and has done so effectively) to break up play or, at the very least, stall attacks through the middle.
Sandro, however, is also tasked with man-marking from match to match, based on the opposition's formation.
For instance, against United, Sandro took on the responsibility of tracking Kagawa in the first half while Kagawa was playing between the lines.
Sandro's ability to hold the middle of the pitch has allowed Tottenham to advance the other midfield position further forward in the attack.
This has meant that Dembele has been allowed to focus more on being a creative attacking outlet, rather than having to sit deep and cover the midfield.
Within this primary role, Sandro has been adept at tackling opponents, tallying up nearly two dozen tackles on the opposition while also picking off 16 passes through the first six matches.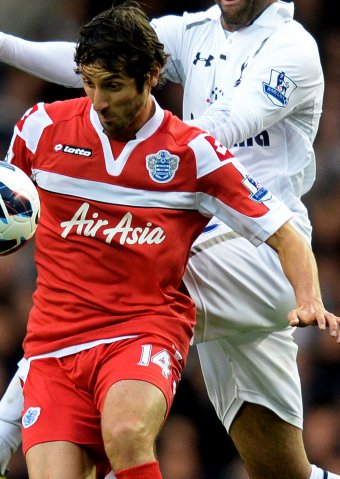 Mike Hewitt/Getty Images
The Brazilian leads Spurs in both categories, as well as in fouls. That's to be expected, though, with Sandro's aggressive style of play.
Secondary Role: Dropping into the Defense
One thing that may have gone under the radar is Sandro's already solid understanding of when to cover for the other central defenders
Anytime Jan Vertonghen, William Gallas or Steven Caulker has burst forward, Sandro has naturally drifted back into the spot that has been vacated.
This is not insignificant, as Tottenham are relying on playing a mid-level line to keep opposing attacks in check.
Having only one central defender in the area on an opposition breakaway is likely to have dire consequences, regardless of the improved speed of Spurs' back line.
With Sandro dropping in, it keeps the two-central-defender look and allows the pair to take a half of the pitch to cover.
In the second half against United, Jermain Defoe often got the chance to run again at Rio Ferdinand and Jonny Evans, but had little success.
Even if one man was beaten, the other was quick to cover and break up any move that Defoe might have been able to start.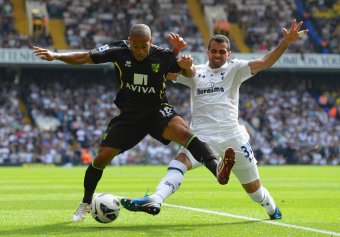 Shaun Botterill/Getty Images
Keeping two men at the back, therefore, is important against teams likely trying to break against Spurs, and having Sandro cover one of the two positions is a benefit that usually goes unnoticed.
Outlet Man
This was a correction that Villas-Boas made after the first few matches after seeing Tottenham struggle to move the ball forward from the defense.
Vertonghen and Gallas often tried to move the ball from inside to the wings but had no option to move the ball forward.
Since Livermore and Sandro effectively were doing the same thing—passing the ball sideways—it created a natural cul-de-sac in Tottenham's attack.
While Dembele has been a creative force for Spurs, there was still some difficulty in moving the ball from the defense into the attack.
Dropping Sandro in between Vertonghen, Gallas and Caulker has eased this problem.
The defenders now have a forward outlet to move the ball to and, while the ball may return to either of the defenders, the opposition will have been moved around, creating new passing lanes.
While most of his own passes have been short passes between Livermore, Vertonghen, Gallas, Caulker or Dembele, Sandro is passing at a swell 86 percent from nearly over 250 passes.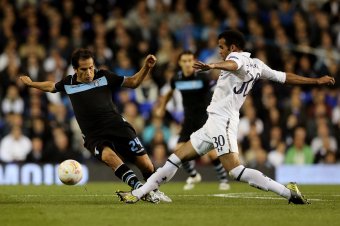 Scott Heavey/Getty Images
Keeping the ball moving is a major part of Tottenham's offense, and Sandro is assisting very well in this key concept.
Driving Through Defenses
Perhaps the most obvious of Sandro's extra roles is when the Brazilian goes marauding forward with the ball at his feet.
During Harry Redknapp's tenure, Sandro was heavily discouraged from joining the attack for any reason.
This was best summed up when Sandro scored a screamer against Chelsea at Stamford Bridge in April of 2011.
Instead of celebrating the goal, Redknapp grilled the Brazilian for leaving his post. That more than likely left a sour taste in the mouth of many.
Villas-Boas has no such qualms with Sandro bursting forward.
The midfielder is given license to roam when he sees an opportunity to do so and, as the relationship between Sandro and Dembele is sound, Dembele knows when to stay back and let the Brazilian take the fore.
This understanding has given Tottenham an added layer to their attack at times, especially if other clubs are trying to man-mark someone such as Dembele out of the match.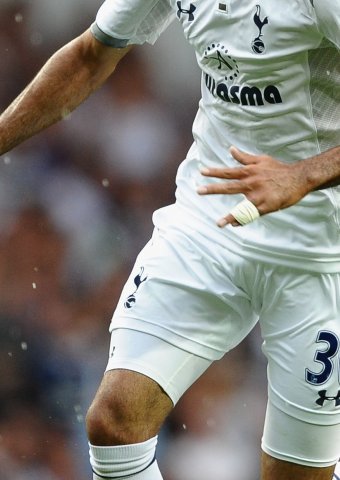 Laurence Griffiths/Getty Images
Even if one ignored all the stats and simply watched the club play, Sandro is currently passing the eyeball test.
The little things matter when a club starts to pick up a head of steam, and with a player like the Brazilian mopping up and freeing up others, Spurs are likely to continue their winning ways.
Against Aston Villa this Sunday, Tottenham are likely going to have to break down a Villain defense that will be looking to escape with a point from the Lane.
What little attacking impetus the visitors bring will likely be nullified between the central defenders and Sandro, while having the Brazilian available to drive the attack may be necessary against a squad that will likely pack in deep and hold out for as long as possible.