Georgia Football: 10 Things We Learned from the Bulldogs Loss vs. S. Carolina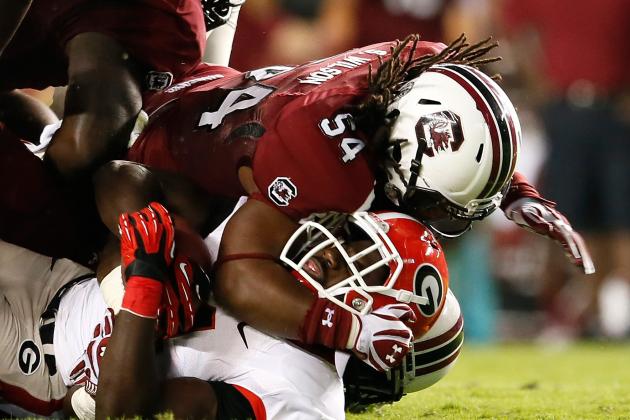 Kevin C. Cox/Getty Images

The Bulldogs lost to South Carolina 35-7 and did not look good doing it.
The offense was nonexistent, the defense could not make any impact plays and the special teams did not help the Bulldogs get anything going on offense or defense.
This is a game where the Bulldogs will have to take a long, hard look at themselves because there is nothing good to take out of this game. They have to watch the tape of this game, learn from their mistakes and move on.
Here are 10 things we learned about the Bulldogs' loss against the Gamecocks.
Begin Slideshow

»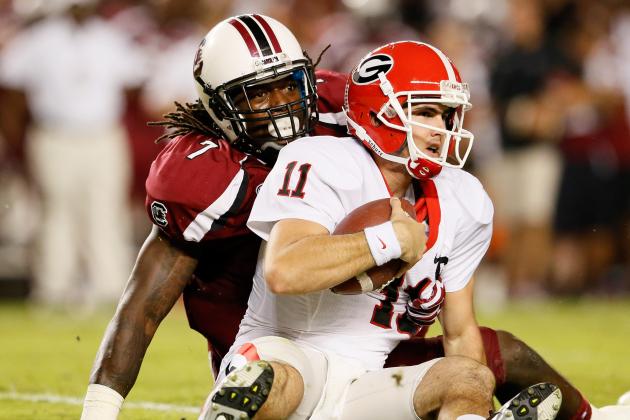 Kevin C. Cox/Getty Images

In order for the Bulldogs to win, they needed a big night from Aaron Murray.
That did not happen as he went 11-of-31 with 109 yards, zero touchdowns and one interception.
Murray never got into a rhythm, he was overthrowing receivers and he was constantly pressured by the South Carolina defensive line.
Murray is a lot better than what he showed, but with another loss against a ranked opponent, he has to change his approach to a game like this in order to come away with a win.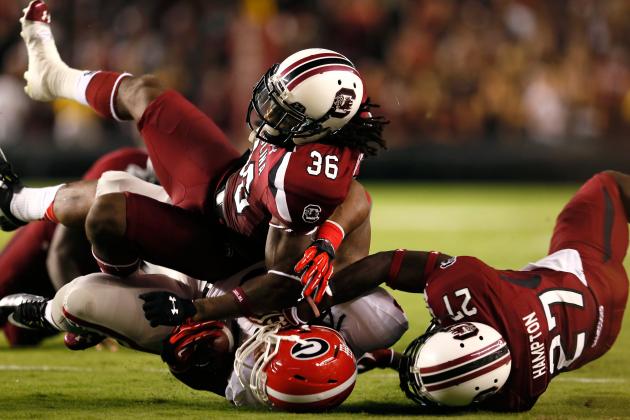 Kevin C. Cox/Getty Images

It was also not a good night for Keith Marshall and Todd Gurley as they had a combined 76 rushing yards.
It would look as if they would get something going, but the South Carolina defensive line would shut them down in a hurry.
This was a good test for Marshall and Gurley because it shows them what adjustments they need to make against a defense like the Gamecocks.
Something tells me they will learn from this game and have a strong performance the next time they step on the field.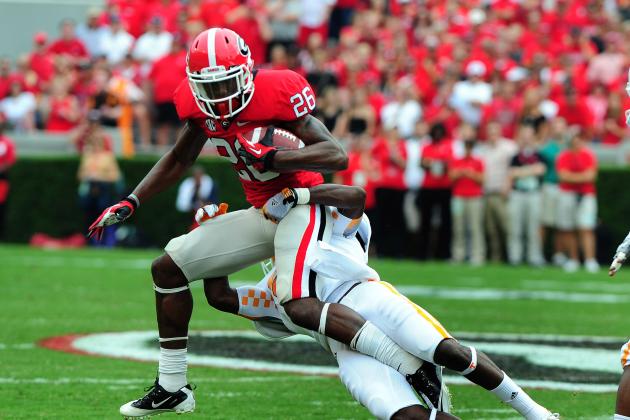 Scott Cunningham/Getty Images

It seemed like Malcolm Mitchell disappeared when the team needed him the most.
He did lead the Bulldogs with 52 receiving yards on three receptions but did not have a reception in the second half.
The Bulldogs should have found more ways to get him the football because he's, by far, the team's best playmaker. He could have made a difference.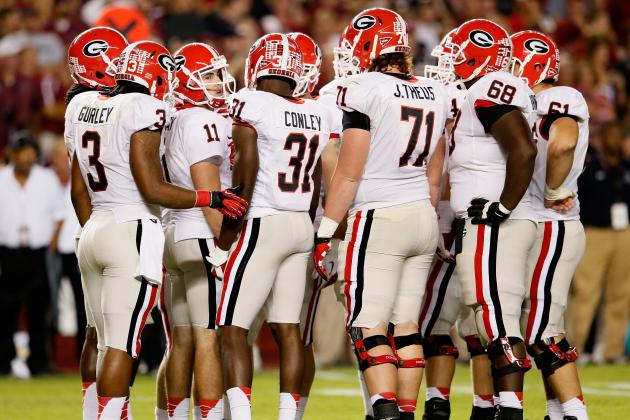 Kevin C. Cox/Getty Images

The offense would have performed better if the offensive line was able to have a better night.
It was just an awful performance by the Bulldogs' offensive line, and it has to get better moving forward.
It had no answer for that defensive line, which led to the running game underachieving and Murray not having a great game.
This was a question mark coming into the year, now it's a huge question mark as the Bulldogs move forward.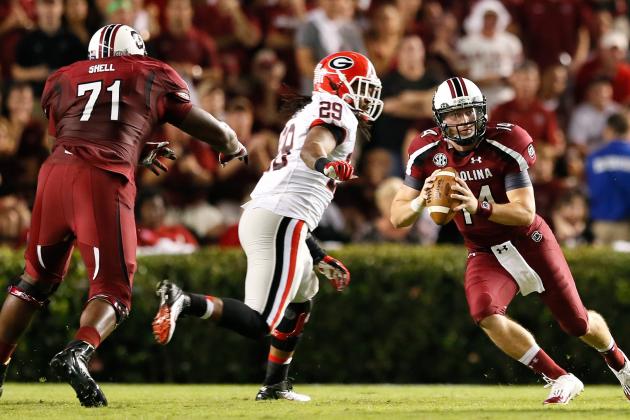 Kevin C. Cox/Getty Images

Jarvis Jones could be the best player in all of college football. However, he did not play like that in the loss to the Gamecocks.
He was in on a few tackles and did have a sack, but he did lose containment on Shaw a few times which led to some big plays, including the Gamecocks' final score in the fourth quarter.
Jones is a lot better than what he showed the last two games, and like Marshall and Gurley, he will come out swinging when the Bulldogs play again in two weeks.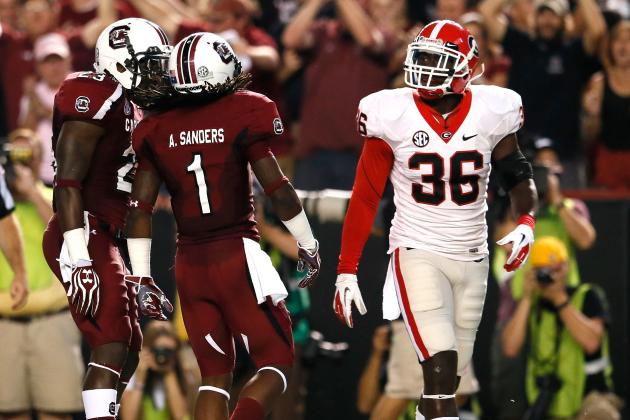 Kevin C. Cox/Getty Images

Shawn Williams is normally consistent at the safety position, but he struggled quite a lot against South Carolina.
He got burned on a few pass plays, including the touchdown pass to make the game 28-0.
Williams is good against the run, but he's having a lot of issues in pass coverage this season.
If he keeps this up, there could be a change at the strong safety position.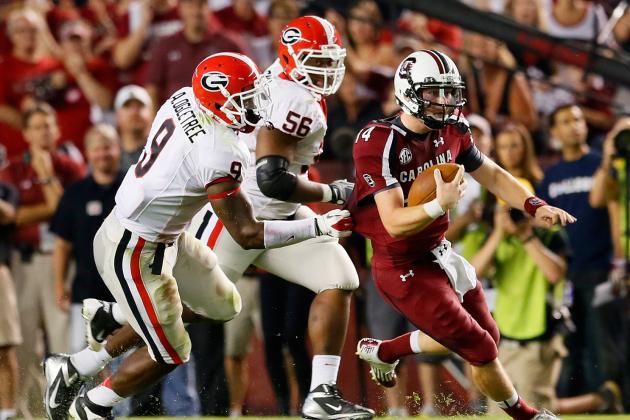 Kevin C. Cox/Getty Images

It's something that has to be asked because it seems as if the unit has taken a step back from last year.
They have talented players, but one has to wonder if they would be more effective if they played more 4-3. The Bulldogs have struggled to stop the run, and the reason for that is they're only three down linemen, and they have to take on five blockers, which makes it hard for the linebacker to make plays consistently.
The Bulldogs will likely improve on defense, but I think, based on the player they have, they would be more suited to mix in some 4-3 to go along with the 3-4.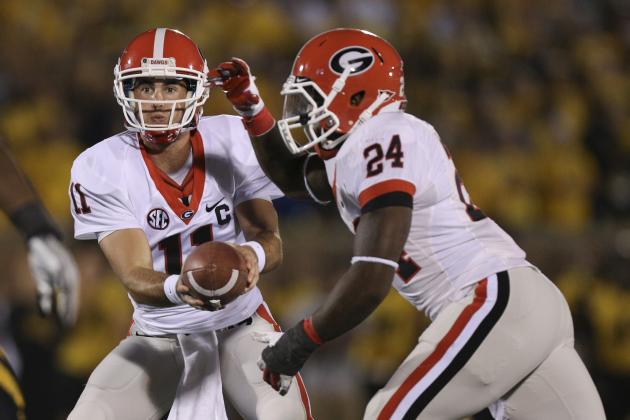 Ed Zurga/Getty Images

Ken Malcome only played five minutes, and he was the team's best offensive player.
He scored the Bulldogs' lone touchdown late in the game and was the only player who had some intensity.
Five carries for 45 yards was his final numbers, which means he wants to be in the mix with the freshmen running backs.
Expect Malcome to see more carries in the second half of the season.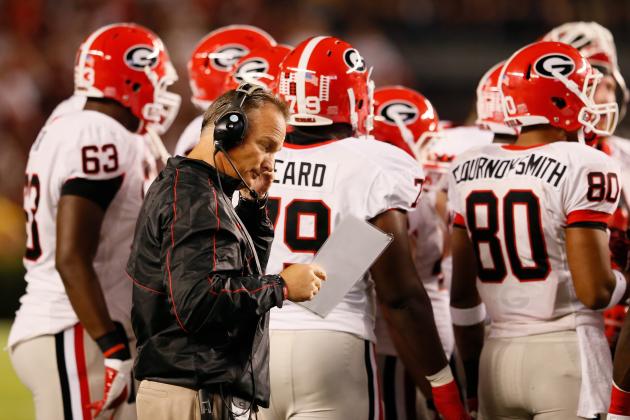 Kevin C. Cox/Getty Images

The South Carolina fans were chanting "overrated" during the fourth quarter talking about the Bulldogs.
But, are they really overrated?
Yes, they had a bad performance and got outplayed and outcoached by the Gamecocks. But this always happens in college football where a team in a big game comes out flat and can't do anything right.
The Bulldogs aren't overrated; they are just a young team that has to get back to basics.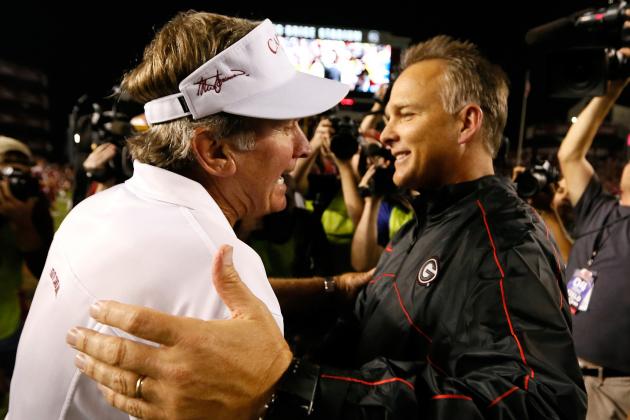 Kevin C. Cox/Getty Images

As bad as this feels for Georgia fans, the season is not over by a long shot.
There are six games left, and I know the Bulldogs want win out, which is not out of the question. Florida will be a challenge but Kentucky, Ole Miss, Auburn, Georgia Southern and Georgia Tech should be wins for the Bulldogs if they put in the time, effort and energy during the week.
If that happens, the Bulldogs will finish with an 11-1 record, which will give them a shot at the SEC title game, depending on what Florida and South Carolina do the rest of the way.