San Franciso Giants vs. Cincinnati Reds: 5 Biggest Matchups in Game 2 of NLDS
Denis Poroy/Getty Images

The San Francisco Giants and Cincinnati Reds will battle it out once again for the National League Division Series this October evening as the sun sets at 6:30 p.m. PT at AT&T Park.
With the first contest going to the Reds, Game 2 is set for open skies with a predicted game-time temperature of 57 degrees with winds of 10 miles per hour blowing in from right field off the bay.
Here's a preview of the anticipated game's most important matchups.
Begin Slideshow

»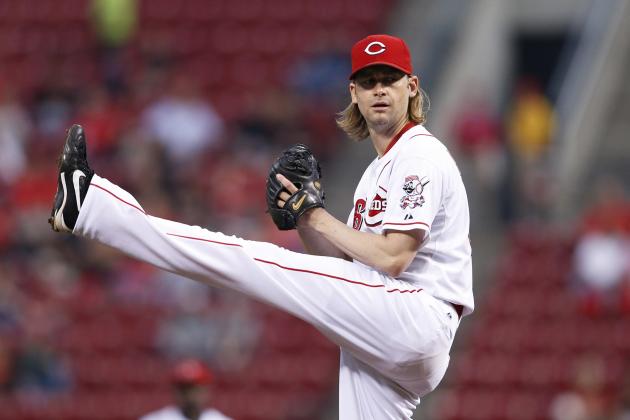 Joe Robbins/Getty Images

It's common to create the "youth vs. experience" debate when comparing a young and veteran player, but this doesn't apply when comparing tonight's Game 2 starters: Madison Bumgarner (SF) and Bronson Arroyo (CIN).
Bumgarner is only 23 years old, but there is a reason he is the No. 2 starter for the Giants. He may be young in relative terms, but he has playoff experience under his belt and World Series experience at that, as he was a member of the Giants' championship team in 2010.
Not only was the southpaw a member of the World Series team, but he pitched phenomenally as a then- 21-year-old starter, and won two games while only surrendering a mere five runs in 20 innings pitched.
Arroyo has a World Series title as well, which he garnered on the Boston Red Sox magical curse-reversing run in 2004, but unlike Bumgarner, he was merely a member and not a contributor on his World Series team.
His poor pitching in the 2004 playoffs led the Sox to send him to the bullpen, where he did slightly better but still couldn't lower his eventual 7.82 postseason earned run average that year.
Nevertheless, when Arroyo is on he's on, and can't be underestimated for that reason. However, on paper, this matchup goes to Bumgarner.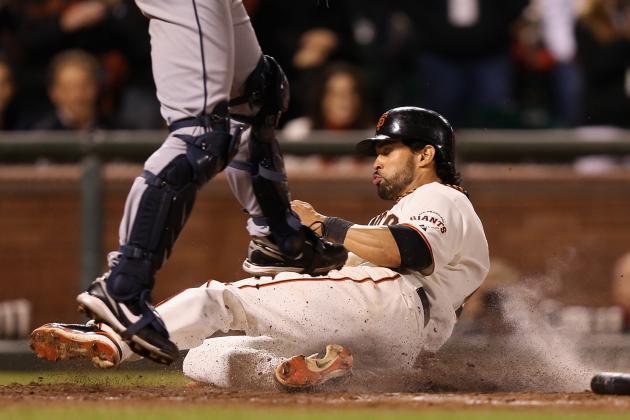 Ezra Shaw/Getty Images

Each team plays at a different pace, and the Giants like to do it fast. Moving runners over, extending doubles into triples—it's all part of how they score runs, and it works.
The Reds have a different approach, and mainly rely on power as their source of runs with Jay Bruce, Joey Votto, Brandon Phillips and company belting 172 homers this season (the Giants hit 103, by comparison).
The Giants have their fair share of guys that can knock the cover off the ball, including Buster Posey and Pablo Sandoval, but their impressive 57 triples this season (the Reds had 30) and 118 stolen bases (Reds: 87) will play to their advantage in Game 2.
Every run counts in the playoffs, and unlike the regular season, players will be hustling down the line on every ball they hit.
More importantly, managers Dusty Baker and Bruce Bochy will be bunting and putting players in motion on the base paths, and the Giants have a big advantage in their overall ability to efficiently execute runs.
The Reds were shut out the last time they faced starting pitcher Madison Bumgarner, and it would be a surprise to see that happen once again. Therefore, their power advantage shouldn't play a role in Game 2.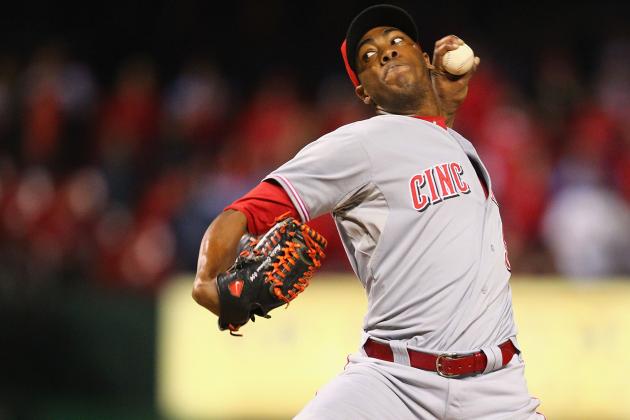 Dilip Vishwanat/Getty Images

Unlike the Giants' 2010 World Series run, they don't have closer Brian Wilson to depend on in tight late-game situations. After losing Wilson to injury this season, the Giants have struggled to find a steady closer, and have settled on Sergio Romo, who has been decent but not overly impressive.
The Reds are in a different boat. Flamethrower Aroldis Chapman, who has reached speeds of 105 mph and can consistently hurl at over 100, has been all the hype as the Reds closer this season.
However, despite his success this season, Chapman is young and doesn't have any playoff experience. The experience that he's had has been negative so far (he blew a save in the 2010 playoffs), and he may not be able to shake it off this time around.
Romo was part of the 2010 team that won the World Series, but he has also had a personally negative experience in the playoffs, as he blew two saves and allowed three runs in 3.2 innings pitched. His World Series ring may be a confidence booster, but certainly not on a personal level.
The advantage leans slightly in Romo's favor, but because of his previous poor performance in the playoffs, Game 2 is up for grabs if it comes down to a closers' duel.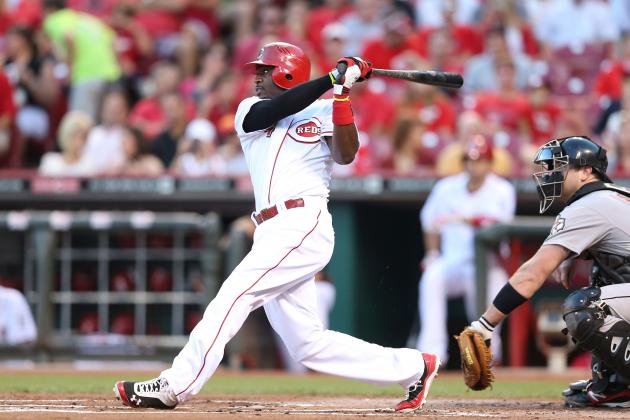 Andy Lyons/Getty Images

Leadoff hitters play an even bigger role in the playoffs, as the first at-bat of the game can set the tone for the entire game.
If Madison Bumgarner strikes out Brandon Phillips in his first at-bat, the crowd will roar; if he hits a home run, there's a drastic shift in momentum from the onset.
Comparing the two leadoff hitters in the month of September reveals that Phillips (.198 BA .252 OBP) is lagging behind Pagan (.271 BA .310 OBP), but it's worth nothing that Phillips leads (.286 BA .318 OBP) Pagan (.277 BA .312 OBP) in hitting when leading off an inning.
In addition, Pagan wasn't around with the Giants for their 2010 World Series and has never been to the postseason, whereas Phillips fared well in his first postseason in 2010.
While it's not drastic, the advantage goes to Phillips.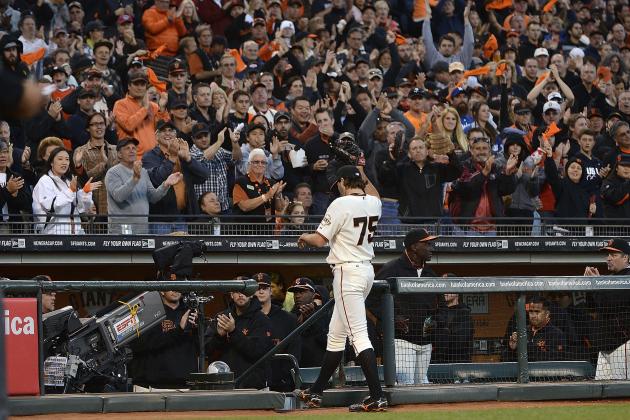 Thearon W. Henderson/Getty Images

It seems rudimentary to mention, but it's worth reiterating that home field advantage plays a huge role in the playoffs, and Game 2 will be no exception.
Nevertheless, the Reds were the second-best team in all of baseball on the road this season and had the lowest earned run average (3.18) in the MLB.
To counter that, the Giants were the third-best in the NL this season in earned run average (3.09) at home.
There are plenty of numbers that could sway Game 2's odds either way, but if the game comes down to the last few innings, the crowd will become a big factor and should help nudge the Giants if they need it.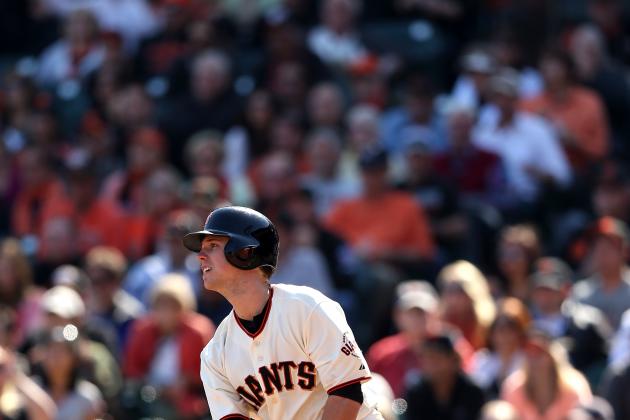 Ezra Shaw/Getty Images

SF: Buster Posey, Marco Scutaro, Pablo Sandoval
Posey has been an enormous offensive threat for opposing pitching, Scutaro was on a tear in September, and Sandoval can be streaky but is dangerous when on.
CIN: Joey Votto, Ryan Ludwick, Brandon Phillips
Votto has been stroking the ball well lately despite struggles with injury this season, Ludwick fizzled out towards the end of the season but still managed to post above-average stats, and Phillips was cold in September and has been struggling with injury lately.
Summarizing the previous analysis, it's clear that the Giants have an edge in Game 2 with Bumgarner on the mound and with San Francisco cheering them on in AT&T Park.
Score Prediction: Giants 7-2 Reds