Georgia vs. South Carolina: Final Report Cards, Player Grades for Bulldogs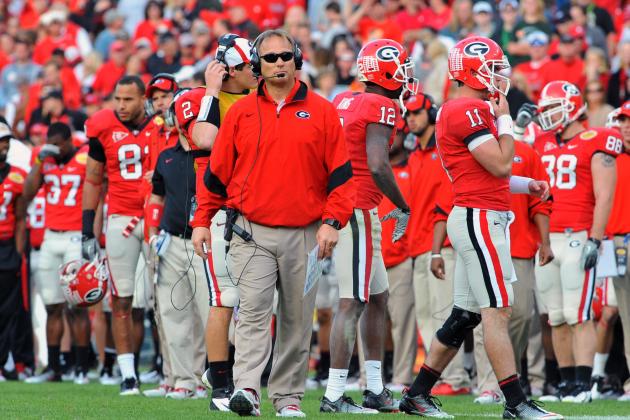 Al Messerschmidt/Getty Images
Mark Richt and the Georgia Bulldogs will try and improve to 6-0 with a win over South Carolina.
The No. 5 Georgia Bulldogs traveled to the Palmetto State for a matchup with No. 6 South Carolina with dreams of gaining a leg up in the race for the SEC's Eastern Division.
After falling behind 21-0 in the first quarter, the Bulldogs nightmare start turned into an embarrassing 35-7 beatdown at the hands of the Gamecocks.
How did Georgia's individual units fare in their stunning loss?
Find out in this final report card for the Bulldogs loss to the Gamecocks.
Begin Slideshow

»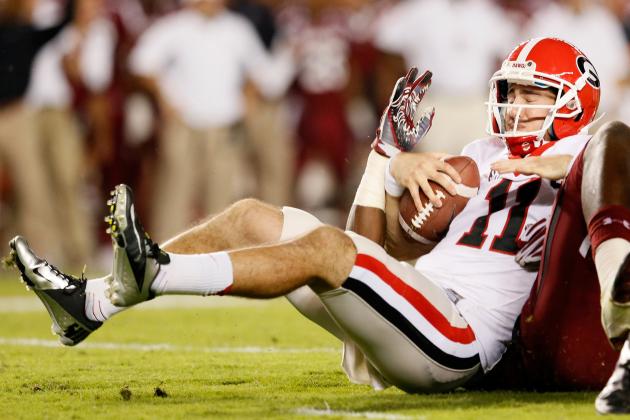 Kevin C. Cox/Getty Images

Georgia's offense entered the game against South Carolina leading the SEC in total offense averaging 536 yards per game, and Murray was viewed as one of the league's best field generals.
The junior simply picked the worst night to turn in a performance that probably went beyond his most vivid nightmares.
His first pass-attempt was deflected and picked off, which foreshadowed how his evening would end up.
Murray finished 11-of-31 for 109 passing yards and an interception.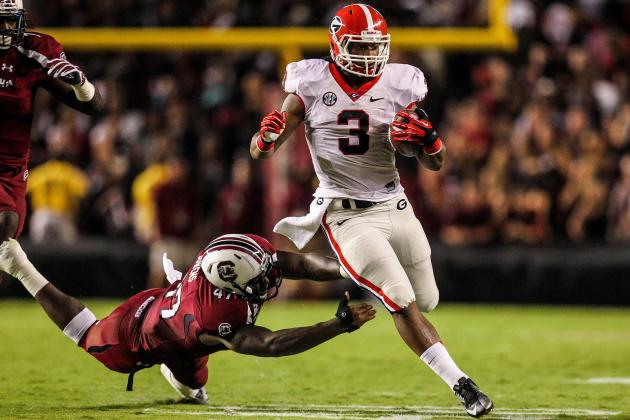 Daniel Shirey-US PRESSWIRE

The stud combination of true freshman tailbacks Todd Gurley and Keith Marshall was unable to find much room to run against a stout Gamecocks defensive line.
In fairness to them, the running game was rendered moot when the Bulldogs fell into a 21-0 hole.
One of the few bright spots on the night ended up being backup tailback Ken Malcome—who had five carries for 45 yards and a touchdown in mop up duty late in the fourth quarter.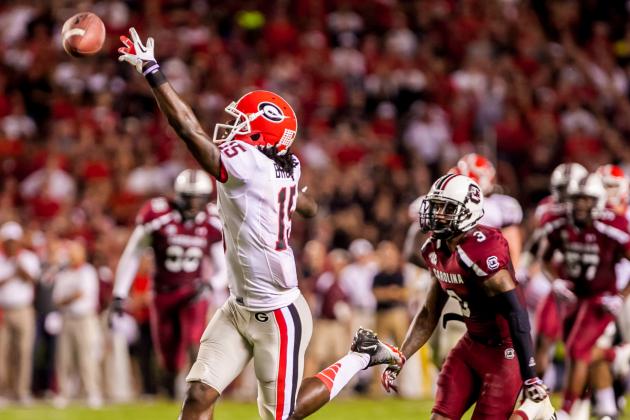 Jeff Blake-US PRESSWIRE

If the Bulldogs first game without injured leading receiver Michael Bennett is any indication, the offense may be in trouble unless someone steps up and becomes a go-to target for Murray.
On the rare occasion he did have time to throw, Murray was unable to find anyone.
Some of that was due to the quarterback misfiring, but his group of receivers struggled for the most part in winning their individual battles against the Gamecocks secondary.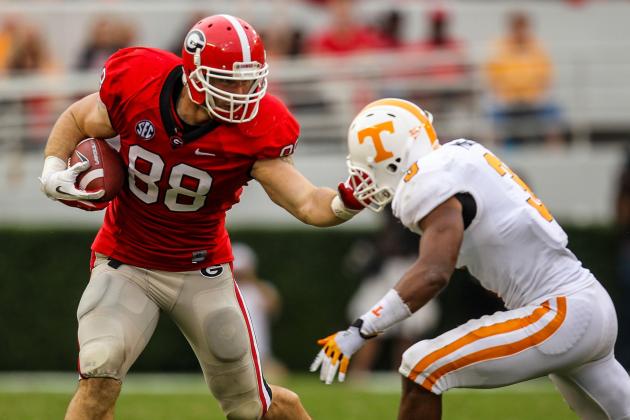 Daniel Shirey-US PRESSWIRE

Arthur Lynch and the rest of the tight end segment failed to record a catch in the loss to South Carolina.
With the running game struggling, they were unable to set the edge or be effective as blockers.
The sample size for this unit is admittedly small, but considering that the offense could not find any rhythm running or throwing, their play was a microcosm of the offense as a whole.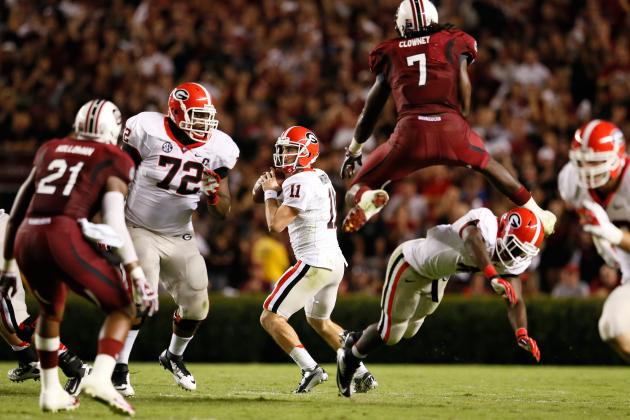 Kevin C. Cox/Getty Images

In another matchup that figured to be prominent in determining the winner of this showdown, Georgia's offensive line got manhandled by South Carolina's front four at the point of attack.
The running backs had no room to run and Murray was harassed by the likes of Devin Taylor and Jadeveon Clowney.
With their youth in the trenches, the best case for the Bulldogs is that this game will be a learning experience for them moving forward.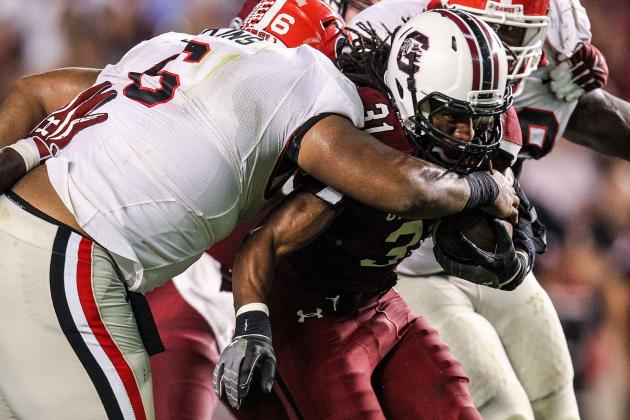 Daniel Shirey-US PRESSWIRE

The Bulldogs once again struggled to slow down Gamecocks star running back Marcus Lattimore.
When Connor Shaw did drop back to throw, he either had time to find an open man or was able elude pressure and hurt the defense with his legs.
Lattimore rushed for 109 yards and a touchdown and Shaw added 78 yards and another score, which signaled the Gamecocks ability to control the line of scrimmage and move the ball on the ground at will.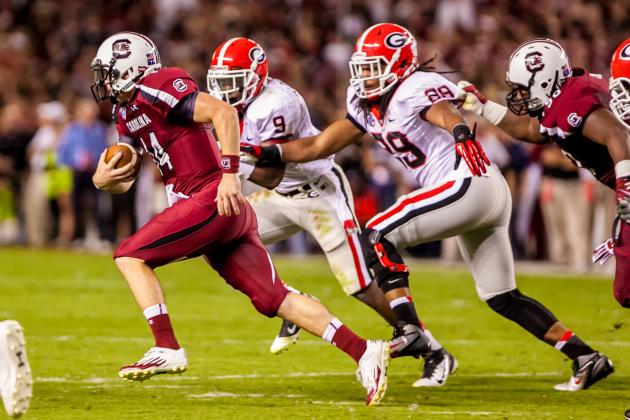 Jeff Blake-US PRESSWIRE

All-American linebacker Jarvis Jones was effectively held in check, and the rest of the his teammates in his segment failed to back him up.
Whether it was trying to tackle Lattimore or Shaw, or being isolated in coverage, the Bulldogs linebackers were unable to make plays that its segment is supposed to be responsible for in Todd Grantham's 3-4 scheme.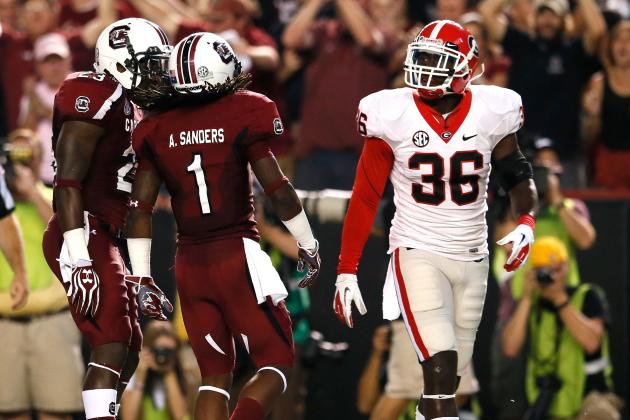 Kevin C. Cox/Getty Images

Bacarri Rambo was in position to pick off a long pass attempt from Shaw to Damiere Byrd in the first quarter on South Carolina's opening possession.
What looked like a sure interception turned into a huge pass play as Byrd wrestled the ball away, and sent the crowd at Williams-Brice Stadium into a frenzy that lasted all night.
While that was simply one play, it embodied the aggression of South Carolina and the lack of intensity from the Bulldogs.
The Gamecocks wideouts were able to consistently get the better of Georgia's secondary, and that helped Shaw burn them with big plays in the game's most crucial moments.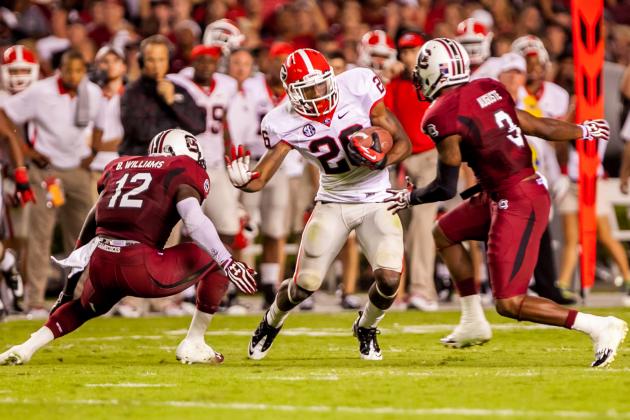 Jeff Blake-US PRESSWIRE

Ace Sanders broke the game open with a nifty 70-yard punt return for a touchdown that put the Gamecocks up three scores less than 10 minutes into the game.
The Bulldogs did get a small boost from a first-quarter kickoff return by Malcolm Mitchell and a blocked field goal attempt late in the third quarter, but both plays paled in comparison to the return they gave up to Sanders.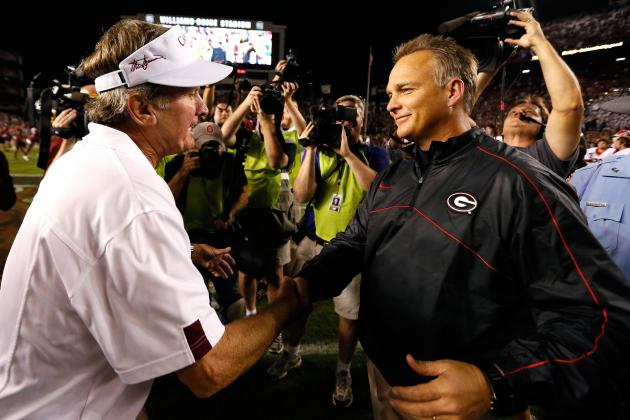 Kevin C. Cox/Getty Images

Mark Richt's club came out flat and was simply not ready to match the intensity that South Carolina came out with.
The Bulldogs lack of discipline reared its ugly head, with penalties and mental lapses contributing to their demise and a third consecutive loss to Steve Spurrier's club.
Mike Bobo's offense was stuck in neutral while Todd Grantham's defense was on its heels and down by three scores before they were able to gain their composure and try to fight back.
The loss stings, but the experience of rebounding from last season's loss to South Carolina can only help a team surely reeling from a shameful setback at the hands of a rival.
Richt can only hope to calm a restless fanbase by finishing the rest of the season on a strong note.