LSU vs. Florida: Postgame Grades from the Gators' Win vs. the Tigers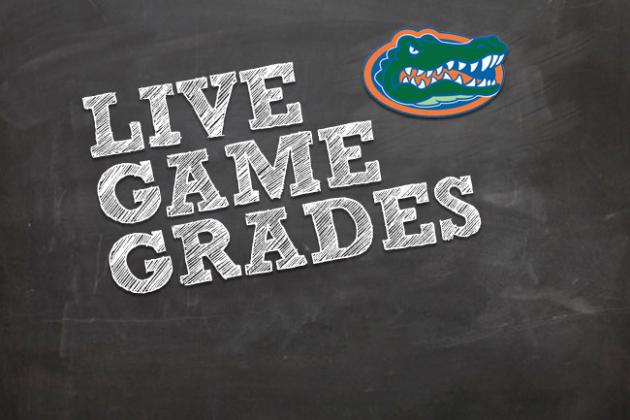 The Florida Gators shocked many people by dethroning the LSU Tigers in Week 6. Let's not bicker and argue over who didn't respect whom, let's all just revel in the fact that Florida has been legitimized to a point.
Just a word of caution to Florida fans: you will hear a lot of talk about how LSU isn't what it was last year. Don't let that get to you. LSU had issues starting with Tyrann Mathieu's dismissal.
If the gurus didn't want to acknowledge that before tonight, it's a cop-out to acknowledge it now. Florida defeated a team that stood in the top five from the preseason until now.
Florida has a long row to hoe to make it to the SEC title game, but one of the toughest defenses in the nation just walked away from The Swamp with a loss.
Let's take a look at the 10 components of Florida's team and pass out grades for each unit, shall we?
*Statistics from ESPN.com
Begin Slideshow

»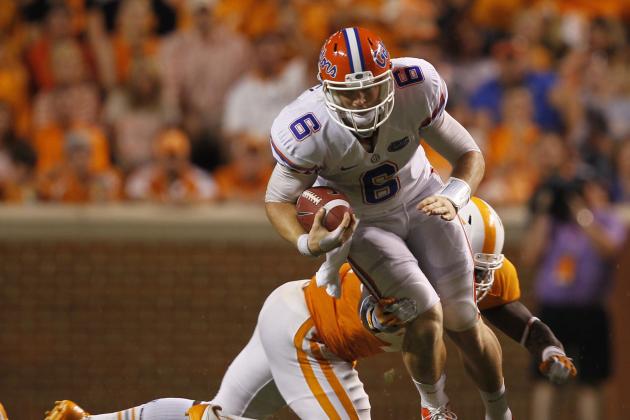 John Sommers II/Getty Images

Overall Quarterback Grade: A-
Jeff Driskel threw for a statistically unimpressive 8/12 for 61 yards. His grade was much more impressive, but he does have lots of room for improvement.
Driskel did a great job of developing in this game, as he has throughout the season. He had his down moments in the opening half, as jitters got to him and caused him to overthrow a lot of passes early on.
After the first half, though, he did what he needed to do. He passed the ball, he handed it off and he ran it himself to gouge LSU's vaunted defense for two touchdowns.
Two touchdowns may not seem like much, but in the SEC it can be all you need to prove dominance over the opponent. Just ask Alabama, the Tide would have killed for two touchdowns against the Tigers in 2011. (In either match.)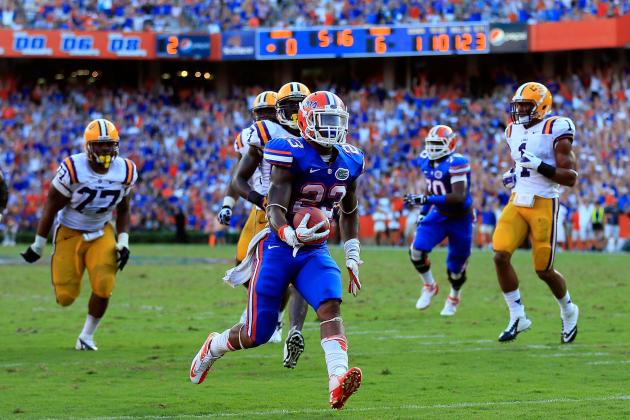 Sam Greenwood/Getty Images

Overall Grade: A
Mike Gillislee led the Florida rushing attack with 146 yards on 34 carries. He hit the end zone twice to account for all of Florida's paydays. Florida's rushing attack dominated LSU's defense. While everyone across the country knew what was going to happen, Gillislee still ran over, around, under and through LSU's vaunted defense.
Florida's offense can eat clock, gain yards and find the end zone. What more do you need from a corps of tailbacks? Absolutely nothin'.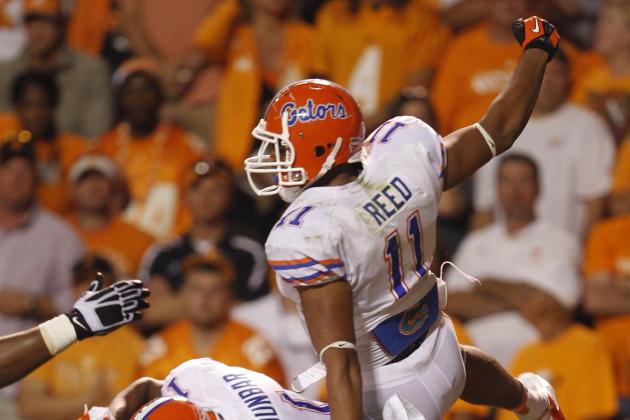 John Sommers II/Getty Images

Overall Grade: A
While the receivers didn't put up gaudy Pac-12-like numbers, they were more than solid. Two of the passes missed were uncatchable, and were the result of Driskel's nerves. Other than that, the receivers, when called upon, had dependable hands and were good at blocking to open space for the rest of the offense.
Overall, they were all over the field and open. It was really a matter of play-calling that kept them from being more productive. The receivers will get their turn soon enough, though.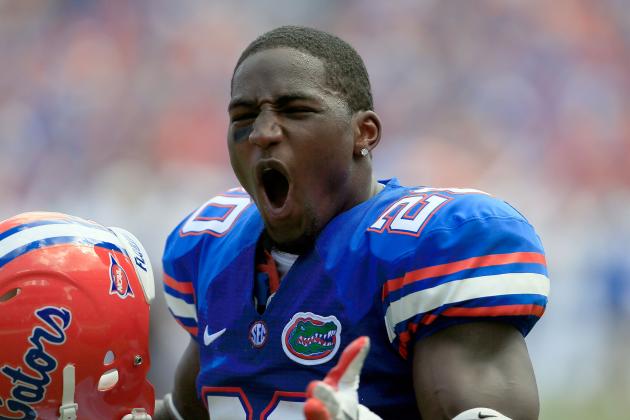 Sam Greenwood/Getty Images

Overall Grade: A-
Again, Gillislee ran all over the Tigers and the tight ends were a valid part of that success. When not catching passes for first downs (Omarius Hines), the ends were helping the rushing attack make LSU look like Kentucky.
They will need to step up more through the rest of the season, though, as Georgia and South Carolina will not struggle as much as LSU did on offense.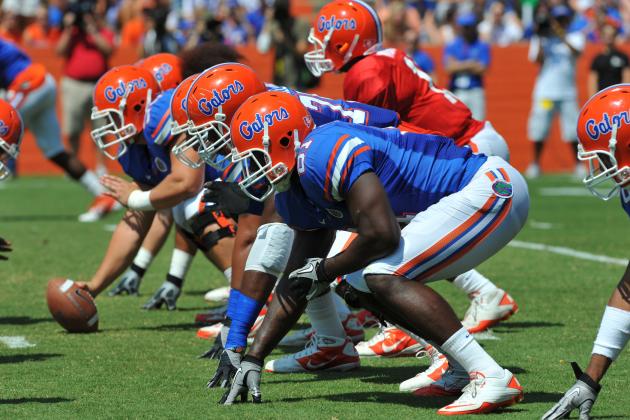 Al Messerschmidt/Getty Images

Overall Grade: C-
While the offensive line stepped up and performed quite well in the second half, the first half was atrocious. The first half saw Florida get zero points and only one trip to the red zone.
The tailbacks had nowhere to go, and Driskel had nowhere to throw because he was on his back before the receivers could get off the line of scrimmage.
This is the biggest area of concern for the Florida Gators at the moment, and must be addressed before taking on South Carolina, Georgia and possibly the SEC West champion in Atlanta. (I know, it's a long shot, but it sure seems a lot more possible after taking down LSU, doesn't it?)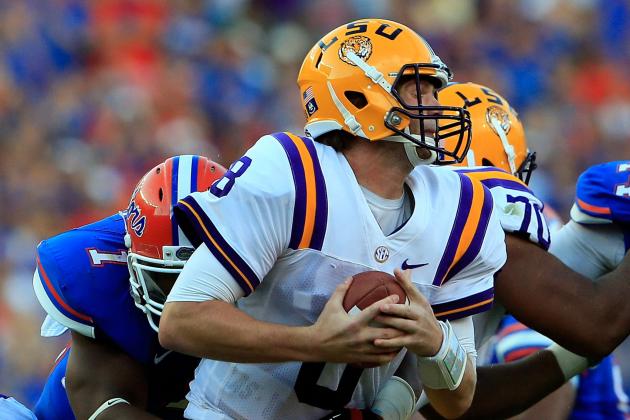 Sam Greenwood/Getty Images

Overall Grade: A
The defensive line absolutely owned the line of scrimmage. Yes, there were a few instance when LSU got some yards, but not nearly enough to take these guys down from an "A."
The line needs to avoid complacency in the future, but if they play how they did against LSU, they will allow the offense to step up and beat almost anyone in the country.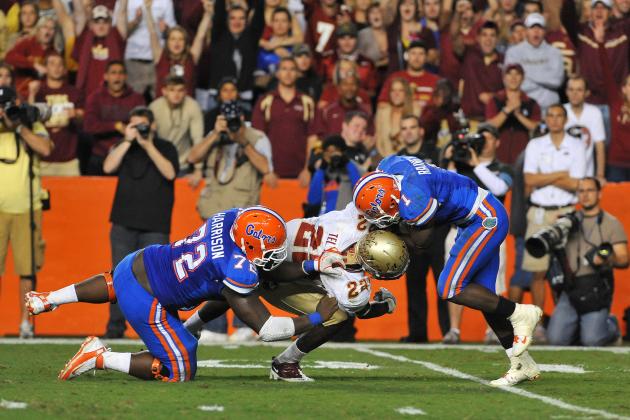 Al Messerschmidt/Getty Images

Overall Grade: A
Florida's entire defense showed very little weakness against LSU. From pass rushing to screen coverage, the Florida linebackers were all over LSU. The linebackers were able to do what they did because of the defensive line's play.
Every time you turned around, Brad Wing was out on the field showing off his LSU leg. Florida's linebackers get a solid grade for their contribution to LSU's demise.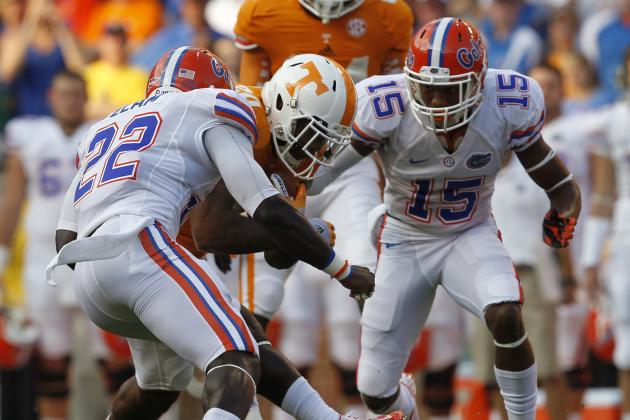 John Sommers II/Getty Images

Overall Grade: A
While Zack Mettenberger isn't exactly Andrew Luck, Florida's secondary absolutely refused to let him try. Mett completedd one gigantic pass that could have sparked an LSU comeback. However, Matt Elam ran Beckham Jr. down, stripped the ball and Florida took possession of the football.
It reminded longtime SEC fans of George Teague's "Strip" against the Hurricanes back in January of 1993. Florida's secondary looked good against LSU. Granted, LSU isn't exactly the best offense in the SEC, but they're still good.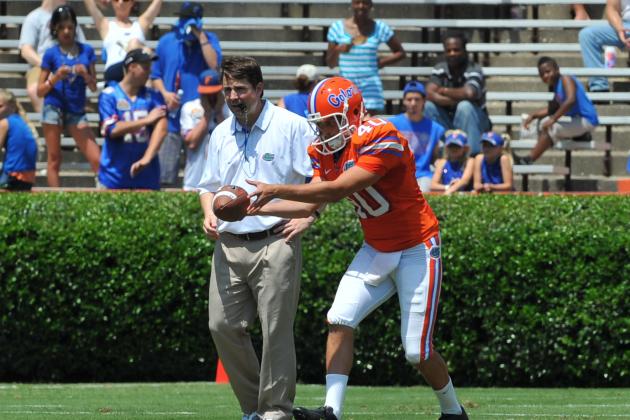 Al Messerschmidt/Getty Images

Overall Grade: A+
Florida's special teams unit was impressive in Week 6. Let's start with the fact that Florida was all over LSU almost every time they fielded a kick. In fact, the Tigers averaged a "huge" 5.5 yards per return against Florida's punting team.
From there, it only got better. Kyle Christy made Brad Wing look average. They both punted seven times, but Christy out-kicked Wing by a total of 25 yards. Christy didn't get a couple of lucky kicks, he outperformed one of the nation's best punters consistently.
The only hiccup in his punting game was a ball that took a horrible bounce through the end zone. One touchback, three punts inside the 20 and LSU averaging 5.5 yards when returning the other four punts. If that unit shows up for every game, Florida will win every field-position battle for the rest of 2012.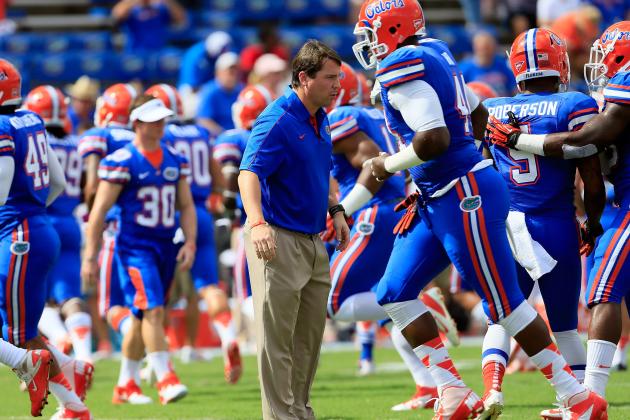 Sam Greenwood/Getty Images

Overall Grade: A+
The first half contained a little experimentation. The coaches tried some slow-developing plays, and LSU owned Florida's offense on those few plays. In response, the coaches abandoned that part of the plan and went with quicker plays.
At halftime, the coaches said something to the players that simply flipped a switch in the Gators' offensive mind. The Florida that came out of the locker room was dominant, unstoppable and championship-caliber. With adjustments like that, who needs a solid game plan?
Of course, I jest. If Florida can build on what just happened against LSU, there are two games on the schedule that could be the site of ESPN's GameDay: South Carolina or Georgia (depending on who wins tonight) and Florida State.