Cincinnati Reds vs. San Francisco Giants: 5 Biggest Matchups in Game 1 of NLDS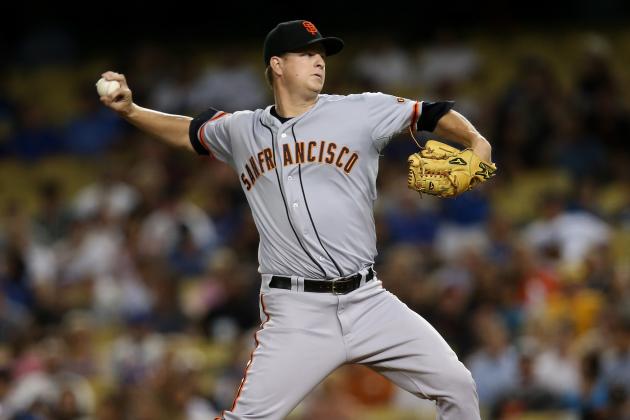 Stephen Dunn/Getty Images

The San Francisco Giants and Cincinnati Reds will bring everything they have to their playoff opener on Saturday. Both lineups are loaded with more talent than they have had in recent memory, and there will be a pair of aces on the mound.
AT&T Park has been kind to the Giants this year, as they have gone 48-33 at home this season. However, despite that advantage, the Reds have been almost as impressive on the road with a 47-34 record. Playing on the road has not bothered them whatsoever this year.
If the teams are indeed relatively evenly matched, what individual matchups are going to make a difference Saturday night?
Specifically, there are five potential confrontations that could determine the winners and losers. While baseball is a team game, it also relies directly on the contributions of the individual players.
Note: All of the situational statistics were originally compiled by Baseball Reference.
Begin Slideshow

»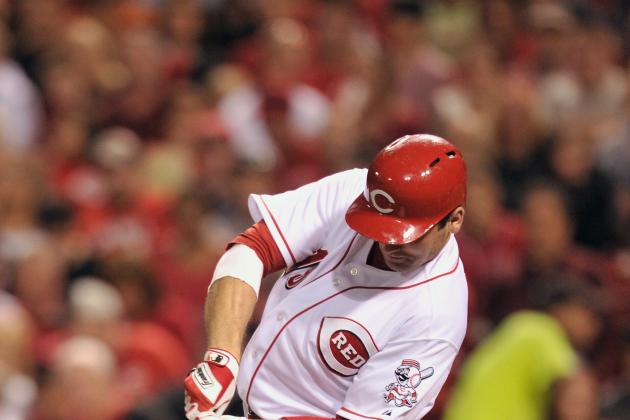 Jamie Sabau/Getty Images

Matt Cain is in the midst of a career year, and he has definitely helped lead the San Francisco Giants to this point in their season. However, he has not been nearly as dominant against left-handed hitters, who are hitting .257 against him. And, unfortunately for him, Joey Votto is one of the best left-handed hitters when it comes to crushing right-handed pitchers.
Votto has gotten on base exactly half of the time he has faced right-handed pitching this season. That is almost an unbelievable statistic. But when he combines his natural hitting ability with his outstanding plate discipline, he is a very difficult man to get out.
Obviously, this matchup favors Votto. But Matt Cain has done an excellent job pitching at home this season, so it is hard to judge who will really come out on top.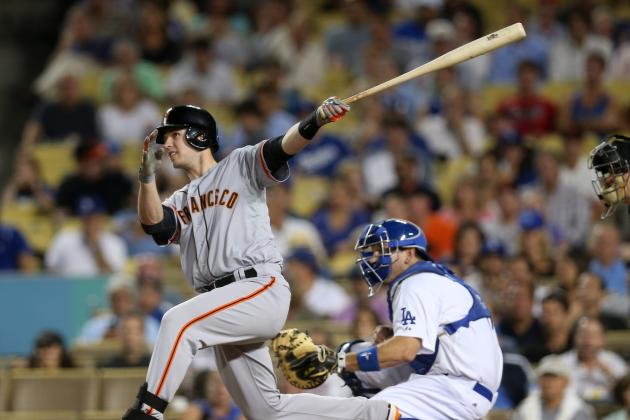 Stephen Dunn/Getty Images

Johnny Cueto will almost definitely not win the Cy Young Award this year, but he has been having an excellent season. He's won 19 games with a 2.78 ERA. He is not a strikeout machine, but he gets batters out. The Reds will need him to shut down the San Francisco Giants and deliver the ball to their excellent bullpen.
There's no doubt that his greatest challenge will come from Buster Posey. As the front-runner for the National League MVP, Posey is leading the NL in batting average at .336. A lot of that is driven by the fact that he is hitting .433 against left-handed pitching, but his .292 average against righties is not too shabby either.
Posey has driven in 103 runs this season, and if Cueto is somehow able to hold him back, the Giants will be missing a large part of their offense.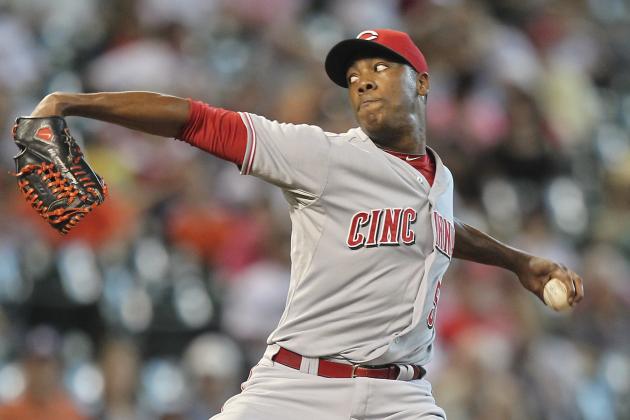 Bob Levey/Getty Images

Aroldis Chapman had the most explosive arm that we have seen in baseball in a very long time. He easily hits triple digits on his fastball, and he has been mowing down opponents all season. He's racked up 122 strikeouts in just over 71 innings.
That is why Pablo Sandoval could easily be one of the most interesting matchups Chapman might face if they need him in the ninth inning.
Sandoval does not strike out an awful lot, but he also does not draw very many walks. Although walks have troubled Chapman in the past, he has harnessed that weakness this season. So in order to have a chance against him, they will need to put the ball in play.
Chapman has probably been the best closer in baseball this season, so it might not be a great sign if the Giants end up running into him. However, he has been defeated when hitters are able to put the ball in play.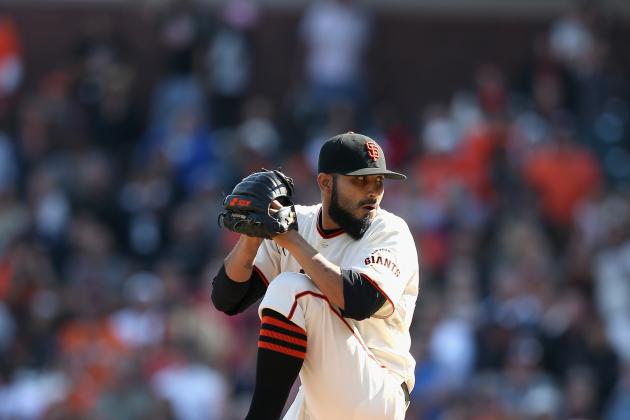 Ezra Shaw/Getty Images

This matchup might seem a little unorthodox, because with a very capable left-handed pitcher in the bullpen like Jeremy Affeldt, you might wonder why Sergio Romo would be allowed to remain in the game and take on a hitter who has struggled mightily against left-handed pitching in Jay Bruce.
The simple answer is that Romo has absolutely dominated left-handed hitters this season. In 54 total at-bats, only two of them have managed to get extra-base hits off of him. On top of that, he is carrying around an overall 1.79 ERA, which is among the best in baseball.
Bruce is obviously a capable hitter in his own right, and he has hit 34 home runs this season—23 of those have come against right-handed pitchers, so it's not like he is defenseless at the plate.
Both of these athletes will be somewhat at an advantage, but only one advantage will be able to overrun the other.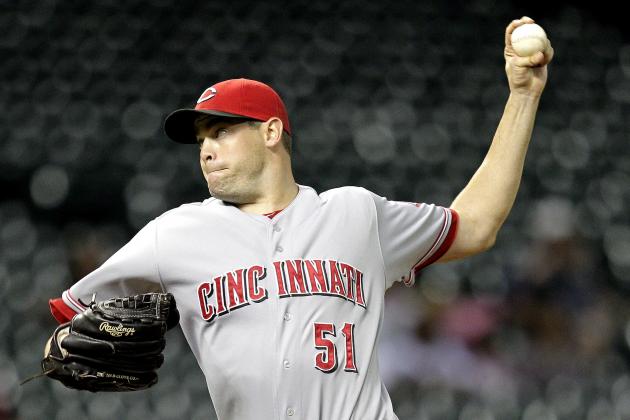 Bob Levey/Getty Images

On the surface, Angel Pagan might not necessarily seem like a major threat. He doesn't have a lot of power, and his average isn't that high.
However, he has been one of the most underrated parts of the Giants' offensive attack and is leading the National League with 15 triples on the year. On top of that, he adds an interesting dimension of speed to the Giants lineup that gives them a different front to attack on.
As a switch-hitter, though, he has had problems against left-handed pitching, and Sean Marshall has had a difficult time against right-handed batters. That is why I think this is a somewhat interesting matchup.
Both of these men have been highly effective this year, but Pagan has hit well against right-handed pitchers, while Marshall has pitched well against left-handed hitters. They will both be competing from their weakness, which makes the playing field roughly level.
That being said, because they've both been so reliable all season, it is not impossible to think that these two could collide near the end of the game, because neither one would be substituted at a critical moment.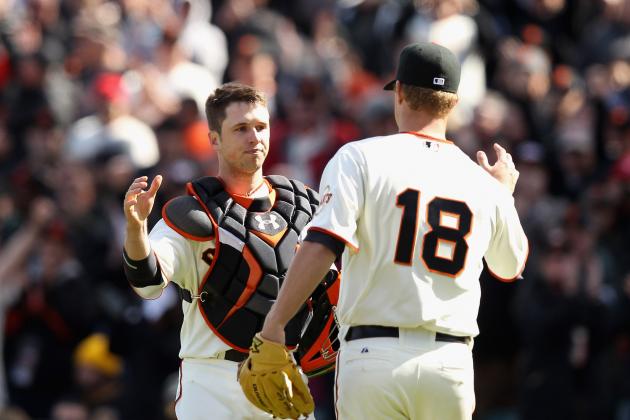 Ezra Shaw/Getty Images

A Few More Players to Watch
Hunter Pence: Although his batting average has dropped since he joined the San Francisco Giants, he has a powerful bat, and home runs change the scoreboard faster than any other sequence of plays.
Brandon Phillips: He can hit the ball hard and steal a base when necessary. While his numbers are not quite as impressive as they were last season, this type of all-around ability and versatility could easily make a difference in a tight game.
Final Prediction
Although I indicated that Matt Cain might have problems against Joey Votto—and you could probably extend that to fellow left-hander Jay Bruce as well—he is ultimately a big-game pitcher. His home record and the fact that he has never allowed an earned run in any of his three playoff appearances lead me to think that he will come up big again on Saturday (for fairness sake, he has allowed one unearned run).
It will be a tight pitchers' battle, but the San Francisco Giants should come out on top.
Giants 2, Reds 0
Whether you think I know everything or nothing about Major League Baseball, you should follow me on Twitter or become a fan on Facebook and keep in touch. I love hearing what you all have to say!

Follow @spinkickers