Jacksonville Jaguars vs. Chicago Bears: Final Game Grades & Player Analysis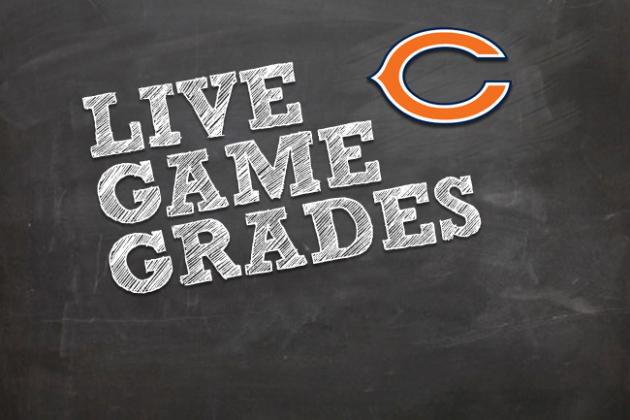 It may not look like it in the box score but this was actually a close game for a half. The team proceeded to put in on Jacksonville and outscore them 38-0 in the second half. The Bears improved to 4-1 with a 41-3 victory.
The defense continued to put points on the board with two pick sixes from Charles Tillman and Lance Briggs. Corey Wootten had two of the team's three sacks including one that caused a Blaine Gabbert fumble.
Running back Matt Forte went over 100 yards on the ground for the first time this season and Brandon Marshall had 12 receptions for 144 yards and a touchdown.
Jay Cutler finished just under 300 yards but did throw two fourth quarter touchdowns. He had an early interception and finished with a quarterback rating of 88.8
Begin Slideshow

»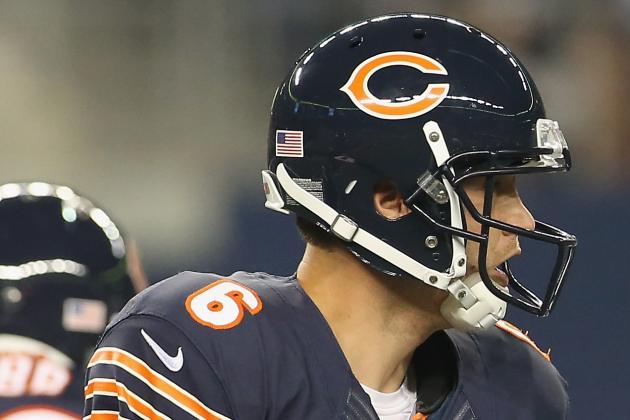 Ronald Martinez/Getty Images
Jay Cutler
Jay Cutler: B
Early on it was a little rough for Cutler. His throws were off the mark and he struggled to get going. Like the game last week he came out better in the second half and bounced back to have a solid game.
His two touchdown passes to Brandon Marshall and Alshon Jeffery were both impressive throws. He had a bad interception early but took care of the football after that and made quality reads throughout the game.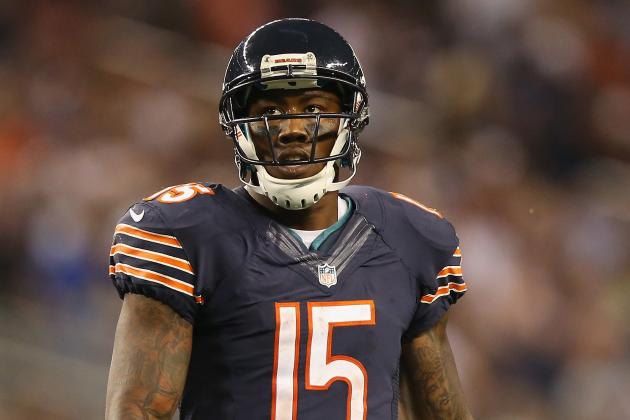 Ronald Martinez/Getty Images
Brandon Marshall
Matt Forte: B+
Last week Forte gutted it out on a bad knee. This week he seemed to have a better bounce in his step and it resulted in his first 100 yard performance on the ground this season. He hit the holes quickly and finished the game with an average of 4.9 yards per carry.
Michael Bush: B+
There weren't too many rushing attempts for Bush but he made the most of them. He had 26 yards on only four rushes for an average of 6.5 yards per carry.
Armando Allen: A
Allen got some burn in garbage time and took advantage. His 46-yard touchdown run was the longest run of the game from scrimmage for both teams.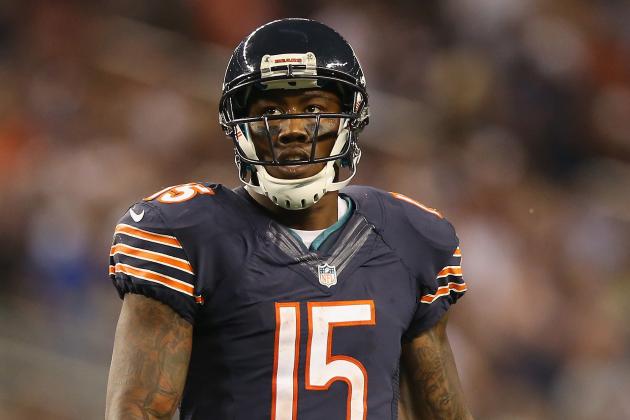 Ronald Martinez/Getty Images
Brandon Marshall
Brandon Marshall: A
It's nice to see a top level wide receiver on the Bears. Marshall proved to be too physical and talented for the Jaguars to keep up. He finished with 12 receptions for 144 yards and a nice 24-yard touchdown.
Alshon Jeffery: B+
Jeffery is learning how to be a wide receiver in this league. This week he was a little more physical with corners and even got a penalty but that's ok. You want him to use his size and he did a nice job using his body to seal off the defender on his 10-yard touchdown reception.
Devin Hester: B
Another great play down the field by Hester. It's scary when he decides to use his speed and really fool the defense. The 39-yard reception he had was one of the more impressive catches this season.
Dane Sanzenbacher: C
He got a catch on two targets but was mostly silent throughout the game. No real need for him over the middle when Marshall is doing all the dirty work.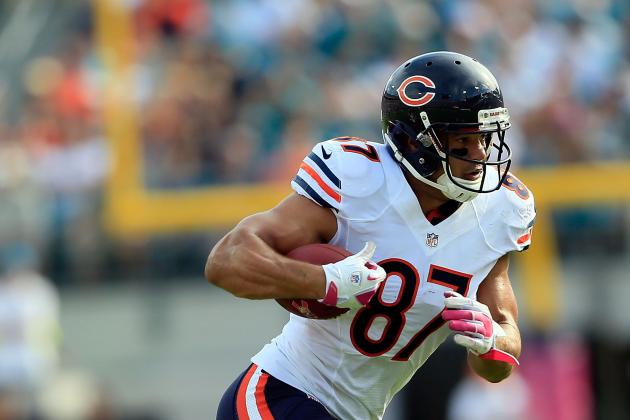 Sam Greenwood/Getty Images
Kellen Davis
Kellen Davis: B
Davis had a bad drop early but rebounded with two nice grabs. He needs to continue to use his size and be a security blanket for Cutler. He did a nice job in pass protection throughout the game.
Kyle Adams: B+
Adams has done a nice job filling in for Evan Rodriguez as the lead blocker. He opened some nice holes for Forte throughout the game.
Matt Spaeth: A
There is no doubt Spaeth is one of the best blocking tight ends in the league. He proved it again against the Jaguars.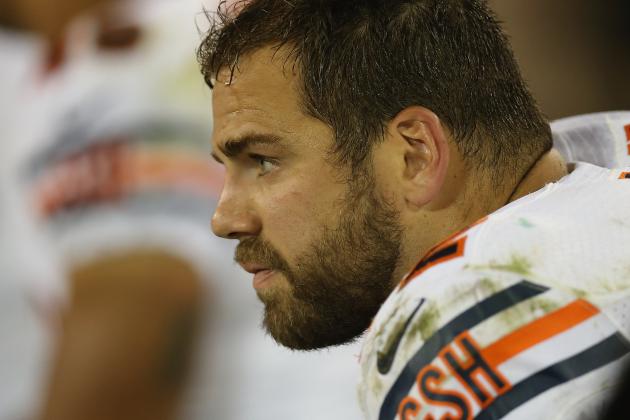 Jonathan Daniel/Getty Images
Gabe Carimi
J'Marcus Webb: B
Once again Webb had a lot of help but he still did a solid job. You didn't hear his name much which is always a good thing.
Gabe Carimi: D
You didn't hear Webb's name a whole lot because Carimi was the one getting called out. Bad penalties, whiffed blocks and getting pushed back was all you saw out of Carimi in the game. There had to be a point in the third quarter when Tice might have considered pulling him.
Roberto Garza: B
Up the middle the Bears were very solid. Garza did a nice job picking up blitzes and opening holes for the run game. He even got down the field for a key block on a screen pass.
Lance Louis: B+
Louis is probably the team's best offensive lineman right now. The running game was very effective when they ran the ball behind him.
Chilo Rachel: B
Like Webb it's always good when you don't hear Rachel's name called. He did have a good game though especially pushing defenders off the ball in the run game.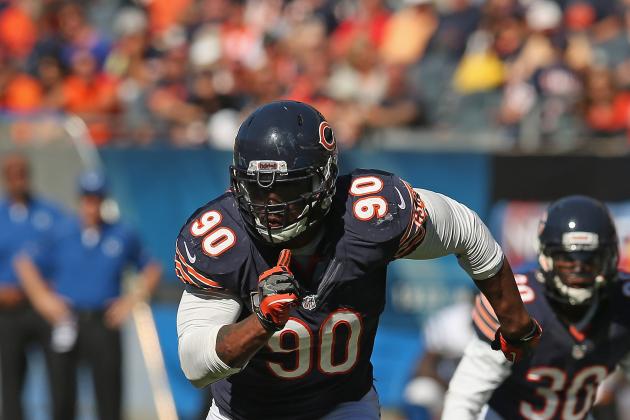 Jonathan Daniel/Getty Images
Julius Peppers
Julius Peppers: D
A rare bad game for Peppers. He literally made no impact on the game whatsoever. He failed to record a tackle in the game.
Matt Toeaina: B-
Toeaina only had one tackle but he penetrated through the line a couple times when Jacksonville ran the ball.
Stephen Paea: B-
Like Toeaina he only had one tackle but forced the Jaguars to try and bounce the ball to the outside when running.
Israel Idonije: C
The up and down trend for Idonije continued against the Jaguars. This game was more on the downside. Had maybe two solid pass rushes in the entire game.
Corey Wootton: A
The biggest impact player on the defensive line was Wootton. A couple times he just fired off the line of scrimmage like he was fired out of a cannon. His sack/fumble in the second quarter was a huge play that cut down a promising Jaguars drive.
Shea McClellin: D
When he was on the field he was ineffective and still has a problem over perusing in the run game.
Sam Greenwood/Getty Images
Lance Briggs
Lance Briggs: A
For the second game in a row Briggs had a pick six. He was all over the field and even had a sack.
Brian Urlacher: B
It's not that Urlacher is not making plays, it's that everybody else is making them for him. He only had two tackles in the game.
Nick Roach: B
The Jaguars abandoned the run after a while so Roach didn't get too many chances to make plays. He had only one tackle in the game.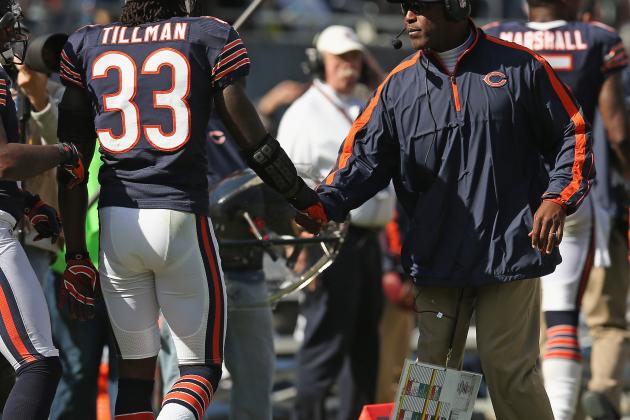 Jonathan Daniel/Getty Images
Charles Tillman
Charles Tillman: A
Another game, another pick six for Tillman. Like the game against Dallas, his interception was the game breaking play.
Tim Jennings: B-
Jennings didn't have the best first half. He was beaten a couple times by Cecil Shorts but rebounded well in the second half. He led the team in tackles with six.
D.J. Moore: B+
Gabbert didn't look Moore's way too many times. It was clear Moore was better than any receiver he was covering in the slot and they could not get separation on him.
Major Wright: B
Played well in the box cutting down Maurice Jones-Drew and the running game.
Chris Conte: B
Conte continues to lock down the back end of the defense. Jacksonville took a couple shots deep but was unsuccessful every time.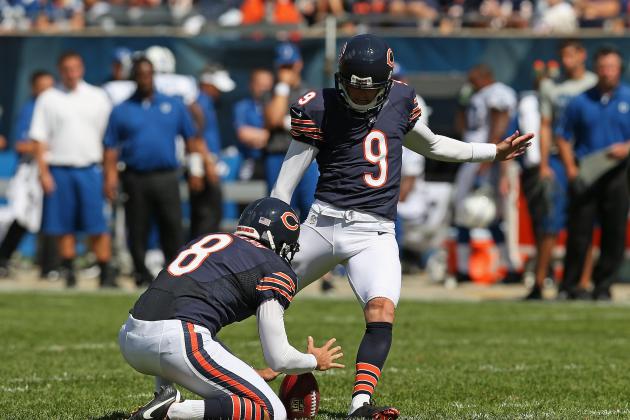 Jonathan Daniel/Getty Images
Robbie Gould
Robbie Gould: A
Another game...still perfect.
Adam Podlesh: B
Had a very nice punt against his old team to pin the deep under the 20-yard line.
Devin Hester: D
He ran sideways, backwards and every direction except forward when returning punts.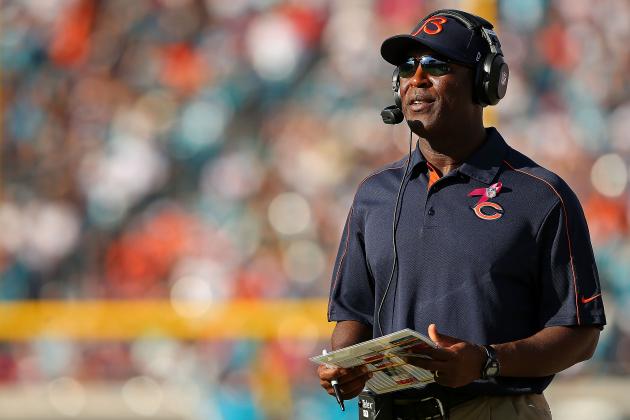 Mike Ehrmann/Getty Images
Lovie Smith
Lovie Smith: A
The Bears came out flat and lethargic to start the game. Whatever Smith said or adjustments he made at halftime was brilliant. They woke up and the Bears steamrolled the Jaguars in the second half.
Mike Tice: B+
Once again Tice did a nice job starting off conservative to set up the run and allow his offensive line to get into a rhythm. The team opened up the playbook in the second half and he did a nice job getting Brandon Marshall the football with quality routes.
Rod Marinelli: A-
The pass rush wasn't there this week but Marinelli's group still get their fair share of takeaways. He has the group playing inspired football right now.