5 Biggest Keys to Winning a Playoff Series in MLB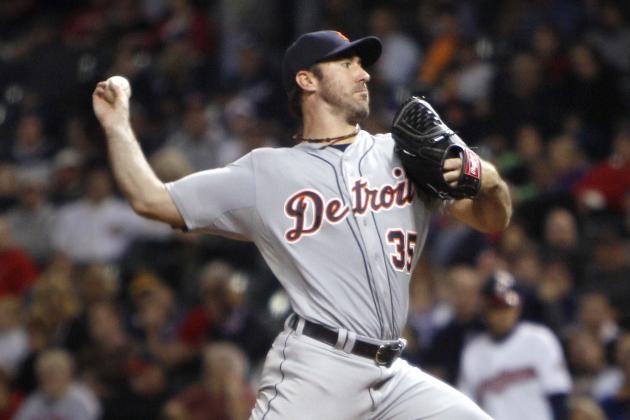 David Maxwell/Getty Images
Can Justin Verlander lead the Tigers on a World Series run?
The 2012 MLB postseason began with Friday's AL and NL Wild Card Games. But the playoffs will truly begin with the Division Series on Saturday (Oct. 6).
The one-game Wild Card Games were exciting, yet they felt like addendums to the regular season—an attempt to create the drama experienced in Game 163 tiebreakers, such as we saw in 2009 between the Detroit Tigers and Minnesota Twins. The Wild Card Game was the equivalent of the play-in games for the NCAA tournament.
A playoff matchup won't be decided on just one game or one play. So many things have to go right for a team to make a sustained playoff run and progress toward a championship.
Here are five things that a team needs to win a playoff series. All five might not apply to the team that eventually wins the World Series. But especially in recent years, we've seen these five keys come together for a team and that led to postseason success.
Begin Slideshow

»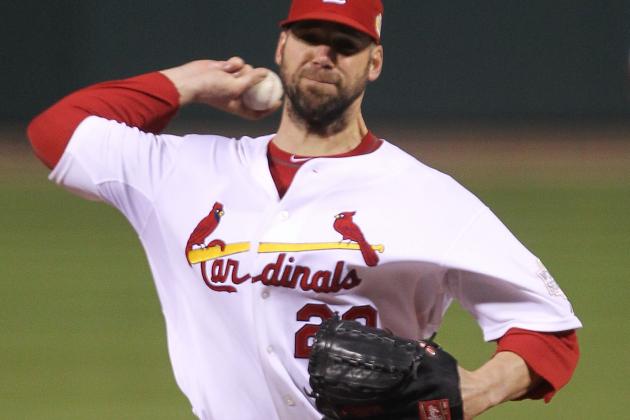 Ezra Shaw/Getty Images

Having an established No. 1 starter—not just a guy who happens to start Game 1—can make all the difference in a playoff series. A stud at the top of a rotation can make two starts in a five-game series, perhaps three in a seven-game set, depending on scheduling or ability to pitch on short rest.
Last year, Chris Carpenter pitched three games for the St. Louis Cardinals in the World Series, fulfilling his role as an ace in every fashion.
He won Game 1 by allowing two runs and five hits over six innings. In Game 5, Carpenter didn't earn the decision, but he pitched seven innings while giving up two runs and six hits.
Then on three days' rest, Carpenter started Game 7 and pitched six innings. He allowed two runs and six hits, leading the Cardinals to the championship.
During the 2010 postseason, Matt Cain was untouchable for the San Francisco Giants. He pitched three games, making one start in each round of the playoffs. Altogether, he pitched 21.1 innings without allowing an earned run.
Going back to the previous year, CC Sabathia helped put the New York Yankees into the World Series by going 2-0 with a 1.13 ERA in his two starts. Pitching 16 innings, he only allowed two runs. That's exactly what the Yanks had in mind when they signed Sabathia to a $161 million contract.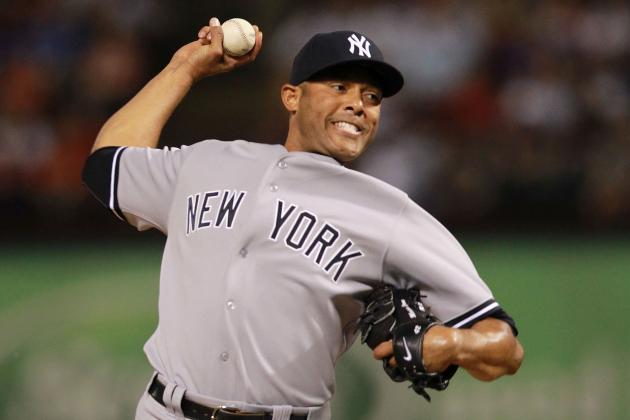 Ronald Martinez/Getty Images

Any successful team likely has a reliever who can shut down the opposition in the ninth inning to clinch a victory. That applies in the postseason as well.
Though Jason Motte was touched up twice for two runs during last year's World Series, establishing himself as the Cardinals closer allowed manager Tony La Russa to use his bullpen to its best capability, utilizing his other relievers when they were most needed.
Motte pitched five games in the series, not allowing a run in three of those appearances.
In the 2010 World Series, Brian Wilson notched three scoreless appearances for the Giants. He got the save in the clinching Game 5 but also shut down comeback attempts by the Rangers in his other two outings.
In 2008, Brad Lidge converted all 41 of his save opportunities in the regular season. That success continued in the postseason.
We can go back much further, of course. How vital was Mariano Rivera to the five World Series championships the Yankees have won since 1996?
One of the players that helped the Boston Red Sox break their World Series drought in 2004 was Keith Foulke. Foulke made five appearances in the ALCS vs. the Yankees, not allowing a single run. In the World Series, he pitched in all four games as the Red Sox swept the Cardinals.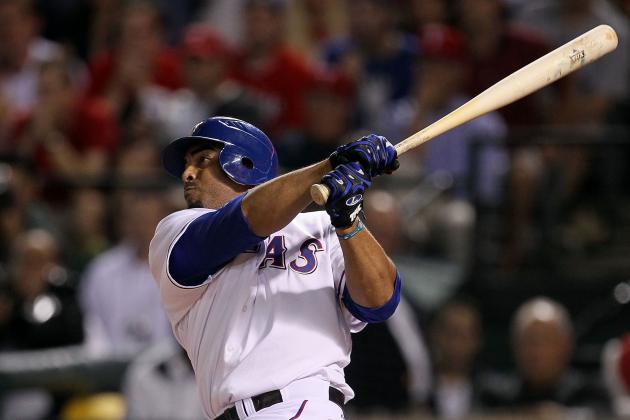 Stephen Dunn/Getty Images

To make a run through the playoffs, a team obviously needs significant contributions from its lineup and pitching staff. But it certainly helps to have one bat that catches fire and can carry a team through a particular series.
Mention the name Nelson Cruz to Detroit Tigers fans and they will probably wince. In last year's ALCS, the Texas Rangers right fielder was a threat every time he came to the plate against Tigers pitching. During the six-game series, he hit .364 with six home runs and 13 RBI.
In the 2010 NLCS, Cody Ross was the major difference in the San Francisco Giants shocking the Philadelphia Phillies. Ross hit .350 with a 1.385 OPS, slugging three home runs with five RBI. During the Giants' World Series run, he hit five home runs with 10 RBI, compiling a 1.385 OPS.
The 2012 playoff field has plenty of candidates who could emerge during the postseason.
Will Miguel Cabrera continue his Triple Crown dominance? Could Buster Posey also be the MVP for the Giants on another playoff run? Might Ryan Zimmerman or Adam LaRoche be that one big bat that the Nationals can ride to a World Series?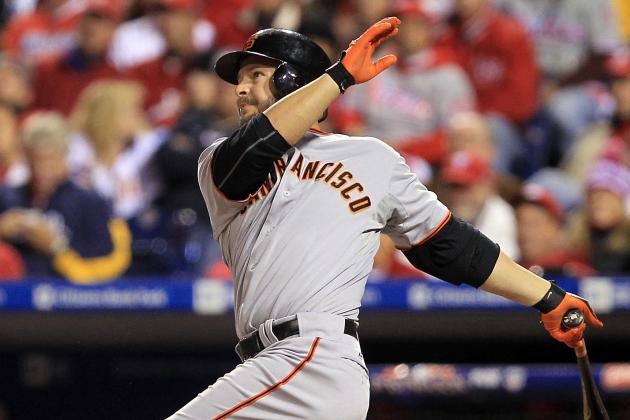 Chris McGrath/Getty Images

We already mentioned Cody Ross in the previous slide, but did anyone expect him to emerge as a postseason star for the Giants in 2010?
The same could be asked of Allen Craig in last year's World Series. Or what about David Freese, who had trouble staying healthy through a full season, yet became the World Series MVP?
This is one of the most intriguing and compelling aspects of the postseason. We expect star players to assert themselves over the opposition and make significant contributions. Yet it's so much fun to see someone unexpected become the difference-maker in a playoff series.
We saw two such players break out in 1996.
Jim Leyritz was an unlikely postseason star for the Yankees, hitting three home runs with eight RBI and helping the Yanks to their first championship in 18 years. In the World Series that year, rookie Andruw Jones announced himself as a future star, batting .400 with two home runs and six RBI.
We could try to predict who this year's surprise star might be. Perhaps Bryce Harper will break out during this postseason as Jones did in 1996. Maybe Nate McLouth will be that guy after driving in two runs in the Baltimore Orioles' wild-card upset victory over the Texas Rangers Friday night (Oct. 5).
Of course, it wouldn't be a surprise if we knew in advance who would be a playoff star.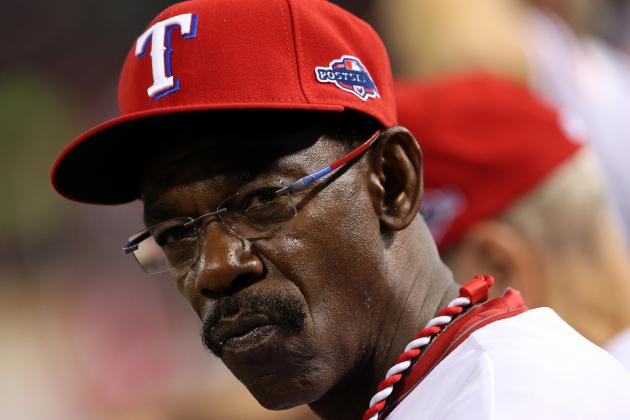 Ronald Martinez/Getty Images

Managing during the regular season isn't the same as managing in the postseason.
That might seem like a "Duh, Captain Obvious!" statement, but certain managers learn the hard way that what worked during the regular season might not apply during a playoff series.
Take Ron Washington during last year's World Series.
The Texas Rangers skipper kept using closer Neftali Feliz as he would in the regular season, saving him for a save situation. That might be fine when most games follow the pattern of the starter pitching six or seven innings, the setup man taking over and then handing the game to the closer in the ninth inning.
But playoff games rarely work out that cleanly. Starters may not last more than five innings. Multiple relievers are called upon to pitch in high-leverage situations later in the game. Keeping the team's best relief arm in the bullpen because it's not the ninth inning—and not a save situation—isn't the best use of a resource.
Yes, in a previous slide, I said having a shutdown closer was a key to winning a playoff series. But sometimes, that pitcher has to be used to get more than three outs. Sometimes, he has to be brought in during the eighth inning.
Managers have to adapt to the situation. They often have to incorporate far more strategy in a playoff game because each out and every play matters so much more. That isn't the case during the regular season. Those who don't realize that often end up on the losing end.
Follow @iancass on Twitter