Jacksonville Jaguars: The Good, Bad and Ugly of the First 4 Games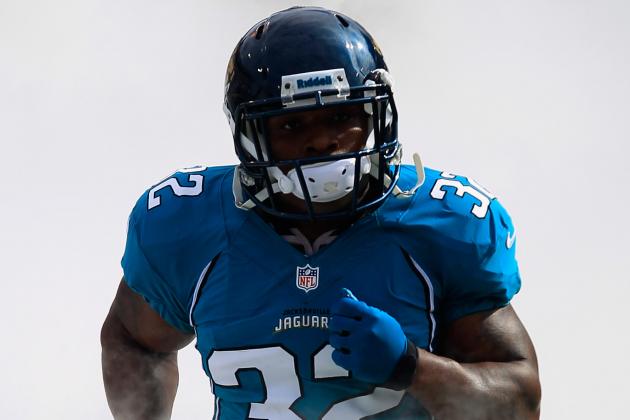 Chris Trotman/Getty Images

Not much good has come out of a 1-3 start for the Jacksonville Jaguars, but there is certainly a lot of bad and even some ugly.
With one quarter of the 2012 NFL season down, their performance calls for some reflection and adjusting.
It is time to reflect on the Jaguars' first four games and adjust some of the terrible predictions we made before the season began.
But we'll worry about the adjusting of predictions another time.
This article will be a performance review for the Jaguars. You know, like the ones you get at your normal jobs: The ones where you cringe the moment your boss calls you into the office for it.
In this case, the Jaguars should be doing a lot of cringing.
Begin Slideshow

»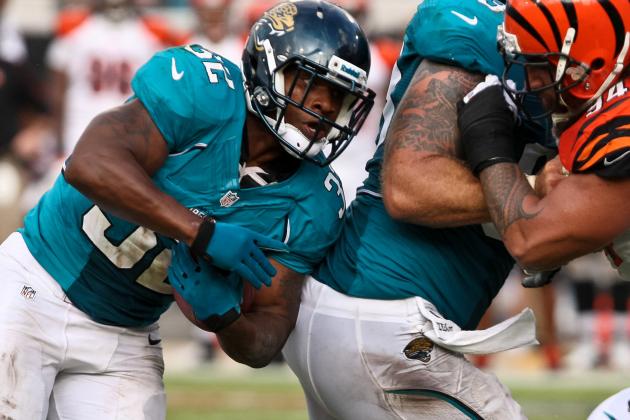 Rob Foldy-US PRESSWIRE

One of the few good things to come out of this 1-3 start has been, to no one's surprise, running back Maurice Jones-Drew.
There may be some surprise after Jones-Drew's lengthy holdout. But that is long forgotten now.
Despite his holdout, Jones-Drew is seventh in the league in rushing with 352 yards. He averages 4.9 yards per attempt.
He's also the team leading receiver with 13 receptions and is fourth on the team in receiving yards. He has caught one of only five touchdown passes for the Jaguars so far this season.
Unfortunately for Jaguars fans, Jones-Drew still seems to be the only consistent offensive weapon for the Jags.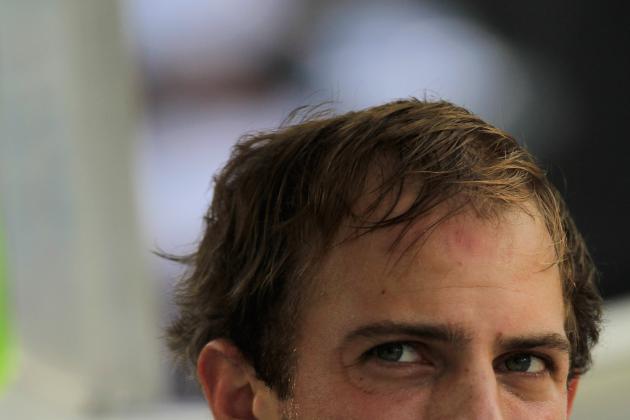 Chris Trotman/Getty Images

Not enough can be said about how good Bryan Anger has been through the first four games.
A much-maligned draft pick before the 2012 season, he has turned into a positive asset. Even if it does mean the offense's giving up the ball on numerous occasions.
Anger is at or near the top of the league in almost every major punting category. He is second in the NFL in punting yards (1,300) and second in net yards (1,079).
The person ahead of him, Dave Zastudil of the Arizona Cardinals, is only there because his stats reflect his performance of Thursday night against the St. Louis Rams. Zastudil did punt a lot during that game, but it gave him one extra game up on Anger until Sunday's matchup against the Chicago Bears.
Let's get back to Anger's stats, though. He is second in average per punt (52.0) and fifth in net average (43.2).
In only four games, Anger has gone from the rookie no Jaguars fan wanted, to a Pro Bowl-caliber player.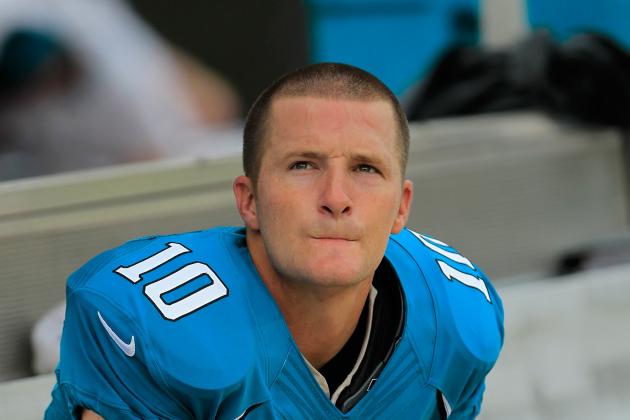 Chris Trotman/Getty Images

Sad to say it, Jaguars fans, but Josh Scobee is the end of the good from the first four games of the season.
That's right, the star running back, the punter and the kicker are all that make up the good for the Jaguars so far in 2012.
Scobee is part of this list because he's made good on all seven of his field goals and all three of his extra point attempts this season, making him the team's leading scorer with 24 points.
The next best scorers on the team are Jones-Drew, Marcedes Lewis and Cecil Shorts III, all with 12 points, or two touchdowns.
Scobee is one of the the best kickers in the NFL, and he has lived up to that title so far in the 2012 season.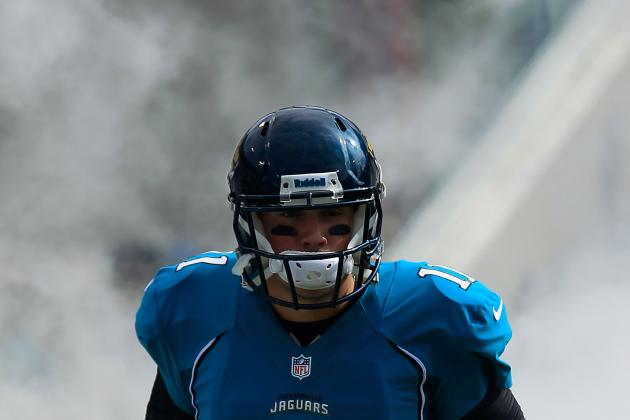 Chris Trotman/Getty Images

Remember the preseason? When quarterback Blaine Gabbert seemed to be poised for a solid 2012, which would have been an improvement over his less-than-solid 2011?
That seems like a long time ago now.
After four games, Gabbert has thrown for 654 yards, which is good enough for only 31st in the league.
Behind him is Seahawks quarterback Russell Wilson, who plays in a run-heavy offense.
Gabbert has completed only 55 percent of his passes (28th in the NFL). He's thrown five touchdowns, tying him for 15th in the NFL.
He's also been sacked 12 times. But he does have a solid quarterback rating of 83.7, so it's not all bad.
His best statistical game was Week 1 against the Minnesota Vikings, where he completed 23-of-26 passes for 260 yards and two touchdowns, including one that gave the Jags the lead in regulation.
He has not thrown for more than 200 yards since.
He hit 155 yards during the Jags' lone win of the season so far against the Indianapolis Colts in Week 3, but he had help from an 80-yard catch and run from Cecil Shorts III with 56 seconds left in the fourth quarter. Before that, he had only thrown 75 yards.
Gabbert still has time to improve, although not a whole lot. But for right now, he is on the bad list.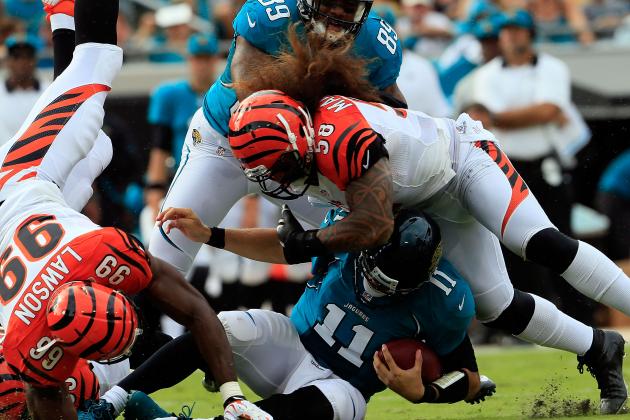 Sam Greenwood/Getty Images

The Jaguars offensive line is a very talented group, especially when it comes to run blocking for Jones-Drew, but so far this season, it has not done a good job of protecting Gabbert.
It has allowed Gabbert to be sacked 12 times, the sixth-most amount in the NFL.
It has also allowed the quarterback to be hit 24 times, good enough (or bad enough) for fourth in the NFL.
Jaguars quarterbacks are getting hit an average of six times per game. That is not a good number.
If this keeps up, we'll be seeing Chad Henne sooner rather than later because Gabbert won't be able hold up after all of the hits.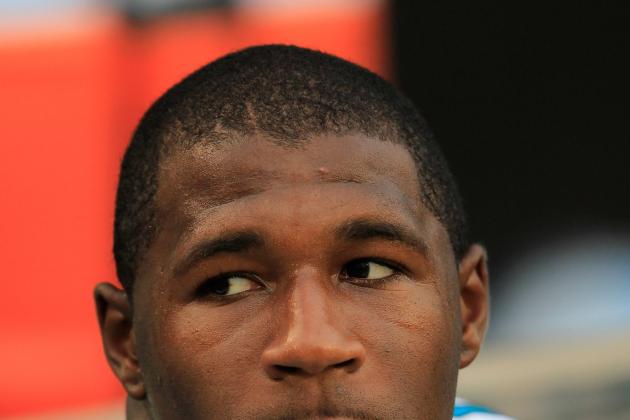 Chris Trotman/Getty Images

The Jaguars drafted Andre Branch for the sole reason of putting pressure on opposing quarterbacks and collecting sacks.
Branch's teaming up with Jeremy Mincey seemed to be a very ideal option for the Jags to finally create a consistent pass rush.
Through four games, that has not even been close to happening.
The Jaguars have sacked the opposing quarterback a grand total of two times. That's it.
That is dead last in the league.
It seems as though Jaguars fans will have to continue to wait a for a legitimate pass rush.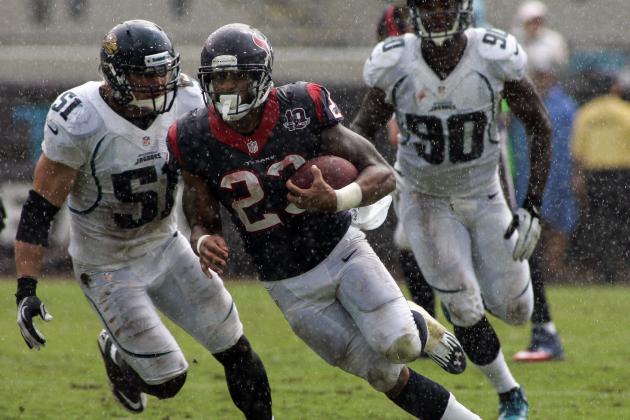 Phil Sears-US PRESSWIRE

If there was one thing a Jaguars fan could hang his or her hat on before the 2012 season, it was the defense.
That was the one thing that people thought would help keep the team in games while the offense gets its rhythm down with head coach Mike Mularkey's new offense.
That has been anything but the case.
The defense has been the biggest detriment so far through four games.
The Jags are currently 26th in the league in yards per game (404.8). They are 21st in pass defense and 30th against the run. Opposing teams score an average of 24.3 points per game.
The Jaguars have given up at least 100 yards on the ground in each of the first four games this season, including more than 200 against the Houston Texans in Week 2.
The unit has suffered its share of injuries, but there's really no excuse for letting teams convert 22 third downs.
And this was supposed to be the bright spot.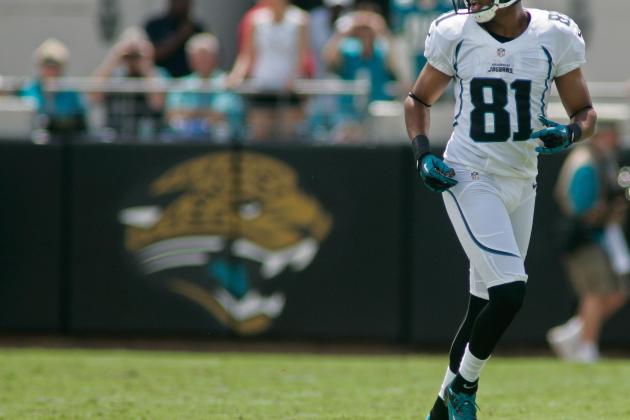 Phil Sears-US PRESSWIRE

Laurent Robinson lands in this category, but it is really no fault of his own.
It is really more of the circumstance than it is anything that the wide receiver did.
We've made it through only four weeks of football, but Robinson has already suffered three concussions, including two in as many weeks.
Cecil Shorts III has shown that he has the capabilities to be a solid option for Gabbert, but it is still an ugly circumstance for the Jags.
Robinson was brought in on a free-agent contract to help solve the receiver problem for the team.
He had a big year with the Dallas Cowboys in 2011 and was supposed to duplicate that for the Jags, but after three concussions, I'm not so sure how much longer we will see him this season.