Houston Texans: J.J. Watt Is the Latest in a Long Line of Great Pass Rushers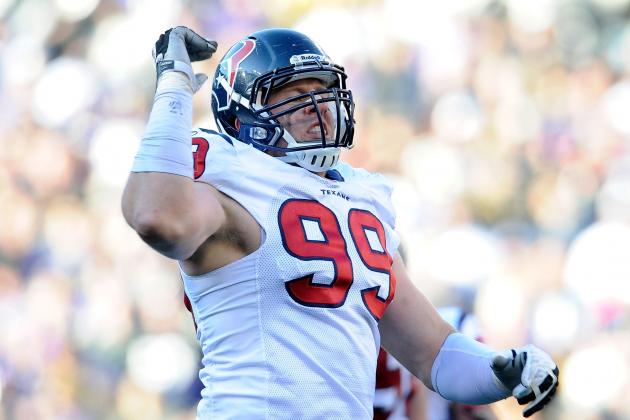 Patrick McDermott/Getty Images

Who is this guy J.J. Watt and why is he the biggest story at the quarter mark of this NFL season?
If this role were going to be filled by a Houston Texan, then Arian Foster, maybe Matt Schaub or possibly Andre Johnson would be the center of attention.
The talk about this second-year defensive end was supposed to be whether he would make the Pro Bowl, not who was trailing him in the race for Defensive Player of the Year. Even more surprising, his impact on the field has exceeded that of any offensive player.
How is this possible? Check out Football Outsiders' assessment of Watt in its Week 4 Quick Reads:
Jared Allen led the league with 33 Defeats in 2011. Watt is already halfway to that total after only four games. In the past 15 years, no defensive lineman has had more Defeats in a season than Robert Porcher, who had 37 for the Detroit Lions in 1997. That record is now in serious jeopardy.
A statement like that begs for some historical perspective for the AFC Defensive Player of the Month. Watt could be headed for one of the all-time great seasons for a defensive end. He is the latest in a long tradition that stretches back to Gino Marchetti, Deacon Jones and Carl Eller.
Now, the season is as young as the career of this emerging star. But when your play is so spectacular, comparisons with present and future Hall of Fame members are inevitable.
The most renowned metric for defensive ends is the sack, but what is so fascinating about Watt is the wide-ranging impact he has on the opposition. His career numbers include nine tipped passes, officially listed as passes defended (PD), and 27 tackles for loss (TFL).
But sacks are what drive the crowd wild. Three of the top-five career sack leaders happened to play defensive end. They are Bruce Smith (200.0), Reggie White (198.0) and Michael Strahan (141.5), who rank first, second and fifth, respectively.
The right defensive end in the Wade Phillip's version of the 3-4 plays closer to a 3-technique. Lining up over the guard as much as the tackle, this style is more like a defensive tackle than an end. So to broaden the field, defensive tackles Dan Hampton, John Randle and Kevin Williams will be thrown into the mix.
TFLs are an unofficial stat, so for our purposes we will rely on solo tackles to measure how well these players handled the run. Assisted tackles were not recorded until 1993, so they will be disregarded for this selection of stars.
Begin Slideshow

»
Drafted No.1 overall in 1985 by Buffalo, the all-time sack leader came into the NFL as a 300-pound power rusher out of Virginia Tech. Over the years, he chiseled himself down to a sleeker version, tipping the scales around 260-270 lbs.
What he picked up in speed, he did not lose in power and effectiveness. Smith averaged 57 tackles per year with two seasons of 100 or more. Running attempts made up the majority of snaps during his era, so he had more shots at the running backs coming his way.
Why do the tackle numbers matter?
To put his greatness in perspective, in the last 10 seasons no defensive linemen has come close to 100 tackles. Part of the reason is clearly changes within the game, but those figures at any spot other than linebacker are amazing.
"The Minister of Defense" may have been the most physically imposing player the game has ever seen. To stand 6'5", weigh 300 pounds, and run the 40 in 4.6 seconds is an astounding set of athletic skills. White could bull rush you, speed rush you, or just simply toss you aside.
He averaged 70 solo tackles per year with four seasons with over 100 stops. His sack numbers may slightly trail those of Bruce Smith, but his capacity to control the game from his position is unsurpassed.
Strahan presents a bit of a contrast to Bruce Smith and Reggie White.
He only averaged 44 tackles per year, but he did amass 16 PDs for his career. Obviously he had a talent for knocking down passes, but he also had more chances with the league-wide increase in passing that occurred during Strahan's prime.
The declining tackle numbers are indicative of a trend where the pass sets up the run. So the duty of anyone with the skill to get after the passer is to leave the running backs to the linebackers and safeties.
In this setting, Strahan did this job as well as anyone in these days of the aerial circus.
Dan Hampton is notable as a linchpin of the most innovative defense of its day—the 46 defense.
It was perfected by then-Bears' defensive coordinator, Buddy Ryan, and it was a hybrid system specifically designed to get penetration and badger the quarterback. Ryan would send as many pass rushers as necessary to get the job done.
Hampton had to get in the backfield and confuse the blocking assignments so Richard Dent, Wilbur Marshall and Otis Wilson could take the passer down. "Danimal" still managed two double-digit sack seasons, but his stat page lacks any tackle numbers. In those days, it was a club statistic and Chicago did not publish their totals.
John Randle was inducted into the Hall of Fame in 2010, and his accomplishments were exceeded only by his motor. Randle played the way he trash-talked—nonstop.
Listed at just over six-feet, he was so nimble his footwork made him just about unblockable. If you tried to push him out of the play, he would just dance right back into it.
To call him strictly a defensive tackle does not account for the years spent at defensive end. But no matter where he lined up, his sacks amounted to ten or more for eight straight seasons.
His tackles are slim, though, never totaling more than 59 in a year. But when it comes to the almighty sack, he is the king at his position with 137.5. Warren Sapp, next in line among DTs, trails him by 41.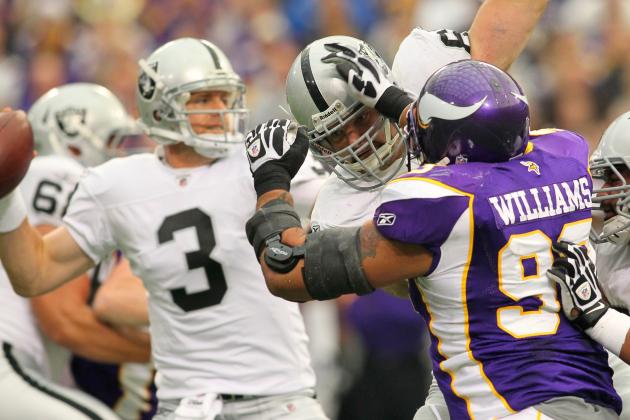 Adam Bettcher/Getty Images

Ask the average NFL fan who is the most notorious Minnesota Viking on the defense and they will answer, "Jared Allen."
That reputation does not make him the best.
Over the years, Kevin Williams has been more consistent than Allen. In fact, Allen would not have his pinball-like sack numbers without the double-teams Williams regularly receives.
The five-time All-Pro lacks the gaudy stat lines, but an even more important recognition is knowing that every offensive coordinator you play spends his week accounting for you in his game plan.
He does have one remarkable stat to his credit: 55 PDs over his career. That is not possible without spending a lot of time in the backfield between the quarterback and his intended target.
Who does J.J. most closely resemble?
This may be an apples-to-oranges comparison, trying to take four games in a single year and compare it to the entire careers of truly great players.
He is not a speed-rusher like Smith, but he does exert the great leverage of someone like White. He gets upfield with the determination of Hampton, knocks down passes like Williams, and pursues quarterbacks with the fury of Strahan. Watt's mouth may not punctuate his every move in the game, but as did Randle, he plays every down as if it alone will decide the outcome.
His record pace for 2012 would result in 30 sacks, 64 tackles, 20 PDs, and 40 TFLs. Realistically, only the tackles are within reach by the close of the regular season.
As Vince Verhei noted in the Football Outsiders article previously cited:
"Only ten men have ever collected so many sacks (7.5) in the season's first four games. Those ten men finished with an average of 14 sacks, showing how hard it is to keep up this kind of production over 16 games."
If everything but the tackles are halved, 15 sacks, 10 PDs, and 20 TFLs make for an amazing sophomore campaign.
There is another apples-to-oranges aspect to all this. All those competitors against whom I'm measuring Watt were in 4-3 alignments for the majority of their careers. In the 3-4, the interior linemen are supposed to be expendable components that enable the rest of the defense to shine.
Watt has done everything in his power to turn that presumption on its head.
It is too early to say which of the great ones J.J. Watt most resembles. In the end, he may be incomparable enough to defy classification.