The End of the Road for Chipper Jones Is Near and Other MLB Wild Card Thoughts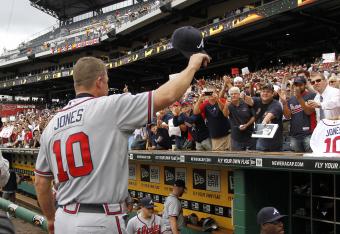 Justin K. Aller/Getty Images
Chipper Jones recorded his first Major League plate appearance on September 14, 1993, and 19 years (and three weeks) later he could be in line for his last.
It truly is fitting that Jones, who finished his regular season career with a .303 batting average, .401 on-base percentage and .930 OPS, gets to end his career with one more shot in the playoffs. Jones missed the playoffs in 2010, and most people assumed he would retire. He came back the following year, in line to make the playoffs last season before Atlanta's historic collapse down the stretch.
So back he came again this year. And at age 40, without a playoff at-bat since 2005, Jones gets one last chance at the dream of all great players: to ride off into the sunset a champion.
You want to know the problem with that dream? The new wild-card rules have made it far more difficult for Jones and the Braves—or any wild-card team—to get to the World Series.
Sure, adding another wild-card team created a little bit of interest for three or four additional cities with an outside shot at a playoff run (more on that in a minute), but the one-game, winner-takes-the-wild-card format has created a scenario that is patently unfair to Atlanta.
Look, this isn't a hindsight situation and I'm not suddenly a Braves sympathizer—I've been saying since the day they set up this wacky new format that it would punish at least one wild-card team more than it rewards it.
And as a guy writing this outside of Philadelphia, trust me when I say I'm not looking for the Braves to have an easy road in the playoffs. The Phillies and Nationals may have a more heated rivalry now, but the rivalry between Philly and Atlanta spans Chipper's entire career.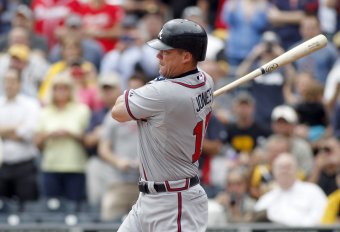 Justin K. Aller/Getty Images
That said, Atlanta, or any team that can win the first wild-card spot by six games over the next-best team in this new format is getting totally screwed.
In the American League, with Baltimore and Texas tied at 93-69, we would have had so much natural drama if there were only one Wild Card. The A's-Rangers race to the AL West and the Orioles-Yankees race in the AL East would have been filled with so much more pressure had we known that one of those teams could have been out of the playoffs.
Now, with this manufactured 163rd came counting as a playoff contest, there is pressure to win that game, but there was never much pressure of being "out" of the playoffs.
For the Braves, again, the new rules make this manufactured play-in game a penalty for winning the Wild Card, not a reward. St. Louis is obviously the huge winner in this, finishing six games behind Atlanta in the standings but only needing to win one game to move on in the playoffs.
Had the previous rules still applied this season, sure, there would have been less September drama in towns like Los Angeles, Milwaukee, Philadelphia and Arizona.
The extra Wild Card did help the regular season have a little more relevance in some towns, but that comes at the expense of a team that finished six games ahead of a team it will face in a one-game eliminator.
Since Bud Selig instituted the Wild Card, there has been plenty of drama surrounding the playoff race. We really didn't need MLB to manufacture any more.
MLB put itself into a box with the extra Wild Card and Selig knew it. Making the first round a three-game series would create a situation where the other six playoff teams would be sitting around an extra four to six days, pushing the World Series deeper into November.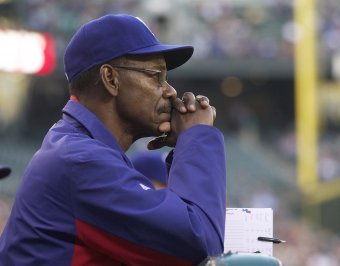 Stephen Brashear/Getty Images
Could MLB have scheduled a double-header in the playoffs, with a third game coming the next day in the other team's city? Travel would be a nightmare and three games in two days would surely decimate any pitching staff, but it may have been better than a one-game, winner-take-all crap shoot.
The Wild Card does serve to reward the team with the best overall record in each respective league, giving the top-seeded teams an opponent that already had to use a key starting pitcher in the one-game set.
Yet while a team like the Yankees will benefit from facing a wild-card winner in Baltimore or Texas that had to screw up its postseason rotation, the Oakland A's, not the Yankees, are actually the most fortunate team in the entire playoffs.
The A's play the Detroit Tigers who finished with just 88 wins, yet avoided the wild-card game because they won the worst division in baseball despite ending the year with five fewer victories than either wild-card team (and, sadly, fewer victories than two other teams sitting at home right now).
Is it more of a benefit to face a wild-card team that already had to play a game, or would the Yankees rather face the playoff team with the worst record?
MLB, like the NFL, puts too much of a reward on winning the division, especially when we consider the wild-card teams are coming from tougher divisions by nature of two playoff teams (at least) playing in there. Shouldn't the tougher divisions be rewarded more? Can the Yankees really think they are being rewarded by facing the wild-card winner?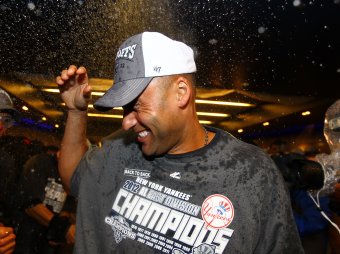 Al Bello/Getty Images
Not only that, the Yankees—and the Nationals on the NL side of the bracket—have to play the first two games of a five-game set on the road this year (a rule that will change in future years), meaning the top seed in either league could be facing a 0-2 deficit before it plays a playoff game in its own home park.
The playoff races have consistently come down to the last weekend, sometimes even the last day, but MLB wanted to guarantee that drama every year with this one-game playoff series. The extra teams have created that drama, but they've also provided logistical and structural issues that MLB will hope does not hurt the integrity of the best playoff format in all of sports.
Of course, logistics shouldn't matter for any of the teams. They are where they are. The Rangers and Orioles—and Braves for that matter—had ample chances to win their divisions but couldn't. We (read: I) can bitch all we (I, again) want about the playoff format, but it won't change the situation for any of these teams.
For the Braves, and specifically for Jones, he's got his one-last shot at a playoff run. It starts at home in a winner-takes-all against the defending World Series champions. He hopes it doesn't end there.
If MLB higher-ups wanted drama, knowing the career of one of the greatest players of this generation stems on the result of one game—of nine more innings in a Hall of Fame career that has logged thousands already—they got their drama. Perfectly manufactured, but drama nonetheless.
This article is
What is the duplicate article?
Why is this article offensive?
Where is this article plagiarized from?
Why is this article poorly edited?