Texas Football: Winners and Losers from the Week 6 Game vs. West Virginia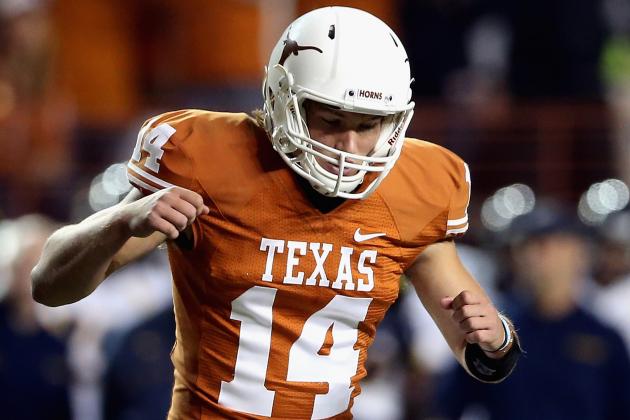 Ronald Martinez/Getty Images

The Texas Longhorns (4-1, 1-1) put themselves in a position to win the game, thanks to some timely forced turnovers on defense. But, a botched snap ultimately may have cost them a victory.
In that 48-45 loss to West Virginia, the Longhorns had a thick showing of good and bad.
Both the offensive and defensive units took some time to really establish rhythm, and stopping the Mountaineers offense proved to be just as difficult a task as imagined.
Humbled by defeat, Texas moves back into its preparation for its next opponent in Oklahoma.
But first, we look at the winners and losers from Saturday night.
Begin Slideshow

»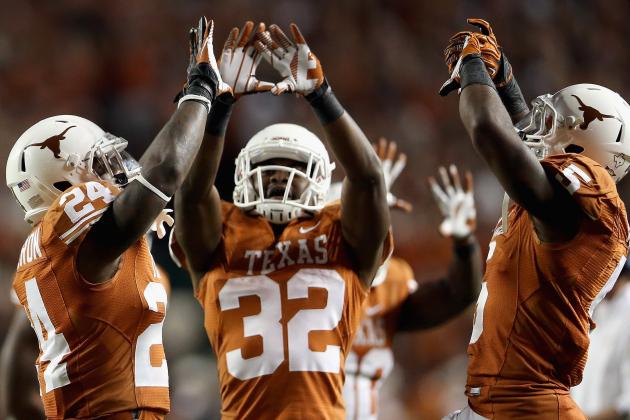 Ronald Martinez/Getty Images

In the absence of Malcolm Brown, who was sidelined with an ankle knock, freshman Johnathan Gray earned his stripes filling in for the sophomore.
And although Gray did not explode for huge production, he did everything that was asked of him and performed to a good standard moving forward.
Gray's mobility and speed bursts paved the way for 87 yards on 14 carries, both career highs in his short stint with the Longhorns. His 49-yard scamper, also a career milestone, that set up one of four Joe Bergeron touchdowns was a flash of his potential, and it is only a matter of time before the freshman explodes for a big run and score.
The former 5-star prospect has earned a bigger role Saturday, and with Brown wavering with his injury, it should only capture more confidence for Gray.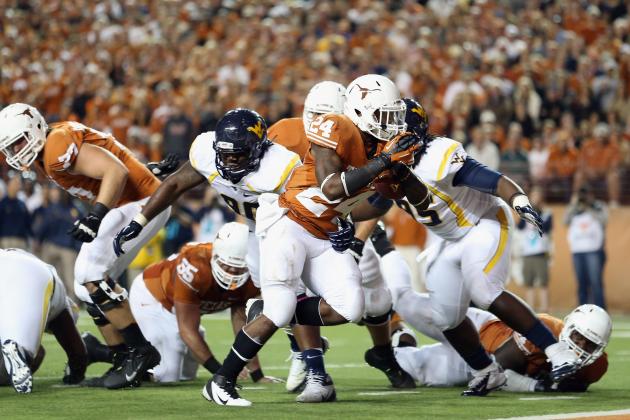 Ronald Martinez/Getty Images

Joe Bergeron may have had limited production as far as total rushing yards with just 45 on 17 carries. But when four of those 17 touches wind up in the end zone, something had to be going right.
The sophomore had five rushing touchdowns coming into the night, and he punishingly bumped up that number with strong, finishing runs.
As Malcolm Brown's status remains uncertain, Bergeron's role will only maintain bigger significance in the Texas running game.
Unfortunately, his 45 yards and 2.6 yards per carry were both season lows. At the same time, Bergeron's responsibility in pounding the ball up the middle cannot be understated in the establishment of the rest of the offense.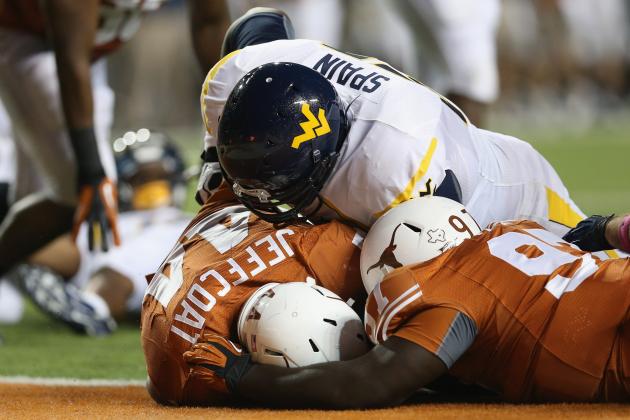 Ronald Martinez/Getty Images

Jackson Jeffcoat put in the game of his season against West Virginia, as he was very active in West Virginia's backfield.
The junior recorded four tackles, one for loss, to go with a half sack and a fumble recovery that resulted in a touchdown and swung the momentum in Texas' favor.
Jeffcoat has been one of the lone consistent performers for the Longhorns' defense, and his value has never been higher.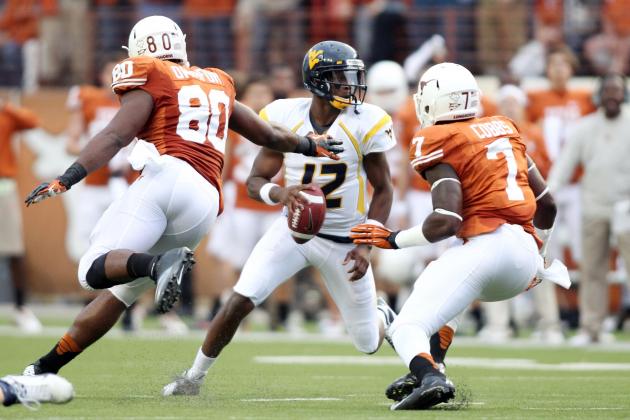 Tim Heitman-US PRESSWIRE

Alex Okafor, too, had himself the best game of his season.
The senior standout put up two tackles for loss, two sacks and two forced fumbles, both of which proved to be potentially pivotal for the Longhorns' success against West Virginia.
One of his strips was recovered in the end zone, and the other set up a short drive that should have gone for at least three points.
Despite the losing result, however, Okafor is starting to heat up as that consistent threat off the edge.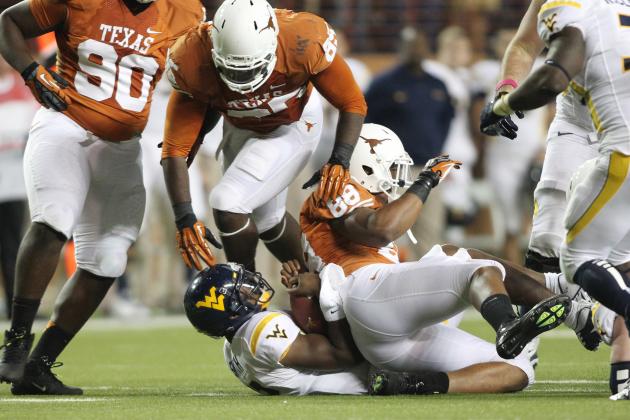 Tim Heitman-US PRESSWIRE

Jeffcoat and Okafor deserve their own mention, as does Chris Whaley, but the entire Texas defensive line simply made plays that helped keep the West Virginia offense at bay, temporarily.
At the end of the night, the big boys up front generated 22 tackles (eight for loss amounting to 45 yards), two forced fumbles, two fumble recoveries and three and a half sacks. Easily one of the standout performances of the season, the front four is bringing the most consistency and production by a long shot.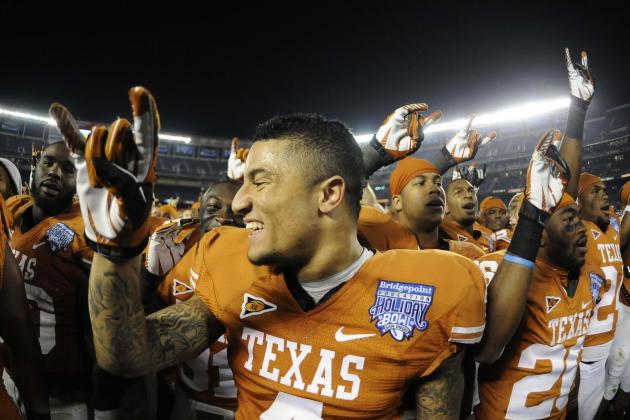 Christopher Hanewinckel-US PRESS

The senior safety returned to Texas with the hopes of a glorious final season in Austin, but Kenny Vaccaro has performed well below the expectations he established with his play last year.
Poor tackling has plagued Vaccaro, as well as the rest of the Texas defense, but as a vocalized leader in the secondary, he has definitely dropped the ball as far as expectations.
But, it is not like Vaccaro has had such a sub-standard season that he has become a scapegoat. He still plays with a violence around which the defense can rally, and a strong second half of the season virtually erases the shortcomings early on.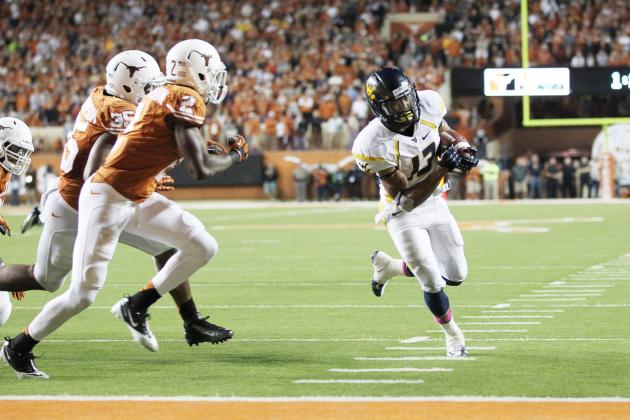 Tim Heitman-US PRESSWIRE

We all knew that Texas was vulnerable in multiple areas on defense, but the Mountaineers ran rampantly over the Longhorns.
Andrew Buie looked unstoppable virtually all night as the sophomore running back recorded 207 yards and two touchdowns on 31 carries. He also opened things up with three catches for 66 yards, and it was obvious that Texas had a tough time shedding blocks and bringing down ball-carriers.
Unless the play was blown up in the backfield by a strong defensive line performance, Texas did not do so well in stopping the run at the next levels.
It is nothing new, but it exposed yet another weakness that the Longhorns will have to address heading into the Red River Rivalry.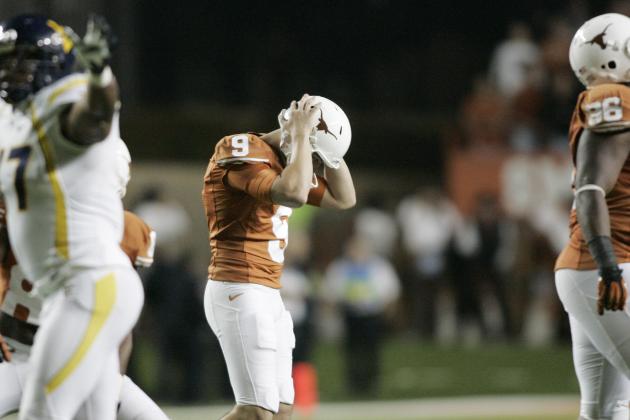 Tim Heitman-US PRESSWIRE

Outside of a 38-yard field goal and a 47-yard punt, not much else went well for Texas' special teams.
Marquise Goodwin had his electrifying return, but a turnover on the next play eliminated the positive feelings.
Anthony Fera made his kicking debut for the Longhorns, but he missed a 41-yard attempt that would have evened the game late.
Texas gave up huge returns on multiple kickoffs, allowing a short field to an offense that moved the ball well all night.
On the best note, Texas did get blocks on a field goal and a punt, efforts that seemingly have picked up recently.
But at the end of the night, the Horns did not have a memorable performance on special teams.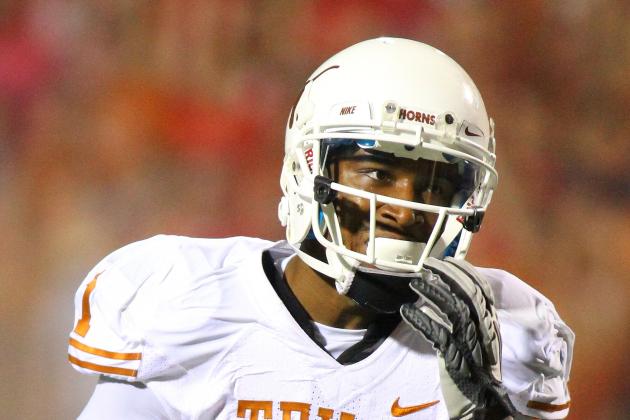 Spruce Derden-US PRESSWIRE

For a guy who made the catch of his career only a week ago, Mike Davis did his nickname "Magic" some justice with an unfortunate disappearing act against West Virginia.
Whether by design, development or poor separation, Davis hauled in a catch on Texas' first offensive play but failed to snare another until very late in the fourth quarter.
So when Texas thought it would have a formidable duo going into Saturday night with Davis and Jaxon Shipley, the latter was the only one to legitimately impact the contest.
Davis, who arguably took huge steps forward with his confidence against Oklahoma State, probably took a step back against the Mountaineers.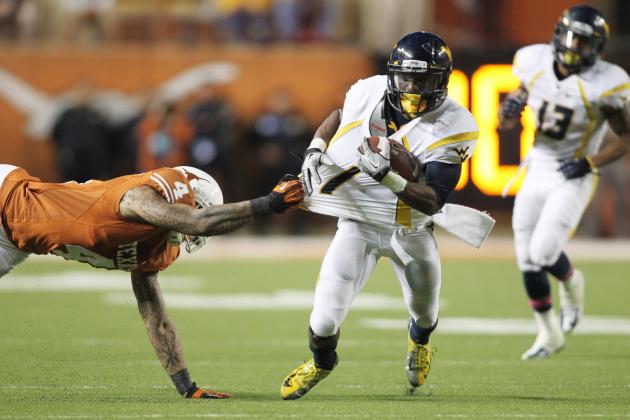 Tim Heitman-US PRESSWIRE

Whether it was Kenny Vaccaro, Carrington Byndom or any Texas defensive back, whoever was covering West Virginia's standout receiver Tavon Austin looked simply overmatched.
Austin caught 10 balls for 102 yards and a touchdown, but his 222 all-purpose yards made him shine even brighter.
It was a lopsided contest that West Virginia exploited consistently and for good reason.