LSU Football: Winners and Losers from the Week 6 Game vs. Florida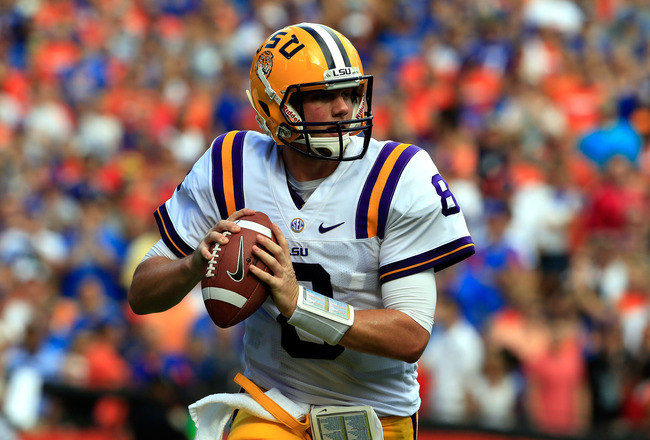 Sam Greenwood/Getty Images
Not even the LSU Tigers can overcome injuries and dismissals.
LSU's 14-6 loss against Florida proved that though this team has immense talent, the lack of depth is really starting to show. In the words of the Notorious B.I.G., if you don't know, now you know.
The injuries up front on the offensive line are the biggest area of concern. Because they lost Chris Faulk at left tackle for the season, they've had to shift players around and they simply can't protect Zach Mettenberger. Losing Josh Williford in this game certainly didn't help, either.
So with LSU getting their first regular-season loss since 2010, here are the winners and losers from LSU's defeat.
Loser: Zach Mettenberger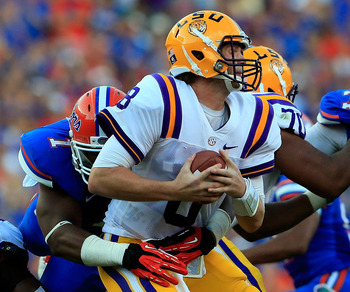 Sam Greenwood/Getty Images
It's official—Mettenberger is not the quarterback LSU fans thought they were inheriting.
Though he receives more of the blame than he should, he never stepped up and made plays for this offense in the loss to Florida.
Mettenberger completed 11 of 25 passes, threw for 161 yards and had no touchdowns with an interception in the game.
Is it wrong to have a better feeling about scoring when the defense is on the field rather than the offense? Unfortunately, that's just the way it is right now with Mettenberger running the offense.
Winner: Kevin Minter and the Linebackers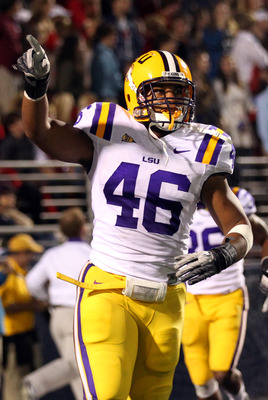 Joe Murphy/Getty Images
Kevin Minter and the linebackers had an incredible showing in The Swamp.
Yeah, Minter already came into the game leading the team in tackles, but against Florida, he had his coming out party.
Minter was all over the field making plays, generating sacks and even forcing fumbles in the contest. Heck, Minter had all of that in the first half, as he recorded 10 tackles, two sacks and a forced fumble.
What's even more encouraging for this Tigers defense is the play from the young linebackers. Particularly Kwon Alexander, who made his second career start as a freshman, wasn't intimidated and was able to make plays in the backfield. Unfortunately, he's lost for the remainder of the season after breaking his ankle in this contest.
Loser: Offensive Line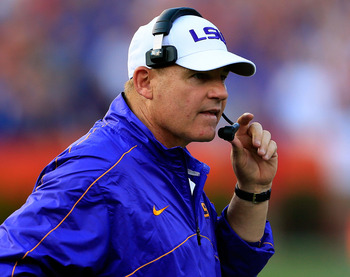 Sam Greenwood/Getty Images
Injuries are a killer.
Because of the depleted depth on the offensive line forced by injuries throughout the season, this team really struggled to win the battle in the trenches.
Here's a stat that will make Tiger fans uneasy: 42 rushing yards. Yep, LSU totaled 200 yards against the Gators in The Swamp and of those 200, 42 is all they could muster on the ground.
Credit Florida's defense, but 42 yards on the ground for this LSU team falls heavily on this offensive line. But what can you do when nearly the entire offensive line has struggled to stay healthy?
Winner: J.C. Copeland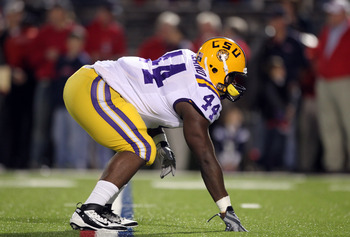 Joe Murphy/Getty Images
Though he didn't necessarily play great, J.C. Copeland should be commended for playing against Florida.
His injury last week against Towson certainly didn't look good and after he was cleared to practice, Copeland tweeted that he would do whatever he needed to do to help his team.
Although he didn't play the entire game, he was out on the field giving everything he had for this team, and really, that's all you can ask for.
It's men like Copeland who coaches love to build their team around.
Loser: Odell Beckham
Sam Greenwood/Getty Images
Odell Beckham went from being the game's savior to the scapegoat in a matter of seconds.
Just when Florida was starting to take control of the game, LSU's Mettenberger answered with a 56-yard pass play to Beckham.
Up the sideline Beckham went fighting with Matt Elam, and Elam stripped the football, allowing the Gators to recover.
Beckham also had some crucial drops in this game, and at this point, the Tigers are in search of some offensive playmakers. They better find them before their big encounter with South Carolina next Saturday night.
Keep Reading

LSU Football: Like this team?