10 Predictions for the AL, NL Wild Card Playoff Games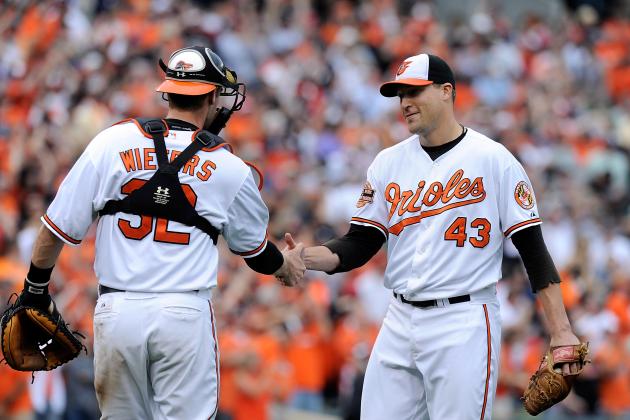 Greg Fiume/Getty Images

There will be an interesting new wrinkle during the 2012 MLB postseason as two wild card teams will face off for the first time in MLB history.
In the American League, the Baltimore Orioles will take on the struggling Texas Rangers. The two National League teams facing off will be the Atlanta Braves and the defending World Champion St. Louis Cardinals.
All four of these teams will be fighting for a spot in the Divisional Series. Since this is a one game playoff, managers will not be afraid to pull out all the stops. It would not be surprising if a starter is called upon in relief or if we see managers doing whatever they think is best to have their team protect a lead.
Begin Slideshow

»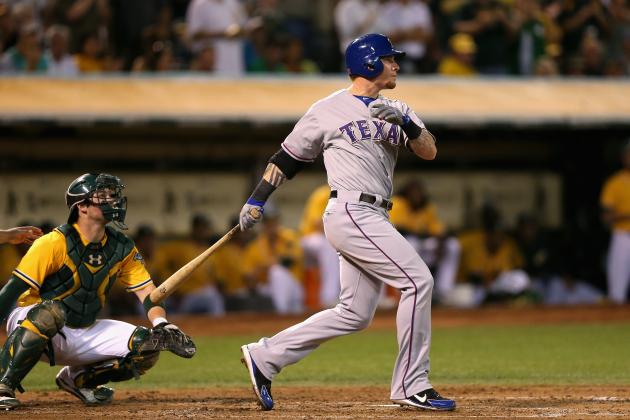 Ezra Shaw/Getty Images

The postseason is when stars are really able to shine. With Josh Hamilton in a contract year, he has an extra incentive to keep his season going so that he can show off his ability.
Hamilton will make an impact in the game, just like he has all season. He hit 43 home runs during the regular season and he will slug one during the AL Wild Card Playoff Game.
It will be a good start to the postseason for Hamilton and the Rangers. Hamilton's performance will have a big impact on whether or not the Rangers are playing again next week.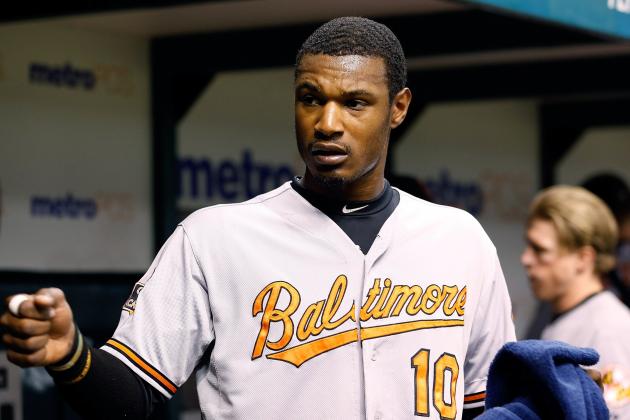 J. Meric/Getty Images

Adam Jones has matured into the star player that the Baltimore Orioles were hoping he could be when they acquired him from the Seattle Mariners.
Jones hit .287 and slugged 32 home runs on the season. While Jones may not hit a home run in the AL Wild Card Playoff Game, he will pick up two base knocks, and one of them could give the Orioles an early lead.
Rick Yeatts/Getty Images

Yu Darvish put up great numbers in his first season in the United States. Over 29 starts, he finished sixth in the American League with 16 wins, fifth with 221 strikeouts and he had a 3.90 ERA. In a different season he could have been the American League Rookie of the Year.
The Texas Rangers are turning to Darvish for the AL Wild Card Playoff Game.
While Darvish struggled in late July and early August, he has turned things around of late. In his last six starts Darvish has gone 5-1 with a 1.85 ERA and 49 strikeouts in 43.2 innings.
Texas will ride his hot arm to a big win. Expect a solid seven innings out of Darvish in which he gives up four or five hits, one run and strikes out nine.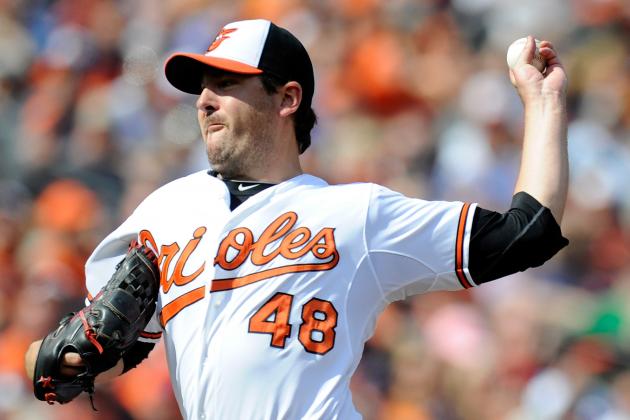 Greg Fiume/Getty Images

Joe Saunders has pitched better since moving to the Baltimore Orioles this year. He has gone 3-3 with a 3.63 ERA in seven starts for the team.
Some pitchers seem to come up with great starts in playoff games, but Saunders has not been one of them.
In four postseason starts, Saunders has a 6.00 ERA and has made it through the fifth inning in only once. While four starts is a small sample size, it does not bode well for Saunders.
The Rangers could end Saunders' night early and force him to exit if they score three or four runs early.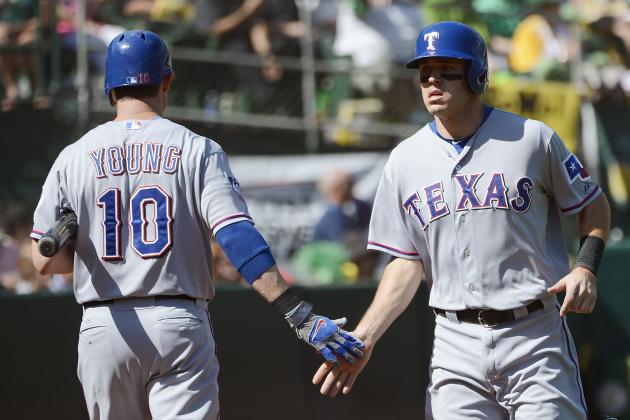 Thearon W. Henderson/Getty Images

These two teams have squared off against each other seven times during the regular season, and the Texas Rangers came away with five wins. This has to be a bit of a psychological edge for the Rangers.
Even though the Rangers have been slumping as of late and the Orioles have been playing well, that momentum may not be enough. The Rangers have a ton of postseason experience and that could help them get over their recent poor play.
When all is said and done, the Rangers will be playing in the ALCS after pulling off a win over Baltimore.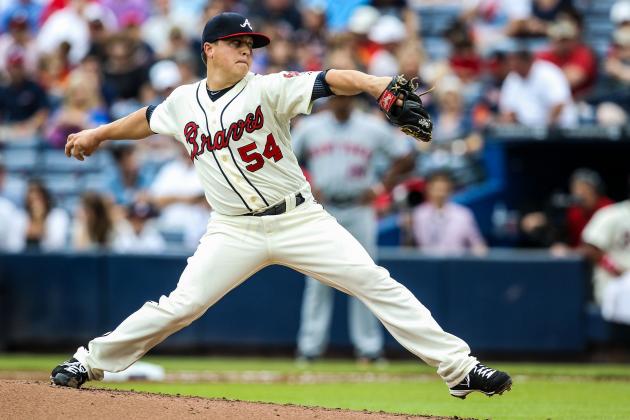 Daniel Shirey/Getty Images

The Atlanta Braves have gotten an incredible performance out of Kris Medlen since they moved him from the bullpen into their starting rotation. Medlen has gone 9-0 with a 0.97 ERA as a starter this year.
On the hill for the St. Louis Cardinals is Kyle Lohse, who has been one of the bigger surprises in the majors this year. With a 16-3 record and a 2.86 ERA, Lohse looked like a top of the rotation starter for the Cardinals this season.
It should be a great pitching match-up between two starters who had big years. Don't be surprised if neither team has scored more than one or two runs when the starters are finally lifted in the sixth, seventh or eight inning.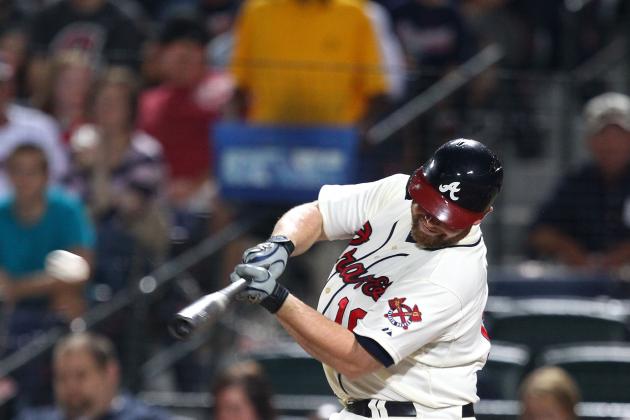 Mike Zarrilli/Getty Images

With two solid pitchers on the mound, there will be a distinct advantage for the team that can strike first. Both teams can expect their starters to hold onto a lead if they are given one.
Playing at home should make the Atlanta Braves feel slightly more comfortable and relaxed. This could help them pick up a run in the first or second inning, allowing them to stake out an early lead.
Denis Poroy/Getty Images

If Atlanta is able to get an early lead, the St. Louis Cardinals will be playing from behind all game. That should not be an issue, as they did a great job when they were in that situation last postseason.
With the Braves up by one or two runs late in the contest, the Cardinals will make a late comeback to tie the game. David Freese could have a hand in this as he has been clutch in big moments before.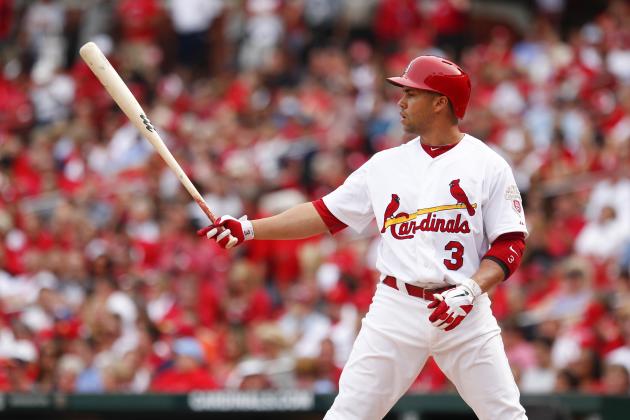 Kyle Rivas/Getty Images

This game will not be an easy one for either team and they will have to play extra innings to determine the winner (after the Cardinals make their comeback). At this point, any inning can be either team's last.
It would not be surprising if one of the team's turn to a starting pitcher to throw at least a few extra innings. With everything on the line, the two managers must be willing to do whatever it takes to put their team in the best position to reach the NLDS.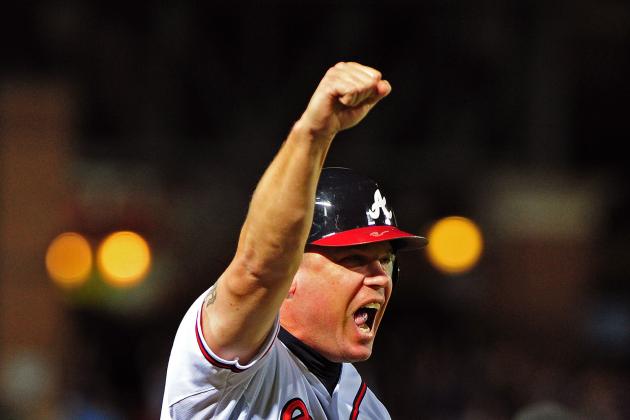 Scott Cunningham/Getty Images

With the Atlanta Braves playing at home, Chipper Jones could have at least one opportunity to win the game and continue his baseball career.
Jones has always been clutch during his career and he kicks things up a notch in extra innings. The .303 career hitter bats .324 in extra innings and has 11 home runs in 177 games.
As his career is winding to a close, Jones will deliver a big hit and make sure that the crowd at Turner Field goes home happy—that they have a few more chances to see Chipper play before his farewell tour is over.
The Braves will walk off with a 4-3 win in extras.