Arkansas Football: 5 Keys to the Game vs. Auburn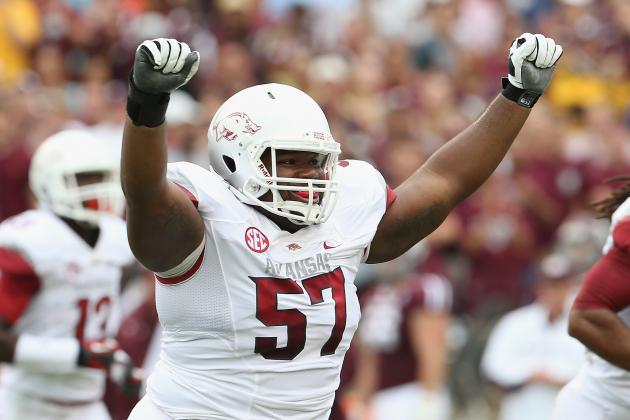 Ronald Martinez/Getty Images

The Arkansas Razorbacks travel to Auburn University to play the Tigers on Saturday.
Arkansas is coming off a four-game losing streak. It desperately needs a win to get its season back on track and create some semblance of competency to ease fan and media scrutiny for at least a week.
Auburn is facing its own media and fan scrutiny with its own disappointing 1-3 record.
With both teams looking for their first SEC win, Saturday's game can potentially define each program's season and set the tone for the rest of year.
Arkansas has an opportunity to take advantage of a struggling Auburn team and get some confidence on both sides of the ball moving forward.
Here are five keys to a Razorback victory when the Hogs travel to Jordan-Hare Stadium this weekend.
Begin Slideshow

»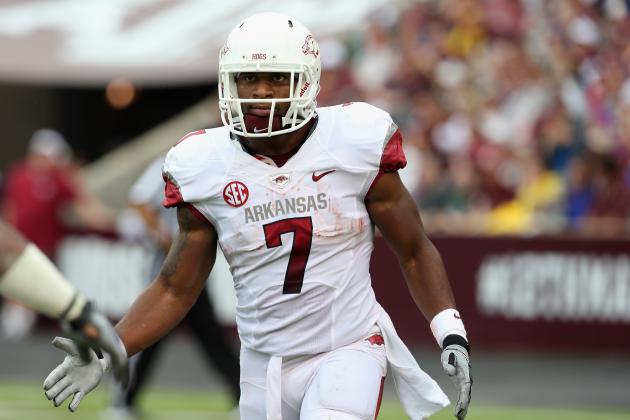 Ronald Martinez/Getty Images

Knile Davis has had a difficult season so far. He has averaged only 3.3 yards a carry over 82 attempts.
The first quarter of the Texas A&M game last week was exciting for Razorback fans. Knile Davis had 45 rushing yards over eight carries and a 64-yard touchdown reception.
Davis still has not had a game where he performed at the same level he did in 2010. His first-quarter performance against the Aggies was a good start.
Auburn allowed 347 rushing yards in its last two games. This could provide Davis with an opportunity to get his game going and crawl out of his slump.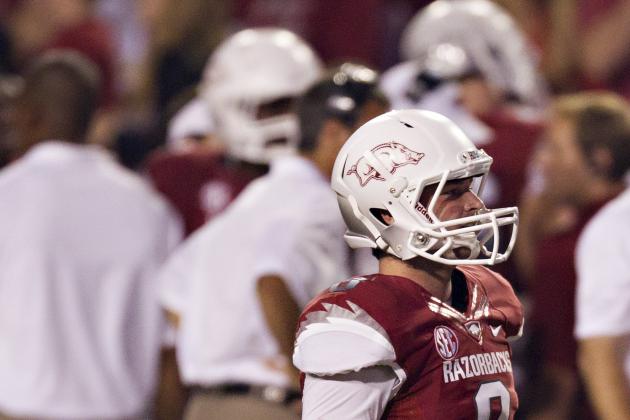 Wesley Hitt/Getty Images

Tyler Wilson is one of the few consistent performers for this Arkansas offense.
He passed for 419 yards against Rutgers in Week 4 and 373 yards last week against the Aggies. He also threw two interceptions in both games.
When a team is in a downward spiral like Arkansas, any little failure on the field creates a negative ripple effect through the team's collective psyche.
The team's drama off the field has pushed the players and coaches to their limit. Any kind of setback, like an interception, brings a, "here we go again," attitude onto the field and the sideline.
If Wilson can avoid interceptions, it will be a huge boost to his team's confidence in this game.
The Razorbacks could also expect some help from Auburn in this department. The Tigers have not intercepted a pass since their game against Clemson in Week 1.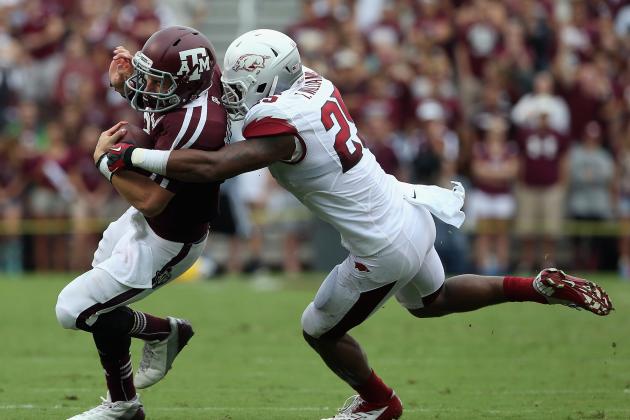 Ronald Martinez/Getty Images

The Arkansas defense is in shambles. It cannot stop the run, and its pass coverage is lacking.
Paul Haynes' defense does have the good fortune of going up against an Auburn team that only has six touchdowns on the season, three rushing and three passing.
Auburn quarterback Kiehl Frazier also has seven interceptions so far this year.
If Auburn's offensive woes continue this week, the Hogs' defense should be able to capitalize.
This will give the Hogs not only an opportunity for a win, but the chance to get their defense some confidence moving forward this season.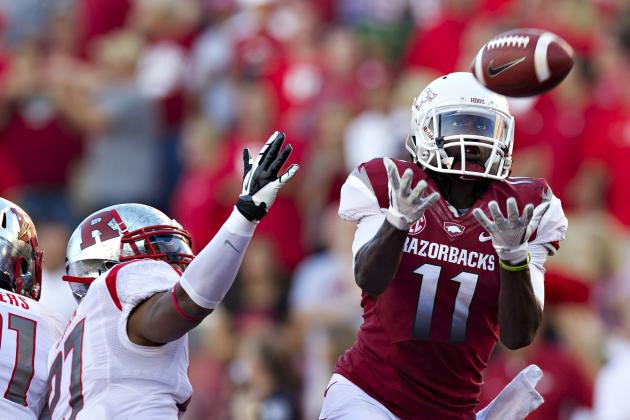 Wesley Hitt/Getty Images

Tyler Wilson's favorite passing targets are Chris Gragg and Cobi Hamilton. Gragg will not be playing Saturday due to injury. Hamilton is on every opposing defense's radar after his record-breaking performance against Rutgers. Auburn will be ready.
This leaves an opportunity for Brandon Mitchell and Mekale McKay to make some big receptions in this week's game.
Mitchell has had a difficult time transitioning to wide receiver after being recruited by Bobby Petrino to play quarterback. He missed some opportunities while having to pull double duty at quarterback during the Alabama game in Week 3. He has yet to score a touchdown all season. Saturday would be a good time to get his name in the box score.
McKay is a freshman that has yet to put up a big game in his college career. He only has seven receptions in five games and has not scored a touchdown since the Louisiana-Monroe game in Week 2.
If Auburn's defense continues to struggle as it has so far this season, Mitchell and McKay will be primed to make an impact in this game.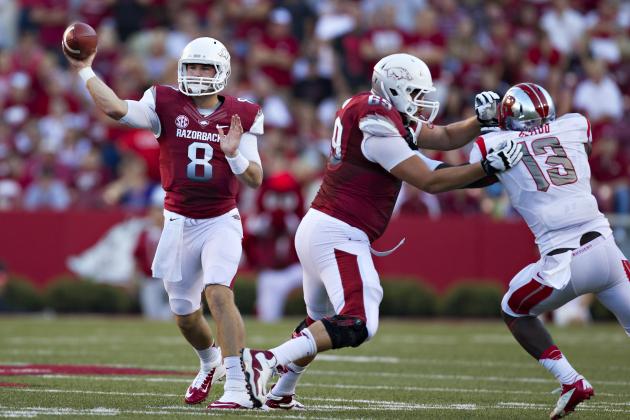 Wesley Hitt/Getty Images

Arkansas has only led in time of possession in one game this season. And that was because Texas A&M made quick work of the Hogs' defense whenever the Aggies had the ball.
Opposing teams lead the Razorbacks in possession 172:08-127:52. That's roughly three quarters of football that Tyler Wilson, Cobi Hamilton and Knile Davis are not on the field making plays and putting points on the board.
Part of the issue is the Razorbacks' problem converting on third down (22-of-67 on the season). The other issue is the defense allowing opposing offenses to stay on the field a lot longer than they should.
The Razorbacks just need more time with the football in Tyler Wilson's hands.
If Arkansas can beat Auburn in the possession game then there is a good chance that the Razorbacks will be able to snap their losing streak this Saturday.