Alabama Football: 10 Early Team Awards for the Crimson Tide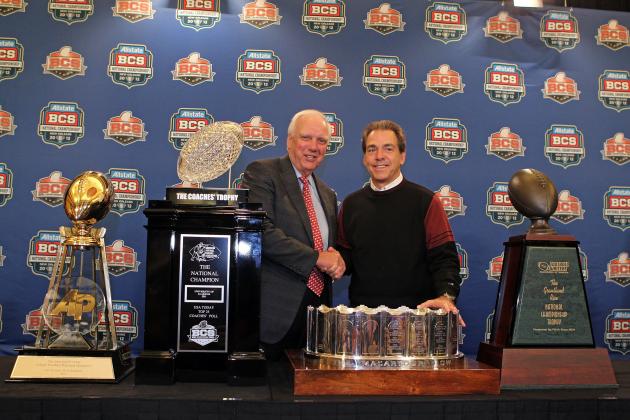 Andy Lyons/Getty Images

While Alabama is only five games into the 2012 season, it is never too early to begin raining a little praise on the athletes who have help to keep the Tide at the top of the national rankings. Being that this is the one and only bye week of the season, now would be as good of a time as any to spread a little hard earned praise.
When the Tide returns to action next week with a road trip to Missouri, the "meat" of the SEC slate will officially be under way and the quest for a second consecutive BCS title will be the goal. Some kind of silly and others quite serious, these are the men who have earned our first half awards.
Begin Slideshow

»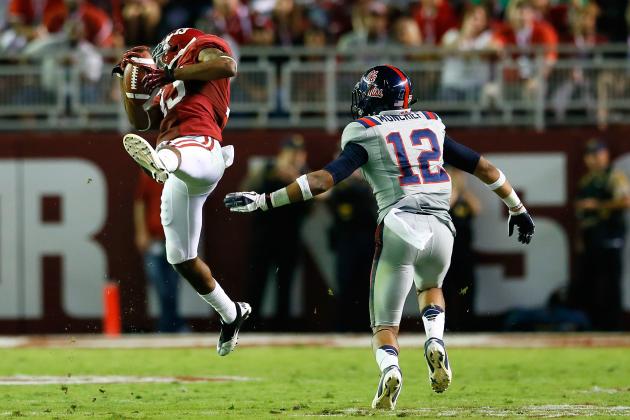 Kevin C. Cox/Getty Images

Winner: The entire defensive backfield
After Mark Barron, Dre Kirkpatrick and DeQuan Menzie left Alabama for the NFL after last season, the Tide secondary was left with a lot of big time holes to fill. If Alabama was going to have a defense anywhere near as solid as it did last season, the void in defensive backfield would have to be filled quickly.
Last season, the Tide intercepted 13 passes on the year, exactly one per game. This season, led by Dee Milliner and freshman Deion Belue (two each), Alabama has picked off opposing quarterbacks 9 times already and is on pacefor over 20 this season.
What was once feared to be the weakness of the Alabama defense has established itself as possibly its greatest asset. Seven different players already have an interception under their belt and the unit as a whole is achieving well beyond preseason expectations.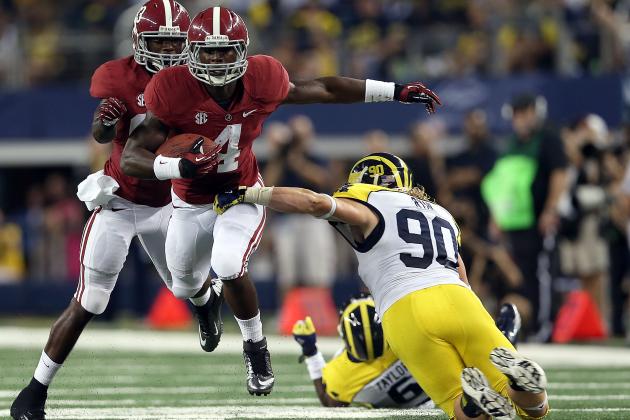 Ronald Martinez/Getty Images

Winner: T.J. Yeldon
Juniors Eddie Lacy and Jalston Fowler were expected to carry the brunt of the load at running back this season. From the opener against Michigan, though, freshman T.J. Yeldon established himself as a well-deserving offensive threat for the Tide.
Yeldon is averaging just under six yards per attempt thus far and is only 22 yards behind Lacy for the team lead. He is also sixth on the team in receiving yards this season, making him a double threat to opposing defenses.
If nothing else, Yeldon has provided Alabama fans with a very clear glimpse of the future at running back.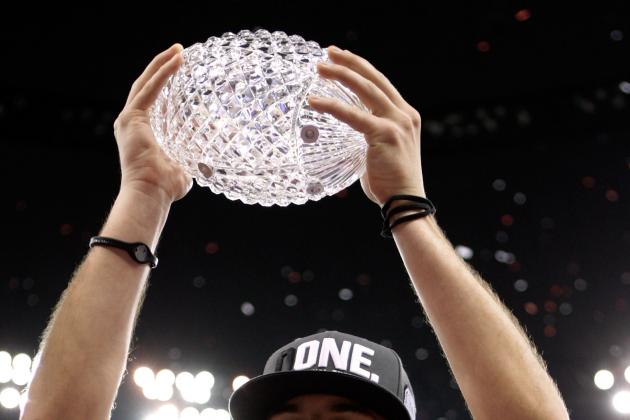 Andy Lyons/Getty Images

Winner: Jeremy Shelley
Place kicker Jeremy Shelley has seen good and bad days in his time at Alabama. After connecting on just 75 percent of his kicks in 2010, Shelley was just 21 of 27 last season and also missed a pair of extra point attempts.
This season, however, Shelley has been perfect. He has drilled all seven of his field goal attempts and is perfect on extra point conversions. After Alabama fell to LSU in Tuscaloosa last November largely due to its failure to kick a field goal, Tide fans dreaded three point attempts like IRS audits.
But Shelley has straightened out whatever his problems were and, as his confidence has risen, our confidence in him has risen as well.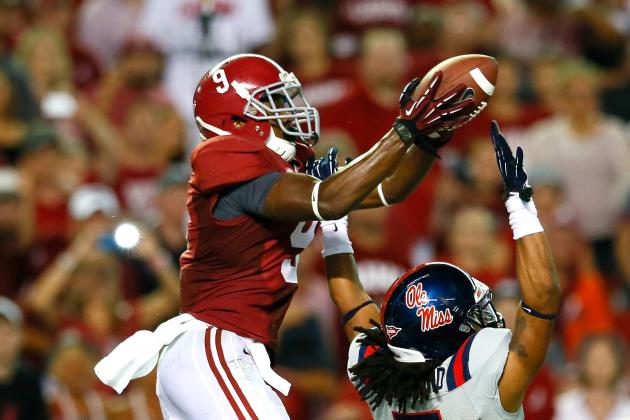 Kevin C. Cox/Getty Images

Winner: Amari Cooper
Freshman receiver Amari Cooper came to Alabama with a lot of promise. Possibly the most anticipated Tide receiver since Julio Jones, Cooper has delivered on that promise.
His numbers have increased with each of the five games this season, culminating in his "coming out party" last week against Ole Miss. Cooper caught eight passes for 84 yards and two impressive touchdowns in the 33-14 win.
On the season, Cooper now has almost twice as many catches as anyone else on the team (17) and leads receivers in both yards (222) and touchdowns (3). A star in the making, Amari Cooper will soon be a household name.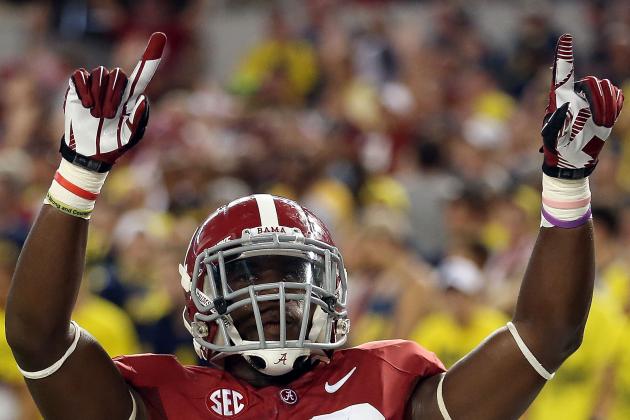 Ronald Martinez/Getty Images

Winner: C.J. Mosley
In 11 games last season, linebacker C.J. Mosley recorded 36 tackles for the Crimson Tide. This season, he has already surpassed that with 39 in just five games.
In the deep stable of Alabama linebackers, Mosley has established himself as the most dependable. He not only leads the team in tackles, but he also picked off a Denard Robinson pass in the Michigan game and returned it for a touchdown, helping to put it on ice in the first half.
With the pace he is on, Mosley could possibly be lining himself up for an All-American nod.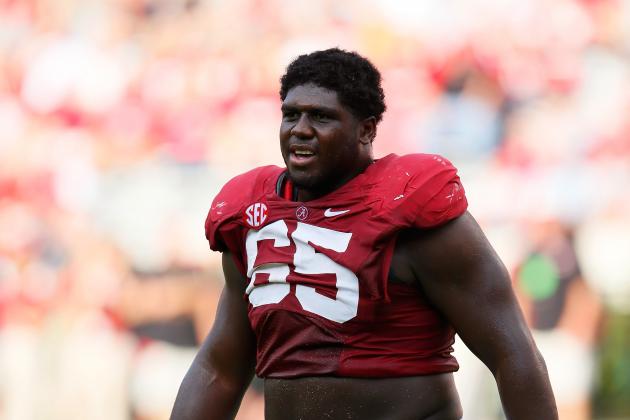 Kevin C. Cox/Getty Images

Winner: Chance Warmack
With Alabama coming in to the season with arguably the best offensive line in the nation, D.J. Fluker and Barrett Jones were in most cases the ones whose names were called out as the leaders.
Warmack, though, has established himself as one of the best blockers in the country. The strong but silent lineman we rarely heard of (or from) is now getting national praise from across the land. The future first-round NFL draft pick has played as big of a part in the success of the O-line as anyone.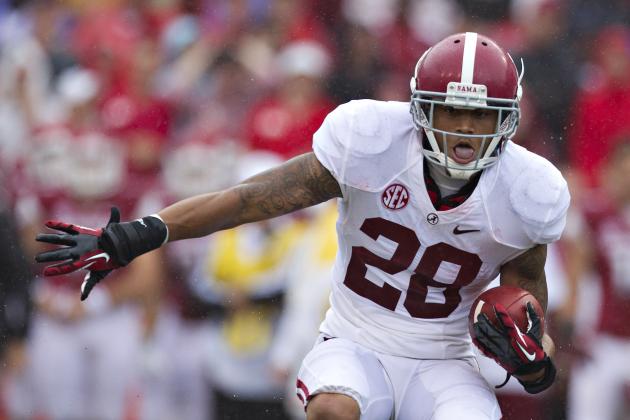 Wesley Hitt/Getty Images

Winner: Dee Milliner
Junior defensive back Dee Milliner set the tone for the defensive backfield early this season by breaking up four passes against Michigan.
Along with his two interceptions, Milliner has now deflected nine passes on the year and has become one of the most dependable shutdown corners in the nation. Michigan made it a point to pick on Milliner early, choosing to avoid Robert Lester. Milliner made them pay for that error in judgement and has been on a mission ever since.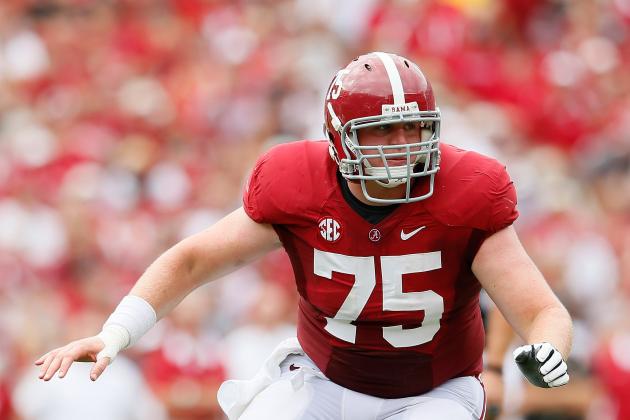 Kevin C. Cox/Getty Images

Winner: Barrett Jones
Senior offensive lineman Barrett Jones had no real need to return for another year at Alabama. But instead of going to the NFL as a sure first round draft pick, Jones came back for one more season.
The impressive part of this is that he did it knowing he would be moved to center, handling the snaps for the first time in his football career. Barrett Jones is the kind of selfless player that every coach dreams of having and his leadership is written all over the offensive line.
Who knows what position Jones will be asked to play at the next level, but if they asked him to return kicks he would surely give it his best shot without so much as a whisper.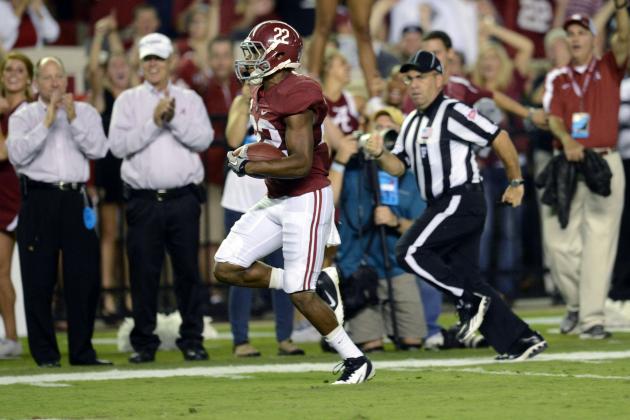 John David Mercer-US PRESSWIRE

Winner: Christion Jones
When punt returner Marquis Maze went own with an injury and was forced to miss most of the BCS title game against LSU, a practically unheard of Christion Jones stepped in to take his place.
We all know the empty feeling we have the first time we see a new return man step up to field his first kick. Jones did a terrific job that evening, filling a role he probably never expected to be in.
This season, Jones is averaging 33 yards per kickoff return, including an electrifying touchdown against Ole Miss last week. As a punt returner, Jones is averaging almost 11 yards per attempt.
With Jones safely handling the special teams end of the offense, Alabama fans can now cease to hold their breath every time the defense forces a punt. Jones has it under control.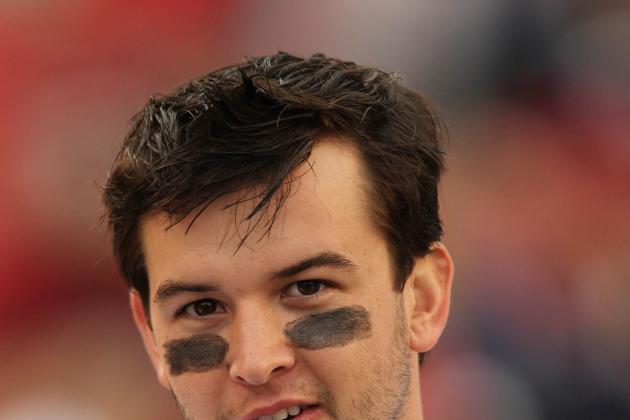 Nelson Chenault-US PRESSWIRE

Winner: A.J. McCarron
Is there any doubt about this one? The junior quarterback just set a new record at Alabama for passes thrown without an interception and has thrown 12 touchdowns to zero picks on the young season. He is among the top 10 nationally in quarterback rating and is on pace to have possibly the best year ever for an Alabama quarterback.
A.J. McCarron has come through for the Tide in a season where the running game has yet to come through in the way Tide fans have become spoiled by in previous seasons. With a group of receivers that really doesn't strike a whole lot of fear in opposing defenses, McCarron has led the offense effectively enough to be mentioned in Heisman circles.