Minnesota Vikings: Rookie Progress Report Through First 4 Games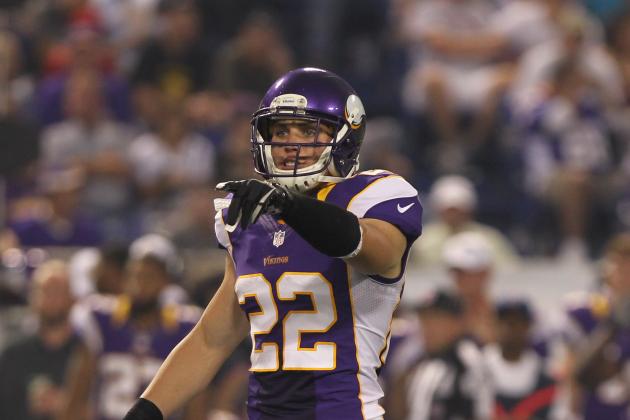 Brace Hemmelgarn-US PRESSWIRE
Harrison Smith is among a talented 2012 draft class of the Minnesota Vikings.
An under-valued reason why the Minnesota Vikings (3-1) sit atop the NFC North after four weeks, and a big reason they are viewed as a legitimate playoff contender is the play of the 2012 rookie class.
The 2012 draft will go down as one of the better drafts in recent memory, as Minnesota picked four, maybe five, players who are or will become major contributors to this roster for years to come.
Drafting well is, in part, what put the Green Bay Packers in the position they're in now; it's how Minnesota needs to continue its rebuilding process. (The Vikings haven't won anything yet; thus, they still rebuilding.)
The early report card on the class of 2012 is a favorable one.
Let's get to it.
Begin Slideshow

»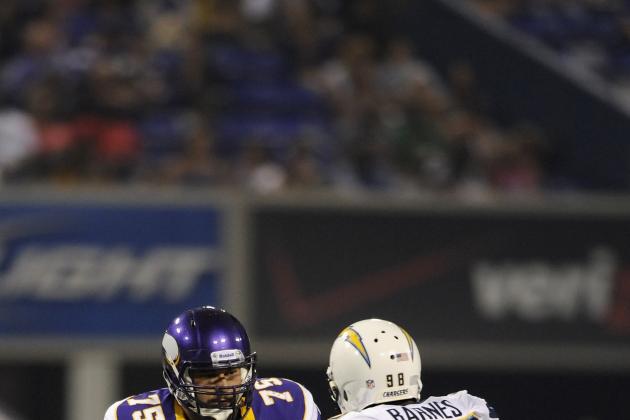 Hannah Foslien/Getty Images
Matt Kalil has played a much better left tackle than any performance Minnesota got in 2011.
Through four games the Minnesota Vikings have to be pleased with the No. 4 pick in the 2012 NFL draft. As part of a much-improved offensive line, Matt Kalil has yet to allow a sack this season.
Zero sacks allowed by your left tackle is good, when that player is an annual Pro-Bowl player. But it's phenomenal when that player is a rookie playing in his first four NFL games (regardless of the competition).
Kalil has provided Christian Ponder with plenty of time to work in the pocket. Ponder operates well when he's outside of the pocket, but it's always best when he does that on his own rather than because a defender is pursuing him.
Some scouts warned about Kalil's abilities as a run-blocker and they were right to be worried (via walterfootball.com). Kalil is solid as a run-blocker but there are plays where he doesn't create much of a push. Rather, the defender gets a push on him.
It's infrequent, but it's there. It's the one hiccup in an otherwise impressive rookie campaign.
Minnesota should feel very good about the future of its left tackle position with Kalil slotted there.
Grade: A-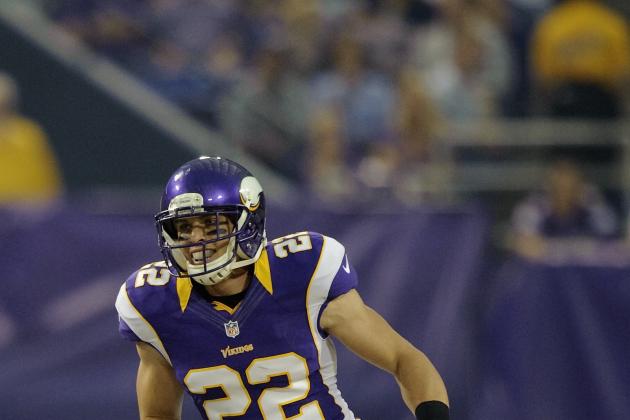 Hannah Foslien/Getty Images
In four starts, Harrison Smith has 22 tackles, including 10 solo.
Let's just call it what it is: Harrison Smith is one talented rookie.
There are plays where Vikings fans jump out of their seats because of a monster hit by Smith, like when he smashed Calvin Johnson in the end zone last week to jar loose a potential touchdown.
Then there are other plays where he's clearly out of position (there aren't too many, but they have happened).
Smith isn't the fastest safety in the league, but he's expected to mature into an intelligent safety who's not afraid to knock an offensive player in the teeth (as demonstrated by this hit on a San Diego receiver in preseason action) or get involved in blitz packages.
He's on track to be one of the best safeties Minnesota's had in my lifetime, but there will be growing pains.
Grade: B+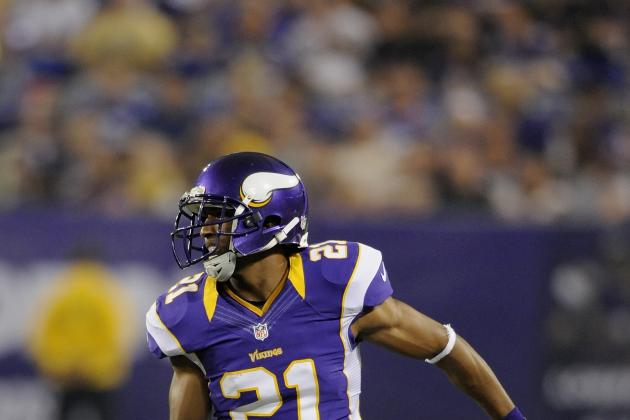 Hannah Foslien/Getty Images
Josh Robinson has had his ups and downs as Minnesota's No. 3 cornerback.
When the Minnesota Vikings cut veterans Chris Carr and Zack Bowman from the 53-man roster, many called them crazy.
Minnesota had one of the worst secondaries last season and cutting two stable hands couldn't possibly help the unit improve, could it?
Well, it has. And Josh Robinson has been part of that.
Robinson is Minnesota's primary No. 3 cornerback, meaning he's on the field in nickel packages. He's the only Viking with an interception on the season and has 17 tackles (sixth most on the team).
Much like with his fellow rookie in the secondary, Harrison Smith, Robinson has had his ups and downs (with more ups than downs). He's been a sure-handed tackler, good in man to man defense, but seems to drift a bit much in zone coverage.
The Vikings will continue to be happy with their third round pick this season and down the road.
Grade: B+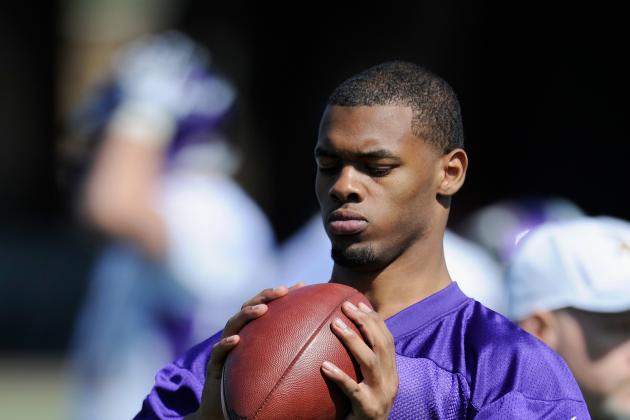 Hannah Foslien/Getty Images
Greg Childs tore tendons in both of his legs and is out for the 2012 season.
Before he was even able to play in a preseason game Greg Childs ruined his rookie season (maybe his career) by tearing patella tendons in both of his legs while landing awkwardly after a catch during training camp.
With no update on his recovery process and no timetable for his return (if there ever is one), Childs career may crash and burn sooner rather than later.
Grade: N/A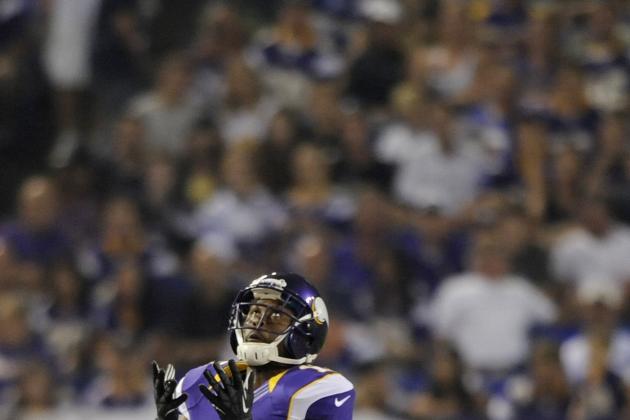 Hannah Foslien/Getty Images
Outside of his performance in the preseason finale against the Houston Texans (six receptions for 122 receiving yards and a touchdown) Jarius Wright has been invisible.
It's impossible to give Jarius Wright a grade because, well, we haven't seen him play in a regular season game yet.
The fourth-round pick from Arkansas has battled an ankle injury and has been inactive for the first four games.
The longer he sits out the more difficult it will be to make an impact on the season, because he'll be out of touch with the offense and quarterback Christian Ponder—although Minnesota's receiving corps isn't making it difficult for him to shoot up the depth chart if/when he returns.
Grade: N/A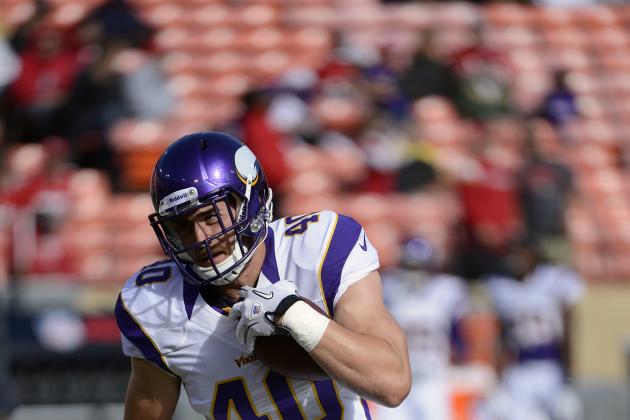 Thearon W. Henderson/Getty Images
Rhett Ellison doesn't see the field often, but when he does his blocking skills are on display.
Rhett Ellison doesn't see much time on the field, but when he does it's primarily in a blocking role. And that makes sense because that was the primary reason the Vikings drafted him in the fourth round of this year's draft.
Minnesota lost Jim Kleinsasser to retirement and was worried about how to replace his productivity. Enter Ellison, who at 6'5" and 250 pounds is known as a strong blocker.
And that's what Minnesota's gotten from him.
With John Carlson and Kyle Rudolph occupying the two tight end positions and Jerome Felton serving as the primary fullback, Ellison's playing time has been and will continue to be limited.
What's been asked of him, he's done well. One can't fault him for getting limited playing time because there are talented players in front of him.
Grade: B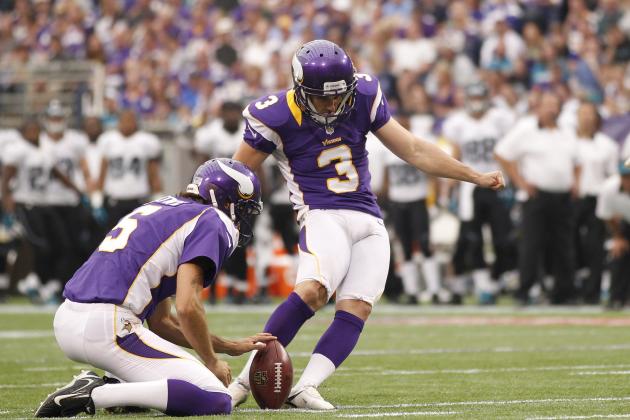 Andy King/Getty Images
Blair Walsh has been the most pleasant surprise of Minnesota's 2012 draft picks.
Blair Walsh wins the title for most impressive rookie through four weeks.
We all knew Matt Kalil and Harrison Smith would be average to above-average as rookies.
But not too many people expected Walsh to be 9-of-10 on field goal attempts and perfect on extra points—all while consistently drilling touchbacks on kickoffs.
One of those nine made field goals was a 55-yarder that sent Minnesota's season-opener to overtime; another was the game-winning 36-yard field goal during that overtime session.
Three of his nine makes have come from 50-plus yards, while he hasn't missed from that distance.
Power was never the concern with Walsh, but accuracy was. He's impressed with power and accuracy, thus far.
Walsh's one miss this year was a 46-yard attempt in the fourth quarter against the Detroit Lions, which was surprising considering it was in a dome.
Those who questioned Minnesota's decision to cut Ryan Longwell, like me, look foolish now as Walsh continues to excel as Minnesota's placekicker and kickoff man.
Grade: A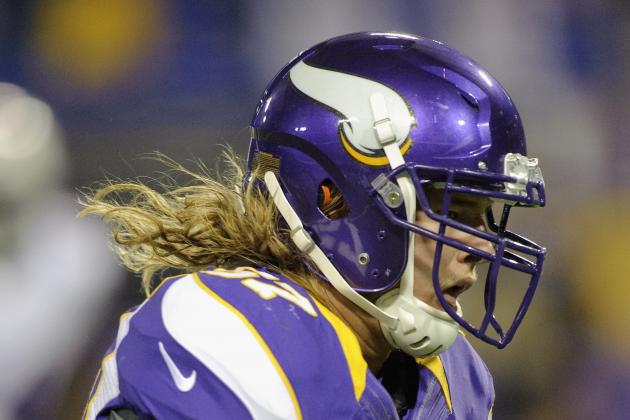 Hannah Foslien/Getty Images
Audie Cole was all the hype in the preseason and now makes an impact on special teams.
If you paid any attention to the Minnesota Vikings in the preseason, you learned that the most talked about player on the roster was linebacker Audie Cole.
Cole picked off two passes in a matter of 14 seconds and returned each interception for a touchdown against the Buffalo Bills in Week 2 of the preseason.
With Minnesota's middle linebacker position uncertain (Jasper Brinkley was a MAJOR question mark) many fans and in the media suggested he should be the starting middle linebacker. Four games into the 2012 campaign and that notion now seems silly as Brinkley has thrived in the middle.
But back to Cole.
With Brinkley performing well, Cole has been relegated to "garbage" minutes and contributing to special teams.
Maybe I haven't watched games closely enough, but I haven't seen Cole do anything impressive or pathetic.
Grade: C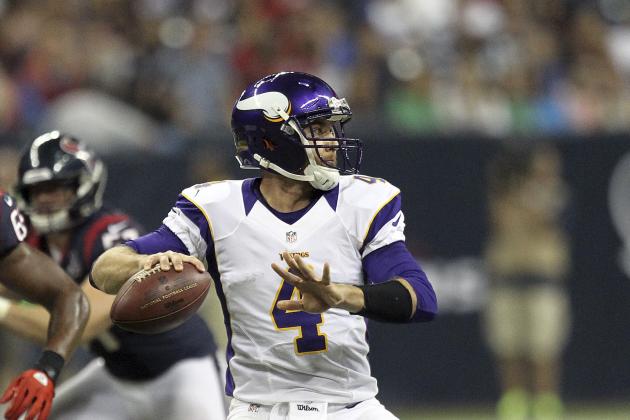 Bob Levey/Getty Images
McLeod Bethel-Thompson hasn't seen the field during the 2012 season.
It's impossible to give McLeod Bethel-Thompson any grade; the rookie hasn't appeared in a game yet this season (nor will he appear in a game unless Christian Ponder and Joe Webb suffer injuries or Minnesota gets a huge lead).
What we know about Bethel-Thompson is that he is a gunslinger. He is known for his strong arm and improving accuracy.
Grade: N/A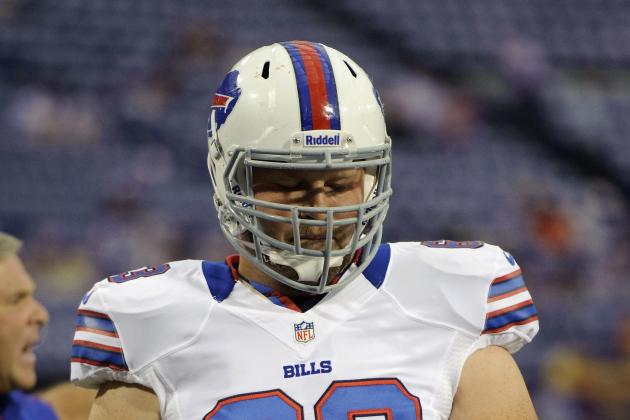 Hannah Foslien/Getty Images
Minnesota claimed Mark Asper off waivers after the Buffalo Bills cut him after preseason play.
In claiming Mark Asper off waivers from the Buffalo Bills after the conclusion of the 2012 preseason, the Minnesota Vikings released offensive lineman Pat Brown, who played sparingly in 2011.
Asper, like so many on this list, hasn't seen the field in 2012, which means it's impossible to accurately grade his performance this season.
Grade: N/A