The Cincinnati Bengals have a very specific set of challenges this week when taking on the Miami Dolphins. On the one hand, that makes it fairly easy to proscribe a game plan for a Bengals victory, but on the other, there's the actual execution of said plan.
One look at the Bengals' and Dolphins' respective statistics over the last four weeks, and it's not hard to tell what kind of identities the two teams are building. With that in mind, here's a two-step plan for the Bengals to undertake as they seek to open their season with a 4-1 record and maintain their share of the AFC North lead.
No Run, No Problem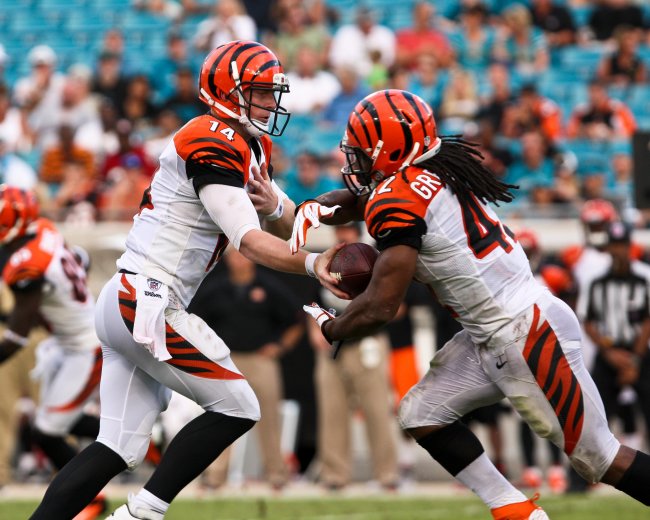 Rob Foldy-US PRESSWIRE
The Miami Dolphins have the best run defense in the league right now, allowing opponents an average of 56.8 yards per game on the ground. While the Bengals do run the ball—on average, 28.8 times per game—the Dolphins' strength against the run actually plays into the Bengals' hands somewhat.
While the Dolphins are not allowing opponents to run on them, they're giving up more than enough passing yards (297.8 in fact, ranking them 30th in the league), which does help explain why they're just 1-3 on the year.
This is quite convenient for the Bengals—they have the eighth-most passing yards per game in the league, at 279.2, and quarterback Andy Dalton is completing 67.72 percent of his passes. Though running the ball does help the passing game take hold and backs BenJarvus Green-Ellis and, to a lesser extent, Bernard Scott, will still get carries, it's the passing game that propels Cincinnati's offense, and they should have no trouble in that area on Sunday.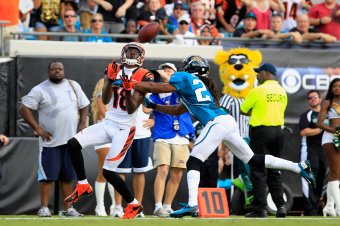 Chris Trotman/Getty Images
Though Dalton's performance through four games has been extremely impressive, he's still shaky under pressure, with a 55 percent completion rate, two picks and 12 sacks when facing a pass rush, and 57.4 percent with two interceptions and five sacks when facing the blitz (subscription required).
However, the Dolphins pass rush is pretty much nonexistent beyond defensive end Cameron Wake. If the Bengals can keep Wake off of Dalton, he should find himself with clear passing lanes to A.J. Green, Armon Binns, Andrew Hawkins and Jermaine Gresham all afternoon long.
Contain the Dolphins Run Game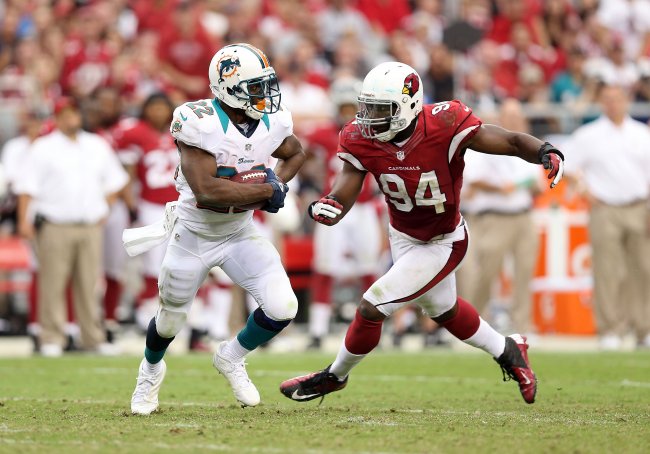 Christian Petersen/Getty Images
Though rookie Dolphins quarterback Ryan Tannehill is improving on a weekly basis, the crux of Miami's offense is its run game, which is the fifth-best in the league in terms of yards and third-best when it comes to scoring.
It's a four-headed approach for the Dolphins this year: Reggie Bush has handled the bulk of the work thus far, with 67 carries for 369 yards and three scores; Lamar Miller and Daniel Thomas serve as change-of-pace backs and have combined for 210 yards and two scores. Jorvorskie Lane is the goal-line scoring threat—he has just 18 yards on nine carries, but two touchdowns to his name.
As such, the Bengals have a lot of work to do if they want to stop the Dolphins running attack. Currently, Cincinnati's defense ranks 24th against the run, giving up an average of 133.5 yards per game. They'll need their linebackers, defensive line and even their safeties to all be keyed in on the run and tackle well to keep the Miami rushers' gains to a minimum
However, there's another approach that could also effectively cut off Miami's ability to run—keep scoring points. Considering how poorly the Dolphins defense is faring against the pass, compared to how well Dalton is currently doing so, if they can run up the score enough it would force Miami to turn away from the run and focus on passing the ball.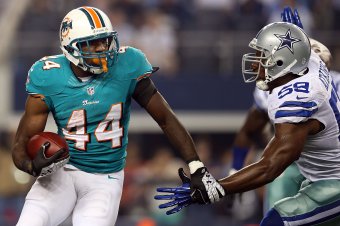 Ronald Martinez/Getty Images
That not only opens up the rookie Tannehill to making mistakes, but also means their primary weaponry shifts from their talented backs to their generally unimpressive receiving corps. (OK, Brian Hartline did have 253 receiving yards last week, but the Dolphins still lost to Arizona.)
The Bengals, despite less-than-impressive run defense yardage, have done solid jobs containing some of the better backs in the league. They held Maurice Jones-Drew to just 38 receiving yards in last week's win over the Jaguars and Ray Rice to just 68 when they fell to the Ravens in Week 1.
It's not beyond them to shut down someone like Bush—the real challenge lies in stopping the Dolphins' running, no matter who is getting the carries. But if they succeed, they'll almost certainly win.