3 Reasons Robinson Cano Will Carry New York Yankees to World Series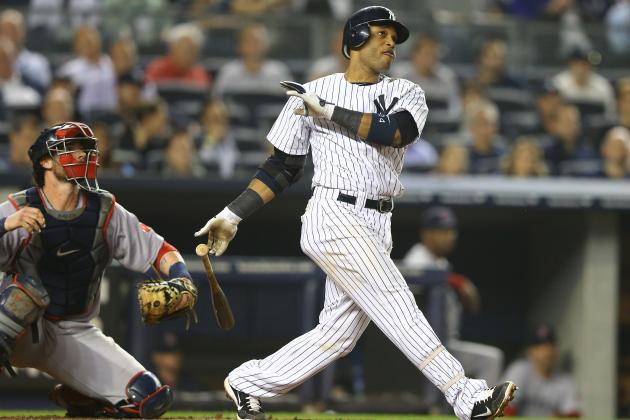 Al Bello/Getty Images
Robinson Cano watches his mammoth home run sail over the right field wall during an Oct. 3 game against the Boston Red Sox
He doesn't deserve the AL MVP like I predicted he would back in March, but there is good reason to believe that Robinson Cano just might carry the New York Yankees to a World Series title.
Looking back, four of my five "bold predictions" for the 2012 Yankees turned out terribly inaccurate at the conclusion of the regular season.
Derek Jeter didn't get dropped in the batting order, he flirted with a batting title.
Alex Rodriguez didn't drive in 100 runs—try 57.
Michael Pineda certainly didn't come close to 17 wins because he didn't throw a single pitch for the Yankees in 2012.
And Robinson Cano might be in the MVP discussion if it wasn't for a guy in Detroit who decided to win the Triple Crown.
Luckily, my fifth and final forecast still has life.
There were times during the strenuous season when I questioned if New York had what it takes to win their 28th World Series championship, but those doubts have diminished.
The last two weeks of the season showed me they are definitely capable.
But who will take them there?
Here are three reasons why Robinson Cano will carry the Yankees to a World Series title.
Begin Slideshow

»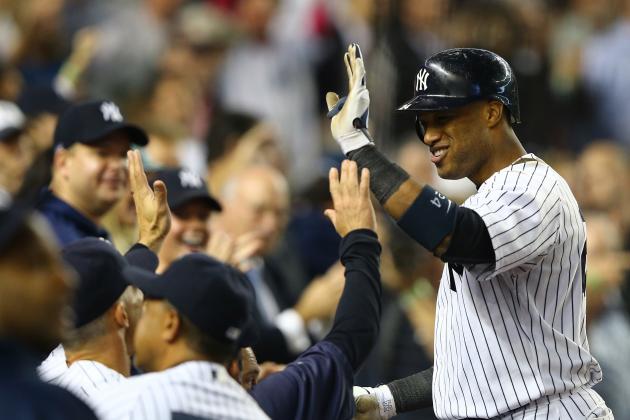 Al Bello/Getty Images
Robinson Cano receives a warm greeting from his teammates in the dugout following a home run against the Boston Red Sox
Over the last nine games of the regular season, Robinson Cano raised his batting average an unbelievable 20 points.
During a 162 game season, when you accumulate more than 600 at-bats, a 20-point increase in your batting average means only one thing:
You're seeing beach balls fly out of the pitchers' hands.
In his last nine contests, Cano racked up 24 hits, 10 of which were for extra bases.
My preseason choice for the AL MVP also scored 11 runs, drove in 14, and struck out just three times over that same nine game period.
To put those numbers into perspective, consider that Boston, as a team, totaled 19 runs over their last nine games of the 2012 regular season.
Robinson Cano accounted for 25 runs by himself.
I don't always give much thought to the idea of "momentum" in playoff baseball when you're facing quality starting pitchers each and every night, but when I watch the incredibly talented Robinson Cano bat .613 for the last week of the season, I think the opponent might want to give him a free pass to first base.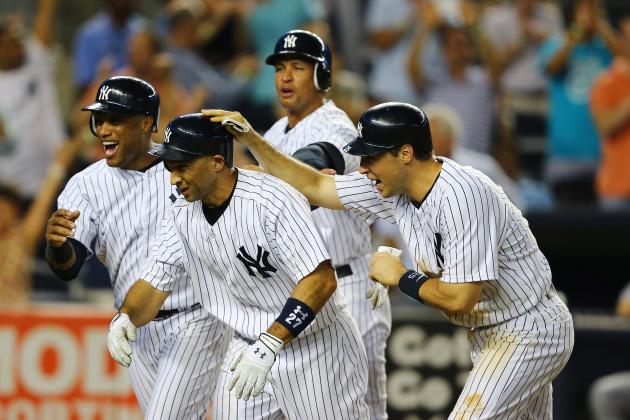 Al Bello/Getty Images
The Yankees celebrate following Raul Ibanez's walkoff hit against the Red Sox Tuesday night
Mark Teixiera's return from the DL hasn't gone as well as Yankee fans may have hoped.
Since hitting a home run in his second at-bat Monday night, the first baseman went hitless for the remainder of the season (0-10).
But even with his struggles, Teixeira's return means great things for the Bronx Bombers.
The fact that the switch-hitting Teixeira represents a potential home run threat each and every time he steps to the plate, means that guys like Robinson Cano will likely get more pitches to hit.
A Yankee lineup that was arguably the deepest in baseball even before Tex's return just added one of the game's biggest power bats—right in time for the playoffs.
While Teixeira continues to return to full-speed action, guys like Nick Swisher have been picking up the slack.
The impending free agent has multi-hit games in six of his last seven, and is 12 for his last 25 overall (.480 AVG). This week, Swisher went 7-11 against Boston, including four walks.
A continuation in these trends may cause Joe Girardi to reshuffle the lineup if Teixiera isn't effectively protecting Cano.
But with plenty of options to chose from, I don't think the Yankees manager will have much trouble finding a solution.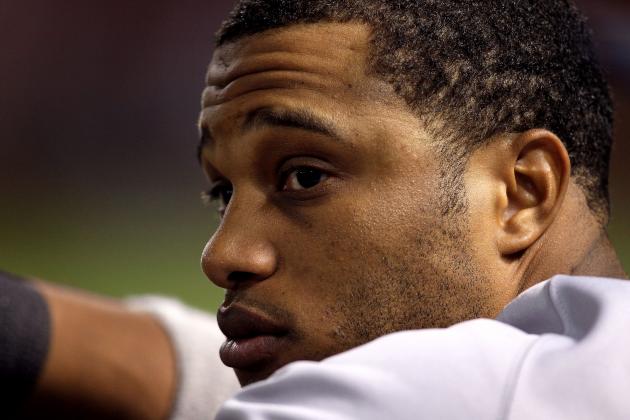 Stephen Dunn/Getty Images
Robinson Cano looks on as the Yankees fall to the Texas Rangers in Game 6 of the ALCS in 2010
Let's face it, Robinson Cano hasn't been the most consistent Yankee in the playoffs.
For one of baseball's most pure hitters, a career .258 average in the postseason just doesn't cut it.
Yes, the last two October months have been a bit friendlier to New York's second baseman.
But despite batting better than .300 in his past two playoff appearances, Cano hasn't been able to prevent the Yankees from making an early exit on either occasion.
And that's why I'm looking for Cano to have a monstrous postseason in 2012.
A World Series-MVP type of postseason.
Because contrary to what many would expect, the Yankees won their title in 2009 in spite of Robinson Cano. The lefty batted just .193 in 15 playoff games that year, and looked bad doing it.
What I'm suggesting: Robinson Cano is due.
He possess the raw talent that even some of the world's best hitters envy. And considering his recent success at the dish, I think we just might see New York's second baseman carry them to a 28th World Series title.