Ranking All 5 NL Playoff Teams in Every Category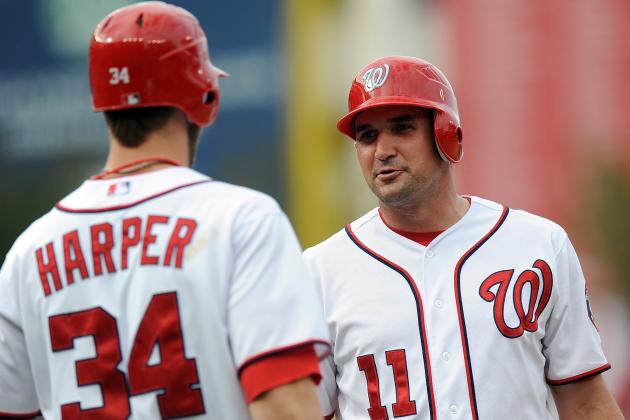 Greg Fiume/Getty Images
Is the nation ready to embrace the Washington Nationals?
The MLB postseason has arrived. Some melancholy over the end of the regular season is understandable (especially if your team's season is over), but the excitement of the playoffs should turn that frown upside down.
Making the National League postseason more compelling is the emergence of a team that could be a contender for years to come. The Washington Nationals accelerated their development and won the NL East perhaps a year earlier than expected.
But really, most of the NL playoff field has a new look to it. Last year's pennant winners and World Series champions made the postseason as a Wild Card. However, the St. Louis Cardinals are not expected to repeat last season's success.
While the Cincinnati Reds, San Francisco Giants and Atlanta Braves may be familiar playoff participants, all three teams missed the postseason last year and have different rosters than their 2010 incarnations.
The NL playoff field looks wide open, with any of the five teams (well, maybe four of the five) capable of making a run to the World Series. With no clear favorite, this could be one of the most exciting postseasons in recent memory.
But who appears to be the best of the NL playoff teams? We rank each of them in several categories to try and determine who should be in the World Series.
Begin Slideshow

»
Jake Roth-US PRESSWIRE
Matt Holliday and Carlos Beltran give the Cardinals a powerful duo.
1. St. Louis Cardinals
2. Washington Nationals
3. San Francisco Giants
4. Atlanta Braves
5. Cincinnati Reds
The Cardinals scored the second-most runs as a team in the NL this season with 765. St. Louis also ranked second in team batting average (.271) and third in OPS (.759).
At various points of the season, Carlos Beltran, Matt Holliday, David Freese and Yadier Molina all earned consideration as NL MVP candidates. No other lineup in the NL playoff field features such a quartet of talented hitters. That's not even including players such as Jon Jay, who batted .309, and Allen Craig, who hit 22 home runs with 92 RBI.
The Nationals came on strong after struggling for offense in April. Getting their lineup back fully healthy played a big role with that. A middle of the order with Ryan Zimmerman, Adam LaRoche, Michael Morse and Ian Desmond is extremely productive.
Buster Posey—the likely NL MVP—leads a Giants lineup that lost Melky Cabrera, but still features Pablo Sandoval and Hunter Pence in run-producing roles. Angel Pagan and Marco Scutaro also do a fine job of getting on base in front of the big sluggers.
The Braves suffered from poor seasons by Dan Uggla and Brian McCann. But Jason Heyward rebounded nicely this season, forming a solid middle-of-the-order combination with Freddie Freeman. Michael Bourn is one of the best leadoff threats in the league.
For a team with Joey Votto, Brandon Phillips and Jay Bruce in its lineup, you might think the Reds would score more runs. Yet Cincinnati was ninth in the NL with 669 runs scored. Putting Phillips at the top of the order instead of Zack Cozart or Drew Stubbs might lead to more production.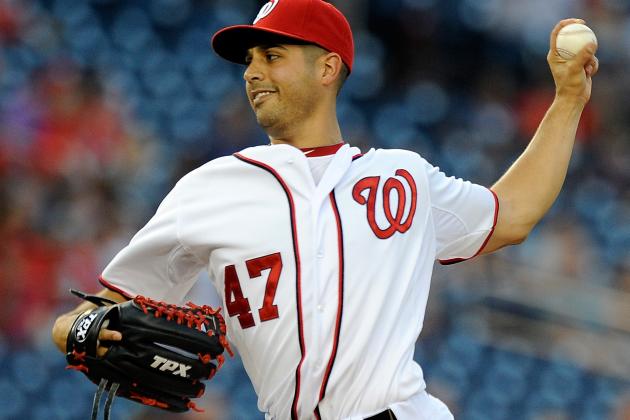 Patrick McDermott/Getty Images

1. Washington Nationals
2. San Francisco Giants
3. Atlanta Braves
4. Cincinnati Reds
5. St. Louis Cardinals
What? The Nationals at the top of the list after shutting down Stephen Strasburg?
Absolutely. The Nats had the deepest starting rotation in MLB this season. And for all the acclaim Strasburg received this year, he may not have even been the Nationals' best pitcher. Gio Gonzalez went 21-8 with a 2.89 ERA while opponents hit only .206 against him.
Jordan Zimmermann (2.94 ERA), Edwin Jackson and Ross Detwiler fill out the other three spots in the Nats rotation. Can any other NL playoff team (or AL, for that matter) match Washington's depth in its one through four spots?
Matt Cain and Madison Bumgarner are a strong top two in the Giants rotation. Tim Lincecum had his worst season as a major leaguer, but turned himself around in the second half. And Barry Zito (15-8, 4.15 ERA) may have had his best season in San Francisco. Ryan Vogelsong gives manager Bruce Bochy another option for his No. 4 playoff starter.
Was any pitcher better in the second half of the season than the Braves' Kris Medlen? He went 9-0 with an 0.94 ERA in 19 appearances (12 starts). Medlen had four consecutive starts (covering 33 innings) without allowing an earned run.
The Reds made it through the season with just five starting pitchers, an impressively rare feat in today's era of frequent injuries. Johnny Cueto (2.78 ERA) and Mat Latos at the top of its rotation gives Cincinnati a chance in any playoff series.
For the Cardinals, Kyle Lohse was one of the NL's best starting pitchers this season, going 16-3 with a 2.83 ERA. Lance Lynn won 18 games and struck out more than nine batters per nine innings. Chris Carpenter coming back from injury in time for the postseason gives St. Louis an intriguing weapon if the Cards advance past the wild-card round.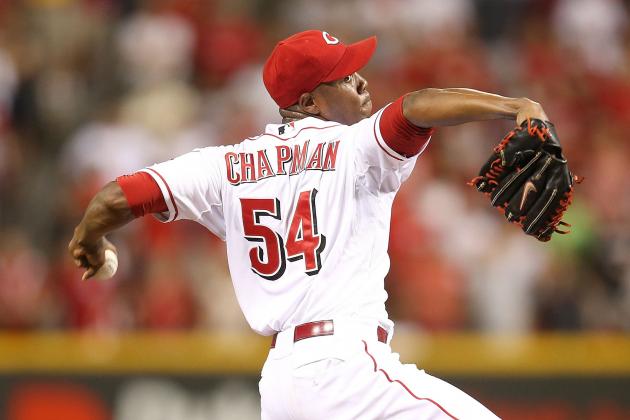 Andy Lyons/Getty Images

1. Cincinnati Reds
2. Atlanta Braves
3. Washington Nationals
4. San Francisco Giants
5. St. Louis Cardinals
The Reds led MLB in bullpen ERA this season with a 2.65 mark. Of course, Cuban missile launcher Aroldis Chapman had much to do with that. The 24-year-old notched 38 saves with a 1.51 ERA. He also struck out 122 batters in 71.2 innings, resulting in a rate of 15.3 strikeouts per nine innings.
Sean Marshall was also excellent as a setup man and backup closer for Cincinnati, compiling a 2.51 ERA and strikeout rate of 10.9 per game. Jose Arredondo, Jonathan Broxton and Sam LeCure provide three additional strikeout threats out of the bullpen.
The Braves have Craig Kimbrel in their bullpen, who just finished perhaps the most dominant season ever seen from a closer. His strikeout rate of 16.7 per nine innings is the best in MLB history. He allowed only 27 hits in 62.2 innings. And he gave up seven runs all season, resulting in a 1.01 ERA.
But Kimbrel has an excellent setup crew in front of him. Eric O'Flaherty, Jonny Venters and Chad Durbin provide a strong bridge between the starting pitcher and Kimbrel. Luis Avilan has emerged as another effective middle reliever. And Cristhian Martinez is good for long relief if a starter gets chased early.
The Nationals have had one of the best bullpens in MLB all season, though Tyler Clippard had a rough September (8.10 ERA). Sean Burnett took over Clippard's setup role and struck out 9.1 batters per nine innings with a 2.38 ERA. Craig Stammen and Ryan Mattheus both had ERAs under 3.00, as did former closer Drew Storen who rejoined the team in mid-July.
Amazingly, the Giants were ranked ninth in bullpen ERA this season, despite strong seasons from Sergio Romo and Jeremy Affeldt. Santiago Casilla also filled in nicely as closer after Brian Wilson was knocked out for the season, though he had a rough July and August. George Kontos could be a surprise in October.
The Cardinals' bullpen played a large role in winning the World Series last season, but hasn't been as effective this year. Jason Motte has established himself as the closer and Mitchell Boggs has been impressive in a setup role. But Fernando Salas, Marc Rzepczynski and Victor Marte all had ERAs over 4.00. Edward Mujica was a nice pick-up at the trade deadline to provide depth.
Could Chris Carpenter or Shelby Miller be used out of the bullpen if the Cards advance past the one-game wild-card playoff? That presents intriguing possibilities.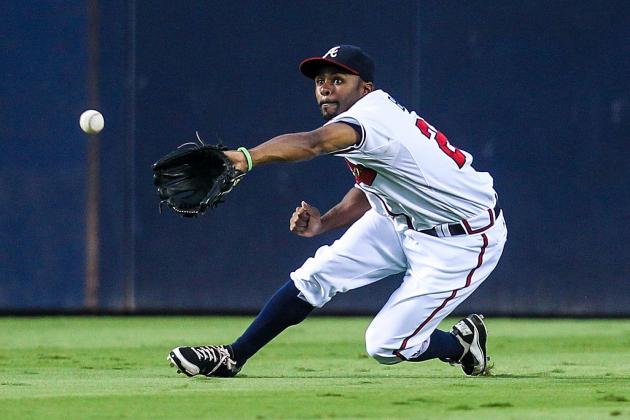 Daniel Shirey-US PRESSWIRE

1. Atlanta Braves
2. Cincinnati Reds
3. Washington Nationals
4. San Francisco Giants
5. St. Louis Cardinals
Michael Bourn was one of the leaders in wins above replacement (WAR)—6.4 at FanGraphs, 6.0 at Baseball-Reference—throughout the season based on his defense.
Ultimate Zone Rating placed Bourn as the best defensive player in MLB for most of the season, saving 22 runs over the average center fielder. Bourn was also credited with 24 Defensive Runs Saved. But recently, UZR pushed teammate Jason Heyward ahead of him, saving nearly 23 runs more than the average right fielder. He also has 20 Defensive Runs Saved.
In his limited time (49 games), rookie Andrelton Simmons established himself as a strong defender at shortstop, which is a major reason he eventually won that job over Tyler Pastornicky.
Based on UZR, the Braves had the best team defense in MLB this season by a significant margin. The next best team was the Reds.
Cincinnati's defensive ranking shouldn't be a surprise with Zack Cozart and Brandon Phillips providing excellent middle infield glove work. Drew Stubbs covers a lot of ground in center field. Joey Votto and Scott Rolen play strong defense at the corner infield spots as well.
Ryan Zimmerman and Ian Desmond give the Nationals two good gloves on the left side of the infield while Adam LaRoche provides good defense at first base. Bryce Harper also improved the Nats' outfield defense, playing well at all three positions but excelling in center field. That allows Washington to play Michael Morse and Jayson Werth in the corners.
The Giants feature Brandon Crawford at shortstop and Buster Posey at catcher, giving them strong defenders at the two most demanding positions on the field. Angel Pagan has been slightly below average in center, according to UZR, but is typically a good defender there.
Ranking near the bottom are the Cardinals. Despite Yadier Molina behind the plate and Jon Jay, St. Louis has several players who don't provide stellar defense. Allen Craig is an outfielder playing first base, while Matt Holliday and David Freese are below average at their respective positions.
Carlos Beltran still plays well in right field, however. And Pete Kozma has been a major upgrade defensively at shortstop, replacing the injured Rafael Furcal.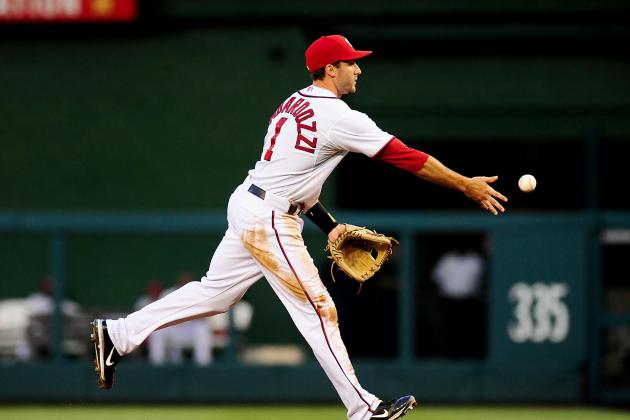 Evan Habeeb-US PRESSWIRE

1. Washington Nationals
2. San Francisco Giants
3. Cincinnati Reds
4. St. Louis Cardinals
5. Atlanta Braves
Benches are a bit difficult to rate. Obviously, some teams might have a standout bat, runner or defender as a reserve. But not that many teams enjoy outstanding depth on the bench. The best players are typically on the field, right?
Perhaps no team received more contributions from its bench players this season than the Nationals, who had to cover for injuries to Michael Morse, Jayson Werth, Ryan Zimmerman and Ian Desmond.
Rookie Steve Lombardozzi helped out at several positions, showing defensive versatility. Roger Bernandina can play all three outfield spots, if needed. Tyler Moore is capable of filling in a first base or left field. And Kurt Suzuki was an excellent pick-up by general manager Mike Rizzo, giving the team two starting-caliber catchers.
The Giants have also benefited from major contributions by bench players. Gregor Blanco took over in left field after Melky Cabrera was suspended. Ryan Theriot was the second baseman for much of the season until Marco Scutaro was acquired. And Hector Sanchez might be a starting catcher if Buster Posey wasn't playing in front of him.
The Reds don't have a deep bench, but rookie Todd Frazier has been one of the best reserves in baseball, filling in capably at third base when Scott Rolen was hurt and providing offensive production at first base while Joey Votto was injured. Wilson Valdez, Miguel Cairo and Chris Heisey can also play multiple positions.
Shane Robinson and Adron Chambers give the Cardinals two good outfield defensive replacements, while Skip Schumaker can help out at several positions. Rookie Matt Carpenter can also play either corner infield spot and provides a strong bat off the bench.
Braves manager Fredi Gonzalez is going to his bench right away in the playoffs. According to the Atlanta Journal-Constitution's David O'Brien, David Ross will start at catcher over Brian McCann for the wild-card playoff game. Reed Johnson can fill in at any outfield position, Eric Hinske has proven to be a a capable pinch-hitter and Tyler Pastornicky is the utility man of the future.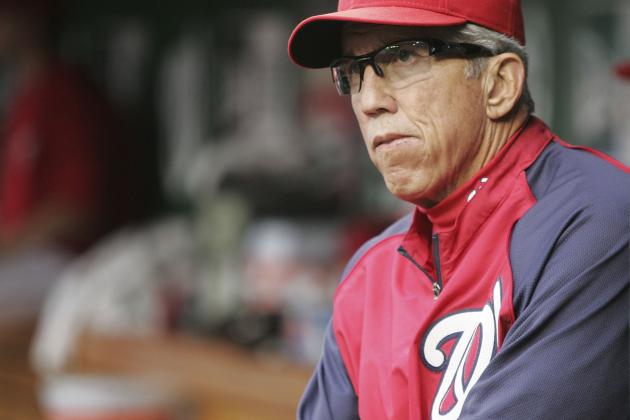 Jonathan Ernst/Getty Images

1. Washington Nationals
2. San Francisco Giants
3. Cincinnati Reds
4. Atlanta Braves
5. St. Louis Cardinals
Managers face more scrutiny in the postseason with most every decision carrying major consequences and a greater number of reporters, analysts and fans watching to judge those moves.
Those who are able to adapt to the demands of playoff baseball (for instance, going to a closer for more than three outs) rather than stick with what worked in the regular season often achieve greater success during the postseason.
Davey Johnson has plenty of postseason experience from his previous jobs with the Mets, Reds and Orioles. But he's also done the best job of any NL manager this season, dealing with several major injuries, the Stephen Strasburg shutdown drama and the Bryce Harper hype machine, yet managing the Nationals to the best record in MLB.
Bruce Bochy also has a World Series championship on his resume. He led the Giants to an NL West title despite multiple injuries to Pablo Sandoval, Melky Cabrera's 50-game suspension and major struggles by Tim Lincecum.
Dusty Baker is also no stranger to the playoffs, having managed the Giants, Cubs and Reds into the postseason. Of course, he also managed Cincinnati to a quick exit in the NLDS two years ago.
The unknowns are Fredi Gonzalez and Mike Matheny.
Gonzalez presumably did a much better job managing the Braves this year than during last season's collapse. Benching McCann for Ross in the wild-card game shows he's more aggressive.
But what should we expect from Matheny, who's finishing off his first year as a manager at any level? Matheny took over a World Series champion and basically had to stay out of the way. The Cards did make the playoffs, but considering the talent on hand they have to be considered a regular-season disappointment. A long playoff run would erase that talk, of course.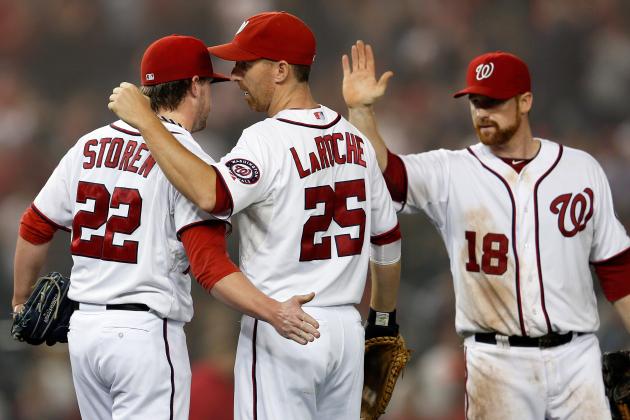 Rob Carr/Getty Images

1. Washington Nationals

The Nats have the most complete roster of all 10 MLB playoff teams, with an excellent pitching staff and strong lineup. Can they carry their regular season success into the postseason?
2. San Francisco Giants

Pitching could carry the Giants a long way, as it did during their 2010 World Series title run. But the 2012 team has a much better offense. AT&T Park provides a great home-field advantage too.
3. Cincinnati Reds

The Reds almost finished with the best record in the NL despite losing Joey Votto for over a month. Underrated pitching could be a huge surprise in the playoffs. Opposing pitchers might find Great American Ball Park unfriendly, too.
4. Atlanta Braves

If they can get through the one-game wild-card playoff into the NLDS, the Braves could be that team no one wants to face. Kris Medlen is the type of pitcher who could get two wins in a series and that bullpen is going to make rallies almost impossible for the opposition.
5. St. Louis Cardinals

The Cards have the deepest lineup in the NL and a surprisingly deep starting rotation. But is their bullpen good enough to carry them through the postseason, as happened last year? Mike Matheny could answer the question of just how important a manager is during the playoffs.
Follow @iancass on Twitter