MLB Playoffs: Ranking the Best Starting Rotations in the Postseason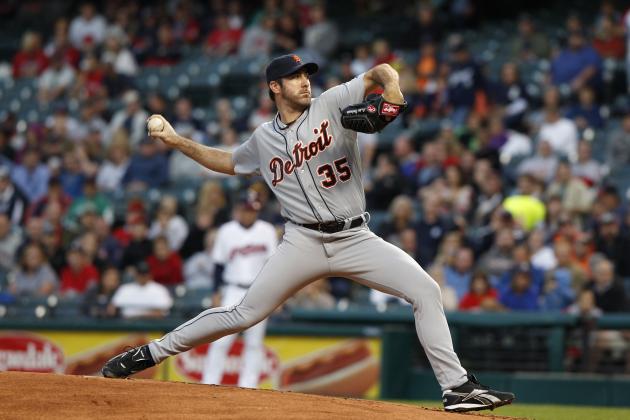 David Maxwell/Getty Images

The MLB playoffs are upon us, and pitching is once again the strong suit of the teams participating. In this era of high-quality pitching, the difference between the best and worst rotations is minimal.
Look at it this way: Seven of the 10 teams in the playoffs finished in the top 10 in ERA this season. So being at the bottom of this list is not necessarily a bad thing.
Here are the top starting rotations in this year's MLB playoffs. From Baltimore to San Francisco, there is quality from top to bottom.
Begin Slideshow

»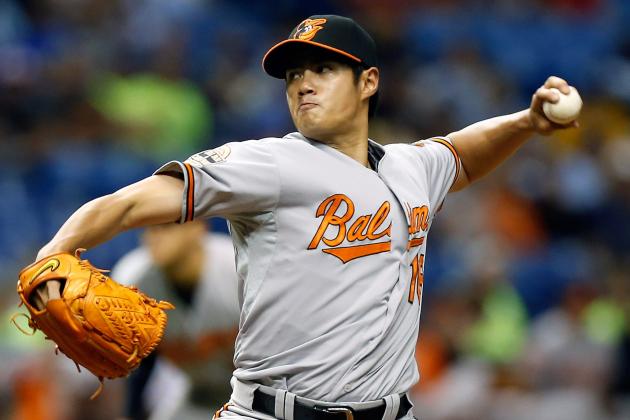 J. Meric/Getty Images

Starting Rotation
Wei-Yin Chen
Miguel Gonzalez
Chris Tillman
Jake Saunders
Zach Britton
At some points this year, the Orioles' rotation was shutdown dominant. But for the most part, this was a unit that was marred by inconsistency. The rookie Chen has probably been the most consistent starter of the bunch, but this staff was part of the reason why the Orioles had a negative run differential for most of the year.
There's not really much debate. This Orioles rotation can be good at times, but it's by far the least talented starting five in the playoffs.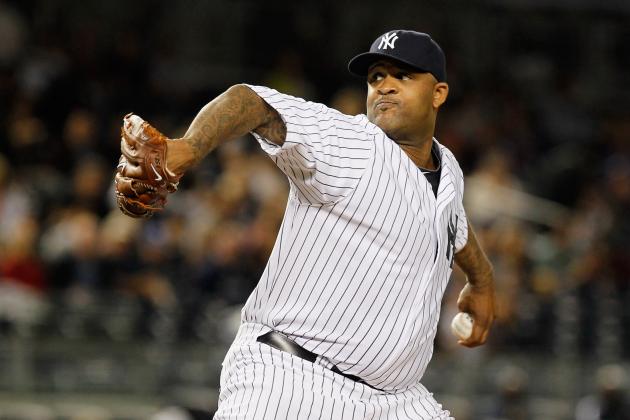 Mike Stobe/Getty Images

Starting Rotation
C.C. Sabathia
Hiroki Kuroda
Phil Hughes
Ivan Nova
Andy Pettitte
The Yankees finished second in the league in scoring and are a team that is defined more by offense than by pitching. Still, that doesn't mean there isn't quality in this rotation.
C.C. Sabathia is a legitimate ace and could be an important cog in the Yankees' machine if they get to the World Series. Kuroda has been a nice surprise, pitching some dominant games this year. Hughes, Nova and Pettitte are all serviceable and round out a rotation that is more solid than people realize.
That being said, the Yankees' rotation isn't as good as many other teams on this list.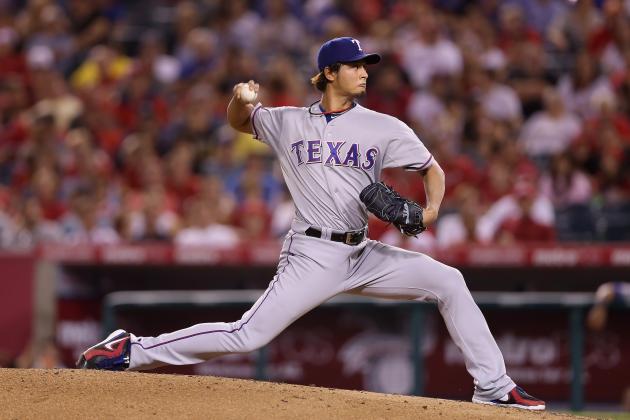 Jeff Gross/Getty Images

Starting Rotation
Derek Holland
Yu Darvish
Matt Harrison
Ryan Dempster
Martin Perez
The Rangers had one of baseball's best rotations early in the season, but injuries and disappointing performances were part of the reason they went 43-40 down the stretch and lost the AL West title to the Oakland Athletics.
Texas is a team known exclusively for offense. Darvish has been good but not spectacular, Harrison was an All-Star but might have been a bit of a stretch, and Dempster hasn't been able to recapture his dominant form from his days in Chicago.
Overall, this is a quality rotation, but it just doesn't stack up against the other teams in the playoffs.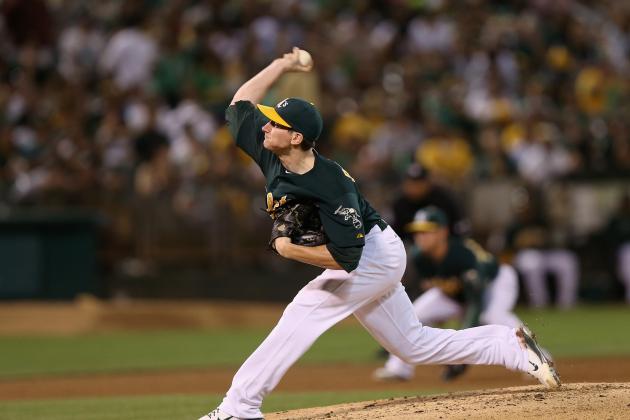 Ezra Shaw/Getty Images

Starting Rotation
Jarrod Parker
Tommy Milone
A.J. Griffin
Dan Straily
Travis Blackley
The A's had a surprisingly good year in 2012, and most of that can be attributed to the pitching. The young arms on this staff were stellar, ranking sixth in the majors in ERA. Tommy Milone, who came over in the Gio Gonzalez trade, has been solid all year, and Jarrod Parker has been the staff ace. From top to bottom, this is a very strong rotation.
Why aren't they ranked higher? Because they have no postseason experience. That alone may cause a pitch to be left up in the zone once or twice.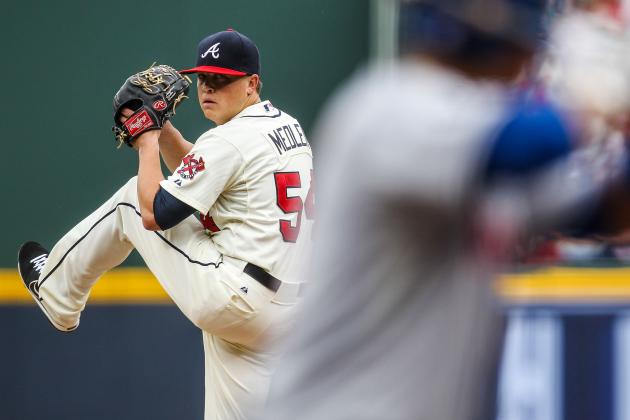 Daniel Shirey/Getty Images

Starting Rotation
Tommy Hanson
Tim Hudson
Kris Medlen
Mike Minor
Paul Maholm
The only thing keeping this rotation from being one of baseball's absolute best is consistency. Guys like Hanson and Hudson have been generally good, but sometimes they can't find the zone. Mike Minor spent a portion of the year as the statistically worst pitcher in baseball, but he has recently found some success.
The wild card is Medlen. He has been superb all season and the Braves have won an unbelievable 23 straight games that he's started.
If Medlen and the Braves can find their pitching stroke, Atlanta will be dangerous.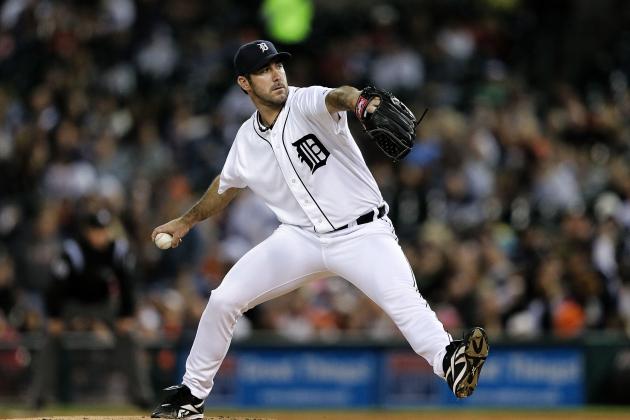 Leon Halip/Getty Images

Starting Rotation
Justin Verlander
Max Scherzer
Rick Porcello
Doug Fister
Anibal Sanchez
The Tigers' rotation is pretty good from top to bottom, but there's only one thing anyone needs to know about Detroit: Justin Verlander will give this team a chance to win every team he goes out.
Verlander's value is more about his durability than his overall ability. He can go deep into games consistently, which will save the bullpen. He is arguably the best pitcher in the game and makes a good rotation great.
The other four guys are superb back-end options and will make the Tigers a dangerous player in the postseason.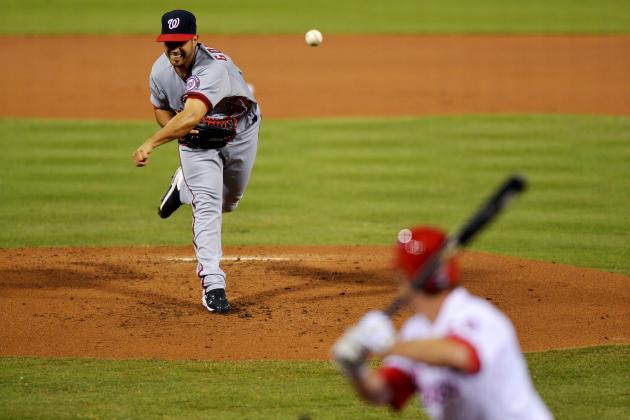 Drew Hallowell/Getty Images

Starting Rotation
Gio Gonzalez
Jordan Zimmermann
Edwin Jackson
Ross Detwiler
John Lannan
The only thing keeping this rotation from being baseball's best is the absence of Stephen Strasburg. Strasburg is good enough to push this team to the World Series, but it could be a bit of a struggle without him.
That being said, this is a still an excellent starting five. Gonzalez won 21 games, Zimmermann might be the most consistently good pitcher in baseball, and Edwin Jackson brings valuable postseason experience. Detwiler and Lannan could struggle, and it remains to be seen how good these Nationals can really be.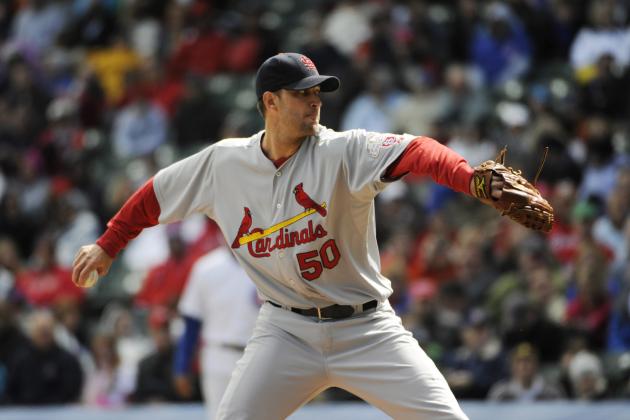 David Banks/Getty Images

Starting Rotation
Adam Wainwright
Kyle Lohse
Jaime Garcia
Jake Westbrook
Chris Carpenter
There is no one spectacular on the Cardinals' rotation.
But there is talent from one to five, and that's important. Of note is the return of Carpenter, who spent the entire season recovering from surgery after a 2011 injury. In addition, Lance Lynn could be an important cog. While he was moved to the bullpen, he could still crack the starting lineup.
Don't sleep on this rotation. Remember, these guys won the World Series last season. If anyone knows how to get it done, it's St. Louis. There are simply solid arms all over this starting five.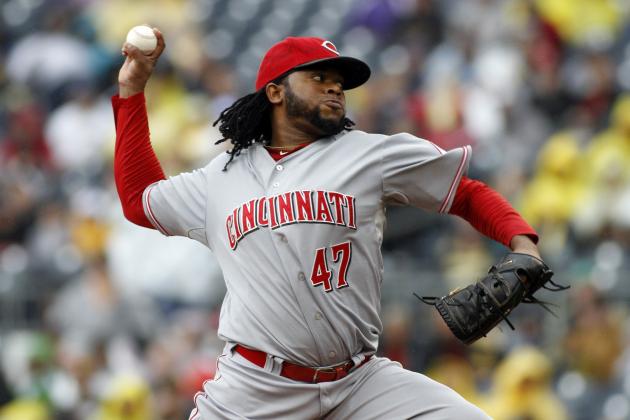 Justin K. Aller/Getty Images

Starting Rotation
Johnny Cueto
Mat Latos
Bronson Arroyo
Homer Bailey
Mike Leake
The Reds are known for employing Joey Votto, but this rotation is always overlooked. Johnny Cueto has been arguably the best pitcher in the National League, and there are no glaring holes in any of the starters. A guy like Arroyo could be a bit of a wild card—he can throw a gem one day and throw a terrible game the next.
Homer Bailey has also come off his first career no-hitter, so his confidence will be at an all-time high. Overall, this rotation is as solid as any in the league.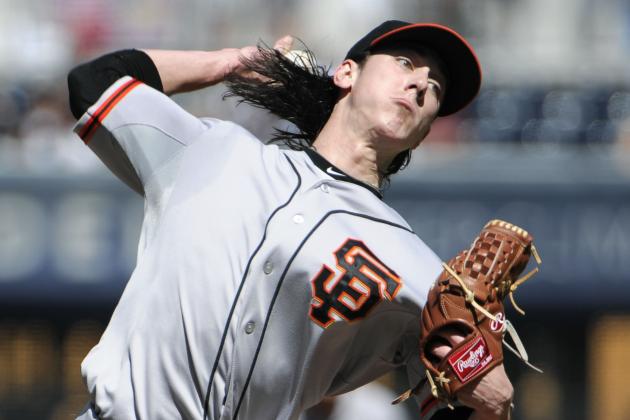 Denis Poroy/Getty Images

Starting Rotation
Matt Cain
Madison Bumgarner
Ryan Vogelsong
Tim Lincecum
Barry Zito
There is no question which team has the best rotation in the postseason. It's the Giants.
If your rotation has Tim Lincecum in the four-hole, you know you have something good to work with. Cain and Bumgarner are studs, Vogelsong is eerily consistent, Lincecum could turn it on at any moment, and Barry Zito still has it.
Can you imagine how good this rotation could be if Lincecum rediscovers his Cy Young form? The other teams better watch out. These guys may be nearly impossible to hit.
In a ballpark like the one the Giants play in, pitching is of paramount importance since hitters struggle there. If you have dominant pitching there, it will be hard for teams to find offense.
It could be another magical year in San Francisco.