Manchester United: Time for Wayne Rooney Central Midfield Experiment to Begin?
Use your ← → (arrow) keys to browse more stories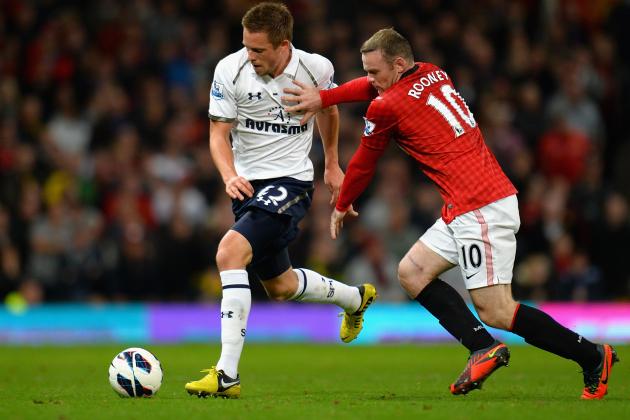 Shaun Botterill/Getty Images

Last week, I wrote a piece where I outlined reasons why I thought Manchester United were about to be found out. The weekend gone proved my suspicion correct. They were undone in 45 minutes by a Tottenham Hotspur side that went out onto the pitch and out-muscled United in a first half that underlined United's weakness in the middle of the park, but also their sluggishness and complacency in all areas.
United's slothful start to the season had hinted that there were problems with the team, though of course the acquisition of a player who is possibly the world's best finisher had managed to gloss over this. Robin Van Persie's goals propelled United to two victories in particular, against Fulham and Southampton, where United were for parts of each game made to look very ordinary.
They have been pushed in every game they have played, and the only game where they looked comfortable, the 4-0 win over Wigan, was actually a lot more difficult than it seemed. United had in the end the opposition keeper to thank for adding gloss to scoreline.
The game at Liverpool really showed for certain United's lack of options in the middle of the park, and also that these options are not up to the level that the EPL's better teams are capable of fielding. Their midfield looked so bad at times in the first half at Anfield that you could swear you were watching a team from the lower division taking on an EPL side in a cup mismatch.
The real proof came in the second stanza, where United were a man up and could still not boss the game, sorry stuff from a team that has dominated the English game for two decades.
Liverpool are a team that have struggled for cohesion under new manager Brendan Rogers, but until the sending off of Jonjo Shelvey, Liverpool's Steven Gerrard and Joe Allen pulled the strings with an ease that for a time made their poor start to the season a distant memory. United did come away with the points, but the damage was done.
Can Rooney drop back and begin a new phase in his career?
Andre Villas-Boas has had a difficult start to his career in England, his sacking by Roman Abramovich undoubtedly a low point, and his slow start at White Hart Lane was starting to cause tongues to wag in such a way that made some point to him as a possible first EPL sacking candidate. He now has three wins on the trot in the league, and of course the scalp that so many managers crave, that of Ferguson's at Old Trafford.
The Portuguese would definitely have analysed the Liverpool match and seen the opportunity for his side to seize the initiative. He sent his team out onto the pitch at Old Trafford to do a job that no other Spurs side had managed since 1989, harking back to the days before the Premier League had even begun. Facing Spurs at Old Trafford had been, for many years, a guaranteed three points for United, the London side unable to shake what seemed to be a curse.
The shadow of that curse was brought into the light in rather spectacular fashion though, with Spurs running riot in a first half showing that had United again, as they had done at Anfield the week before, looking like lower league fodder.
United's midfield was again, rather oddly, made to look silly by the very same fellow who had done so only a few weeks before with Fulham, Moussa Dembele. Exactly the type of player United needed to strengthen their squad. Instead he shows up at United twice in a month to give the Red Devils a lesson in how to play football. This it may seem is strange in itself, but stranger still is that United had been linked to the Belgian player in the off-season but in the end chose not to pursue him.
Despite United's rather sad first half showing, they did of course rally in the second, with the introduction of fit-again Wayne Rooney making what seemed to be enough of a difference in a second half onslaught for United to scrape an unlikely draw or even victory. It was however, too little, too late for the Red Devils, who were denied by the woodwork and some heroic defending, with Spurs holding on for victory, having done the real damage early.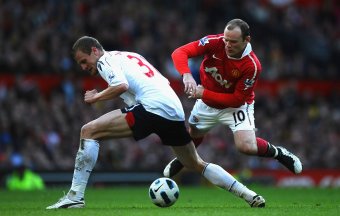 Laurence Griffiths/Getty Images
Now, if the story of United's midfield problems ended here, you could be forgiven for thinking that perhaps this writer was possibly engaging in the type of gross exaggeration that is a hallmark of sports journalism. However, United had the small issue of an away trip to Romanian champions FC Cluj.
An away trip in European competition is never an easy task, and when taking on a country's respective champions, a lot of the bigger European sides have found themselves quickly embarrassed. United were in fact left reeling for a time in this fixture, as again, a slovenly midfield showing left them a goal behind only 14 minutes into the match. They pulled things together and won the game thanks to the Dutch master Van Persie, who struck twice to spare the English side's blushes.
Again though, United had little energy and verve to their play, and lacked a firebrand midfielder to drive the team forward—the type of player that takes a game by the scruff of the neck and pulls it about like rag doll. The type of player that imbues his team mates with confidence and adrenaline. The type of player that works box to box and relentlessly pursues the ball, making it theirs, shutting the opposition out of the match.
The player who lives for the competition, the player who has a relentless drive, and insatiable energy for the prize, the player that Wayne Rooney has proven himself time and time again to be.
He did, for moments in the Capital One Cup fixture against Newcastle United, look very much like Paul Scholes in the way he delivered the ball about the pitch, with some exquisite passes, making him look very much the man to make the difference in United's midfield area.
Rooney has the build and the attributes of the modern midfield maestro. The low center of gravity, enabling him to protect the ball and move it quickly, the ability to make long and short passes, the skill and pace to beat players, but most of all, he has the drive to win and the energy to harass opponents into submission. His tackling perhaps could be an area that could be worked on, but then again, since when could Paul Scholes ever tackle? Old Trafford legend Scholes produced over the years some terrible examples of ball winning technique.
It seems Wayne Rooney could quite possibly be the answer to Sir Alex Ferguson's dilemma. Not only does he seem to have the requisite qualities, but he also has the striker's eye for goal that is simply invaluable in a midfield player. Think of Frank Lampard's contribution from midfield for Chelsea over the years; the Londoner has chipped in many times with ten or more goals a season that have proven a massive contribution to Chelsea's trophy winning ways.
Is it time for Ferguson to take this gamble? To throw Rooney into the midfield fray?
His link up play with Van Persie in the Cluj game suggests that it could indeed be a very profitable outcome for United, with Rooney providing both assists in Transylvania, enabling the flying Dutchman to swoop like Dracula upon the unsuspecting defense. With a lack of viable midfield options, it would seem to be something that could easily be the remedy to United's current midfield malady.
United need hard answers to tough questions this season. Newcastle United have looked very much one of the teams to beat, even though they struggled against Reading in the weekend gone. Newcastle at Newcastle is a tough proposition for any side, and particularly one that has struggled so badly for form in recent matches. United were beaten 3-0 last season in the same fixture.
It would seem as though it could be time for Ferguson to unleash Rooney in the central area, just to see if works, but also because it could be just the tonic his team needs. Wayne Rooney is a proven champion, and has the class to make football lovers the world over sit up and take notice. He has the stamina and the drive to be the midfielder that United are missing. Rooney has the desire and ambition to drive his team mates forward; whether Ferguson finally takes the gamble on this option remains to be seen.