Arizona Cardinals vs. St. Louis Rams: Live Score, Video and Analysis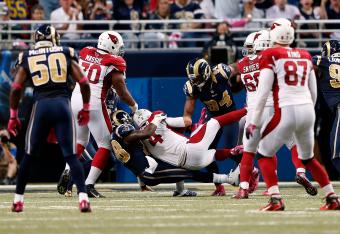 Kevin Kolb was sacked nine times in the Cardinals first loss of 2012.
Jamie Squire/Getty Images
St. Louis Rams 17, Arizona Cardinals 3
Undefeated, no more. The Rams took it to the Cardinals Thursday night. It was Arizona's first defeat of the season and St. Louis' third. That means the Rams are just one game back of the Cardinals for the NFC West lead.
The Cardinals' offensive line gave up eight sacks last week to the Miami Dolphins. That total wasn't good enough for Chris Long and the Rams' defense.
Nine times Kevin Kolb went down Thursday night. St. Louis created 43 total pressures of Kolb—nine sacks, 13 hits and an astounding 21 hurries.
The Arizona rushing attack was once again non-existent, as Ryan Williams carried the ball 14 times for 33 yards.
Steven Jackson, on the other hand, averaged 4.2 yards per carry with his 18 carries and 76 yards.
Sam Bradford was good when he needed to be and delivered the only two touchdowns of the game. One came on the opening drive; the other didn't come until there were 12 minutes remaining in regulation.
Game Stats:
Kevin Kolb: 28-of-50 for 289 yards, nine sacks taken
Sam Bradford: 7-of-21 for 141 yards, two touchdowns, one interception, one sack taken
Ryan Williams: 14 carries for 33 yards
Steven Jackson: 18 carries for 76 yards
Larry Fitzgerald: eight receptions for 92 yards
Andre Roberts: five receptions for 39 yards
Brandon Gibson: three receptions for 33 yards
Chris Givens: one reception for 51 yards, one touchdown
Arizona Cardinals play of the game:
Perhaps Peterson should be used more on offense?
St. Louis Rams play of the game:
What a catch. We'll see how long Amendola will be out with that suspected broken collarbone.
Arizona will take the next week and a half to regroup and rethink the offensive approach. Not just how the offense is run, but personnel choices as well.
The offensive line has given up 17 sacks over the past two games. That's unacceptable. I'm not sure how they can keep Batiste and Massie at tackle much longer.
There might not be much of an option, but rookie Nate Potter could be given a look. He can't possibly perform any worse than Batiste has this season.
Kolb sacked again. Eight times. Cortland Finnegan off the edge, and no one touched him.
The fat lady is clearing her throat.
Deep in Rams territory are the Cardinals again. Kolb overthrows Early Doucet on 3rd-and-1 by not putting any touch on the pass.
A nice return from Peterson sets up the Cardinals at the Rams 38-yard line.
A punt upcoming from the Rams once again. Cards get the ball back, but with 3:26 remaining, a miracle would need to occur to make this comeback happen.
Update on Ryan Williams:
Injury update - Ryan Williams....L shoulder, return questionable

— MarkDalton (@CardsMarkD) October 5, 2012
Arizona offensive coordinator Mike Miller calls a WR screen to Fitzgerald with zero blockers outside to help, and a 4th-and-goal from the 6-yard line fails.
That may be the ballgame.
Pass interference on Floyd backs the offense up again. 3rd-and-goal from the 15.
3rd-and-goal upcoming for Arizona. It's the biggest play of the game. Obvious two-down territory with under eight minutes to go and a two-touchdown deficit.
Cardinals now threatening deep in Rams territory. It's their deepest penetration.
Michael Floyd making his first reception of the night keeps the drive alive for Arizona. It's a gain of 17.
Fitzgerald then nabs his sixth of the night, this one for 11 yards.
Penalties are killing this Cardinals drive.
Thankfully, Williams is walking off the field under his own power.
Ryan Williams just got laid out. Was motionless for a few seconds.
Another blow to the young career of Williams. Another blow to the Cardinals running back corps.
Cardinals fans collective stomach just dropped.
Touchdown!
Sam Bradford finds Chris Givens for a 51-yard strike, beating Greg Toler.
With how terrible the Arizona offense looks tonight, that may do it.
Jackson continuing to gash the Arizona defense this half. Rams doing a great job killing time.
Bad news for Rams fans:
Rams fearing a broken collarbone and long-term absence for WR Danny Amendola. Won't know full extent until more tests conducted Friday

— Jason La Canfora (@JasonLaCanfora) October 5, 2012
One reception for 44 yards:
Outside of the Amendola completion Bradford is 4/15 for 37 yards.

— Sideline Scouting (@sidelinescouts) October 5, 2012
Seven sacks of Kolb tonight after eight last week:
How long before Kolb "goes all Cutler" on his O-Line?Man.

— Scott Hanson (@ScottHanson) October 5, 2012
This Cardinals offensive line is legendarily bad.
Kolb nearly sacked on consecutive plays by Chris Long, but he gets away and finds Fitzgerald for a big play. Now into Rams' territory.
A sustained drive?
Another great follow:
Kevin Kolb is 2-6 for 21 yards when the Rams blitz a member of their secondary.

— ESPN Stats & Info (@ESPNStatsInfo) October 5, 2012
Another sack given up by the Cardinals' offensive line, and another penalty on the Rams gives them a first down.
Good call; Jermelle Cudjo ripped Kolb's helmet off. Kind of the Ndomukong Suh rule.
This article is
What is the duplicate article?
Why is this article offensive?
Where is this article plagiarized from?
Why is this article poorly edited?

Arizona Cardinals: Like this team?