Illinois Basketball: Ranking the Team's 13 Players in Order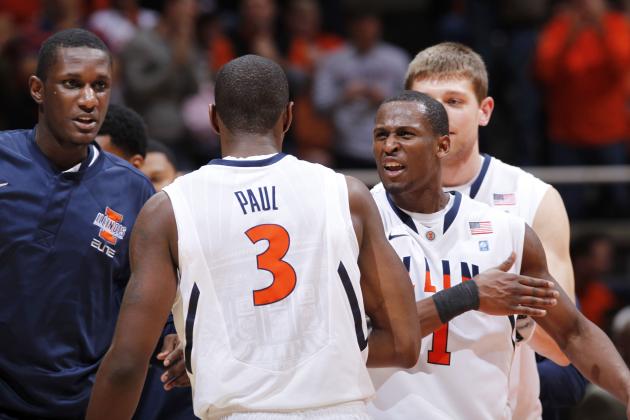 Joe Robbins/Getty Images

The Fighting Illini are under a new head coach this season in John Groce, after firing Bruce Weber last March. Illinois returns 11 players from a year ago, only losing Meyers Leonard to the NBA and Sam Maniscalco to graduation. In return, they add freshman Mike LaTulip and transfer Sam McLaurin.
While the future of Fighting Illini hoops looks more optimistic than the outlook on the upcoming season, there is still plenty of talent on this team picked to finish in the bottom third of the Big Ten. To overachieve, each of these 13 players will need to elevate their games.
Illinois did not play a deep bench last year under Weber, something I would look to see change with Groce. If this team can have nine or 10 players receiving consistent playing time and playing at a high-caliber level then Illinois could surpass even my own expectations for them.
Begin Slideshow

»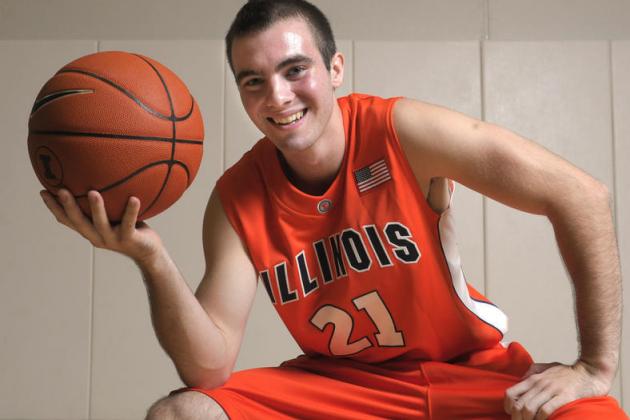 As a walk-on, Berardini has only scored six points in 21 minutes in his collegiate career. At 6'0" tall and 175 pounds, Berardini is too small to receive playing time unless it's late in a blowout. While Illinois should go deeper to their bench this year, Berardini appears to be too far down the bench.
Berardini is the prototypical walk-on and we know that every major fanbase loves the chance to see the walk-on get into the game and try to score. Hopefully Berardini will at least be able to appease the fans in this his senior season.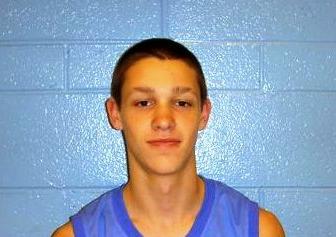 LaTulip is also a walk-on, albeit a preferred walk-on. He was supposed to be accompanied by Michael Orris in the current incoming freshman class, before Orris followed Bruce Weber to Kansas State. LaTulip stands 6'0" and weighs 165 pounds, slightly smaller than Berardini.
While LaTulip did pass up the chance to play at lesser programs in order to come to Illinois, he shouldn't see the floor much as a true freshman. However, Tracy Abrams is the only true point guard on the roster so an opportunity could arise for this sharpshooting youngster.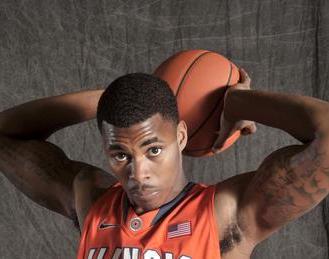 Langford sat out the entire 2011-12 season after breaking a finger in preseason workouts. At 6'7", Langford has the ability to play multiple positions. In high school he often brought the ball down court, although I see him playing small forward for U of I.
Langford's position on this list is predominantly based on the fact that he redshirted last year, while the other five Illini freshmen played, although most of them being minor roles. I could see Langford taking on the Joseph Bertrand/Calvin Brock-type role later on in his Illini career.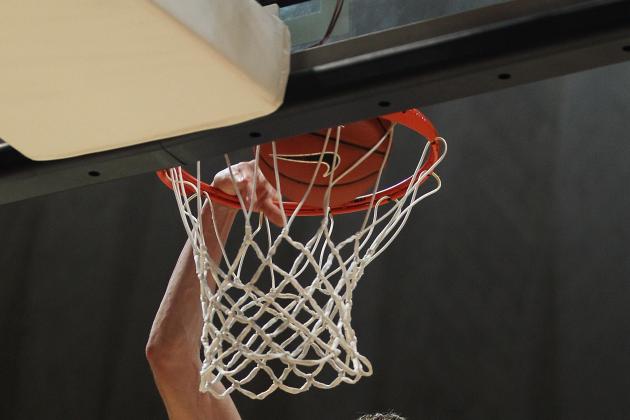 Jonathan Daniel/Getty Images

Although I highlighted Griffey in a somewhat negative aspect the other day, I truly hope that Griffey comes up big as a senior. Having started early on in his junior year, he may even get the chance to regain that role although I wouldn't count on it.
Griffey stands 6'8", but would rather pop out and shoot on the perimeter than muscle up opponents in the paint. He is the most experienced player in the Illinois frontcourt, which is somewhat scary, and it's up to Groce as to whether he wants to play Griffey or develop the sophomore big man.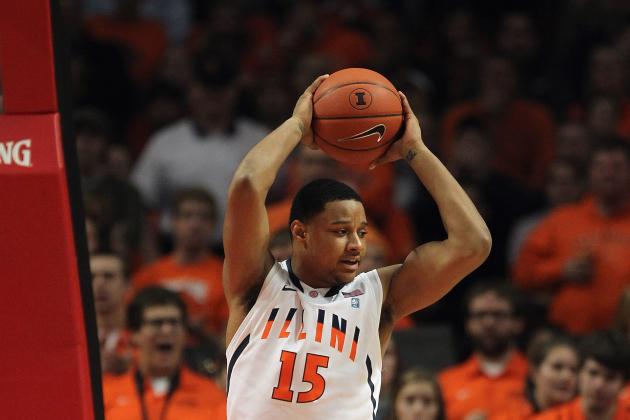 Jonathan Daniel/Getty Images

Shaw is the exact same build as Griffey at 6'8" and 230 pounds, although Shaw isn't afraid to get physical down low. His contributions on the offensive side of the court are still an unknown, but his defense and rebounding abilities should help him see the court.
Shaw is a natural power forward, who could become the bruising hard-nosed player that Illinois sorely needs. Shaw's playing time, like many other players on this list, is still unknown, though I hope to see him more than the 7.0 minutes he played as a freshman.
Jonathan Daniel/Getty Images

Putting Djimde in the No. 8 spot might be a stretch, but I expect Groce to develop him more than Weber would have. Djimde hails from Mali, although he came to Champaign after one season of prep ball in West Virginia.
Djimde also is 6'8", weighing 245 pounds and possibly becoming the backup to Nnanna Egwu at center. Djimde needs to polish his offensive game, but he certainly has the size and physicality to compete in the post area as he did last December against Gonzaga and Robert Sacre.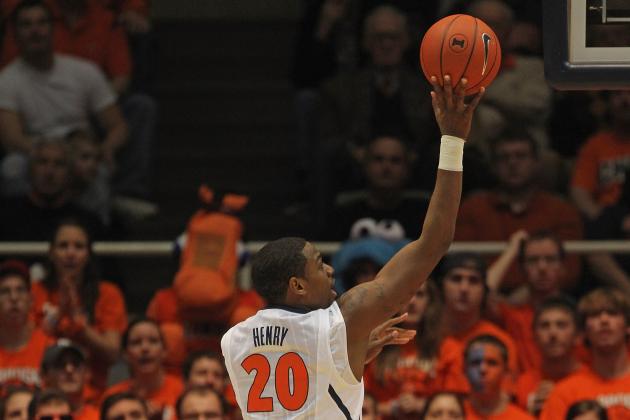 Jonathan Daniel/Getty Images

If there's one thing that Henry proved during his 179 minutes of playing time as a freshman is that he can score the basketball. Known as a volume shooter, the 6'6" Henry averaged 3.2 points in only 8.1 minutes of PT a year ago.
Henry can play both shooting guard and small forward, and even play power forward if Groce decides to go with a small lineup. Henry is strong with the ball attacking the basket and I predict him to be one of the more improved players on the roster this year.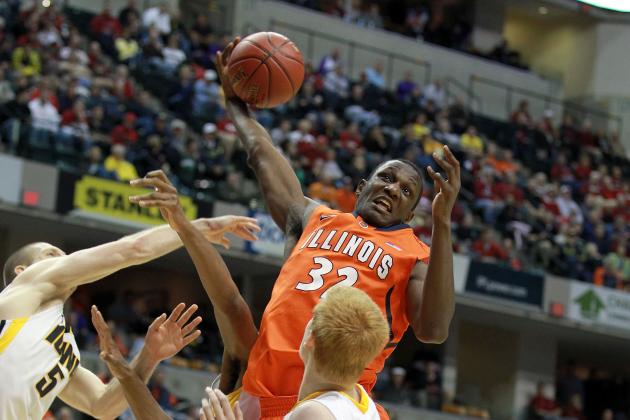 Andy Lyons/Getty Images

With Meyers Leonard's departure for the NBA, Egwu assumes the role of starting center for this year's version of the Fighting Illini. While Leonard made a enormous improvement between his freshman and sophomore seasons, I don't see Egwu making quite the same jump that Leonard did.
What Egwu lacks offensively though, he makes up for on defense and through his effort and hustle running up and down the court. Standing 6'11", Egwu has the height to play center in the Big Ten which could help him becoming a big time shot blocker.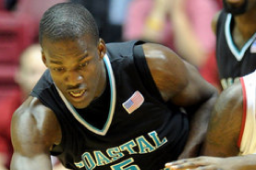 McLaurin averaged 10.0 points and 7.5 rebounds last season at Coastal Carolina before coming to play at Illinois as a fifth-year senior much like Sam Maniscalco did a year ago. McLaurin should get the nod at starting power forward, although I don't want to be overly optimistic about transfers from small schools.
McLaurin has had issues with foul trouble the past two seasons, although he shouldn't be needed for 29.5 minutes per game like he was last season. McLaurin shot an impressive 65.2 percent from the floor last year, but needs to improve his 52.2 percent free throw percentage.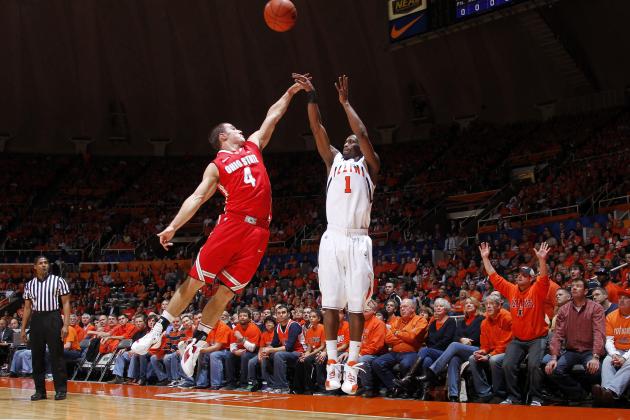 Joe Robbins/Getty Images

After winning the Big Ten Freshman of the Year award in 2010, Richardson hasn't shown any signs of improvement since. His three-point percentage has dropped each season and he rarely drives to the basket like he did early on in his Illini career.
Richardson is a top-notch defender, but will be absolutely needed to become the second or third scorer behind Brandon Paul. Richardson will be remembered to the Illinois faithful based on what he's done lately, which means a big senior season is in order and overdue.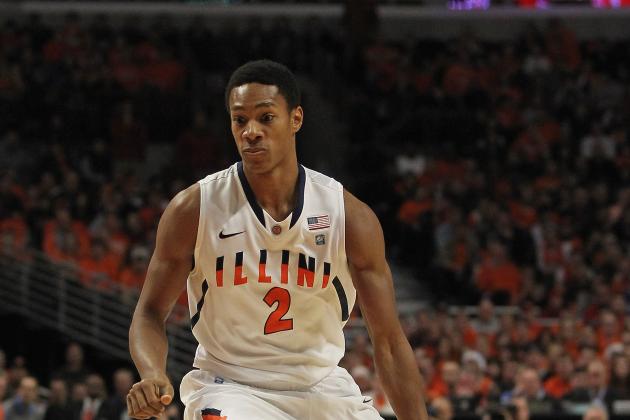 Jonathan Daniel/Getty Images

After a redshirt season and an additional season and a half of rarely seeing the court, Bertrand made his mark during Illinois' loss to Missouri last December. The 6'5" junior scored 19 points on nine-for-nine shooting against the Tigers, vaulting him into the starting lineup soon after.
Bertrand scored in double figures nine times after the Mizzou game, including a 25-point effort on 11-for-12 shooting in a win over Nebraska. Bertrand could find himself playing both small forward and power forward, although he may start the season as the Illini's sixth man.
His ability to cut to the basket and finish emphatically helps makes him my current favorite player. Bertrand's versatility makes him a tough matchup on both offense and defense. Even if Bertrand comes off the bench, expect to see him on the floor late in games.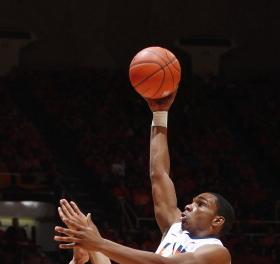 Joe Robbins/Getty Images

Statistically speaking, Abrams will not be Illinois' second-best player. In fact, he may not even be in the top five. Abrams' role for the 2012-13 Illini will be that of floor general and primary ball handler. Abrams may be the best on-ball defending point guard in the league, other than Ohio State's Aaron Craft.
As a freshman, Abrams only averaged 4.3 points, 2.3 rebounds and 1.9 assists in 21.1 minutes. He became the team's starting point guard midway through the season, though this year he'll have established himself in that role from day one.
Abrams will need to log major minutes as a sophomore, as Illinois' next best ball handler is turnover machine Brandon Paul. While Abrams will mostly be distributing, he does have the ability to score as well, as shown by his 22-point performance against Purdue in February.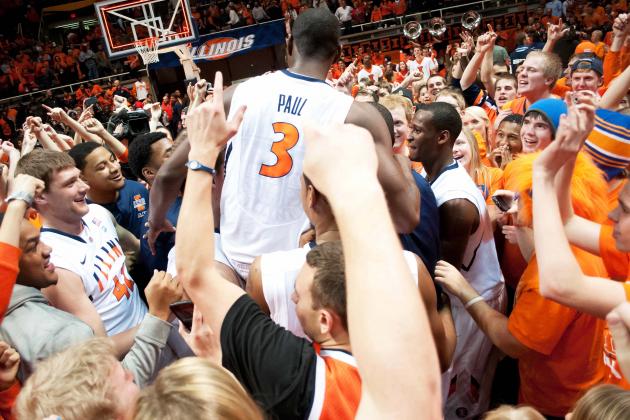 Bradley Leeb-US PRESSWIRE

Brandon Paul showed the basketball world what he is capable of when he dropped 43 points in an upset win over Ohio State last January. No one would have thought it, but that 43-point performance may have been the worst thing that ever happened to Paul and the Illini.
After that game, Illinois only won two of their final 14 games. Paul averaged 3.7 turnovers per game during that slide, and finished the season shooting only 39 percent from the floor and 33 percent from long range.
As a senior, this is Paul's team. Illinois will have as much success as Paul allows them, which means Paul's careless turnovers and contested three-pointers need to come at a minimum. If he doesn't improve in those departments, 2012-13 could be even worse than 2011-12.