Philadelphia Phillies: What Might Roy Halladay Be in 2013?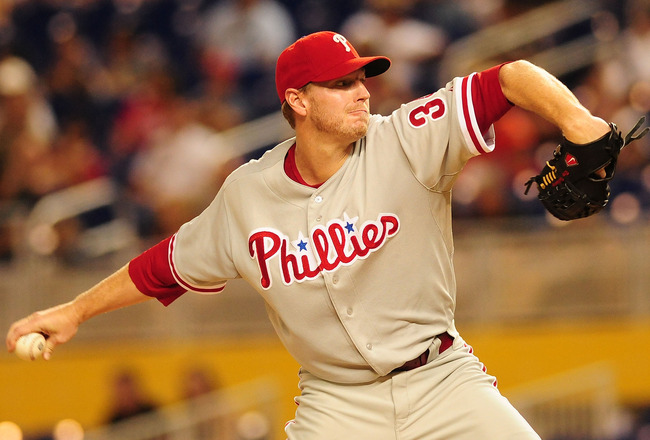 As determined as ever...but is the gun still loaded?
Jason Arnold/Getty Images
The Phillies have plenty of excuses ready for their just-finished 81-81 yard sale of a season. To hear Jimmy Rollins tell it, if they had been healthy, the Phillies would have won the division again.
Well, Jim, we are not sure what season you just watched, but it is pretty hard to imagine that a full season of regressing stars Ryan Howard and Chase Utley would have meant 17 more wins. For that matter, JRoll, you yourself stayed healthy all season, which was a shock in and of itself.
Besides, the Phillies season was not decided by the games its stars missed. It was decided by what their stars did when they actually played.
Cliff Lee finished with a record of 6-9. Make your own joke.
Rollins was the only player with enough plate appearances to qualify for the batting title. He thus led the team in batting average by hitting .250. As a leadoff man.
Utley hit .256. Howard hit .219.
And then there was Roy Halladay.
Fresh off winning the National League Cy Young Award in 2010 and finishing runner-up in that voting last season, Doc posted this line: 11-8, 4.49 ERA, a half-dozen starts missed and a strikeout-to-walk ratio of 3.67, his worst since 2007.
The Phillies will pay Halladay $20 million next season, when he will be 36 years old. What will they get for that money?
Let's look at some big-name pitchers and how they fared in their age-36 seasons.
Curt Schilling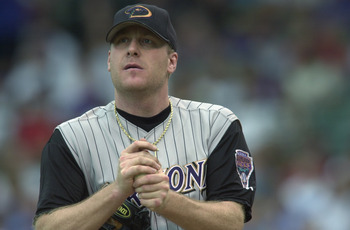 "'Kingdoms of Amalur.' I like it!"
Jonathan Daniel/Getty Images
Everyone's memory of Curt Schilling in a Diamondbacks jersey is that of a World Series champion, teaming with Randy Johnson to form an unbeatable starting pitching tandem.
That is understandable. In 2001, the year the Snakes won it all, Schilling went 22-6 with an ERA a touch under three. The next year, he won 23 games at the age of 35.
The next season, his last as a Diamondback, Schilling missed a third of his starts on his way to an 8-9 record, the last losing season of his career.
Of course, the following year, he pitched the Boston Red Sox into the playoffs by winning 21 games. And he did some other stuff in the postseason that year too.
Randy Johnson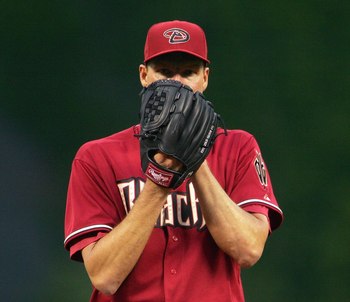 It's even intimidating in two dimensions.
Doug Pensinger/Getty Images
Speaking of The Freak, Johnson threw 248.2 innings for the 2000 Diamondbacks on his way to a 19-7 record in his 36-year-old season.
Aside from an injury-marred 2003 season in Arizona, Johnson won no fewer than 16 games again until 2007, by which time he was 43 years old and finally starting to show signs of slowing down.
Johnson's profile does not strictly match up with Halladay's, as Johnson's primary strength was throwing in the mid- to high-90's deep into games. Halladay has had power in his arsenal, but never like the gas Johnson threw.
Still, the Phillies would take 19-7 from Halladay in 2013 happily.
Roger Clemens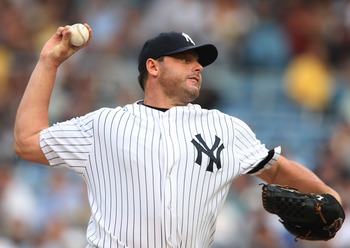 It is rare to get better after turning 36, but in some ways (somehow) he did.
Al Bello/Getty Images
Before his life devolved into a multi-tent circus, Roger Clemens was a pretty good pitcher.
Like Halladay, Clemens won a Cy Young Award in Toronto. Actually, Clemens won two of them north of the border in 1997 and 1998.
1999 saw Clemens pitch his 36-year-old season in the Bronx. He was not nearly as dominant in New York as he had been in Toronto the previous two seasons. But he did manage to go 14-10 that year.
Then, somehow, some way, Clemens won two more Cy Young Awards: one as a Yankee in 2001 at age 38 and one as a Houston Astro in 2004 at age 41.
If Halladay can tap into Clemens' Fountain of Youth, there is no telling how many more games he will win.
But somehow, Halladay does not strike you as that type of guy.
Greg Maddux
Not intimidating; in fact, the most comfortable 0-for-4, year after year.
Jamie Squire/Getty Images
In 2002, 36-year-old Greg Maddux went 16-6 for the Atlanta Braves with a 2.62 ERA. His strikeouts were down and his walks were up, but it did not mar his effectiveness.
In Maddux, Halladay might see a pitcher to emulate in the short (and perhaps long) term.
If Halladay pitched with a bad shoulder for most of the season, as some think, getting the shoulder healthy should mean not having to locate so precisely. If his stuff is back in 2013, there is no reason to think Halladay cannot be great to dominant in a contract year.
But if Halladay was actually healthy this season, it is probably time to think about tweaking his game plan to include more off-speed pitches and to rely more on location, like Maddux always did.
John Smoltz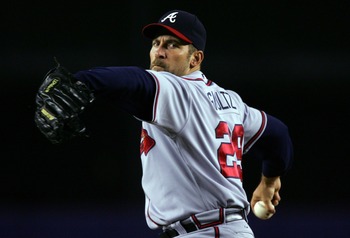 Starting or relieving, he was a winner.
Jim McIsaac/Getty Images
John Smoltz did not win a game—not one game—in his 36-year-old season in 2003.
Then in 2004, same thing. Not one win.
Of course, in those seasons, Smoltz was the Braves closer, racking up 89 saves in that time. But still.
Smoltz returned to the rotation out of necessity in 2005 and went 14-7 with a 3.06 ERA at the age of 38.
The Phillies have no room for Halladay in the bullpen, not with Jonathan Papelbon making eight figures to close.
So the Phillies have to hope that Halladay can bounce back next year with a season like Smoltz' 2005: an All-Star season without much fanfare.
Keep Reading

Philadelphia Phillies: Like this team?