Toshiaki Nishioka and the Top 15 Fighters 35 and Older in the World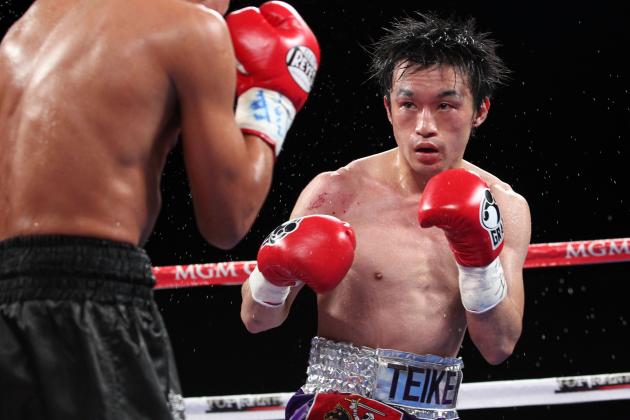 Jeff Bottari /Getty Images

The aging process of a prizefighter is often fickle. Generally considered to be a young man's sport, boxing's physical toll can rear its ugly head in what seems like an instant, and it is not uncommon to watch a fighter age before one's eyes or never be the same after an especially brutal bout.
Meldrick Taylor, Donald Curry and Wilfred Benitez, despite their excellent credentials, quickly come to mind as fighters who enjoyed meteoric rises, only to see their peaks end in their mid-to-late twenties—a time when athletes are thought to be entering their physical primes.
Such is the unforgiving nature of boxing. As sports science and training methods have increased in sophistication, the mercurial nature of "age" in prizefighting is something that largely remains unaccounted for.
More recently, fighters like Jermain Taylor and Jeff Lacy have been prime examples of sharp declines. Also, in a more conventional sense, the natural aging process has been frighteningly unkind to a legend like Roy Jones Jr., just as it was to Muhammad Ali when "The Greatest" hung on too long.
However, some fighters only ripen with age, and their defying of physical limitations (relatively) is always remarkable and steeped in boxing history.
The great Archie Moore won the World Light Heavyweight Title at 39 against Joey Maxim after Moore agonizingly waited for his title shot for over 16 years. "The Old Mongoose" only got better with age, and Moore would go on to become the greatest light heavyweight in boxing history, while also holding the distinction of challenging both Rocky Marciano and Cassius Clay at heavyweight.
While Moore is perhaps the most remarkable example of a prizefighter nurturing their craft and defying age, there are certainly other examples, and today's contemporary boxing landscape is no exception.
The following list celebrates the most accomplished and currently active (within reason) 35-and-over fighters. Also included is a page of snubs to indicate why certain fighters didn't make the list, as well as two honorable mention tiers to complement the top 15. Furthermore, readers should note that the list was weighted in terms of each fighter's recent accomplishments.
With that, in honor of the incomparable Archie Moore, let's examine the best greybeards in boxing.
Begin Slideshow

»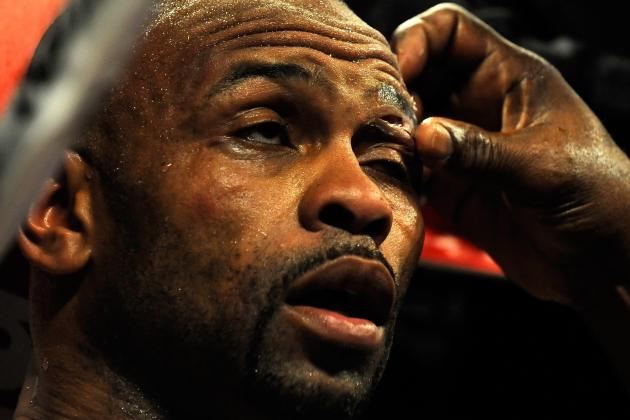 Ethan Miller/Getty Images

This list begins with a few notable snubs. The following fighters have all been elite champions and have accomplished—in two of the cases—a remarkable amount after their 35th birthdays. However, due to external factors or a dramatic decline in performance, it was impossible to have them make the final cut.
Roy Jones Jr.
At 43, Jones (56-8, 40 KO) has sadly become a shell of his former virtuoso self. A four-division champion, at his peak, Jones was untouchable, a fact that has magnified a decline that began with three consecutive losses to Antonio Tarver (twice) and Glen Johnson in 2004-2005.
More recently, Jones has suffered brutal knockouts to Danny Green and Denis Lebedev, yet he continues to fight on, struggling against opposition he would have stretched inside of a round during his prime.
Antonio Tarver
Having had a relatively late start to professional boxing, Tarver (29-6-1, 20 KO), 43, accomplished a tremendous amount in his 30s. From 2003-2008, Tarver was consistently a top-three light heavyweight and certainly enjoyed spells as the division's undisputed champion.
However, more recently a quality IBO cruiserweight title win over Danny Green was sullied by his stale performance against Lateef Kayode, after which Tarver inexcusably tested positive for anabolic steroids.
Joan Guzman
A mercurial talent, Guzman (33-0-1, 20 KO), 36, has drawn the ire of fans and pundits for his embarrassing inability to make weight. A two-division champion, Guzman's most recent gaffe was when he weighed in at 144 pounds to Ali Funeka's 135 in what was supposed to be an IBF lightweight title shot.
For consistently spitting in the face of opportunity, Guzman, who has undeniable talent, gets snubbed.
Evander Holyfield
Holyfield (44-10-2, 29 KO), 49, has not fought since 2011, a fact that has not precluded others from making the list. However, in the hopes that the once-great champion will never fight again, his name only gets a passing mention here.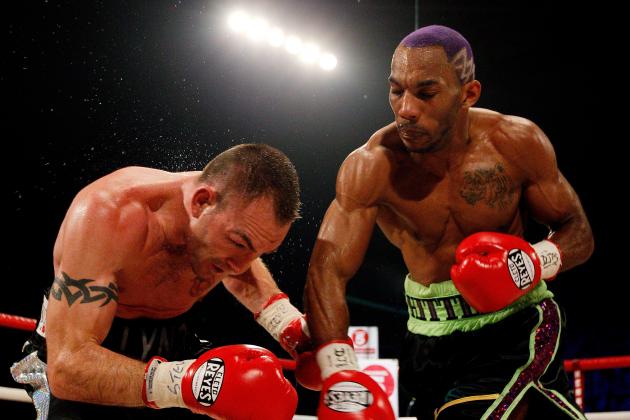 Scott Heavey/Getty Images

This section is reserved for fighters who have stayed clean and continue to plug along with decent recent performances. Their second-tier status is both an acknowledgment of what they have accomplished and a warning for the immediate future: For these fighters, their next result will go a long way towards determining whether they make such a list again.
Guillermo Jones
Talent-wise, Jones (38-3-2, 30 KO), 40, could be in the first-tier honorable mention category. However, a brutal period of inactivity—three fights since 2008—is a disgrace to anyone holding a championship belt.
That Jones has not been stripped of his WBA title outruns logic and rationality, and how he does in an upcoming defense against Denis Lebedev will either prove the rest was worth it, or expose him as a lazy titlist.
Junior Witter
After the former WBC junior welterweight champion lost his title to Timothy Bradley and then endured a three-fight losing streak, it seemed the end had come for the 38-year-old Witter (41-5-2, 22 KO).
However, after recapturing the British welterweight title with a victory over Colin Lynes, Witter is set to defend against top prospect Frankie Gavin; an upset win could lead to bigger and better things.
Carlos Quintana
After his tremendous win over Paul Williams to claim the WBO welterweight title, Quintana (29-3, 23 KO), 35, has been stopped every time he has stepped up to the elite level (including the rematch with Williams where he was stretched inside of a round).
However, after stopping Deandre Latimore in six rounds in his most recent fight, Quintana is perhaps in line to face an upstart prospect, which could revitalize his career.
Anthony Mundine
At 37, the former WBA super middleweight champion has enjoyed a decent run of victories after getting knocked out in five rounds by Garth Wood. Mundine (44-4, 26 KO) won the rematch against Wood, and his last two wins over Rigoberto Alvarez and Bronco McKart suggest he should step up to take a meaningful fight before it's too late.
Omar Nino Romero
After losing to Brian Viloria via TKO in the ninth round of his last fight, Romero (31-5-2, 13 KO), 36, has tasted defeat in his last two world championship fights. Still, the former two-time WBC light flyweight titlist's next move will be monitored with intrigue, and a win against a live body could shift him back to contender status.
DeMarcus Corley
The most remarkable thing about Corley (39-19-1, 23 KO), 38, making this list is that the former WBO light welterweight champion has endured two six-fight losing streaks.
Still, Corley has rallied to score two impressive victories—a unanimous decision over then-undefeated Gabriel Bracero, followed by a stunning 10th round TKO over Paul McCloskey—to claw his way back to relevance. Corley's next fight is against undefeated prospect Viktor Postol; don't count Corley out.
Jeff Bottari/Getty Images

This spot is reserved for some fighters who despite recent uneven performances, are steadily moving back towards championship form; the others are ones who have yet to be given a shot or have toiled in obscurity because of their recognizable skills but lack of economic viability.
With a bounce-back win or continued positive results, any of these fighters have the potential to crack the top 15.
Celestino Caballero
Talent-wise, Caballero (36-4, 23 KO), 36, could crack the top 10, but as he approaches nearly a year of inactivity with no fight scheduled, the WBA "regular" featherweight champion has slipped into relative obscurity.
After consecutive losses to Jason Litzau and Jonathan Victor Barros, Caballero rebounded by defeating Barros in a rematch and defending his regular title against Satoshi Hosono. Caballero has the talent to be in and win a significant fight; he just needs to get active.
Adonis Stevenson
The 35-year-old Stevenson (18-1, 15 KO) is one of the most feared punchers in the super middleweight division. At this point, one of Stevenson's biggest hindrances is finding a contender willing to fight him.
Since hooking up with trainer Emanuel Steward, Stevenson has scored two sickening knockouts in a row, and a win on October 12th over Don George will hopefully set him up for a significant fight or title shot.
Troy Ross
A two-time Canadian Olympian and winner of "The Contender" boxing reality series, Ross (25-3, 16 KO), 37, has proven to be a skilled and powerful cruiserweight contender.
In his first bid for the IBF title, the former Canadian and Commonwealth champion knocked Steve Cunningham down but was stopped due to a nasty cut when Cunningham thumbed him in the eye.
In his last fight, Ross appeared to outpoint the heavily favored Yoan Pablo Hernandez after almost stopping the Cuban champion in a thrilling fight. Ross deserves an immediate rematch.
Brian Magee
After losing to Lucian Bute by knockout, it appeared that Magee (36-4-1, 25 KO), 37, was finished as a viable contender.
However, two consecutive wins—including a thudding body-shot stoppage of Rudy Markussen—have secured Magee the interim WBA super middleweight and a shot against Mikkel Kessler for the vacant title. An upset win would propel Magee into the top 15.
Jan Zaveck
The 36-year-old Zaveck holds the distinction of being Slovenia's first ever world champion, a status he acquired by wresting the IBF welterweight title from Isaac Hlatshwayo in 2009.
After three defenses, Zaveck gave nearly as good as he got in a slugfest against Andre Berto where Zaveck was forced to abandon the fight due to obstructed vision.
A bounce-back win has garnered Zaveck the WBO Inter-Continental welterweight title; expect him to parlay this into an important fight soon.
Ivan Calderon
Before consecutive losses to Giovani Segura, few things were as sure in boxing than Calderon (35-2-1, 6 KO), 37, winning a fight by lopsided unanimous decision.
A two-weight world champion, Calderon rode an unbeaten run that included 18 title-fight victories (and one draw) for almost a decade.
Now on the comeback trail, Calderon eked out a split decision over the obscure Felipe Rivas, though he is now positioned for a WBO 105-pound title shot. A win could resurrect his career.
Rafael Marquez
Though he has lived in the shadows of older brother Juan Manuel Marquez's success and fame, Rafael Marquez (41-7, 37 KO), 37, has been an excellent fighter in his own right.
His four-fight series with Israel Vazquez is legendary, though recent losses to Juan Manuel Lopez and Toshiaki Nishioka have stalled the two-weight champion's career. Marquez, however, rebounded to stop Eric Aiken in the first round, and it shouldn't be long before he lands a meaningful fight.
Pongsaklek Wonjongkam
A Thai legend, Wonjongkam (87-4-2, 46 KO), 35, is a two-time WBC flyweight champion who made 17 defenses during his first historic reign.
After losing the championship to rival Daisuke Naito, Wonjongkam regained the title with a virtuoso win over Koki Kameda.
A few defenses followed before a stunning upset loss to Sonny Boy Jaro. Wonjongkam has won four in a row against obscure opposition, and it is now time for him to step back up in class.
Danny Green
After scoring a nice win over B.J. Flores, the 39-year-old Green (32-5, 28 KO) lost two consecutive fights to Antonio Tarver and Krzysztof Wlodarczyk in a bout where Green was ahead on the scorecards before getting stopped.
Green rebounded by halting the badly faded Danny Santiago, but an upcoming IBO cruiserweight clash against domestic rival Shane Cameron could lead to a big fight.
Sam Soliman
A former "Contender" participant, Soliman (42-11, 17 KO), 38, has not tasted defeat since 2008 when he lost a unanimous decision verdict to Anthony Mundine in a bid for the WBA super middleweight title.
Since then, Soliman has gone 7-0 with solid wins over Eromosele Albert and Giovanni Lorenzo in an IBF eliminator. The tricky Soliman, who gave Winky Wright all he could handle in 2005, has diligently moved into title contention.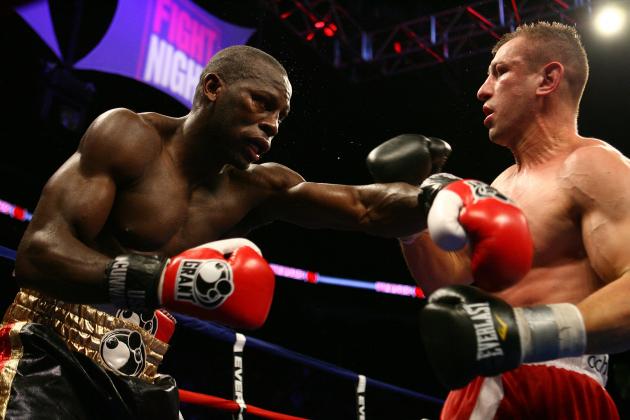 Al Bello/Getty Images

Since 2006, Steve Cunningham (25-4, 12 KO), 36, has been operating at the championship level, and sporadic activity due to promotional issues, more than anything, has prevented him from being higher on this list.
A two-time IBF cruiserweight champion, Cunningham has fought the division's best. Cunningham handed Marco Huck his last defeat at cruiserweight, and his victories over Krzysztof Wlodarczyk, Wayne Braithwaite and Troy Ross demonstrate he can operate at the elite level.
Cunningham has also seen his stature rise in defeat, as narrow losses to Tomasz Adamek and Yoan Pablo Hernandez (twice) have been action-packed and contested at a high level.
Recently, Cunningham made the jump to heavyweight, and his lopsided points victory over journeyman Jason Gavern has him positioned for a significant fight, which could come in the form of a highly anticipated rematch against Adamek.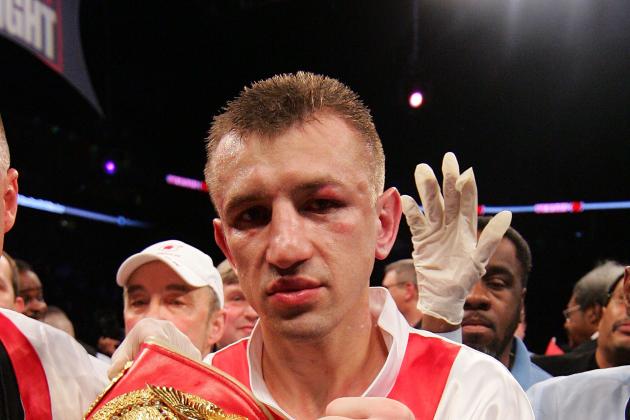 Al Bello/Getty Images

While many consider 35-year-old Tomasz Adamek's pursuit of the heavyweight title a Sisyphean endeavor, the popular Polish fighter has proven himself to be one of the most consistent and viable contenders in a weak heavyweight division.
A former light heavyweight and cruiserweight titlist, Adamek (47-2, 29 KO) is known for his crowd-pleasing style and, especially, his thrilling encounter with Steve Cunningham in a 2008 IBF cruiserweight title bout.
Since moving up to heavyweight, Adamek has beaten a who's who of fringe and legitimate contenders including Jason Estrada, Chris Arreola and Michael Grant before his title shot against reigning WBC champion Vitali Klitschko. In that fight, Adamek was brutalized and stopped in the 10th round, though his bravery was never in doubt.
Adamek has since rebounded from his defeat to Klitschko with three consecutive victories, including a somewhat controversial nod over Eddie Chambers. Now holding the IBF North American heavyweight title, a rematch with Steve Cunningham is a fight Adamek's team should strive to make.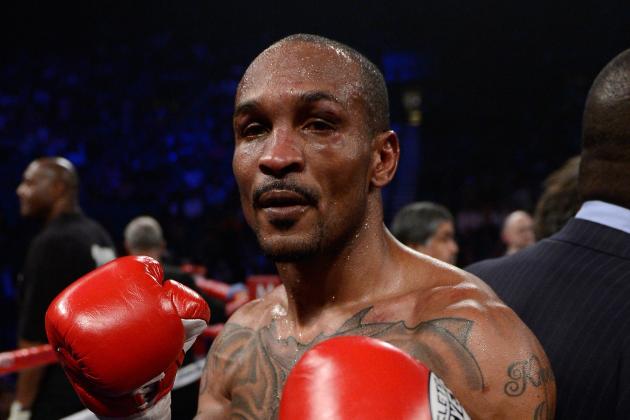 Kevork Djansezian/Getty Images

Randall Bailey (43-7, 37 KO), 38, is arguably the best pound-for-pound puncher in boxing. This was starkly apparent in Bailey's recent win over hyped contender Mike Jones in a fight where the two combatants engaged in a glorified sparring session for nearly 10 rounds before Bailey scored his dramatic knockout.
Such is the drama that accompanies every Bailey fight. Some will argue that his placement on this list is too high due to his mostly lame-duck performance in his last fight.
The bottom line is that the right hand that floored Jones in Round 10, followed by the right uppercut that knocked Jones silly and senseless in the 11th are definitive proof that Bailey will always carry fight-ending dynamite in his fists.
A former WBO light welterweight champion, Bailey has lost to such fighters as DeMarcus Corley, Miguel Cotto and Juan Urango. The loss to Urango is Bailey's only setback since 2007, and Bailey deserves praise as a persistent fighter who earned his way back to a title.
On October 20, Bailey will defend his IBF welterweight title in a stern test against Devon Alexander. Should Bailey manage to score an upset knockout win, which is always within reason given his punching power, he could very well crack the top 10 of this list.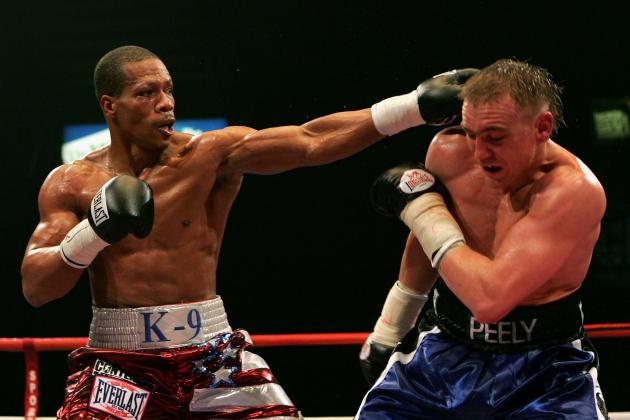 Matthew Lewis/Getty Images

Cornelius Bundrage (32-4, 19 KO), 39, is a classic late bloomer. After suffering defeats to Sechew Powell (in a wild first-round stoppage that included a double knockdown), Steve Forbes (as part of "The Contender"), Joel Julio and Grady Brewer, Bundrage had to scratch and claw for his title shot.
When he finally got it, it appeared that the more skilled Corey Spinks would outbox the wild and powerful Bundrage. Instead, the man known as "K9" battered Spinks—who was fighting in front of his hometown fans in St. Louis—into submission with a fifth-round stoppage.
Since then, inactivity has been Bundrage's main issue, but his subsequent defenses where he (somewhat) surprisingly outboxed the aforementioned Powell and again battered and dominated Spinks for a seventh-round stoppage have made many take note of Bundrage's viability.
As reported by boxingscene.com, Golden Boy Promotions' CEO Richard Schaefer told BoxingScene that Bundrage could next defend his title against Andre Berto, so fans should applaud as Bundrage seems poised to get the significant fight he has justifiably been angling for. A win could catapult Bundrage to even bigger business.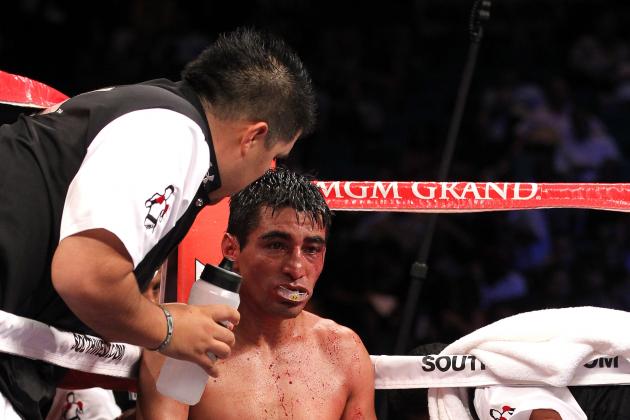 Al Bello/Getty Images

After four consecutive losses between 2005-2007—including two to Manny Pacquiao—many felt that Erik Morales (52-8, 36 KO), 36, needed to retire. Watching the fearsome Mexican brawler lose to the likes of Zahir Raheem and David Diaz seemed to exacerbate just how far the former three-division champion had fallen.
When three consecutive wins led to a shot at Marcos Maidana for the power-punching Argentine's interim WBA junior welterweight title, many feared Morales was in danger of suffering serious injury in what most assumed would be a knockout loss.
However, Morales shockingly turned back the clock and lost a wildly competitive majority decision in one of 2011's most memorable fights.
After losing to Maidana, Morales defeated Pablo Cesar Cano for a WBC title, which he subsequently lost to rising star Danny Garcia via unanimous decision. Still, Morales fared well enough to warrant a rematch against Garcia, which will take place on October 20.
For those who feel Morales is too high on this list, his performances against Maidana and Garcia suggest that he has something, even if it is minimal, at this point in reserve.
How Morales performs in his second fight against the red-hot Garcia will determine whether he ascends this list or drastically slips. After a while, tough defeats can only enhance one's stock so much.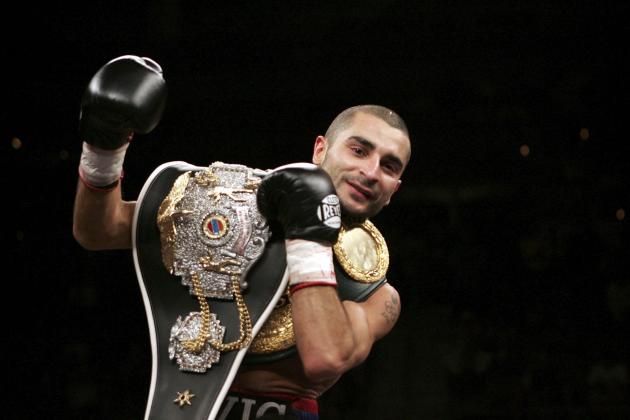 Jonathan Ferrey/Getty Images

Other than getting obliterated by Nonito Donaire in 2007, Vic Darchinyan (38-5-1, 27 KO), 36, was largely dominant in title reigns at flyweight and super flyweight. After unifying titles at super flyweight, Darchinyan started to encounter problems when he jumped to bantamweight, though nearly all of his defeats have come against elite opponents.
Losses to Joseph Agbeko, Abner Mares (as part of Showtime's bantamweight tournament) and Anselmo Moreno at 118 pounds left many feeling that Darchinyan was either well past his best or that he should move back down to super flyweight.
As expected, Darchinyan bucked conventional trends by actually moving up to 122 pounds after another defeat at bantamweight, this time to WBC champion Shinsuke Yamanaka. On a recent HBO "Boxing After Dark" card, Darchinyan dominated prospect Luis Orlando Del Valle over 10 lopsided rounds.
Darchinyan appeared fresh and was his ever awkward and aggressive self. While Del Valle is certainly not in the league of Mares or Moreno, Darchinyan proved that he is still a top contender. With the victory, expect the "Raging Bull" to find himself with a title opportunity in the near future.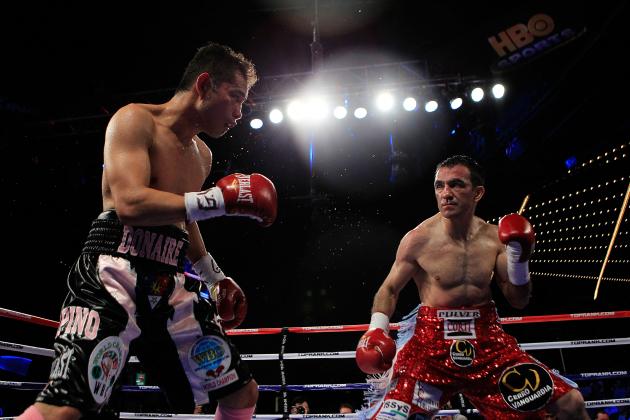 Chris Trotman/Getty Images

Sadly, Omar Narvaez is best known to North American audiences for his uninspired performance against Nonito Donaire in October of 2011. In that fight, Narvaez (36-1-2, 19 KO)—who was moving up in weight to challenge Donaire for the WBC and WBO bantamweight titles—seemed content to survive, and he was shut out on all three scorecards.
While the performance against Donaire is a big knock against the 37-year-old Narvaez, it is difficult to argue against the rest of his resume. A two-weight world champion, Narvaez defended his WBO flyweight title 16 times before moving up to super flyweight.
At 115 pounds, Narvaez also captured the WBO title, which he has thus far defended four times.
His fifth defense is scheduled for October 17 against the relatively obscure Johnny Garcia in Argentina. The selection of Garcia as an opponent is a reminder that Narvaez hasn't fought the more sterling opposition and that most of his fights have taken place in his native Argentina.
Still, his consistency is impressive, and hopefully he will get the chance to redeem himself in America.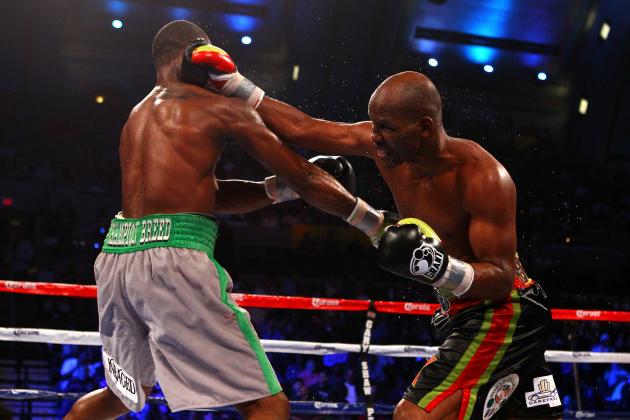 Al Bello/Getty Images

Bernard Hopkins would have been in the top five of such a list if it had been compiled after his resounding victory over Jean Pascal in May of 2011. Now, Hopkins' inclusion at No. 8 will be derided for still not being high enough, while conversely eliciting groans due to Hopkins' recent performances against Chad Dawson.
Such is the polarizing nature of Hopkins (52-6-2, 32 KO), 47, who, regardless of one's opinion of him, is one of the all-time great middleweights and has accomplished more after 35 than most fighters do in an entire career. Hopkins' longevity is a product of his skilful defense, veteran savvy and overall boxing genius.
While going over Hopkins' accolades would be beating a dead horse, his more recent wins over Kelly Pavlik and Jean Pascal were virtuoso performances that saw him outbox and turn back the clock against opponents in their respective primes.
If he wasn't legendary enough, Hopkins' between-round push-ups in the face of an exhausted Pascal only enhanced his legacy.
Hopkins' no contest and decision loss to Dawson have left a sour taste in the mouths of many, but Hopkins, given all he has accomplished, has earned the right to dictate how long he chooses to fight.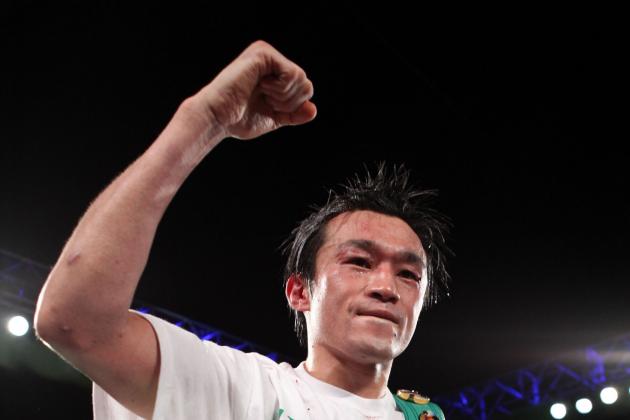 Jeff Bottari /Getty Images

When it comes to peeking late, few fighters have had as strong of a late career surge as 36-year-old Toshiaki Nishioka (39-4-3, 24 KO). Remarkably, Nishioka lost his first four bids for the WBC bantamweight title. Even more stunning is that all of those title-fight setbacks came against the same man: Veeraphol Sahaprom.
In having to settle for two unanimous decision defeats and two split draws to Sahaprom, it appeared that Nishioka's world title chances had come and gone. However, in 2008, Nishioka captured that interim WBC bantamweight title, which he then elevated to full championship status with a win over Genaro Garcia in his next fight.
Since the win over Garcia, Nishioka has made six defenses with four victories coming inside the distance. Nishioka's patience and perseverance have been rewarded with an upcoming unification fight against Nonito Donaire on October 13 in one of the year's most important fights.
Should Nishioka win, he will rocket up the pound-for-pound rankings. While upending Donaire is no easy task, the steadily improving Japanese fighter has already proven his worth, and his fight against Donaire represents a genuine battle of elite champions.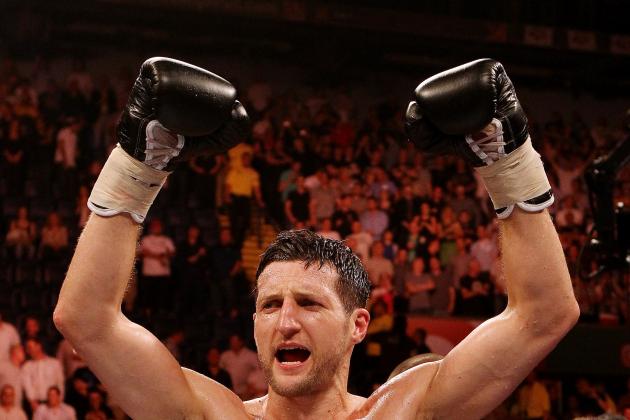 Scott Heavey/Getty Images

Since capturing the WBC super middleweight title in 2008, Carl Froch (29-2, 21 KO), 35, has not had an easy fight. A three-time titlist, Froch has beaten Jermain Taylor, Andre Dirrell, Arthur Abraham, Glen Johnson and Lucian Bute during a stretch that saw him make the finals of the groundbreaking Super Six World Boxing Classic.
While Froch first lost his title to Mikkel Kessler is a slugfest that could have gone either way, Froch's only clear defeat was a lopsided decision loss to pound-for-pound stalwart Andre Ward in the finals of the Super Six. That defeat saw Froch lose his WBC strap for the second time, and many felt "The Cobra" would begin his inevitable decline from elite status.
When Lucian Bute decided to defend his IBF title against Froch in Froch's hometown of Nottingham, many felt Bute would use the fight as a stepping stone for a major unification fight with Andre Ward. However, in one of the biggest nights in British boxing history, Froch thoroughly dominated Bute and stopped the Montreal-based Romanian in five punishing rounds.
Froch will get a deserved soft touch when he defends his IBF title against Yusaf Mack in November, after which he will travel to Montreal for a rematch with Bute. As the betting favorite in his next two fights, don't expect Froch to relinquish his title soon.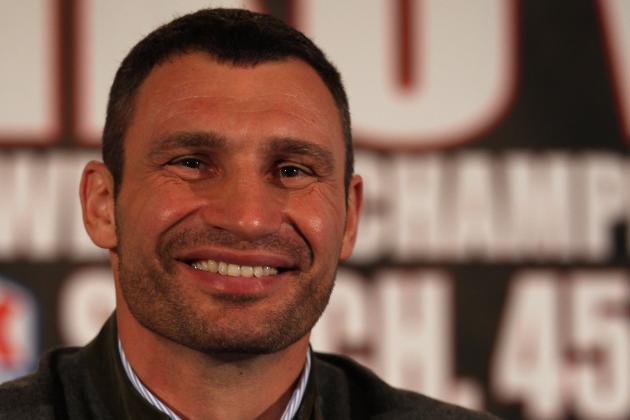 Andrew Redington/Getty Images

The most interesting debate in the heavyweight division is whether Vitali or Wladimir Klitschko is the better fighter. Of course, based on a humane promise the Ukrainian powerhouses made to their mother, the two will never fight. Speculation about a hypothetical matchup aside, both Wladimir and Vitali are essentially interchangeable on this list.
Vitali Klitschko (45-2, 41 KO), 41, has had a career that has unfolded in two acts. Act One saw Kiltschko win the WBO heavyweight title, only to lose it due to an injury suffered against a badly overmatched Chris Byrd.
Later came Klitschko's cut-induced defeat to Lennox Lewis in what was shaping up as a remarkable fight, followed by a brief spell as WBC champion before injuries forced Klitschko to retire in 2004.
However, Klitschko returned in 2008 and has since gone on a remarkable title run. Klitschko has won 10 WBC title fights during his dominant comeback, and the only reason he doesn't own more hardware is because younger brother Wladimir has a stranglehold over all the other major heavyweight belts.
Vitali was last seen obliterating Manuel Charr, and his wins over Dereck Chisora, Tomasz Adamek and Chris Arreola have all been memorable. Should Klitschko elect to retire and enter politics full time, it will be a fitting end to a great heavyweight stuck in a lousy era.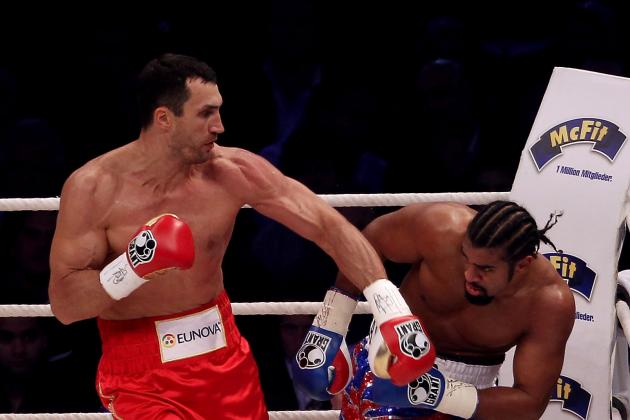 Scott Heavey/Getty Images

Before his current title reign, Wladimir Klitschko (58-3, 51 KO), 36, suffered through his fair share of criticism and career heartbreak. After a shocking TKO loss to Ross Purity, Klitschko captured the WBO heavyweight title, which he defended five times before a stunning second-round loss to the late Corrie Sanders.
After being stopped by Lamon Brewster in a bid to reclaim his title, Klitschko, the 1996 super heavyweight Olympic gold medalist, was written off as a china-chinned pretender. However, after a gutsy win over Samuel Peter for a minor title, Klitschko's dominance has only become more apparent as he's gotten older.
Klitschko beat Chris Byrd for a second time to capture the IBF heavyweight title, and he has only added to his haul since. Currently, Klitschko holds the IBF, WBO, WBA (super), IBO and Ring heavyweight titles, and he is 13-0 with 11 stoppages during his current unified title reign.
When older brother Vitali elects to retire, it shouldn't be long before Wladimir annexes the WBC strap, which would be a nearly unprecedented feat in an age of petty sanctioning bodies.
In what should have been a quality heavyweight fight, Klitschko was saddled with the frightened and complacent David Haye, which suggests that Klitschko is likely to never get the respect he deserves because he fights in a weak era for boxing's glamour division.
Still, Klitschko presses on and has a fight scheduled for November against Mariusz Wach. Expect another knockout. Given his skills and power, it seems like Klitschko will reign until he elects to retire.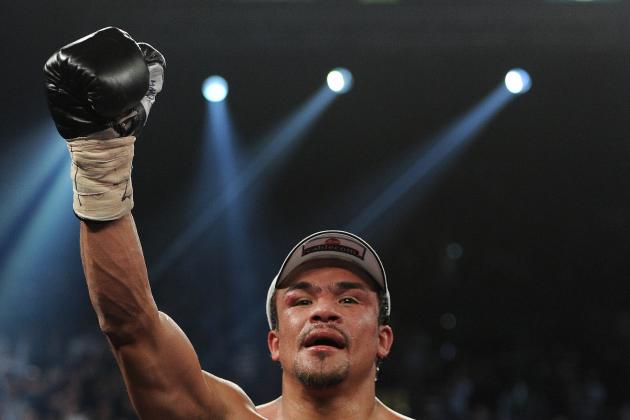 Harry How/Getty Images

Juan Manuel Marquez (54-6-1, 39 KO), 39, has competed at boxing's elite, championship level since the early 2000s. That said, for his current stature and the respect he garners, Marquez has often been unlucky and overlooked.
Consider that Marquez lost his first bid for a world title—a close points defeat to Freddie Norwood in a WBA featherweight championship fight—in 1999, and it took 10 consecutive victories over four years before he would again be given a shot.
Marquez's second title fight resulted in an IBF featherweight championship victory, and since then, Marquez has become on of the sport's most respected fighters.
Though he has won titles and interim belts in four weight classes, Marquez is perhaps best known for his trilogy with Manny Pacquiao.
Despite an 0-2-1 record against Pacquiao, Marquez could arguable be 3-0, and the fact that he is thus far winless against "Pac-Man" is an injustice and a sad reflection of Marquez's remarkable career.
Marquez, however, will get a rare fourth crack at Pacquiao, and given his ring savvy, surgical power punching and massive heart, don't be surprised if he finally gets the victory many feel has unjustly eluded him.
Of course, Marquez should not solely be defined by his fights with Pacquiao. Wins over Marco Antonio Barrera, Joel Casamayor and Juan Diaz, among others, have secured his Hall of Fame spot.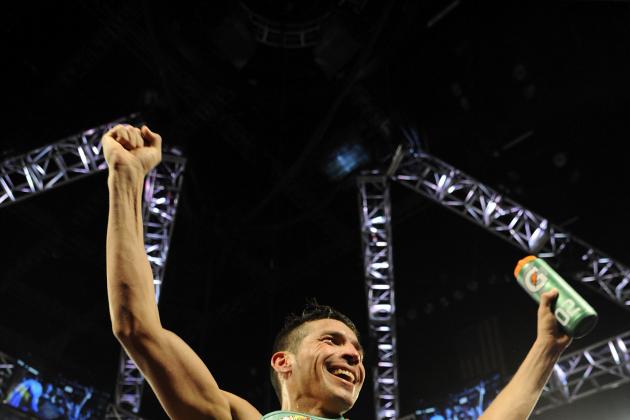 Jeff Bottari/Getty Images

One of the reasons the build-up to Sergio Martinez's middleweight title fight against Julio Cesar Chavez Jr. was so compelling was because it offered the contrast of Martinez's perseverance versus Chavez Jr.'s spoon-fed career.
This was further exasperated by the fact that Chavez Jr. went into the fight holding the WBC title that had been unjustly stripped from Martinez.
Well, justice was served when the two actually fought as Martinez (50-2-2, 28 KO), 37, turned in a virtuoso performance that justified his lofty status on any reputable pound-for-pound list.
Before winning the middleweight title, Martinez had been plying his trade and honing his craft in obscurity.
He gained notoriety after he was robbed in a fight against Kermit Cintron and had to settle for a majority draw, and a thrilling but controversial loss to Paul Williams would follow. It seemed as if Martinez would always be saddled with bad luck.
However, in 2012, Martinez battered and bloodied Kelly Pavlik as he wrested the undisputed middleweight crown from "The Ghost."
Amongst Martinez's current run of five lineal title defenses would be a highlight-reel knockout of Williams, a dominant knockout of Sergiy Dzinziruk and two late-round stoppages before the Chavez Jr. fight.
While many are clamoring for Martinez to fight Chavez Jr. again after the latter's 12th round rally, here's hoping that Martinez gets the megafight against Floyd Mayweather he has doggedly pursued.
Whether he gets that fight or not, Martinez has proven himself to be one of the best all-around fighters in boxing today, and he doesn't appear to be slowing down.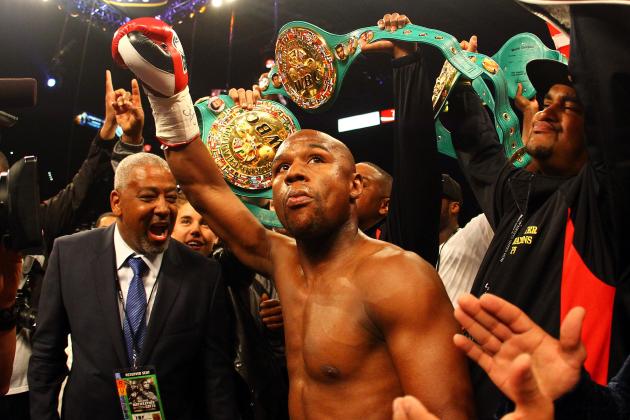 Al Bello/Getty Images

An easy choice for the top spot, it is sometimes easy to forget that Mayweather (43-0, 26 KO) is already 35. This is due to the combination of his boyish good looks and unparalleled, seemingly ageless skills in the ring.
Mayweather, however, is more than just an undefeated fighter and five-division champion.
His brash personality and high-roller lifestyle have established him as someone who transcends boxing—the rare crossover star. Granted, much of this has to do with his antics, but Mayweather's savvy business acumen knows his persona sells fights as much as his skills.
Little needs to be said about Mayweather. Other than fighting Manny Pacquiao, he has accomplished everything that can be done in a boxing ring.
Until that fight is made—a fight that should have happened three years ago—the boxing world will sadly hold its collective breath. So, enjoy or hate Mayweather while you can; he might get wrinkles soon enough.