How the Top MMA Prospect in Each Division Has Fared in 2012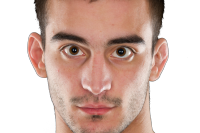 Photo credit: Bellator.com
Where do all the predictions go? We make them, we read them, everyone enjoys the process. Then you throw them down a hole and forget about them. Where's the follow-up? What happens when the future collides with the here and now?
The way I see it, it's worth checking in sometimes to see what's happening on the island of misfit speculation. Today, I'll take a look at the widely known and respected World MMA Scouting Report compiled at the beginning of each year by website Bloody Elbow.
Don't get me wrong. They're terrific rankings. Especially for someone like me. You know, I try to watch all these lesser cards and promotions. And I watch some. But you know what? Sometimes there are other things to do. Like sleep. And there's this mountain of work. And I got the kids climbing all over me, and the stream gets all pixelated. Then it's almost time for Glee. Glee is appointment television. And the recycling items don't separate themselves. And if you commingle them, you get an angry note from the truck guys. It's not a place you want to be. Know what I'm saying?
So we're not second-guessing the rankings themselves. But it is worth checking in to see if a fighter's reality lined up with the billing. This is a look at how the top-ranked prospect in each division has fared so far in 2012. In many cases, video of their most recent fight is included.
Begin Slideshow

»
Promotion: Amazon Forest Combat

Record in 2012: 1-0
In his lone fight this year, Dileno Lopes scored a first-round submission on Javier Ocampo to run his pro record to 9-0. All but one Lopes fight has ended with a chokeout and this one was no exception.
Despite a name that suggests rusty machetes and soot-stained hostages, Amazon Forest Combat is a pretty reputable little promotion. On the other hand, this win is a little more impressive before you realize it was Ocampo's only pro fight to date.
Or, you know, watch the footage. The two men rolled, Lopes caught a guillotine, Ocampo wriggled around like a fish on the line, and that was all she wrote. It wasn't exactly a major challenge for Lopes, although I have to say those stay-busy strikes were the weakest I've seen since Silva/Sonnen I. It was almost like he was brushing back a lock of his lover's hair.
There's no reason to doubt the rightness of the ranking, but others—including Anthony Pettis' little brother Sergio—have done more. It'd be great to see this Nova Uniao flyweight take a step up in competition, with this promotion or another.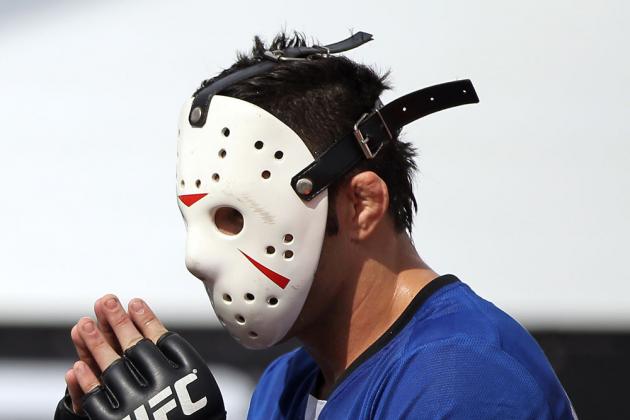 Photo credit: UFC.com
Promotion: UFC

Record in 2012: 1-0
"Rony Jason" has earned plenty of attention for his menacing mask/moniker and attendant reputation for in-cage bloodthirstiness.
He used a precise striking attack to grab a decision over Godofredo Pepey and win The Ultimate Fighter: Brazil's 145-pound tournament.
Though he continues to operate as a featherweight, the prospect rankings slot him at bantamweight. A move down to 135 may still be in the cards, but he seems to be doing just fine at the higher weight class.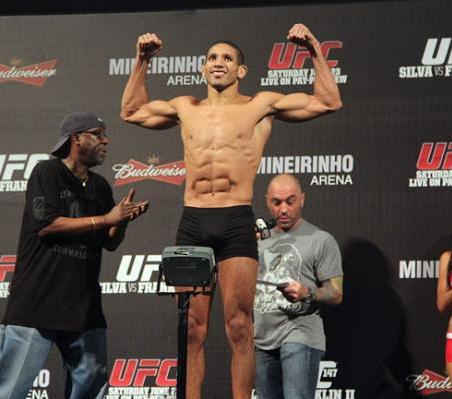 Photo credit: Sherdog
Promotion: UFC

Record: 1-0
What's Joe Rogan gawking at back there? I'll guess something to do with weed or nudity.
Hacran Dias might be my favorite of all these No. 1 prospects. He's also the second Nova Uniao fighter to grace the list. He took out respected veteran Yuri Alcantara in his UFC debut in June, taking him to the mat nearly at will and punishing him there. It almost made me glad I ordered UFC 147.
Next up for Dias? Chad Mendes at UFC on FX 6 in December.
Promotion: WCC

Record in 2012: 1-0

This guy has been around for a while now, as far as prospects go. I remember when he went by his non-Americanized name, Fabricio de Assis Costa da Silva.
He choked Roberto Bruno "Carioca" da Silva unconscious in August, as you can see in the video. Action starts at about the 4:00 mark.
Carioca is a worthy fighter, but Guerreiro was the stronger and better fighter in this one. Guerreiro rag-dolls him to the mat and then fully controls him.
So kind of a quiet year for the 155 prospect (similarly to Rony Jason, Guerreiro fights at featherweight but was listed in the rankings as a lightweight). Still, he's 16-1, and that 1 was a premature stoppage. Plenty to look forward to from the 22-year-old.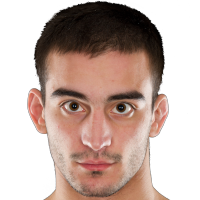 Photo credit: Bellator.com
Promotion: Bellator

Record in 2012: 3-0
No, no. I take back what I said before about Hacran Dias. Andrey Koreshkov is my favorite fighter on the list.
He's had plenty of chances to prove it in 2012, and succeeded each time thus far. At Bellator 78 on October 28, he'll have a chance to prove it again. Opponent Marius Zaromskis is on a five-fight win streak and has super-dynamic striking. He throws, like, flying axe kicks and crap.
By contrast, Koreshkov takes people down and pounds them with cinderblocks. You should watch this fight.
Promotion: MMA Against Dengue

Record in 2012: 1-0
Who knew MMA was so active against Dengue fever? I didn't know. But it's good to know.
In this, his only fight of 2012, Neto tapped Brock Larson in March. Action begins at the 5:20 mark of this video. It probably would have been a better or at least longer contest if Larson hadn't obliged Neto's open invitation for a ground fight. You can tell by the video that Larson knows it, too.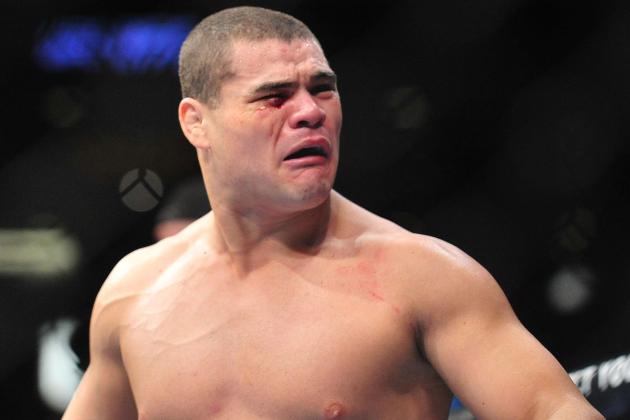 Gary A. Vasquez-US PRESSWIRE

Promotion: UFC

Record in 2012: 0-0-1
Probably the most high-profile of the No. 1 prospects, but that's probably the result of his dual role, as he is also the recipient of the year's most high-profile eye poke.
He'll have a chance to tangle with Phil Davis again on October 13 at UFC 153.
Promotion: M-1
Record in 2012: 0-1
Cue the loser horn.
His name sounds like a movie villain. But he wasn't so malevolent against M-1 interim heavyweight champ Kenny "Deuce" Garner. The big-swinging Russian looked decent early, but Garner tied him up on the feet and the mat and eventually gassed him. It ended with a knockout in the third round.
But hold the phone. After this one, Garner went on to avenge his most recent loss by knocking out another celebrated Russian prospect: Guram Gugenishvili. This time, he won the regular M-1 title.
Could Garner be the big prospect for 2013? He's already 37 years old. But hey, age ain't nothing but a number, right?
Follow Scott Harris on Twitter.