Iowa Football: Key Matchups When the Hawkeyes Play Michigan State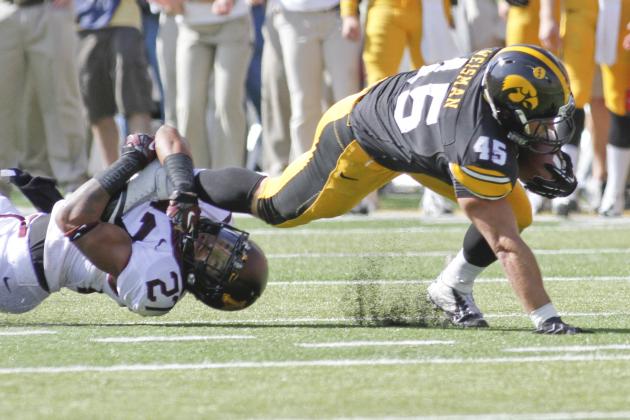 Matthew Holst/Getty Images

Lately, when Iowa plays Michigan State, it has more meaning than just another Big Ten game.
In 2009, MSU had a chance to ruin the Hawkeyes' perfect season, but Iowa pulled it out in the last seconds.
In 2010, Iowa had a chance to ruin the Spartans' perfect season, and that is exactly what the Hawks did.
Last year, MSU came into Iowa City fully intending to make Iowa pay for the previous year's curb stomping, and the Spartans were successful. They even resorted to flopping (per the Cedar Rapids Gazette) to add insult to injury.
These two programs recruit the same areas, play the same style of football, are in the same division and, historically, have similar records.
In short, though there is no reason for a rivalry between these two teams that are separated by the width of the state of Illinois, it seems that is exactly what is brewing.
Begin Slideshow

»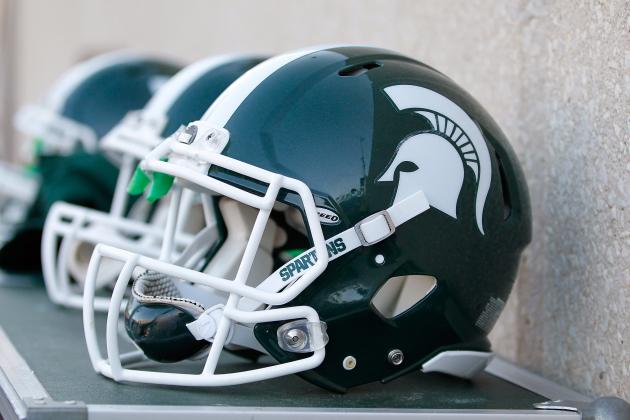 Gregory Shamus/Getty Images

Head Coach: Mark Dantonio (sixth year as head coach)
Last Game: 31-27 over Indiana
2012 Record: 4-2 (1-1 in conference)
Previous Opponents: Boise State (W), at Central Michigan (W), Notre Dame (L), Eastern Michigan (W), Ohio State (L), at Indiana (W)
2012 Season So Far, In 20 Words or Less: Best defense in the Big Ten, but the offense might be worse than Iowa's.

Michigan State Record, Last Five Years: 2011, 11-3; 2010, 11-2; 2009, 6-7; 2008, 9-4; 2007, 7-6
2012 Scoring Offense: 21.8 points-per-game (11th in the Big Ten)
2012 Scoring Defense: 15.2 points-per-game (first in the Big Ten)
Returning Starters: Four on offense, eight on defense and both specialists
Offensive Scheme: Power/Multiple
Defensive Scheme: 4-3
Iowa's All-Time Record vs. Spartans: 22-19-2
Last Five Meetings vs. Iowa: 2011, 37-21; 2010, 6-37; 2009, 13-15; 2008, 16-13; 2007, 27-34
Key Injuries: OL Travis Jackson, out; OL Fou Fonoti, out; TE Dion Sims, out: SS Kurtis Drummond, questionable; DT Tyler Hoover, questionable.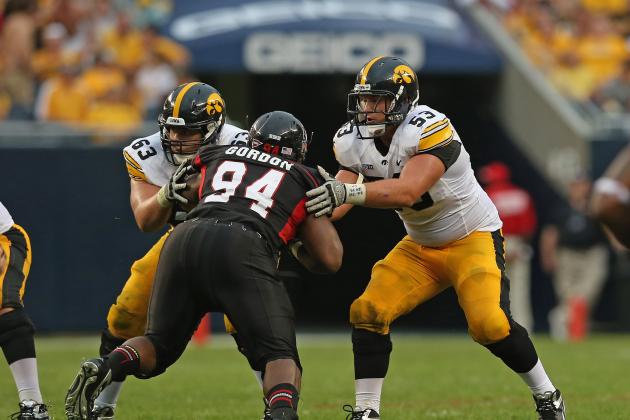 Jonathan Daniel/Getty Images

The Iowa offensive line has been dominant over the last three games.
The unit hasn't allowed a sack since its opening contest against Northern Illinois, and has paved the way for 6.23 yards-per-carry (YPC) in its last three.
This was despite replacing three starters from last season's squad and losing starting right guard Austin Blythe to injury against Minnesota.
However, the stakes will be upped considerably against MSU.
The Spartans have the No. 1 rush defense in the Big Ten (opponents' YPC) and have the best defensive front seven that the Hawkeyes will face this year.
Furthermore, Mark Dantonio runs an aggressive defense, and if Iowa's passing game fails to show up, he will sic the dogs on the running game.
Walk-on fullback Mark Weisman has been superb as the featured back in the last three games.
He has run for 7.04 YPC and seven touchdowns on 72 carries, but let's face it, he has run through three teams that aren't known for their linebackers.
That will change when the Hawks face the Spartans.
Michigan State has three of the best linebackers in the conference in Denicos Allen, Max Bullough and Chris Norman. MSU runs a decidedly different defensive scheme than the Hawkeyes, so the Spartan linebackers don't collect tackles the way Iowa linebackers do.
Rather, they are constantly on the attack. Last year, Allen came in second in the Big Ten with 11 sacks and fourth in the conference with 18.5 tackles for loss. Meanwhile, MSU, as a team, led the conference in both categories.
Moreover, the cat is out of the bag regarding Weisman and the Iowa rushing game. As previously mentioned, look for Dantonio to sell out his defense to squash the Hawkeye running game.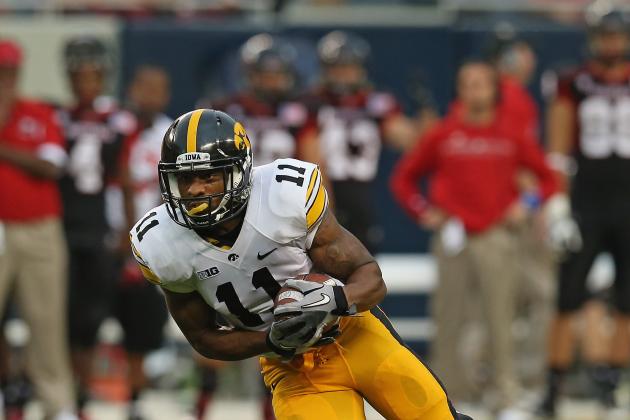 Jonathan Daniel/Getty Images

Which brings me to Iowa's passing game.
The Spartans are going to blitz from every direction, out of both man and zone coverages.
Though the Iowa blockers have done a good job of holding off the blitz, the passing game has been unable to take advantage of it.
This has led to a number of stalled drives and an ineffective offense in 3rd-and-long situations.
The good news is that MSU's aggression will present the Hawks with early opportunities if the passing game can take advantage of it. This will force the Spartans to adjust their defense, which will open up the door for the running game.
On the other hand, it will be a long day if the offense can't make Michigan State pay for committing everything to stopping the run and pressuring the quarterback.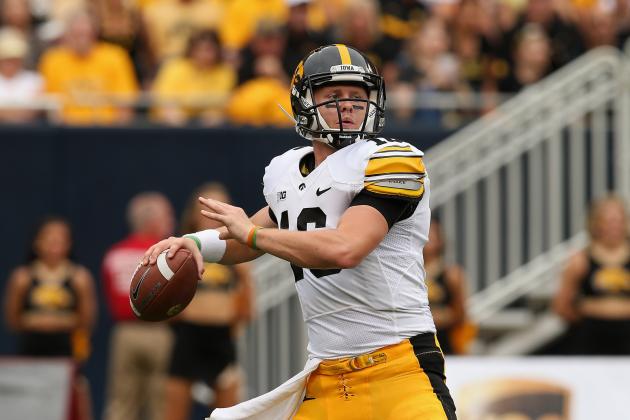 Jonathan Daniel/Getty Images

As for that quarterback, James Vandenberg has had a rough year.
He had to adjust to a new offense, offensive coordinator and position coach; and he lost his top receiver and the greatest wide receiver in Hawkeye history in Marvin McNutt.
He also hasn't gotten much help from his pass-catchers, who have had trouble running routes and dropped eight passes against Iowa State.
That said, Vandenberg himself has had issues.
The reality is he is not and never will be a great quarterback, but he is better than he's been. He was certainly better last year, with or without McNutt.
He has to find a way to get some momentum and turn things around this week.
If he doesn't, Iowa will not be able to move the ball, the defense will get tired and the fourth quarter will be a healthy serving of Michigan State running back Le'Veon Bell running over exhausted Hawkeye linemen and linebackers.
In other words, it will be much the same as the Penn State game last season.
Junior running back Le'Veon Bell is 6'2", 244 pounds, and if he isn't the best running back the Hawks will face all season—only Nebraska's Rex Burkhead is in Bell's league—he will certainly be the toughest to take down.
Iowa's front seven and specifically its linebackers had their best game of the season when they played Minnesota.
However, Bell will test them in a way that the past backs they've played have not.
The key for the defense will be to stuff Bell at the point of attack.
He is going to get positive yardage, but the Hawkeye linebackers cannot afford to let him break tackles and get into the secondary.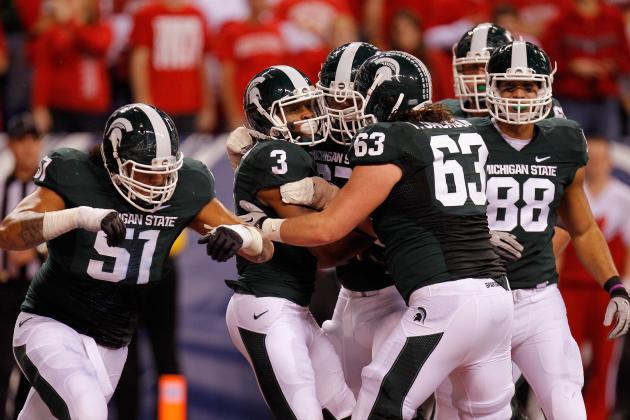 Gregory Shamus/Getty Images

A large part to stopping Le'Veon Bell will consist in plugging up gaps and maintaining leverage against MSU's offensive line.
As football guru Phil Steele noted following spring practices, MSU had the most experienced offensive line in the conference heading into 2012.
The problem is that Mark Dantonio has a history of underachieving offensive lines. In eight years as a head coach—three at Cincinnati and five at MSU—none of his O-linemen have been drafted. That is quite a negative accomplishment for a coach that runs pro sets.
Making matters worse, the formerly experienced Michigan State line has been beset by injuries.
Would-be starting right tackle Fou Fonoti has already missed four games with a broken foot, while starting center Travis Jackson is done for the season with a broken leg.
This attrition was felt in the Spartans' contest against Indiana.
MSU let up two sacks to the Hoosiers, who came into the game with seven sacks on the season. Even more telling, the Spartans averaged 2.9 YPC against a team that had allowed 5.02 YPC in its previous four contests.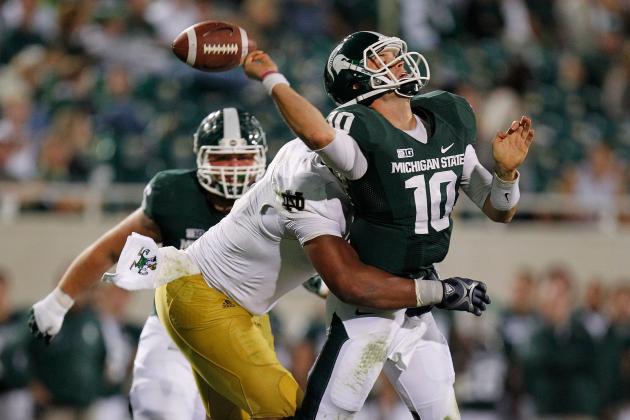 Gregory Shamus/Getty Images

Iowa fans know that their own passing attack hasn't been impressive, but MSU's hasn't been much better.
The two programs rank Nos. 11 and 12 in the Big Ten in passing efficiency. It is true that the Spartans have faced a much tougher schedule than the Hawkeyes, but there is no getting around the reality that both teams have struggled through the air.
In MSU's case, it is not surprising, as the Spartans had to replace their quarterback and top four pass-catchers, including record-setting receiver B.J. Cunningham.
Their situation is made worse with the recent injury to their top pass-catcher, tight end Dion Sims. According to Dantonio via the Detroit Free Press, he is unlikely to play this week.
In the Hawkeyes' case, the issue seems to be replacing their own record-setting receiver, Marvin McNutt, and getting used to the new passing schemes of new offensive coordinator Greg Davis.
Either way, both of these teams are struggling with their air attacks.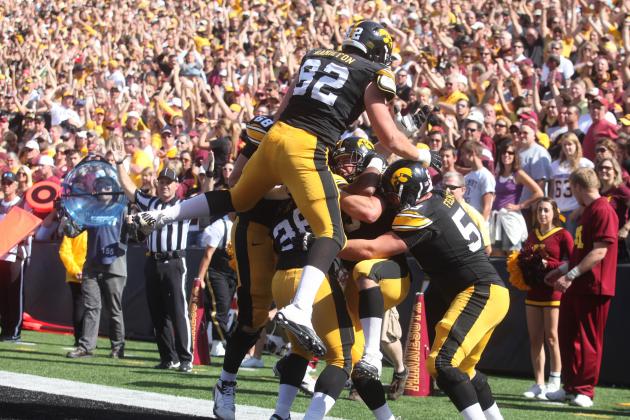 Matthew Holst/Getty Images

Iowa has converted a respectable 88.24 percent of its red-zone opportunities—fifth in the Big Ten—but it has only put 47.06 percent of those opportunities in the end zone.
That is last in the Big Ten and 104th in the country.
Iowa's struggling offense has to take points when it can get them. This will be particularly true on the road against a defense as stingy as MSU's.
As for the Spartans, they rank first in the conference, having allowed only 38.46 percent of their opponents' red-zone opportunities to go for six points.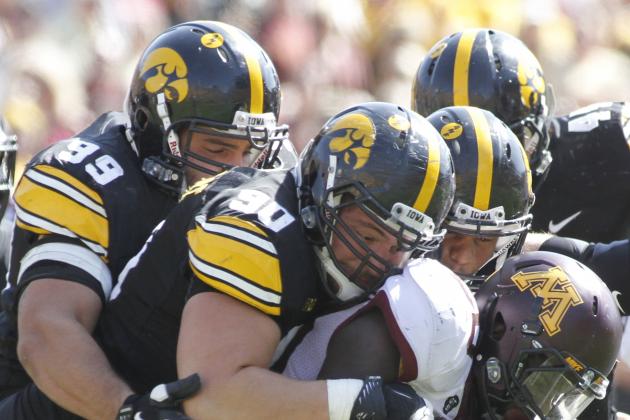 Matthew Holst/Getty Images

Michigan State and Iowa are currently Nos. 1 and 3 in the Big Ten in both scoring and total defense.
Michigan State is not surprising in this respect. With only five returning starters and a green defensive line, Iowa's success is shocking.
As has been touched upon, while both defenses have flourished, the offenses have floundered.
In short, look for this to be a low-scoring defensive struggle, in which field position could be the deciding factor.
When thinking of traveling to Spartan Stadium, most Iowa fans fondly remember the 2009 trip, when No. 7 scored six, and the Hawkeyes left East Lansing with a 15-13 victory and an 8-0 record.
However, Ferentz's record at Michigan State is a woeful 1-4. The only stadium at which Ferentz has fared worse has been Ohio Stadium.
The worst of the losses was in 1999, when the 10-2 Spartans crushed the Hawks 49-3.
Since then, all of the games, wins and losses, have been decided by 10 points or less, with three of them decided by a field goal.
1. Exploit the aggressive MSU defense.
Use screens and draws to keep them honest. Throw long to force the safeties out of the box. Use counters to keep the linebackers from playing downhill all game.
2. Finish tackles.
Don't let Le'Veon Bell into the secondary.
3. Squash the Michigan State run game and force them into passing situations.
The MSU offensive line is not especially good. Force Maxwell to win the game with his arm.
4. Win the field position game.
All signs point to this being a defensive battle. Defensive battles come down to field position. That means solid special teams and no turnovers.
5. Take advantage of opportunities.
The Hawkeyes probably won't get into the MSU red zone very often. When they do, they have to put seven points on the board.