Green Bay Packers vs. Indianapolis Colts: 10 Keys to the Game for Green Bay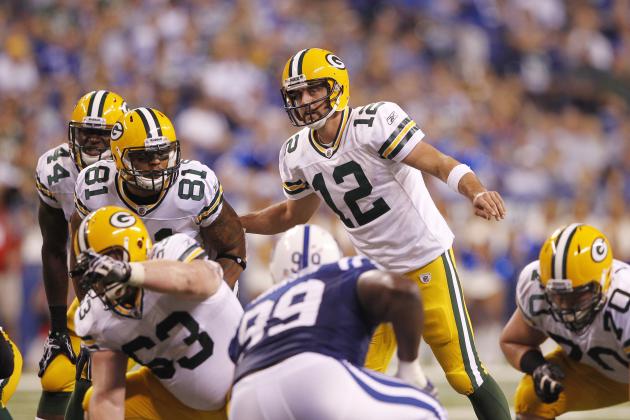 Joe Robbins/Getty Images
Aaron Rodgers
The Green Bay Packers begin a three-game road trip on Sunday when they visit Lucas Oil Stadium in Indianapolis to take on the Colts.
Considering the Packers had the best record in the NFL last season (15-1) and the Colts had the worst (2-14), it should be a game the Packers win, but it doesn't always work that way in the "Any Given Sunday" world of professional football.
Here's what the Packers need to do to come away from Indy with a victory...
Begin Slideshow

»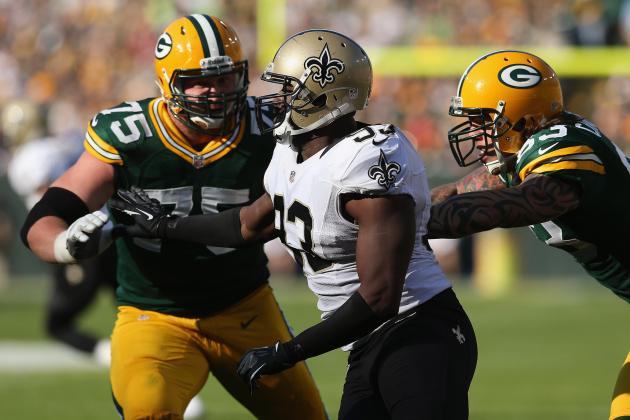 Jonathan Daniel/Getty Images
Bryan Bulaga
In Bryan Bulaga's rookie year, the Packers faced the Bears in the regular season finale in 2010, and even though Green Bay won 10-3, the right tackle proceeded to have four penalties.
It was one of the lowest points of Bulaga's career, but he rebounded to have a scintillating playoff run and was one of the big reasons the Packers won the Super Bowl that season, by keeping Aaron Rodgers upright for four straight playoff wins.
Bulaga had a similarly disappointing performance against the Seahawks in Week 3 when the Packers allowed eight first half sacks—Bulaga himself was personally responsible for a handful of them.
He bounced back by helping the Packers' offensive line pitch a shutout against the Saints last week and didn't give up a single sack. What remains to be seen is if Bulaga and the line can keep the momentum going.
The Colts have an impressive pair of edge pass rushers in Dwight Freeney and Robert Mathis, and the burden of stopping them will fall primarily on the shoulders of Bulaga and fellow tackle Marshall Newhouse.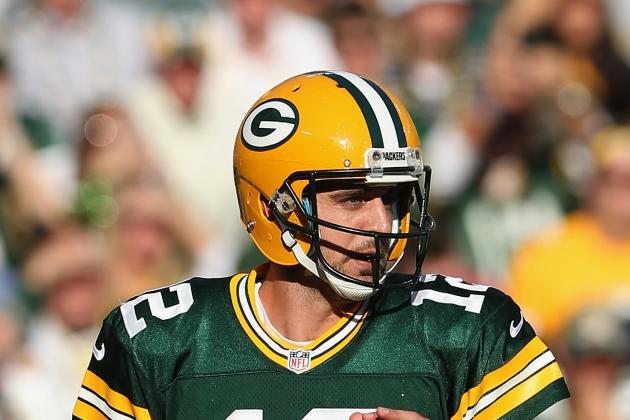 Jeff Gross/Getty Images
Aaron Rodgers
The situation in the Colts secondary borders on desperate, particularly at cornerback, where Indianapolis is dealing with injuries to two prominent players.
Starter Vontae Davis didn't practice on Wednesday with an ankle injury, and neither did nickel cornerback Justin King with a groin injury.
It's not looking optimistic that either Davis or King will be able to play on Sunday, and the Packers should take advantage by picking apart the backups.
Aaron Rodgers should be able to identify the weak links in the Colts defensive backfield and act accordingly.
Maybe facing the Colts secondary will be the remedy for getting back to hitting big plays that have been absent from the Packers' offense so far this year.
Through four games, Rodgers has only hit on a handful of passes over 30 yards, which could increase on Sunday.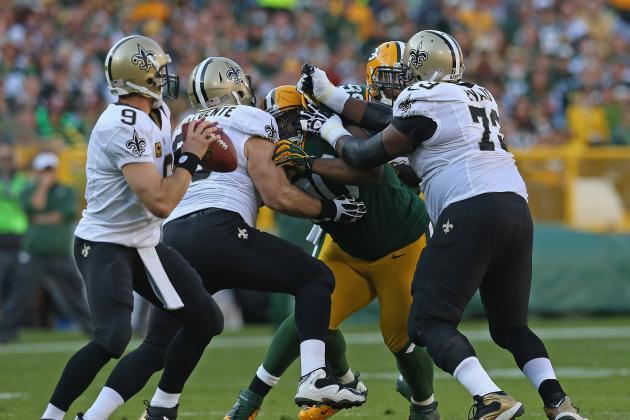 Jonathan Daniel/Getty Images
B.J. Raji
In addition to the Colts secondary, health is also an issue on the interior of the Indianapolis offensive line.
Both starting center Samson Satele and left guard Joe Reitz have been battling injury and don't look like good bets to play on Sunday. Both are dealing with knee problems, and while Satele did practice on Wednesday in limited fashion, Reitz did not practice at all.
Taking their place are Seth Olsen, who will play in place of Reitz, and Mike McGlynn, who has played in place of Satele.
The situation is desperate enough that the Colts signed A.Q. Shipley off their practice squad to provide depth at center. Shipley was released earlier in the season.
On the other side of the football, the Packers haven't gotten much pass rush out of their defensive linemen this season, but Sunday might be a good time to break out.
Jerel Worthy, Mike Daniels and C.J. Wilson have all had one sack this season, but none of them have played consistently.
Meanwhile, it might be the perfect time for big-bodied linemen B.J. Raji and Ryan Pickett to dominate in the trenches against an inexperienced Colts interior offensive line.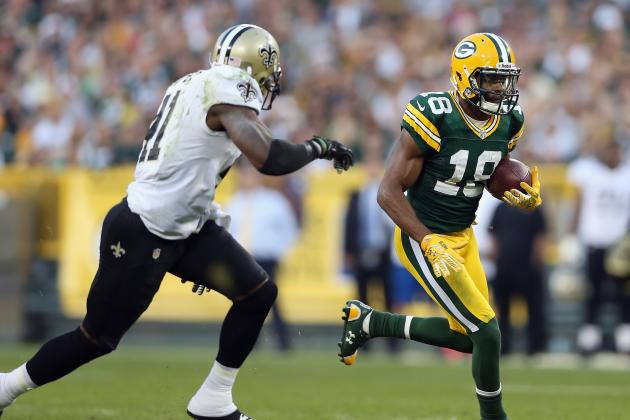 Jeff Gross/Getty Images
Randall Cobb
In the past two weeks, in this same space (here and here), the Packers have been called upon to make sure Randall Cobb gets "his touches."
Perhaps that wasn't being specific enough. Cobb has touched the football but not nearly as often as the Packers need.
Cobb brings such a unique dynamic to Green Bay that he needs to touch the ball 10-plus times per game, including return opportunities.
The more ways the Packers use Cobb, the better. It forces the opponents out of their comfort zone by focusing their attention on Cobb, and that will only open up opportunities for other players on the team.
Cobb certainly doesn't need 10—or even five—carries per game, but he should be seeing more than the scant two he has so far.
The return opportunities will always there and so will his snaps at receiver, even more so with Greg Jennings sidelined by injury. Now it's the job of coaches and Aaron Rodgers to get the ball in Cobb's hands, because he's faster and more elusive than just about any other player on the field.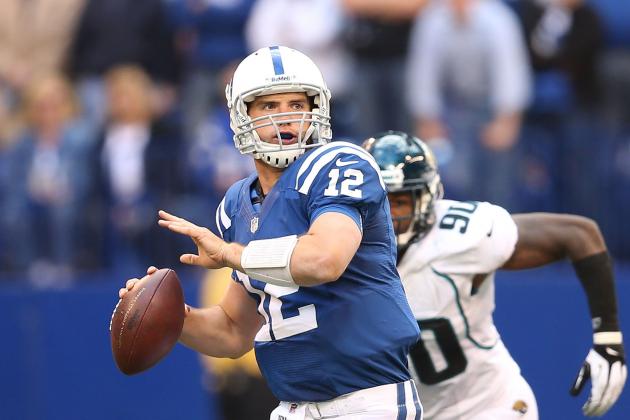 Andy Lyons/Getty Images
Andrew Luck
Despite being the No. 1 overall draft choice this past spring, Andrew Luck has understandably had his fair share of troubles a quarter of the way through his first season in the NFL.
No one said it would be easy taking over the worst team in the league last season, and Luck has had a difficult time by completing a sub-par 53.3 percent of his passes while tossing five touchdowns compared to four interceptions.
The Packers have to continue to make life miserable for Luck like they have for most rookie quarterbacks under defensive coordinator Dom Capers.
Defensive back Charles Woodson, in particular, gave rookies Cam Newton and Christian Ponder a rough indoctrination into the NFL last season by intercepting them a combined four times, and Woodson would love nothing more than give the same treatment to Luck.
Cornerback Tramon Williams always does a good job studying opposing quarterbacks on film then capitalizing on their tendencies during game time when it comes to jumping on a route and coming up with an interception.
For a defense that led the NFL in interceptions last season but hasn't gotten any in three out of four games in 2012, the Packers secondary would sure benefit from forcing some turnovers, starting Sunday in Indianapolis.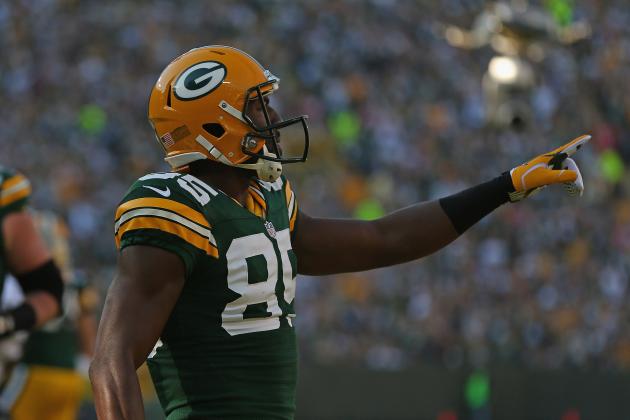 Jonathan Daniel/Getty Images
Greg Jennings
Early in the week, it appeared as if the Packers were going to take their time with Greg Jennings and see where he's at in his recovery from a groin injury that knocked him out of last week's Saints game.
On Thursday, however, head coach Mike McCarthy acknowledged that they're officially shutting Jennings down and he will not play on Sunday against the Colts.
With that being the case, the Packers just have to prepare for being without Jennings' services for this week and perhaps longer. His groin has been a lingering injury all season, and it might be in the Packers' best interests to let it heal 100 percent before getting him back to action.
Green Bay was in the same boat in Week 2 against the Bears when Jennings didn't play coming off the short turnaround on a Thursday night football game. They beat Chicago handily that week, 23-10, showing they can win with a Pro Bowl receiver sidelined by injury.
Other receivers on the team will have more chances for opportunities. Going back to last season, Jordy Nelson should be getting used to that role. Same for James Jones, seeing has he had a big game last week after Jennings went down.
There should also be more snaps available for guys like Randall Cobb who seems to make plays every time he touches the football, and Donald Driver who hasn't played much yet this season, but could be destined to see the most playing time yet this year.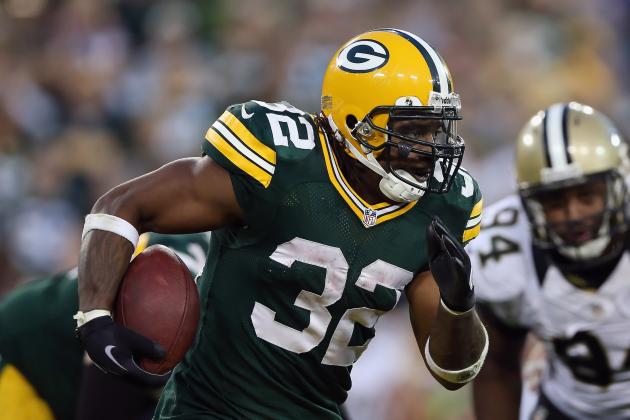 Jeff Gross/Getty Images
Cedric Benson
It's not very often when a team is wins a football game when minus-2 in turnover margin, but that's what happened to the Packers on Sunday against the Saints.
In that game, neither defense could stop the opposing offense, so the Packers had to do something better than the Saints, right?
The Green Bay ground game might have been the difference, as Cedric Benson averaged 4.7 yards per carry on 84 rushing yards, many of them in the first half.
By comparison, the entire Saints offense only managed 45 rushing yards on 19 carries, good for 2.4 yards per rush.
The Colts rushing offense this year has been nothing special. Leading running back Donald Brown is averaging 3.6 yards per rush on 43 total carries, and no other running back on the roster has adequately taken any pressure away from him.
With the way Aaron Rodgers and the Packers' passing game operates, they'll never need a big day from the run game to win, but as long as Cedric Benson continues to efficiently move the ball and move the chains, the Packers will have some semblance of balance and be even more effective.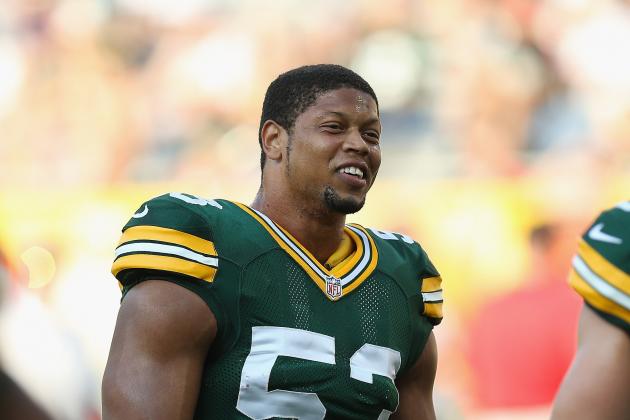 Jonathan Daniel/Getty Images
Nick Perry
So far this season, Nick Perry has started every game opposite Clay Matthews at left outside linebacker, with the exception of Week 1, he's been replaced intermittently by Erik Walden.
Both Perry and Walden have had their moments rushing the passer, with the first-round draft choice getting his first career sack in Week 3 in Seattle and Walden having a total of five quarterback hits, but neither player has shown much consistency.
There seems to be neither any set rotation between Perry and Walden, nor any rhyme or reason why Perry exits the game after being the starter.
The Packers need to figure out how they're going to utilize the left outside linebacker going forward, because the intermittent play doesn't seem to be helping either one of them.
Perhaps it's time to give rookie Dezman Moses a chance for more playing time after an impressive preseason campaign.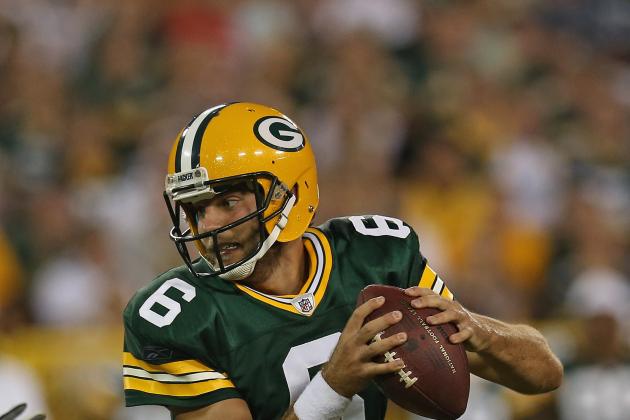 Jonathan Daniel/Getty Images
Graham Harrell
The Packers haven't played to their potential yet this season, and they didn't exactly face a poor team quarterbacked by Drew Brees last weekend either, but there was no reason the Packers couldn't have won more comfortably than they did last week.
The Saints defense was pathetic and the New Orleans ground game was about the same. It was a game the Packers could have won by two touchdowns or more.
Instead, the Packers played mistake-prone football, including a silly fumble by backup quarterback Graham Harrell as the Packers were inside the Saints' 5-yard line and looking to score.
This week, the Packers are playing on the road, which can never be taken for granted in the NFL. And they're facing the worst team in the NFL last season.
In any case, this is a very winnable contest for Green Bay, and if they can play a complete game, they should likewise be able to win by two or more touchdowns.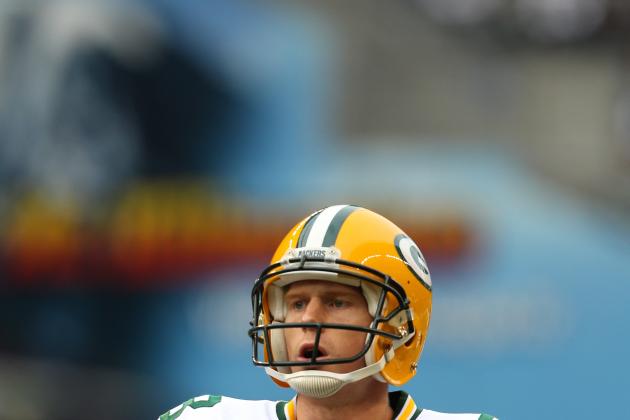 Kevin Casey/Getty Images
Tim Masthay
There will be some pretty good specialists on both sides of the field on Sunday.
As far as the Packers are concerned, the team will benefit if their specialists can perform better than their counterparts wearing blue.
At kicker, Mason Crosby has to be at least as accurate, if not more so, than Adam Vinatieri.
Tim Masthay can exact a little revenge upon the Colts and show they made a mistake when Indianapolis released him instead of Pat McAfee back in 2009.
And Randall Cobb needs to have a better day in the return department than dangerous rookie T.Y. Hilton.