Previewing ALDS Matchup of Detroit Tigers vs. Oakland Athletics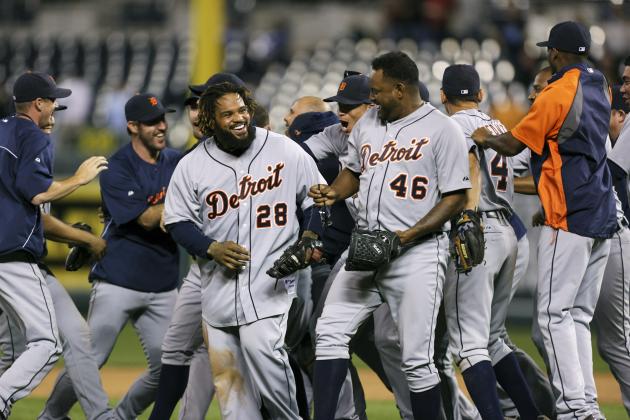 Ed Zurga/Getty Images

The Detroit Tigers clinched the American League Central title on Monday and locked up the No. 3 seed in the AL playoffs.
With the New York Yankees winning the AL East and the Oakland Athletics the AL West on the final day of the regular season, the Tigers have drawn the Athletics in the AL Division Series.
Detroit came back from a three-game deficit with 15 games remaining to make the playoffs in back-to-back seasons for the first time since 1935 and win a division title in consecutive seasons for the first time ever.
The Athletics took a similar route, but their comeback was more extreme. The A's were nine games under .500 on June 10 and sat in the AL West basement, nine games back of the Texas Rangers.
But Oakland was the hottest team in baseball to start the second half, winning 10 of their first 11 games after the All-Star break.
On July 25, the A's found themselves nine games over .500 and in a second-place tie with the Angels, five games behind the Rangers in the AL West.
Oakland continued to thrive in the second half, ripping off four streaks of at least six consecutive wins, including going undefeated in the last week of the season and defeating the Rangers in Game 162 to win the AL West.
The 88-74 Tigers host the 94-68 A's in Game 1 on Saturday night at Comerica Park and look to advance to their second consecutive AL Championship Series.
Here is a preview of that ALDS matchup:
Begin Slideshow

»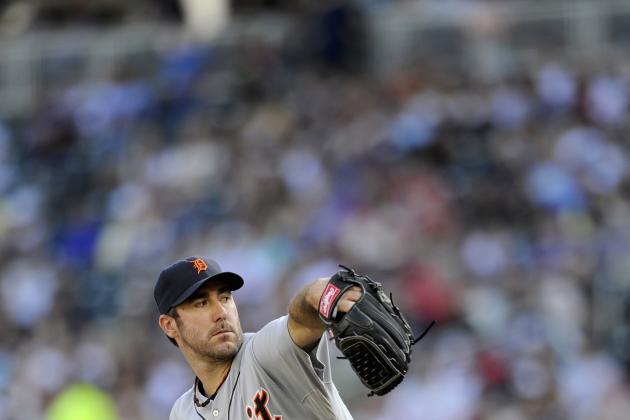 Hannah Foslien/Getty Images

The Tigers announced their postseason rotation on Friday. The probable ALDS matchups look like this:
Game 1: Justin Verlander (17-8, 2.64 ERA) vs. Jarrod Parker (13-8, 3.47 ERA)
Game 2: Doug Fister (10-10, 3.45 ERA) vs. Tom Milone (13-10, 3.74 ERA)
Game 3: Anibal Sanchez (9-13, 3.86 ERA; 4-6, 3.74 ERA w/ Tigers) vs. Brett Anderson (4-2, 2.57 ERA)
Game 4: Max Scherzer (16-7, 3.74 ERA) vs. A.J. Griffin (7-1, 3.06 ERA)
Game 5: Verlander vs. Parker
The Tigers boast the best pitcher on the planet in Justin Verlander who backed up his MVP performance a year ago with an extremely impressive year in 2012.
There were questions about the rest of the Tigers' postseason rotation because of the deltoid injury to Max Scherzer's throwing arm and the competition between Rick Porcello and Anibal Sanchez.
But Scherzer insists he will be 100 percent for the postseason, and Sanchez has gotten the nod over Porcello for the starting spot.
The Tigers' starting rotation's ERA of 3.76 is the second-lowest in the AL, but the A's starters weren't too far behind at 3.80.
Oakland's postseason rotation has a record of 37-21, while Detroit's playoff starters are 52-38.
The numbers look like they favor the Athletics. But in the playoffs, experience goes a long way.
The Tigers have proven veterans throughout the rotation, who have combined for 13 postseason starts, while the A's are throwing out two rookies, a second-year, and fourth-year pitcher.
Advantage: Tigers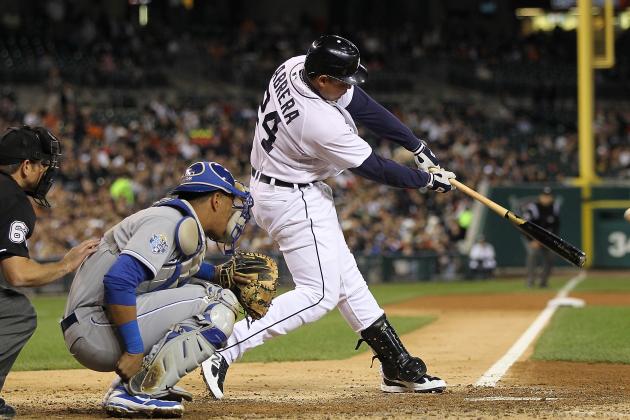 Dave Reginek/Getty Images

The Tigers had the No. 6 scoring offense in the AL, averaging 4.48 runs per game. They were sixth in average, hitting .268, were third in on-base percentage at .335 and seventh in slugging at .422.
Detroit features four players who finished with a .300+ average and are anchored by the best one-two punch in baseball with Miguel Cabrera and Prince Fielder.
Cabrera is fresh off capturing the American League Triple Crown, while Fielder is coming off one of his best regular seasons.
Fielder hit better than 300 for the first time in his eight-year career and hit 30+ home runs and had 100+ RBI for the second consecutive season and the fifth time in six years.
Oakland takes a completely different approach on offense.
As famously depicted in the movie "Moneyball", A's general manager Billy Beane showed the world his concept of how to beat big-market teams with computer analysis and number-crunching, and this year, Beane's low-budget mastery has worked again.
Oakland found a way to win 94 games with a payroll of $56.7 million, compared to the Tigers' 88 victories with a $136.5 million payroll.
Despite the A's finishing the regular season eighth in the AL with 4.40 runs per game and second-to-last with a .238 team batting average, Oakland managed to persevere with essentially no-name players and win the AL West.
A's left fielder Yoenis Cespedes leads the team with a .292 average and right fielder Josh Reddick leads Oakland in home runs with 31 and RBI with 85.
Who?
These two A's combined to make just less than $7 million this season, which wouldn't pay one-third of Fielder's yearly salary.
Big payrolls don't always pay off, but October baseball tends to be dominated by teams with star power. And when the Tigers need a hit, their superstars show up.
When the A's are in need of a big-time lift, who can they look to?
Advantage: Tigers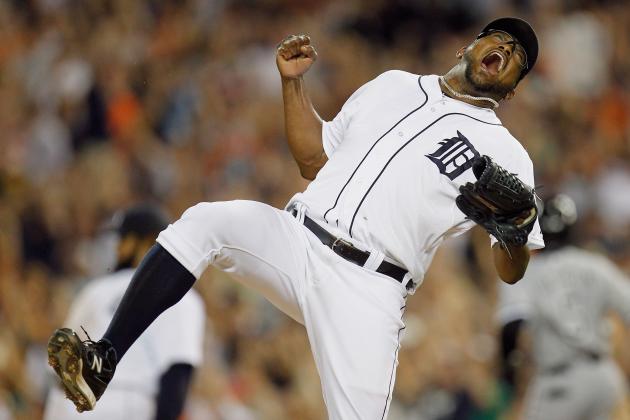 Gregory Shamus/Getty Images

Jose Valverde was perfect in the 2011 regular season, but the Tigers' closer struggled badly in the 2011 ALCS, and his poor performance in last year's postseason followed him into 2012.
Valverde blew a save on Opening Day and never seemed to recover, going 3-4 with five blown saves and a 3.78 ERA in 71 appearances. He never put together a consistent streak of success, and the Tigers struggled accordingly.
But Valverde wasn't the only Tigers reliever who didn't live up to expectations.
Detroit's bullpen ranked 10th in the AL with a 3.75 ERA, and 12th in the league with a .279 opponent average. The Tigers relievers were fifth in wins, accounting for 25 victories, but finished the regular season second-worst in losses with 23.
The A's bullpen, however, was one of the team's biggest strengths. Oakland's relievers had the AL's second-best ERA at 2.94 and batting average against at 2.08.
Setup man Ryan Cook has been brilliant, boasting a 6-2 record with a 2.09 ERA and 14 saves in 71 appearances, and Oakland's closer Grant Balfour has been solid in 75 outings, earning a 3-2 record with a 2.53 ERA and 24 saves in 74 2/3 innings.
Advantage: Athletics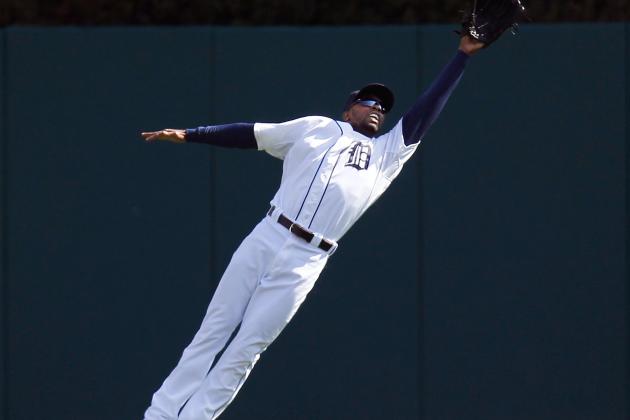 Gregory Shamus/Getty Images

Detroit's defense was a huge question mark going into the 2012 campaign. On a team with such offensive star power, several analysts questioned whether the Tigers paid enough attention to defense.
Cabrera switched positions. The Tigers were a mess at second base, and besides the center fielder, the Tigers weren't sure who was going to start day-to-day in the outfield.
But the Tigers have done remarkably well considering the defensive uncertainty.
Cabrera has made the transition from first to third base seamlessly, Detroit acquired a solid defensive second baseman, and the Tigers found young, athletic players to roam the outfield.
Center fielder Austin Jackson has been incredible in the spacious real estate of Comerica Park. The 25-year-old has committed just one error in 345 chances and has taken away several potential runs with his range, including a couple home run-stealing grabs.
Detroit has made 99 errors, seventh in the AL, while the Athletics had 111, 12th in the league.
Advantage: Tigers
Dave Reginek/Getty Images

October is usually about superstars and lasting memories of big-time home runs and playmakers performing in the clutch. But every year, there always seems to be a role player who steps up in a crucial moment and makes a difference.
That player in this year's postseason could be Quintin Berry
Berry made his major league debut in May after spending the better part of a decade in the minor leagues. The 27-year-old gave the Tigers a jolt of energy they desperately needed.
Berry became the team leader in stolen bases after his first two weeks in MLB and is a perfect 21-for-21 in steals.
With great speed and a solid arm, he can play anywhere in the outfield and has made several highlight-reel plays.
He only has a .258 average, but his on-base percentage is .330, and he poses much more of a threat when he reaches the bases.
Berry is the only player in the majors with at least 20 stolen bases who hasn't been caught this season.
With a green light on the basepaths, Berry has a lightning-quick first step and tremendous instincts. While he might not start every game in the playoffs, Berry will make his presence felt one way or another in October
PREDICTION: Tigers defeat Athletics in four games.