20 Sports Videos You Won't Be Able to Watch All the Way Through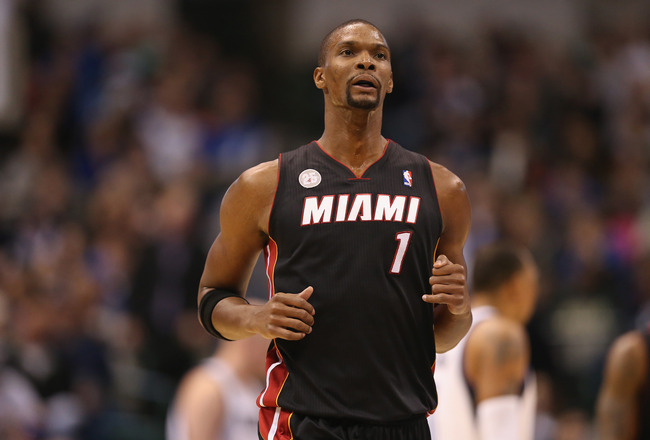 Ronald Martinez/Getty Images
On one end of the sports spectrum are breathtaking highlights and goosebump-inducing speeches that keep us glued to the screen. On the other is a collection of awkward interviews and horrific accidents that have us eagerly attempting to, just as quickly, glue our eyes shut.
In a world flooded with extreme competition, the heat of the moment can present both entertainment and inelegance. The same sportsmen who are revered for their nimble feet and swift reactions can just as easily blow an easy opportunity to shine. For fans and reporters, it's even easier to act a fool.
During these strange moments, broadcasters become speechless, fans bewildered—even non-sports news anchors often feel inclined to deliver animated reactions to such weirdness.
Prepare yourself for 20 sports videos that will have you violently gripping a meat cleaver and a bottle of Elmer's glue as you near the finish line. Here's when keeping it real goes wrong.
20. Chris Bosh's Popularity
From Toronto's franchise player to Miami's red-headed stepchild, Chris Bosh relinquished his star status for a chance at victory. Honorable indeed.
But while he embraced his new role with the Heat, the lanky forward wasn't quite prepared for the backlash from reporters. And by backlash, we mean no lash.
He admits to having a bad game, and nobody seems to care. An awkward silence ensues.
19. 'Live with Regis and Michelle'
She's brash, ruthless and addicted to sports. Michelle Beadle has won over the hearts of sports enthusiasts around the world with her genuine recklessness and ability to keep it real.
The daring Regis Philbin, however, one-upped his scorching new acquaintance when he brought up the Internet's naughty underbelly. With an intriguing reaction—"This is the best day of my life"—Beadle thoroughly admitted to witnessing online pornography.
But like Bill Clinton claiming he "didn't inhale," Beadle claimed she "didn't enjoy it." Nice save.
18. Jordan Jefferson's Face Shower
You're aware of what's to come, yet you can't shield your eyes. The lowlight of Jordan Jefferson's LSU career.
Following four collegiate seasons as a rotational quarterback (started 32 of 39 games, but shared time with Jarrett Lee), the former Covington phenom went undrafted in the '12 NFL Draft. Perhaps scouts were turned off by his personal face moisturizer (as seen here).
The athletic field general now finds himself spitting in towels on the Montreal Alouettes practice squad in the illustrious CFL...still reminding us of the mucus queen in Billy Madison.

17. Chelsea Davis' Dodge, Duck, Dip, Dive and Dodge
Every diver's worst nightmare was realized by America's Chelsea Davis, who, at the tender age of 17, embraced her sport head first (too soon?).
The 2005 World Aquatics Championships was the scene of the crime, where Davis soon became a legend. Or rather, an Akon-like soul survivor.
16. The Whitty City
Life for Cubs fans is rarely easy. They haven't won a World Series since 1908, their "can't-miss" prospects continue to miss and their biggest star was a 12-year-old boy with a broken arm (see Rookie of the Year).
This daring Cubbie, however, releases a poetic javelin in an attempt to inspire his fellow fans. Although he'd be better off rapping Jay-Z's "Hard Knock Life."
15. Kellen Winslow Is Locked and Loaded
After getting dropped twice in the past month (by the Seahawks and Pats, respectively), Kellen Winslow may be better dubbed a mercenary.
Or perhaps he's a financial adviser. "You write that in the paper...you make money off that." Sound advice from the savvy businessman.
14. Anchoring Agitation
With the female news anchor playing peacemaker following Jim Joyce's perfect-game blown call, her Al Campanis-looking co-host strangles controversy by the neck, angering women worldwide with his questionable opinion and smug smirk.
Let's be real, if it wasn't for Joyce's notorious officiating mistake, pitcher Armando Galarraga would've been just another statistic. Now, he's a once-deprived legend in the Houston minor league system.
13. Olympic Outrage
The reigning gold medalist in the 77-kg class (2008 Beijing Olympics), South Korea's Sa Jae-Hyouk failed to add another victory to his mahogany-enriched shelves when his elbow snapped during the 162-kg lift.
A brutal sight, albeit a valiant effort.
12. Charissa Thompson's Promising Welcome
Not that we disagree with Rob "Pow!" Riggle, but this exchange quickly gets awkward (and not in a funny way).
Charissa Thompson, unlike her predecessor Michelle Beadle, just doesn't exude the same hard-nosed flair for the dramatic that Beadle did every time she was given the stage. We almost feel bad for Thompson...almost.
11. A Realistic Act
Well that, folks, was no Award-winning performance. The truth hurts.
Shake it off, big guy. A band-aid and some morphine should fix that right up.
10. Gap-Toothed Honesty
She'll look you in the eye if you chew and swallow before speaking. As crumbs fly at the camera lens, Giants great Michael Strahan begins to slowly make a little sense.
With an almost eloquent yet subtle tone, a less-than angry Strahan keeps things freshly authentic. Ladies and gentlemen, meet the next Regis Philbin.
9. Clint Malarchuk Is a Survivor
When Steve Tuttle's skate severed Clint Malarchuk's jugular vein on March 22, 1989, the hockey world was sent into an immediate frenzy.
To cloud viewers from the pool of blood and the life-threatening scene, producers switched on a typically horrific Buick advertisement. Malarchuk would amazingly survive and likely never even come close to buying a Buick.
8. Pete Weber's Freakout
Securing his fifth PBA U.S. open title quickly turned bowler Pete Weber into a whirling dervish. His wife, however, was not as vibrantly enthusiastic.
Either she can't believe she's married to a bowler or she's afraid the Farrelly brothers will soon make a movie of her husband's apparent explosion. Kingpin 2, anyone?
7. Joe Theismann's Blind Side
As the most feared linebacker of all-time, Lawrence Taylor, desperately screamed for help, viewers around the football world somehow knew this was the last time they'd see Joe Theismann in pads.
The November 18, 1985 game between the 'Skins and Giants featured the crunch heard-seen-felt around the world. The blindside beast had crushed Washington's leader one last time, for good.
6. The Elite Manning
Quintessential Eli Manning. The most lovable doofus in all of sports.
The only dude to perfect the white-man overbite away from the dance floor, Eli continues to perfectly mesh awkward with genuine. Even Lindsey's faulty attempt at strange comedy can't eclipse her calm subject's legendary awkwardness.
5. Mike Brown's Contagious Chuckle
To be fair, even Mo Williams probably didn't even know he could dunk. On the other hand, coach Mike Brown's strange laughter buildup almost ruined the pleasant surprise.
Our guess is that Brown was simply hoping to extensively show off his new pearly whites in the post-game press conference. Accomplished.
4. Cricket Corner Creeping
With the ability to seemingly stare death straight in the eye, this haunting cricket fan makes a memory with one shocked cameraman.
Don't worry, those aren't MSN messages. Stop checking.
3. Los Angeles Rams Rapping
Epically superior to classics such as the Seahawks' "Locker Room Rock," Bengals' "Who Dey" and Dolphins' "Can't Touch Us," the '86 Rams' production of "Let's Ram It" is the quintessential '80s masterpiece.
While you'll catch us humming the song for days, we're far more inclined to ram our heads against a concrete wall than clap our hands.
2. Welcome to Miami Feat. Kyle
With the amount of rings they're going to get, we could realistically begin calling them the telephone Heat. Well said, Kyle.
On the other hand, aren't you Michael Bolton from Office Space?
1. The Essence of Ryan Lochte
Wait, so Ryan Lochte defines himself? Seven times four is 21? And rockstar-slash-hip-hop is a fashion style?
With every ounce of athletic ability, this American swimmer was blessed with came an exponential decrease in brain activity. Watching any interview with Lochte is always numbing.
Listening to Honey Boo Boo's tummy talk is a far more riveting experience.
Follow me for more sports boo-booing. Follow @z_pumerantz
Keep Reading