Ranking CM Punk's 6 World Title Wins in WWE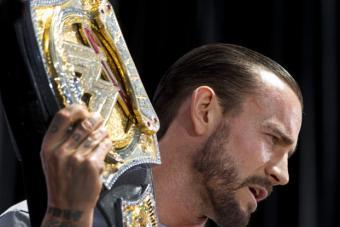 As if you should be so surprised, CM Punk was very opinionated when asked questions last weekend at Wizardworld Ohio.
Among the questions that Punk answered was which of his title reigns was his favorite. Naturally, as most people would likely answer on behalf of Punk, it is his current reign, which stands at 319 days today. It is far and away his longest reign as champion in WWE and will ultimately be his most memorable as things stand presently.
So, what about the rest of Punk's legacy?
Mick Foley's point two weeks ago stated that his three reigns as world champion didn't last long, but he is remembered fondly by fans. Foley's message had a good point to it. Some of Punk's lesser reigns as champion in terms of length could actually be more memorable for what they stood for.
His three World Heavyweight Championship reigns, two WWE Championship reigns and one reign as the ECW Champion all had different looks to them and came at various parts of his career.
Here is the power ranking of those six world title reigns in order of how great they were.
Begin Slideshow

»
Historically, this one is among the most significant reigns in recent memory. The build to this moment and the match that led to Punk's first reign as WWE Champion was among the greatest in company history. With all of that said, this was the world reign of them all.
That great night in Chicago was followed up with... a tournament to crown a new champion? Then, when the new champion was crowned a week later, John Cena was suddenly given a title shot and won the title back?
If that wasn't all ridiculous enough, Punk suddenly returns after a long hiatus of just eight days. Now, fans are supposed to believe that there are two WWE Champions when it's clear there's only one in Punk. Punk may have left, but he has 30 days to defend the title, as per precedents in WWE booking. Both titles are unified at SummerSlam in a rematch, which Punk wins to stand as undisputed champion.
This then leads to Alberto Del Rio coming in moments after a random Kevin Nash ambush to cash in Money in the Bank and win the title, ending Punk's reign after just 28 days. Weeks of a build and an incredible story were all torn down in only four weeks. Impressive.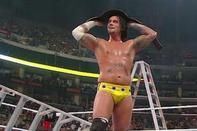 This was the third time that CM Punk became World Heavyweight Champion. It was also the last time he was consistently winning pay-per-view matches until his resurgence in the summer of 2011. Punk had won a TLC match at SummerSlam over Jeff Hardy to regain the title during the massive feud between the fan favorite Hardy and the despised Punk. It was during the feud with Hardy that Punk sharpened his heel skills for the first time in a WWE ring. This title win gave Punk the title back and led to the culmination of this feud.
On an episode of SmackDown, Punk retained the World Heavyweight Championship by defeating Jeff Hardy in a steel cage match with the loser leaving WWE in the process. Punk won and Hardy was gone. This was when Punk moved on to his next feud with The Undertaker.
The Deadman had attacked Punk following his SummerSlam win. Once Hardy was gone, it was The Undertaker's desire to become a champion again. At Breaking Point, Punk tapped out to Hell's Gate, only to be reminded that the move had been banned months earlier. Punk locked in the Anaconda Vice and the bell rang with Punk retaining. The Undertaker never submitted. Did I mention we were in Montreal on that night? Yeah, it was that kind of ending.
Punk then would tout that he had made The Undertaker tap out for the first time in his career. It would lead to the two men go into the opening contest of Hell in a Cell 2009. It would mark Punk's debut in the cell and would lead to the end of his title reign. The Undertaker became World Heavyweight Champion and was the first man to win a world title inside Hell in a Cell. Punk then crawled into a hole of obscurity, so that was sure memorable.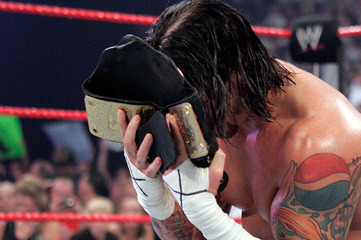 Photo courtesy of wwe.com
Up to this point, nobody was really sure that CM Punk would ever be taken seriously enough to become a world champion on either the RAW or SmackDown brand. Locked into a role as a champion in ECW, Punk finally broke free of that and won the Money in the Bank briefcase at WrestleMania XXIV. He would then be drafted to the RAW brand.
As Edge took the World Heavyweight Championship and prepared to ship off to SmackDown, Batista attacked the champion and laid him out in the ring. Punk's music hit and the world stood up to notice as Punk's cash in took place on live television. Edge would suffer a GTS from Punk and would lose his title a three-count later.
Punk was suddenly the world champion on the flagship brand for WWE. Punk would ride the wave of being an underdog champion. His defining moment seemed to be set for Unforgiven, where Punk would defend in the new concept of a Championship Scramble match.
However, Punk was attacked backstage prior to the title defense, meaning the match would go on without the champion. The championship was awarded to Chris Jericho, who replaced Punk in the match. Punk would gain a rematch for the title he never lost eight days later, but would lose inside a steel cage to Jericho.
Just like that, it was time to return to the back of the line for CM Punk.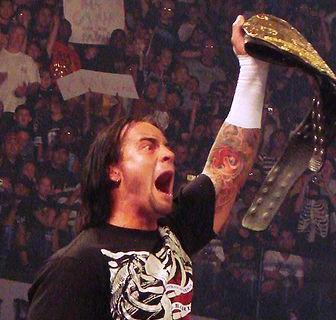 Photo courtesy of camelclutchblog.com
It was deja vu for CM Punk. For the second straight year, Punk was Mr. Money in the Bank. For the second straight year, Punk was drafted to another brand. For the second straight year, it would be Punk coming to the ring to cash in on a vulnerable and beaten World Heavyweight Champion.
This time around, it was at the end of Extreme Rules and Punk was cashing in on Jeff Hardy.
Hardy had just been through a war of a ladder match with Edge, while Punk was right off a victory earlier in the night over Umaga in a Samoan Strap match. Hardy was obviously more beaten up and Punk was the rested superstar out of the two.
Punk came to the ring and had to take it to Hardy a few times to finally remove the fight from Hardy. Punk was a world champion once again, but there was a lot of confusion on why Punk would cash in on a fellow face who was in such a vulnerable state.
Money in the Bank logic suggested that Punk did what any other Mr. Money in the Bank would do and he was given a pass until Punk showed his true colors and true hatred for Jeff Hardy and his lifestyle outside of the ring.
A lot of it seemed real because it was, as Hardy was a past violator of the Wellness Policy. It was the first time in WWE that CM Punk was dropping pipe bombs with the microphone and the first time that Punk made you question if he was good or bad.
Punk survived The Bash, but lost the title back to Hardy in the main event of Night of Champions.
The reign was short, but it really made for a character change in Punk and the superstar being able to really come into his own and find a place in the company. A lot of what Punk represents now can be seen in that time for CM Punk more than three years ago.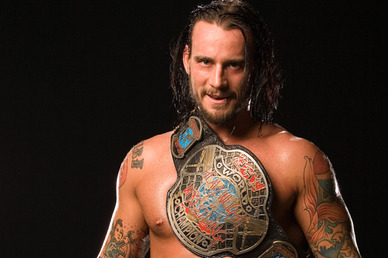 Photo courtesy of kidzites.com
When CM Punk signed with WWE and climbed the ranks of Ohio Valley Wrestling, he was placed into the debuting ECW brand.
Immediately, as former ECW stars returned to a place with the same name, new talent was emerging in the brand. If you picked one superstar among the new talent that fit well with the existing Extremists, it was Punk.
His indie background was right up ECW's alley and the ECW faithful saw the future of the brand rest on Punk's shoulders. His offense was exciting and he was a main reason for people continuing to tune in every week. Eventually, it became time to thrust him towards the ECW Championship.
After Bobby Lashley moved on and vacated the title, a tournament was held that could culminate at Vengeance, which was also dubbed Night of Champions. Punk was scheduled to face Chris Benoit, but we unfortunately know why Benoit did not show.
In his place was Johnny Nitro and it came as a shock that Nitro would win. Nitro would reinvent himself as John Morrison shortly after and Punk would pursue him for nearly two-and-a-half months. Finally, it was Punk's final chance at the title and he would win the ultimate prize on the ECW brand. It would end up being the fourth-longest in the brief history of ECW under the WWE name, following just Christian, Big Show and Bobby Lashley.
Punk would lose the title unexpectedly to Chavo Guerrero, which only helped Punk move on without ties to a world title and into a Money in the Bank ladder match. Punk would win that match and the rest is pretty much history.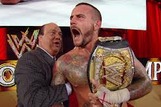 Speaking of history, this is clearly the best title reign because it will be the most remembered.
In the world of fast changes to champions in WWE and flipping belts back and forth to boost credentials, it is so refreshing to see someone hold such an honor for such a significant amount of time. Being among the all-time greats in amount of time as champion is simply incredible for Punk, who was constantly seen as a guy that was too small to be world champion.
Punk has proven the doubters wrong since he took the championship from Alberto Del Rio last November at Survivor Series. Since then, it has been a steady dose of challengers.
The challengers have been large like Mark Henry, popular like John Cena, incredibly skilled like Daniel Bryan and heavily experienced like Chris Jericho. If there is a challenger that hasn't materialized just yet, he probably isn't worth a second look as a title contender.
Punk's reign is approaching an entire year and can pass by three more legends in the wrestling business next month. The Rock is looming at Royal Rumble, hoping to draw Punk as the champion that he will challenge. WrestleMania is also calling as the 29th installment of the event is coming in April.
Before the end of the year, Punk could have the six-longest reign ever and his attitude of late has really questioned and blurred the line of what makes someone good and what makes someone bad.