Alabama Football: Ranking the 7 Best Quarterbacks the Tide Will Face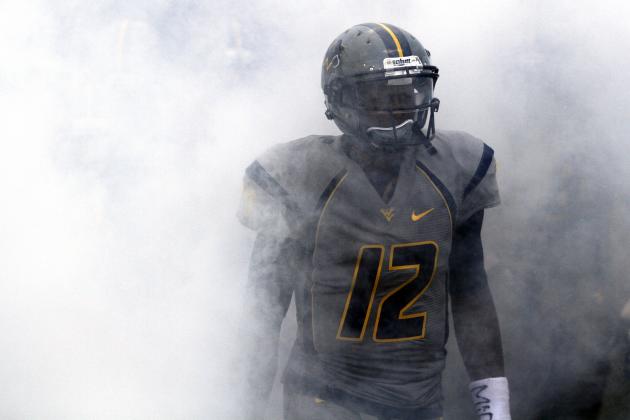 Justin K. Aller/Getty Images
West Virginia quarterback Geno Smith.
The Crimson Tide will face off against several more quality teams on their quest for a 15th national championship, and conquering those teams starts at stopping their quarterback.
Making the quarterback nervous, forcing him to make poor decisions and overall scaring the living daylights out of him is the Tide defense's M.O.
Here is a ranking of seven quarterbacks the Tide will face based on how difficult they will be for the Tide to shut down.
Begin Slideshow

»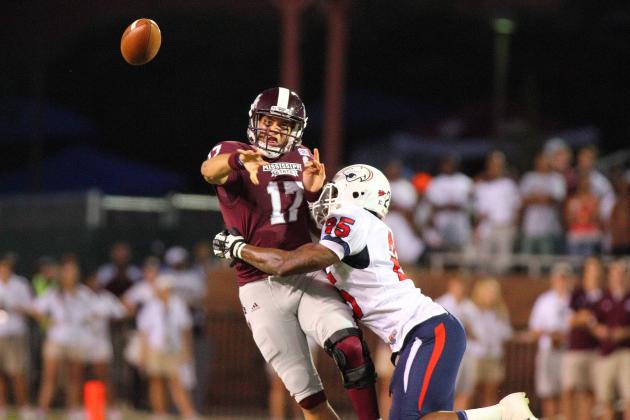 Spruce Derden-US PRESSWIRE

6'4", 220 lbs., Junior, Mississippi State Bulldogs

Tyler Russell isn't the best quarterback in the SEC, but he just might be what Mississippi State needs to finish becoming a recognized threat in the conference—something the Bulldogs are well on their way to doing.
Russell is not much of scrambler like his predecessor, Chris Relf, but his ability to actually throw the football is much better.
His 55.7 completion percentage this season isn't all that impressive, but his 822 passing yards with eight touchdowns and only one interception isn't too shabby.
The Bulldogs always bring their best for the Tide, and Russell will do the same.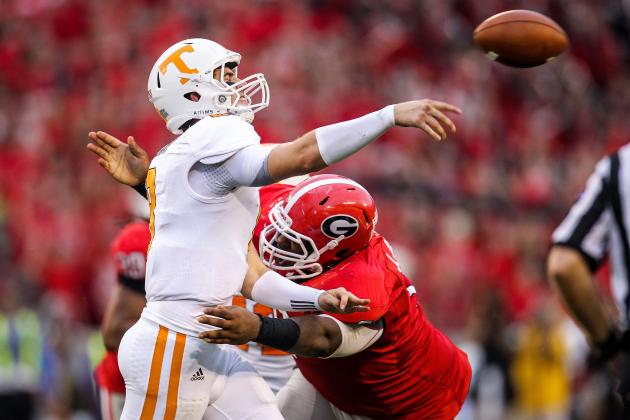 Daniel Shirey-US PRESSWIRE

6'6", 215 lbs., Junior, Tennessee Volunteers
NFL scouts are drooling over Tyler Bray's size and arm strength, but I'm just not sold...at all.
He struggles mightily against half-decent defenses, though that may have a lot to do with the lack of talent around him.
Bray has always slaughtered inferior competition but looked puny in a 51-44 loss against Georgia this year.
He completed 24-of-45 passing attempts for 281 yards with two touchdowns.
And three interceptions.
Bray looked even worse against Florida.
He is a good quarterback who just isn't deserving of the massive hype around him, but he can throw the football.
He will gash Alabama on some big plays but is guaranteed to turn the ball over multiple times against Bama's ball-hawking secondary.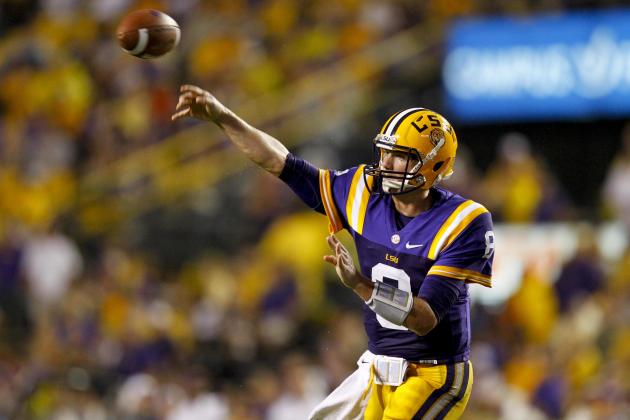 Derick E. Hingle-US PRESSWIRE

6'5", 222 lbs., Junior, LSU Tigers

Zach Mettenberger was supposed to be the answer to the question the Tigers had at the end of the national championship rematch against LSU.
Thus far he has not looked much better than what the Tigers had before.
Sure, Mettenberger has one hell of a rocket for an arm and his accuracy can look good at times, but he buckles severely under pressure.
His worst game of the year came against a sorely outmatched Auburn team. He completed 55.6 percent of his passes under constant pressure from Auburn's defensive ends Corey Lemonier and Dee Ford.
He threw for no touchdowns (and no picks), and LSU won 12-10. For a team with national championship hopes, you can't have that close of a call against an inferior team unless they are coached by Lane Kiffin.
Mettenberger will stick it to Alabama for a few yards, but with their pass-blocking running back, Alfred Blue, likely out for the season, heavy blitzes from the Bama D will be too much for him to handle.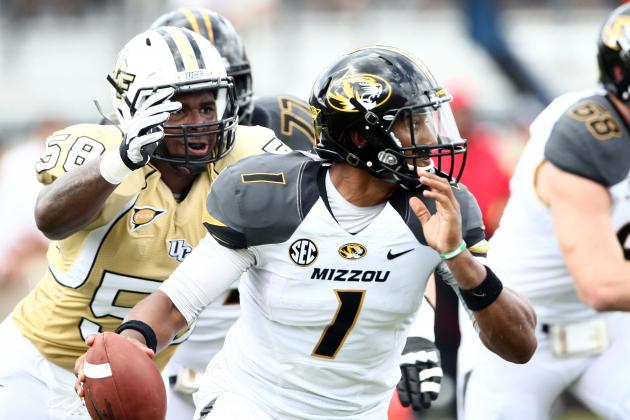 Douglas Jones-US PRESSWIRE

6'2", 225 lbs., Junior, Missouri Tigers
James Franklin (the Mizzou quarterback, not the Vanderbilt coach) is already one of the most reliable and consistent quarterbacks in the SEC.
He looks a lot like former Tide QB Greg McElroy in terms of both size and numbers.
Regardless of the opponent or what he is asked to do, Franklin has been completing just over 60 percent of his passes this year and has a total of four touchdowns and two interceptions.
He threw for 269 yards on 25-of-41 attempts with two touchdowns and an interception against Georgia, and Georgia's defense is better than their No. 10 ranking in the SEC lets on.
Franklin will show up to give Alabama a real test, but the question is whether or not his team will be able to follow suit. Either way, it won't be easy for Bama to make him a non-factor.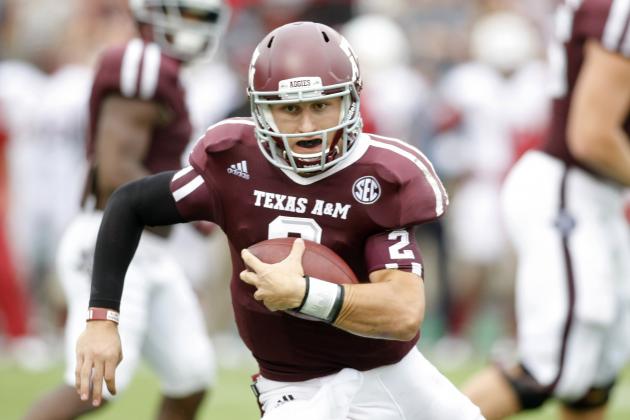 Brett Davis-US PRESSWIRE

6'1", 200 lbs., Freshman, Texas A&M Aggies
The Aggies' redshirt freshman quarterback has become the biggest surprise in the SEC this year at this point in the season.
He absolutely shredded Arkansas (which is not that impressive this year, I know) for 453 passing yards and four total touchdowns (three passing, one rushing).
In his first action as a starter against Florida, he completed 23-of-30 attempts for 173 yards. Not too bad.
At his current pace, Manziel just might be an upgrade over first-round NFL draft pick Ryan Tannehill by the time the he faces the Tide.
On the year, Manziel has completed 70.2 percent of his passes for 1,094 yards with 10 touchdowns and no interceptions.
Oh, and he leads his team with 366 rushing yards on 52 attempts (7.04 average) and six touchdowns.
With each game, Manziel is starting to look more and more like a little Tim Tebow except he can throw the ball better.
The majority of the Tide's defense has yet to face a legitimate dual-threat quarterback, so Manziel will be a tough test.
As of now, it looks like the Aggies pose the greatest threat to knock off the Tide in the regular season.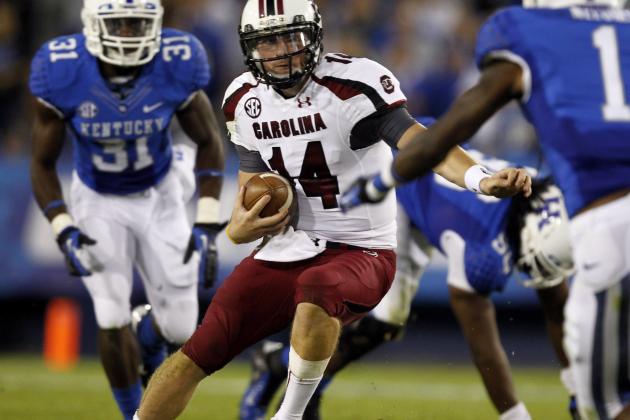 John Sommers II/Getty Images

6'1", 207 lbs., South Carolina Gamecocks
Alabama and South Carolina seem to be on a collision course to meet in the SEC championship game. It's not official, but it's the most likely scenario, and Connor Shaw will have plenty of answers for any questions involving his team.

There are two things we've learned about Shaw in the past month.
First, he is a real footballer. Smart, dedicated and tough. Real tough.
Second, it has become painfully obvious that it was a mistake for Steve Spurrier to stick with that lush Stephen Garcia so long instead of grooming Shaw sooner.
On the year, he has completed 78.1 percent of his passes for 571 yards, five touchdowns and two interceptions. He has also rushed 50 times for 203 yards, though he hasn't scored any touchdowns on the ground.
Shaw had one of the best games in SEC history against new-opponent Missouri. He completed 20-of-21 passes for 249 yards and two touchdowns. His only incompletion was on his first attempt.
South Carolina beat Bama with Garcia in 2010, and there is no reason why they can't topple the Tide with Shaw at the helm.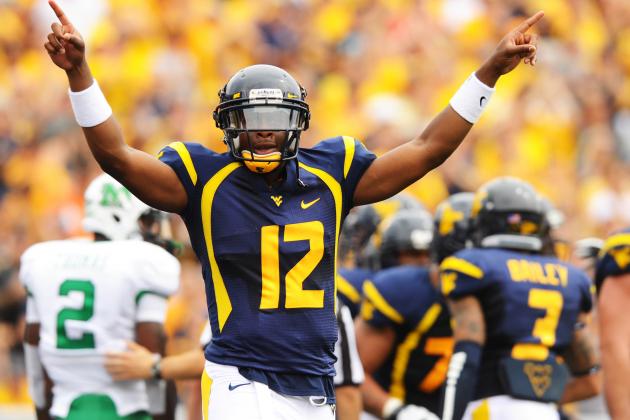 James Lang-US PRESSWIRE

6'3", 214 lbs., West Virginia Mountaineers
I was a bit skeptical of West Virginia as a team, but with Geno Smith at quarterback I can only see the Mountaineers and Alabama running their respective tables.
Nick Saban can whine to the media about focusing only on the next game all he wants, but Alabama is going to the national championship game and I'm betting they will face West Virginia.
Sure, the Mountaineers' defense pretty much sucks, but they can outscore anyone, just like Auburn did in 2010.
As for Smith, he looks like a clone made from the DNA of Robert Griffin III and Cam Newton.
In only four games (against admittedly weaker opponents), he has completed 141-of-169 passes for 1,728 yards with 20 touchdowns and no interceptions.
Smith has been butchering the competition since 2010 and as a seasoned veteran in 2012, he is just the complete package.
When (not if) he faces the Tide, he is going to shred the Tide secondary for serious yardage on big plays, but Alabama's offense will make up for that against a pretty bad defense.