How Ian Poulter Will Help Europe Create a Dynasty of Ryder Cup Dominance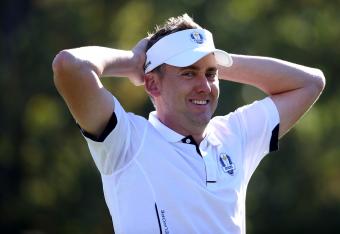 Ian Poulter was definitely the Man of the Matches.
Ross Kinnaird/Getty Images
While it's not quite the dominant stretch the United States enjoyed through the early years of the competition, the European side of the biennial Ryder Cup competitions is starting to build up quite a resume that would indicate it is the king of that event.
Seven of the last nine and five of the last six Ryder Cups have gone the way of the Europeans. It doesn't matter on which side of the Atlantic the event is held, it's been the team that doesn't include Tiger Woods that has been celebrating late on a Sunday afternoon.
In trying to find reasons why the Europeans have been so dominant, a number of theories have been thrown around: better team chemistry, more passion, being better suited to match play.
I'm not buying any of those totally. This year's United States team, as well as the last couple, apparently had plenty of chemistry. If you watched the matches, you saw plenty of passion from the red, white and blue. And considering that, in the global world of professional golf, match play is no longer a foreign concept, none of those theories solely explains the turn in fortunes of what has become one of the great battles in sports.
Straight-up logic says the European team of 12 that has won five majors shouldn't be able to dominate against a U.S. squad that has seven players who have won at least one major. But obviously straight-up logic doesn't always explain everything.
The European team had something that the U.S. didn't: they had a player like Ian Poulter. Here's a guy known more for his fashion, his tweeting and his hair, who somehow turns into this Ryder Cup Tasmanian devil every two years, and Coach Davis Love III didn't have an answer for him.
"I love the whole fact that I've got 11 great teammates, a fantastic captain and vice captains, and I love the team atmosphere," Poulter said in his post-Ryder Cup press conference. "It's something very, very special to be a part of, and you grow a lot closer to 11, 12, 13, 14 other people, and it's very, very special moments that you get at a Ryder Cup. I just love it."
What's most interesting about Poulter is that he's just the next in line for the Europeans in terms of players who get super-psyched for these matches. There was a guy named Sergio Garcia who played in six Ryder Cups and tortured the U.S. in five of them. His singles record was not that great (2-4 after beating Jim Furyk Sunday) but overall he has a 16-6-4 record.
But his excitable and irritating behavior was a big part of inspiring his European teammates, even though he's yet to claim a major title. And while his impact on those proceedings has waned a bit as he's gotten older, Poulter has picked up the baton and become a lightning rod for criticism from fans in the U.S. and the rallying point for the Europeans.
The United States came into the matches with what seemed to be the hottest team, from Brandt Snedeker and Keegan Bradley to a seemingly rejuvenated Tiger Woods. But that mattered nothing once again, because Poulter enthusiastically became the king of Medinah from the start.
He's now 4-0-0 in singles play and 12-3-0 overall and has become the model for Ryder Cup stars in the future. He loves it when crowds get on him and he plays right along with them. He believes he's as good as anybody playing the game and, at least for one week every other year, he's absolutely right.
The average age of the European team this year was 32.5 years old. In golf terms that age doesn't necessarily denote old, but definitely is indicative of a team that's mature. Poulter is 36, but is in the prime of his career. At the opposite end of that spectrum is Nicolas Colsaerts, the native of Belgium, who at age 29 lit up Medinah with eight birdies and an eagle on Friday afternoon.
Who knows if Colsaerts will continue his development to become something of a Poulter-like player down the road? The bottom line is, the Europeans have shown they have something of a formula for developing players with the kind of drive and passion for this competition.
On the other side, players who have been expected to be leaders have not been. Tiger Woods was a disappointment again. For the first time in his career, Phil Mickelson, with rookie partner Keegan Bradley, was a key component on the U.S. team. But they both lost close matches in the singles that would have turned the tide in the Americans' favor.
The one advantage the Europeans seemed to have in recent Ryder Cups has been that they've made more putts than the Americans. But for the first two days last week, it was the U.S. team that was draining putts from everywhere, putting the Europeans on their heels.
But, as if on cue, the magic wands reappeared on Sunday and once again the Americans went home Sunday night scratching their heads.
It's a curious thing how this has all worked out. The Americans have all the headlines, the star power with Woods, Mickelson, Bubba Watson. The Europeans have Rory McIlroy, Graeme McDowell and a couple of highly-ranked guys who can't win majors (Luke Donald, Lee Westwood).
What is the biggest difference between the teams? The Europeans have the 26th-ranked player in the world, a guy who's won just once on the PGA Tour and hasn't won a major.
For Europe, it's "Long live Ian Poulter."
This article is
What is the duplicate article?
Why is this article offensive?
Where is this article plagiarized from?
Why is this article poorly edited?