Claude Giroux: The 4 Most Important Complementary Players to the Flyers Forward
Tom Szczerbowski/Getty Images

While the NHL lockout continues with little to no encouraging progress, fans are left to wonder when they'll ever see their favorite superstars back in action again.
For Flyers fans, that means a far too lengthy delay between the coming-out party last postseason of Claude Giroux and the highly anticipated regular-season return of one of the game's elite stars.
The Hearst, Ontario native set the NHL landscape on fire last April with 17 points in just 10 postseason tilts. The highlight, of course, of that tremendous run was Giroux's opening shift to Game 6 of the Eastern Conference quarterfinals, where he decked Sidney Crosby at center ice only moments before netting the game's first goal en route to a series-clinching victory for Philly.
But even the greatest players can't succeed without a sturdy supporting cast. Giroux is no different.
With that, here are the four most important complementary players to the success of No. 28.
Begin Slideshow

»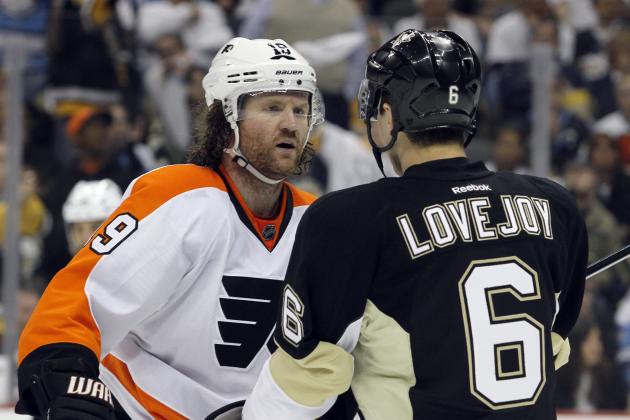 Justin K. Aller/Getty Images

The most obvious complementary piece to Giroux's greatness is Scott Hartnell.
Playmakers and set-up men like Giroux need linemates who can finish when the puck is on their stick. That's Hartnell.
With 37 goals last season, the 6'2", 210-pound power forward from Regina, Saskatchewan was far and away the team's leading goal scorer (Giroux was second with 28). What's more, those 37 conversions were good for sixth best among all NHLers.
And last season wasn't a fluke. While 37 goals marked a career high for Hartnell, it was already the sixth time in 11 NHL seasons he'd registered 20 or more tallies.
And his production in Philadelphia has been the best of his career. The numbers don't lie: 129 goals in 407 games in a Flyers sweater, and only once has he failed to crack the 20-goal plateau in Philly (2009-10).
But Hartnell's importance to Giroux goes far beyond just his goal-scoring abilities.
One of the most durable players in the league, Hartnell has missed just three games in his five years in Philly. Moreover, he brings a physical presence each and every night, creating space for Giroux to work his magic, and he isn't afraid to drop the gloves to stick up for the team's superstar.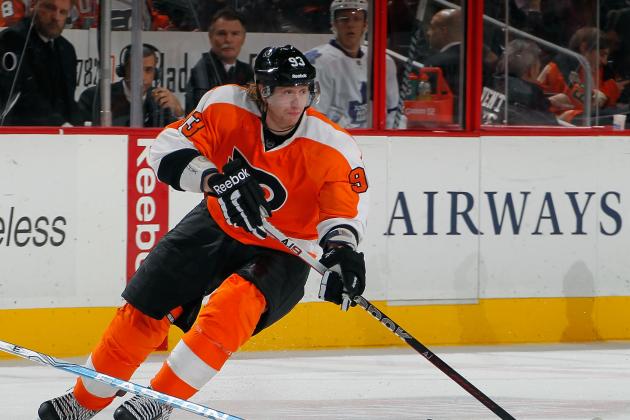 Paul Bereswill/Getty Images

Like Hartnell, Jake Voracek represents another goal-scoring presence to take advantage of Giroux's ridiculous playmaking abilities.
A role filled by Jaromir Jagr last season, Voracek will likely complement Philly's top line this season anchored by Giroux and Hartnell a year ago.
Even at 40 years old last season, Jagr still poured in 19 goals and 54 points as a part of that line, and the expectations are that Voracek will at the very least meet, if not exceed those numbers on Philadelphia's top line this year.
Last season, Voracek finished seventh among all Flyers with 18 goals after being juggled throughout Philly's four lines through much of the year. It's now expected that the 23-year-old Voracek will take up full-time residence on the team's top line where scoring opportunities should be more abundant than ever.
Voracek has never been an unbelievable goal producer (18 was a career high last season), but his totals have steadily increased during his four-year NHL career and he should be in a position this season to crack the 20-goal plateau for the first time.
He's a big, physical presence (6'2", 215 pounds) like Hartnell and is just as durable (nine missed games the last four seasons). And even though Voracek doesn't have the goal-producing history that Hartnell does, he possesses incredible offensive skills and upside, which was a big reason why he was taken seventh overall by the Columbus Blue Jackets back in 2007.
It is because of that tremendous offensive upside that makes Voracek such a valuable complementary piece to Giroux's overall success.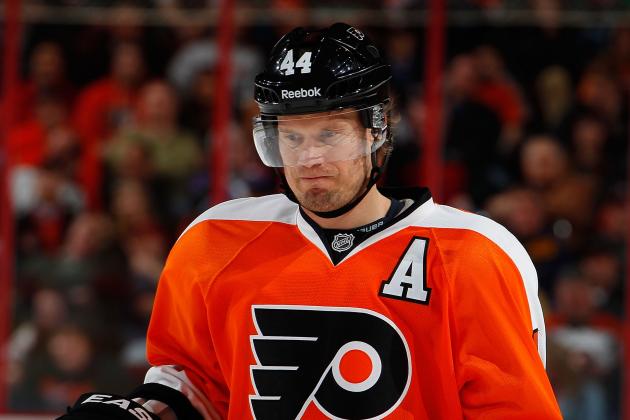 Paul Bereswill/Getty Images

While he's a tremendous two-way player, Giroux's greatest contributions to the Flyers come at the offensive end. But he's unable to make those offensive contributions if Philly can't break the puck out of its own defensive zone.
That's where Kimmo Timonen comes into play.
With the departure of Matt Carle via free agency, Timonen is virtually the team's only solid puck-moving defenseman left. His smooth skating and precise, tape-to-tape outlet passes are pivotal to the Flyers transitioning from defense to offense, where Giroux can excel.
What's more, Timonen's veteran presence at the point on the Flyers' power play is a catalyst to the team's man-advantage success. All four of Timonen's goals last season came on the power play, while 21 of his 43 points from a season ago were a result of the Flyers' man advantage.
And while Timonen is a huge component to Philly's power play, Giroux is an even bigger piece, notching a league-leading 38 man-advantage points last season.
Timonen's defensive abilities that spark the Flyers' offense and his ability to help quarterback one of the league's deadliest power plays is a big reason why he's such an important complementary piece to Giroux.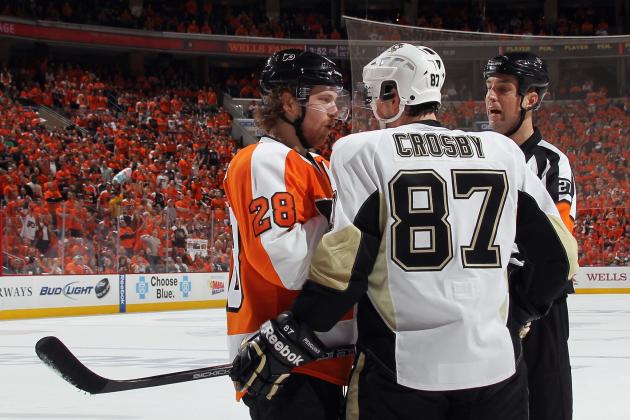 Bruce Bennett/Getty Images

It's hard to imagine a player on one team having a positive impact on another player on an opposing team.
But the reality is, Sidney Crosby is an incredible motivator and thus an important complementary player for Giroux.
Widely regarded as the world's best player, Crosby is the mark to which all other great NHL stars look to reach. Giroux has proven he's one of the game's truly elite players, but he's not Crosby. Yet.
He has clearly shown, though, that he possesses the overall talent and skills to push for the title of the NHL's best player. Moreover, he's proven that in head-to-head competition against the game's best player, he's more than ready to answer than challenge (see Game 6 of last year's Eastern Conference quarterfinals).
When the NHL returns (hopefully sooner rather than later), Crosby will still be considered the best player on the planet. But after finishing third in the league in scoring last season and almost single-handedly advancing the Flyers into the second round of the playoffs last season, Giroux has an opportunity to climb into that conversation.
It's that tremendous motivation to overtake Crosby as the game's greatest player that makes No. 87 such an important complementary player to Giroux.