College Football 2012: A Look at 6 Teams' Chances to Beat Alabama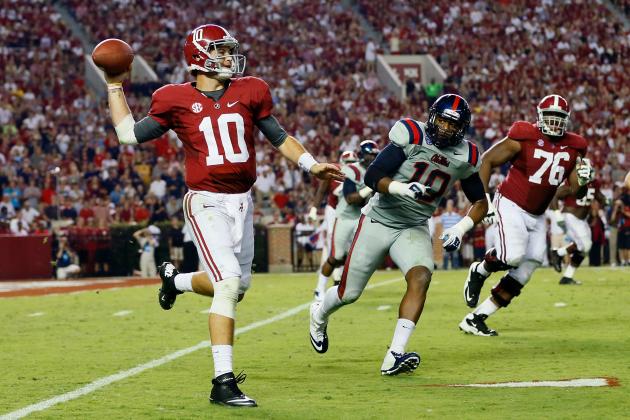 Kevin C. Cox/Getty Images

The college football season is entering one of the most exciting parts of the year.
Teams have used the first five weeks to establish definite identities based on strengths and weaknesses before entering the meat of their conference season.
We know some teams want to light up the scoreboard, posting Arena League scores week in and week out.
Other teams take a more defensive approach, suffocating opponents into making mistakes that give away the game.
Interesting storylines have developed as we've gone along.
Have Texas, Florida and Notre Dame once again risen to prominence?
Is the Big 10 slipping to the level of BCS irrelevance once only reserved for the Big East?
Can another conference challenge the mighty SEC as they seek a seventh straight championship?
Early season pretenders have been identified. Preseason media darlings Arkansas, USC, Oklahoma and Michigan have fallen outside of the Top 10 and struggle to stay relevant in the national picture.
And as always the early season favorite has been identified: The Crimson Tide of Alabama has had little trouble disposing of opposition in starting the season 5-0.
Much hyped Michigan and Denard Robinson proved to be little more competition than a Sun Belt paycheck game. Arkansas was beaten so badly that their injured quarterback even said his teammates gave up. And despite playing a noticeably flat Alabama team, Ole Miss provided little in the way of competition.
But just like any other season, every team can be beaten by someone.
Depending on showing up ready to play and actually having an opportunity to do so, six teams in the country have an opportunity to take down the Tide.
Assuming each of these teams was to earn the chance, let the countdown begin.
Begin Slideshow

»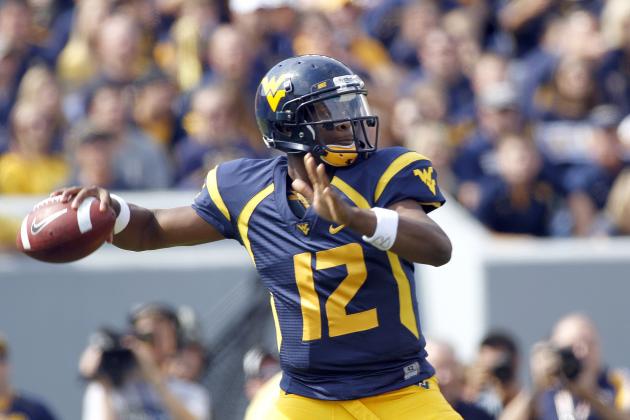 Justin K. Aller/Getty Images

West Virginia barely makes this list based on a couple of factors.
First of all, the Mountaineers offense is obviously dominant as they average 52 points per contest. Quarterback Geno Smith is the early front runner for the Heisman Trophy, rightfully so having already thrown 21 touchdowns and just one interception.
The issue for West Virginia is that they don't stop a lot of people either, as evidenced by Baylor laying 63 points on them last weekend.
Couple that with the offense being challenged by a Nick Saban/Kirby Smart defense and the points will be tough to come by for Dana Holgerson's bunch.
There would be hope, but it would be awfully slim.
Chance to Beat Alabama: 5%
Likely Score: Alabama 31, West Virginia 17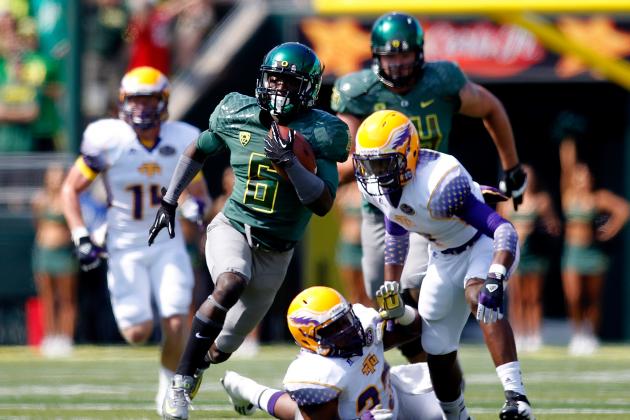 Jonathan Ferrey/Getty Images

Chip Kelly's Ducks are in much the same boat as West Virginia. The offense has been impressive and you can not question the play making ability of guys like De'Anthony Thomas and Kenyon Barner.
Freshman Marcus Mariota has been impressive in his first season running the show and the defense has been able to slow down some of the high powered Pac-12 offenses early in the season.
But Oregon has struggled with big physical teams in the past. LSU did it last season. Auburn did it the year before that.
Throw in a young offensive line (two sophomores and a freshman left tackle) and Alabama would make it pretty difficult to get the spread going.
And talented or not, you can't like throwing a freshman under center against the Crimson Tide defense. Ever.
Chance to Beat Alabama: 10%
Likely Score: Alabama 31, Oregon 20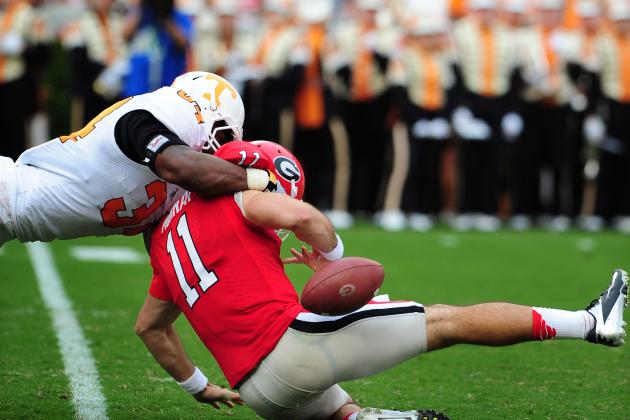 Scott Cunningham/Getty Images

While the SEC East is just starting to play itself out, the early favorite to represent the division in Atlanta appears to be the Georgia Bulldogs.
Sporting an all-SEC caliber quarterback and two dynamic freshman running backs, Georgia could certainly provide some competition. The defense is led by stellar linebacker Jarvis Jones behind a massive defensive line that could give the Alabama running game fits.
Unfortunately, Georgia has had its share of issues with consistency this season. Aaron Murray and the backs have had issues with turning the ball over and the kicking game has struggled at times, already missing three extra points.
Mistakes like this can cost you the game against a team like Alabama and Georgia just can't seem to avoid them.
Chance to Beat Alabama: 22%
Likely Score: Alabama 24, Georgia 14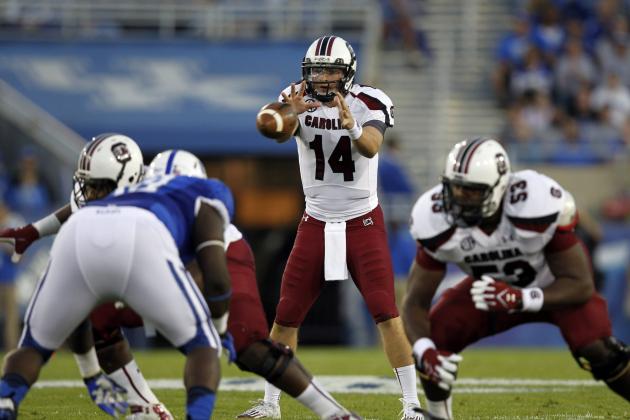 John Sommers II/Getty Images

Another contender for the Eastern Division crown in 2012 is Steve Spurrier's group from Columbia.
The South Carolina Gamecocks defense is one of the best in the nation giving up only 11.2 points per game while forcing 10 turnovers already this season.
The offense features running back Marcus Lattimore and dual threat quarterback Connor Shaw. The combination of a power running attack and a mobile signal caller has given the Crimson Tide defense trouble in the past with Saban's defense normally taking a specific strength away from the opposing offense.
If the Crimson Tide primarily keys on Lattimore, Shaw has the ability to hurt them.
This could be a bigger challenge for Alabama than most people think.
Chance to Beat Alabama: 35%
Likely Score: Alabama 17, South Carolina 14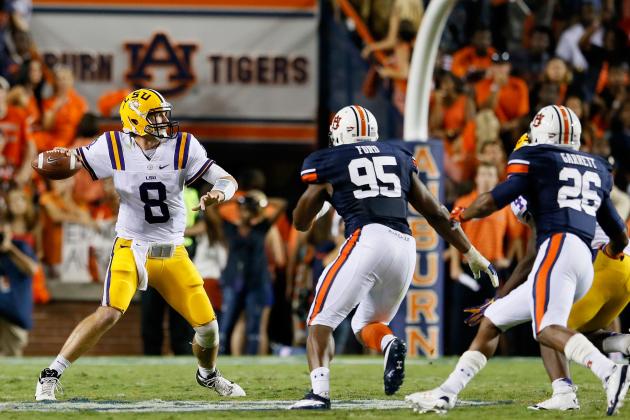 Kevin C. Cox/Getty Images

The first weekend in November is quickly turning into one of the most anticipated weekends of the college football season for one reason.
Nick Saban and Les Miles bring their beasts together to face one another.
Early in the season, LSU has shown some weaknesses. "Savior" quarterback Zach Mettenberger has not proven to be much of an upgrade to Jordan Jefferson and Jarrett Lee thus far and the Tigers have struggled somewhat with some lesser competition.
However, LSU has some things going in its favor heading into Game of the Century Part III. They enjoy a bye week leading up to the big game and will host the Crimson Tide in Death Valley for a night kickoff.
Baton Rouge is always a tough place to visit and Miles will empty the bag of tricks with an extra week to prepare.
Expect a defensive struggle and both sides to be feeling this game for a few days, but this time Jeremy Shelly and Cade Foster come through.
Chance to Beat Alabama: 40%
Likely Score: Alabama 13, LSU 10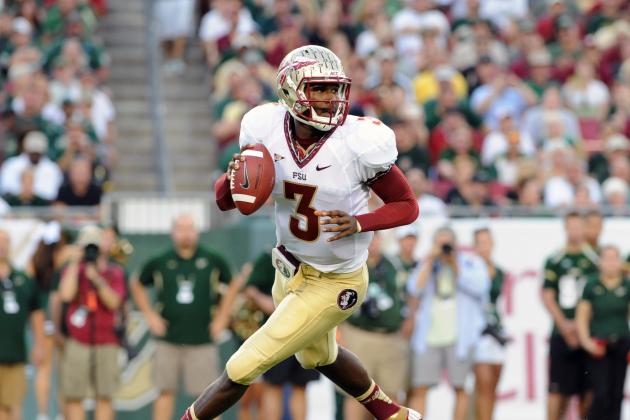 Al Messerschmidt/Getty Images

For the first time in the six season run of SEC national titles, the toughest test for the SEC champion may very well come from a different conference in the BCS title game.
Looking back at the history of the streak, it began when Ohio State was dominated by Florida and LSU in consecutive years. In the next two seasons, Florida took care of Oklahoma relatively easily and Alabama knocked Colt McCoy out of the title game in route to a 16 point victory.
The only tight game with the SEC came in 2010 with Oregon losing to Auburn on a last second field goal. However, if you watch the game, Auburn controlled the Ducks up front and had overcome a much tougher challenge with a 24 point comeback against Alabama a few weeks earlier.
This season could actually be different.
Florida State has the defensive personnel to rival LSU, South Carolina and even the mighty Crimson Tide.
Also, explosive offensive skill players are all over the place for FSU.
Finally, they have a dual threat quarterback in E.J. Manuel. And we've already discussed the issues that will present for the Crimson Tide.
If the Seminoles can hold their own on the offensive front, Alabama could be in trouble in this one.
I have no idea how this one plays out, but it's going to be fun to watch.
Chance to Beat Alabama: 50%
Likely Score: Alabama 28, Florida State 27