WWE Power Rankings: Breaking Down WWE's Top 25 Superstars for Week of Sept. 30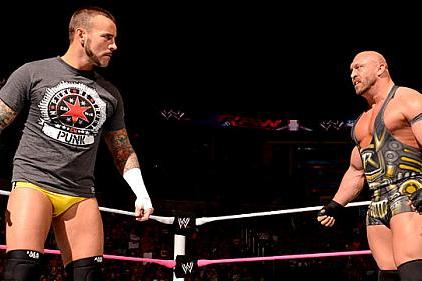 Photo courtesy of WWE.com
With John Cena currently out of the picture due to an elbow injury, it was time for some other guys to step up in the WWE this week. WWE Champion CM Punk carried the load as usual, but there were some new faces with fairly big roles on Raw, so the power rankings have been shaken up to say the least.
The depth at the top of the card is being tested with Cena hurt and Randy Orton off filming a movie, but the WWE most definitely has some younger talent who is capable of rising up and grabbing the brass ring. Their ascension may be temporary, but the next couple weeks could be huge for a few midcard roster members.
Things are somewhat slow right now with Hell in a Cell still a few weeks away, but the writers are building toward the pay-per-view and positioning certain wrestlers. There is no question that business is about to pick up in the very near future.
Here are my top 25 superstars for the week beginning on Sept. 30 based purely on entertainment value and not kayfabe factors.
Begin Slideshow

»
Last Week's Ranking: 24
David Otunga wasn't featured on WWE programming this week, but that was the case with much of the roster. Je remains at the tail end of the power rankings. He may not be very good in the ring, but Otunga continues to entertain me in his legal counsel role.
I don't feel like Otunga is ever going to be anything more than a midcarder because of his wrestling limitations, but he can remain a valuable asset as a guy who does a lot of backstage segments and works the occasional match as well.
Last Week's Ranking: 25
Say what you will about Santino Marella, but he's a fairly reliable midcard guy who gets a good crowd reaction. I'm hoping that his pursuit of the United States Championship is over, but he can still contribute as someone who gets the midcard heels over with the crowd.
Santino lost his U.S. title match against Antonio Cesaro on SmackDown and was attacked by the group of Heath Slater, Drew McIntyre and Jinder Mahal on Raw. A feud with Encore would be good for him as he'll keep making appearances, but he won't be counted on in any big angles.
Last Week's Ranking: 23
Tensai certainly hasn't succeeded like the WWE hoped he would initially, but at least he has been regularly appearing as of late. His past two matches have been losses to Ryback, including a contest on Raw where Ryback twice failed to get Tensai up in his finisher.
It would be easy to say that it was Tensai's fault, but he can only help Ryback so much. In watching Tensai and Ryback, it is clear that Tensai is the more talented in-ring performer, but he hasn't gotten over, so he remains low on the card while Ryback continues to ascend.
Last Week's Ranking: 21
If it wasn't already apparent, Monday night officially marked the end of Brodus Clay's push. He has been scuffling since his undefeated streak was ended several weeks ago, but United States Champion Antonio Cesaro beat him cleanly on Raw, so I'm not really sure where Brodus goes from here.
His gimmick limits him a bit, but the kids love it and it still entertains me, so I don't feel like he should abandon it. Not everyone can be a main-eventer or a midcard champion, but Clay has some good tools and is still a guy who the WWE can use to its advantage.
Last Week's Ranking: 19
The Prime Time Players may not be anything special, but they are a part of a tag team division that is suddenly quite deep and meaningful. Darren Young and Titus O'Neil didn't compete this week, but they are in the No. 1 contender's tournament and made an appearance on Raw as they watched Rey Mysterio and Sin Cara take on Primo and Epico.
It is obvious that The Prime Time Players and Mysterio and Sin Cara are on a collision course to meet in the semifinals of the tournament with Mysterio and Sin Cara likely winning. Even so, Young and O'Neil will continue to be an integral part of the tag division moving forward.
Last Week's Ranking: 18
Zack Ryder is one of the more curious cases in the entire WWE. The guy is over as can be and a great midcard face, but he simply hasn't been put in a position to succeed. He lost twice in the past week to Wade Barrett and The Miz, and while he shouldn't necessarily beat those guys, he should be put in matches that he has a chance of winning.
Ryder was great as United States Champion, but he has been lost in shuffle since dropping the title and his prospects aren't looking particularly good. Hopefully the WWE realizes that he generates money and is deserving of a better position within the company.
Last Week's Ranking: 22
I'm not sure Heath Slater will ever be much more than a jobber, but he has been making the most out of what the WWE gives him. His new team with Drew McIntyre and Jinder Mahal is interesting to say the least, and while I have no clue where it might be heading, at least it has resulted in some underutilized guys getting television time.
The angle with WWE legends constantly beating Slater was entertaining, and I feel like it helped him get over in a lot of ways. If he continues to impress, then perhaps there is a chance that he could be in the midcard title hunt one day.
Last Week's Ranking: 20
Since winning the United States Championship, Antonio Cesaro hasn't been used all that well, but things seem to be changing. Since dumping Aksana, Cesaro has beaten Santino Marella in a title match. On Raw, he impressively dispatched Brodus Clay as he managed to get him up in the Gotch Neutralizer.
I'm still not a big fan of the five-language gimmick, but the more Cesaro wins in that type of fashion, the more the fans will care about him. He undoubtedly has a lot of potential, so hopefully he is put into a feud that people can really get involved with.
Last Week's Ranking: 17
Since returning from injury, Sin Cara was somewhat of a forgotten man, but he has new life now that he is teaming with Rey Mysterio. The exciting luchadors make for a great pairing, and they seem quite capable of putting the tag team division on their backs whenever the time comes to split up Kane and Daniel Bryan.
Now that Sin Cara isn't being asked to carry matches on his own, he appears to be much cleaner and crisper in the ring as well. He is limited as a singles competitor since he can't talk, but he has the potential to accomplish some great things now that he is with Mysterio.
Last Week's Ranking: 15
Kofi Kingston has been teaming with R-Truth for the past several months, but it looks like that tandem will be dissipating soon. Kofi has been wrestling a lot of singles matches lately, and the team of Kofi and Truth is set to face The Prime Time Players in the first round of the tag team tournament, meaning they'll likely be bounced right away.
That may be for the best as the midcard scene is lacking when it comes to faces. Kofi has been a stalwart in that regard for a very long time, so he would be the perfect guy to feud with either United States Champion Antonio Cesaro or Intercontinental Champion The Miz. He may lack in terms of charisma, but Kofi can put on a great match with anyone.
Last Week's Ranking: 14
As is often the case in WWE, Cody Rhodes was down in the dumps after losing the Intercontinental Championship and he seemed to be in danger of fading into oblivion. The writers made a good decision when they chose to pair him with Damien Sandow as Rhodes Scholars have proven to be a very effective team.
All signs point to Rhodes and Sandow winning the No. 1 contender's tournament, so they'll face Kane and Daniel Bryan at Hell in a Cell in all likelihood. Many still consider Rhodes a future world champion, and he may be one day, but for the time being this tag team is best for him.
Last Week's Ranking: 13
Alberto Del Rio is finally out of the World Heavyweight Championship scene, but that hasn't made him any less boring. I like Del Rio and believe that he has all the tools necessary to be great, but his character has grown stale, and I'm honestly not sure where he goes from here.
Del Rio was booked so poorly during his feud with Sheamus that nobody took him seriously, and that really damaged him. Perhaps if he is given some big wins moving forward and made to look legitimate, then Del Rio can return to the main-event scene in due time and have a much more successful run.
Last Week's Ranking: 11
Rey Mysterio and Sin Cara have been paired up to form perhaps the most exciting team in the WWE, but there is no doubt that Mysterio is the one who is carrying the load. They are both excellent in the ring, but Mysterio is more over with the fans and he has to do all of the talking when the time comes for that.
Mysterio may not be what he once was, but he is still capable of doing some incredible things in the squared circle, and he seems rejuvenated since joining forces with Sin Cara. Mysterio is certainly in the latter stages of his career, but he can still accomplish some great things in his current role.
Last Week's Ranking: 9
Randy Orton is a guy who I can't help but think that the WWE is wasting right now. I'm not a huge fan of his personally as I believe he is very limited on the mic and his character is played out, but the WWE Universe loves him. Rather than putting Orton in the World Heavyweight Championship hunt, he continues to put over the likes of Alberto Del Rio and Big Show,
Orton is going to be filming a WWE movie, so he may be away for a few weeks. But once Sheamus dispatches Big Show, Orton should be next in line for a title shot. Whether that leads to him turning heel or remaining face, Orton may be the only guy who can make the fans care about the world title at the moment.
Last Week's Ranking: 10
In terms of all-around talent, Wade Barrett is one of the best the WWE has to offer, but he has really been squandered since returning from injury. I had hoped that Barrett would immediately be thrown into the World Heavyweight Championship mix by attacking Sheamus at SummerSlam or Night of Champions, but instead, he came back with a whimper on SmackDown.
He has done little other than beat low-card superstars thus far, so I hope there are bigger and better things on the horizon. If nothing else, Barrett ought to be given some more mic time because that is an area in which he truly shines.
Last Week's Ranking: 8
As is the case with most guys not named CM Punk, John Cena or Sheamus in the WWE, the writers have struggled to figure out what to do with Intercontinental Champion The Miz. He is a main-event level star who has headlined WrestleMania in the past, so Miz should be a guy who is anchoring the upper midcard, but that hasn't been the case.
His Miz TV segments have been good thus far, but Miz still hasn't entered into a substantial feud since winning the IC title on the 1,000th episode of Raw. At this point, I would actually rather see Miz lose the strap so that he can move on and perhaps feud with Sheamus over the World Heavyweight Championship.
Last Week's Ranking: 12
With as much as World Heavyweight Champion Sheamus is featured on both SmackDown and Raw, you would think that he might be a lot higher on this list, but I simply haven't been entertained much by The Great White as of late. A lot of that probably has to do with residuals from his feud with Alberto Del Rio, but I'm not exactly drooling over the prospects of an angle with Big Show either.
Sheamus is a guy with a unique look, good in-ring skills for his size and decent mic work, but I feel like he needs a truly great talker in order to have a truly great feud. A guy like Randy Orton could transcend that, but I would love to see Sheamus go at it with Wade Barrett or The Miz. Sheamus, himself, may not change, but a better opponent will bring the best out of him.
Last Week's Ranking: 16
I've never been the biggest Big Show fan in the world, but because of the mere fact that he has supplanted Alberto Del Rio in the World Heavyweight Championship scene, I have moved him way up in this week's power rankings. The promos leading up to Hell in a Cell won't be great, but Big Show does pose a legitimate threat to Sheamus, unlike Del Rio.
If nothing else, Big Show is much better as a no-nonsense heel than a smiley face, so I can't complain with his current direction. I don't view Big Show as anything more than a transitional feud for Sheamus, but he can definitely help get Sheamus over as a credible champion.
Last Week's Ranking: 5
For the first time in recent memory, John Cena didn't appear on Raw this week due to his elbow injury, so he naturally slides down a couple spots in the rankings. Even though Cena wasn't there, he was still an integral part of the show as WWE Champion CM Punk continually addressed the issue of facing Cena at Hell in a Cell.
It seems to me like the WWE is using Punk's waffling as a safety valve as he can choose to face someone else like Ryback if Cena isn't healed in time. But he can just as easily accept Cena's challenge if the rehabilitation goes according to plan. I'm not secretive about my disdain for Cena's character, but even I'll admit that Raw didn't seem like quite as big of a deal without him there.
Last Week's Ranking: 7
Damien Sandow continues to impress me more and more with each passing week, and that was true once again on Raw. Sandow has shined on the mic thus far as his condescending character is highly entertaining, but for the first time, he turned in an actual match that lasted longer than five minutes as he was ultimately defeated by World Heavyweight Champion Sheamus.
Sandow is currently teaming with Cody Rhodes, which has been great so far, but there is no question that he can accomplish great things as a singles competitor. Sandow is the total package, and I can't wait to see where he goes from here.
Last Week's Ranking: 4
I'm still waiting for something big to happen with Dolph Ziggler, but in the meantime, he impresses me each and every time he steps in the ring. Ziggler and Kofi Kingston had a fantastic match on Raw last week, and this week, he did some excellent work on the mic. It appears more and more as if he is being pushed away from Vickie Guerrero, and that is a positive.
I don't dislike Vickie and I feel like she does a good job, but Dolph can do his own talking and needs to if he is going to be a great World Heavyweight Champion. I really wish that Ziggler would be put in a feud with a credible face with The Show Off going over, but regardless of how badly he is booked, I still immensely enjoy his work.
Last Week's Ranking: 6
He may be one-dimensional, but Ryback is clearly the hottest thing going in the WWE right now. His rise to the top has been meteoric as he went from squashing jobbers a few weeks ago to suddenly challenging the WWE Champion, CM Punk. Ryback came to Mick Foley's aid last week when Punk attacked him, and he did the same for Jim Ross this week as Punk verbally berated him.
Ryback isn't likely to be a fixture in the main-event scene as John Cena will assume his usual position when he returns, but this mini-feud with Punk could decide whether Ryback becomes a star or remains a midcarder. He was sloppy in his match with Tensai so he needs to clean that up, but I'm intrigued to see what happens between him and Punk moving forward.
Last Week's Ranking: 3
The Kane and Daniel Bryan exposure was scaled back in a big way this week, but I still enjoy everything that they do. Having them run an entire episode of SmackDown may have been a bit too much, so I'm glad that they have finally settled in. Even with less television time, the Tag Team Champions still managed to main event Raw and defeat the team of CM Punk and Dolph Ziggler.
I still rank Bryan slightly ahead of Kane since D-Bry is more of the full package, but both are fantastic. Considering how stale Kane became after his return feud with John Cena, I wondered whether he would be able to recover, but he always finds a way to remain relevant and he reinvented himself yet again.
Last Week's Ranking: 2
Daniel Bryan turned in yet another great performance on Monday as one half of Team Hell No. Not only did he perform very well in the match against CM Punk and Dolph Ziggler, but his promo with A.J. Lee was highly entertaining as well. When you consider where Bryan was about a year ago compared to what he has become, the transformation is truly amazing.
I couldn't have cared less about the tag team division a few months ago, but Bryan and Kane suddenly have me interested again. They aren't going to team forever since both of them are excellent singles guys as well, but they are doing the tag team scene a great service and I'll continue to enjoy every second of their partnership.
Last Week's Ranking: 1
With John Cena on the shelf, there wasn't much competition to challenge WWE Champion CM Punk for the top spot this week. Punk didn't have his best episode of Raw, but his segment with Jim Ross was effective in getting him over as a heel and his interactions with Ryback have been good as well. The one thing I didn't like was Punk losing to Daniel Bryan and Kane after Dolph Ziggler walked out.
It has been several weeks since Punk has won a match, so it looks like he may be degenerating into the typical cowardly heel. Punk is quickly closing in on a year as WWE Champion, though, so his character should be more credible than that. Everything that happens now is just a transition toward Punk vs. Cena at Hell in a Cell anyway, so I can't complain too much about Punk's performance on Raw.
Follow @MikeChiari on Twitter and listen to him on Ring Rust Radio.