USMNT: 6 Lessons to Take into Antigua & Barbuda and Guatemala World Cup Matches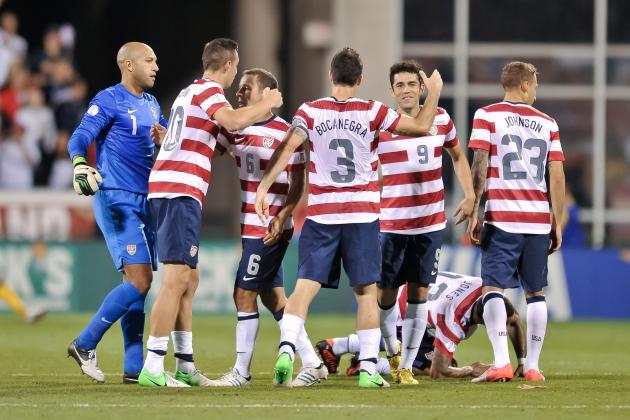 Jamie Sabau/Getty Images

Another month on the calendar has turned and the U.S. have two more qualifying matches lined up.
On October 12 they will travel to Antigua for a match with Antigua & Barbuda, and on October 16 they will host Guatemala in their final group match.
The U.S. are coming off a split with Jamaica in September. They suffered a loss in Kingston, Jamaica, but followed it with a win in Columbus, Ohio that helped keep them at the top of the group.
Guatemala, Jamaica and the U.S. currently are tied with 7 points in the group with two crucial matches to play. Only two can advance.
As the important matches draw ever closer here are six lessons the U.S. men need to take in to their battles.
Begin Slideshow

»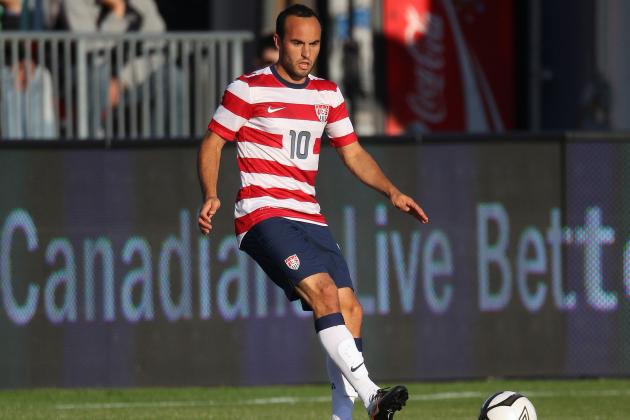 Tom Szczerbowski/Getty Images

The men wearing the crest need to attack, attack, attack.
There is no reason the U.S. should not put the ball in the back of the net in the upcoming matches and they need to force the issue. Keep both nations on their heels.
This will be most important against Antigua & Barbuda. The U.S. is the superior side, need three points and should have no excuses not executing on the pitch. Grabbing full points will take a lot of pressure off of their backs heading in to the final match against Guatemala.
It will be important to not stay back and let either nation get rhythm.
Attack and keep the pressure up.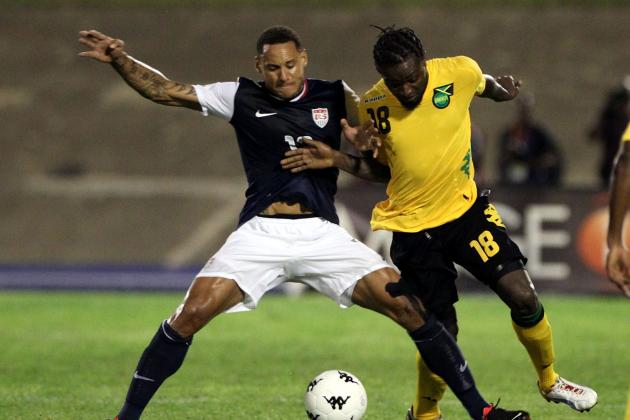 Marc Serota/Getty Images

If there is one thing that the team should have learned by now, it is that the matches will be physical.
Jamaica certainly tested the U.S. in this regard and Guatemala also hung tough with the Americans on home soil.
The U.S. has the physicality and fitness to wear down these nations, and they have to impose their will in just a couple of weeks. Regardless of their superiority, the U.S. will not be given free reign in the matches.
Nothing will be easy about these matches.
Jamie Sabau/Getty Images

If there has been one player to earn a starting role over the past few months it is Herculez Gomez.
He is relentless in front of goal. Three of his five career goals have come in 2012, none bigger than his goal against Jamaica in the American's 1-0 victory on September 11.
Under Klinsmann No. 9 has really begun to shine. With Landon Donovan and Clint Dempsey, Gomez has given the U.S. another scoring option. He has outperformed most, if not all, of the other forwards on the roster.
Gomez has earned his starting spot and will give the U.S. excellent pace to compliment his recent hot foot. Until he cools off there is no reason to sit him.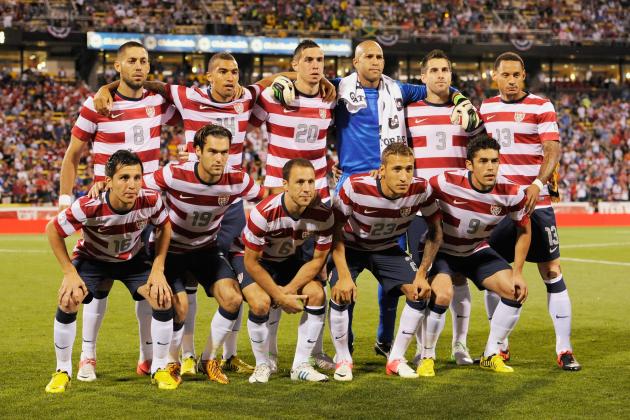 Jamie Sabau/Getty Images

The American men have a tendency to try and do too much. Sometimes less is more.
By watching their female counterparts, the U.S. can learn that staying calm is a big asset. When the USWNT goes down a goal or two they remain calm and focused. When the men go down a goal or two, the wheels come flying off like a NASCAR crash. Especially without Donovan on the pitch.
When they try to do too much, they routinely make pitiful errors that are easily avoidable. Sometimes it is like watching a chicken with its head cut off.
Now, there is no reason they should go down to Antigua & Barbuda, but Guatemala will be a test. They need to stay composed and just play their game. Everything will work itself out in the 90 minutes of action and the U.S. will be alright.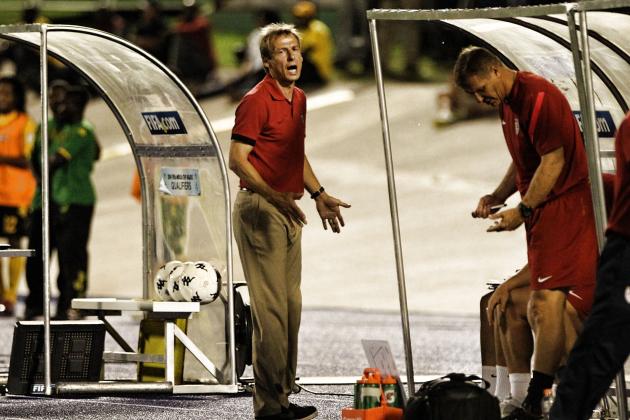 Marc Serota/Getty Images

The U.S. has a problem with set piece defense.
A lot was made of this after their 2-1 loss to Jamaica where both goals came off free kicks. However, one should not forget that in the previous meeting with Guatemala, the U.S. gave up a late free kick that resulted in a 1-1 draw.
This issue needs to be addressed.
Sometimes fouls will happen, and sometimes they are necessary to stop an imminent goal. If the U.S. cannot stop a free kick what is the point of committing the foul anyway? They cannot give up free kick goal after free kick goal.
Klinsmann needs to find a solution to the set piece defenses. The U.S. could already have a stranglehold on the group, but instead they are fighting it out with only two matches remaining.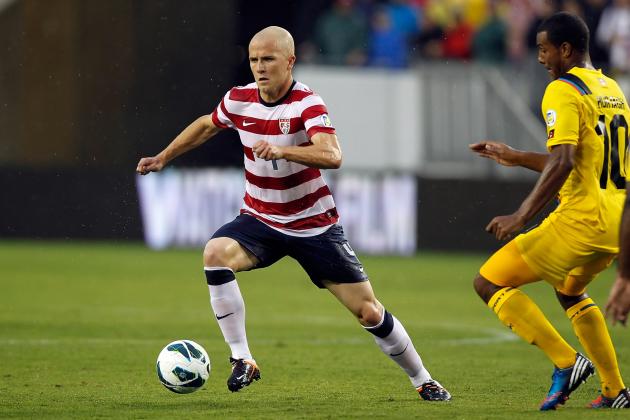 J. Meric/Getty Images

Michael Bradley's importance cannot be overstated after watching the U.S. midfield play over the past few matches.
Both offensively and defensively, the replacements have highlighted exactly what Bradley brings to the table for the U.S.
Once thought to be just on the team because of nepotism, Bradley has since blossomed into one of the best players on the squad. And quite possibly its most vital. In his absence it was hoped another man would step in to fill his shoes. They made it seem as if Bradley wore size 23's by how poorly they were able to fill them.
The youngsters are still growing in to their roles and not ready to help fill the gap if Bradley is not on the pitch.
The U.S. needs to make sure they have him in the midfield for all important matches moving forward.