LSU at Florida: 5 Reasons Why the Tigers Don't Have a Chance in the Swamp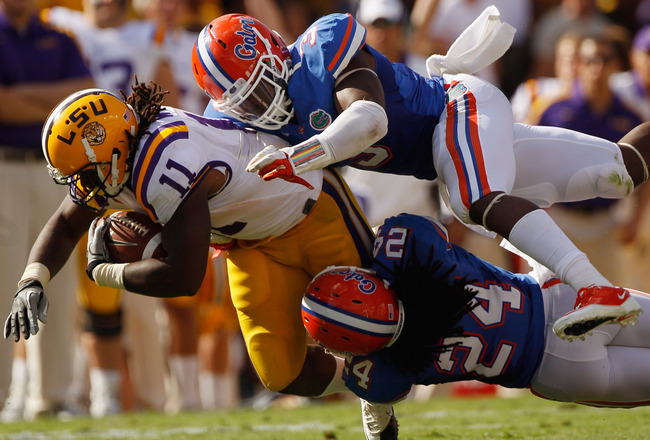 Chris Graythen/Getty Images
Very few things in sports are guaranteed, but when the SEC schedule was released, many believed that LSU would run the table until they ran into Alabama.
Not so fast.
Arguably the best game on the Week 6 schedule is when the LSU Tigers travel to Gainesville to play the Florida Gators. Both teams are ranked inside the Top 10 of the AP Poll and have goals of reaching the SEC Championship Game.
However, it is LSU that was hoping to return to the BCS National Championship and take care of some unfinished business. Unfortunately for the folks in Baton Rouge, that is not going to happen.
Here are five reasons why the Gators will win this weekend and make the polls that much more interesting.
This Game Means More to Florida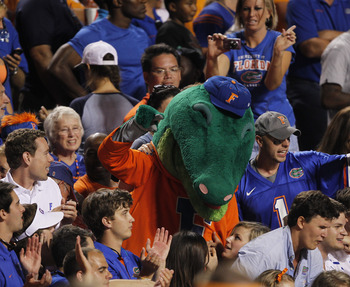 John Sommers II/Getty Images
Florida lost six games last season, its most loses since 1987.
The Gators really haven't been a relevant team since 2009 when Urban Meyer was trying to decide what his future held. It was only a couple of years ago when this program was competing for national championships and BCS bowls, but that is a couple years too long.
Scott Carter of Fox Sports Florida reports that head coach Will Muschamp is predictably downplaying the importance of the game:
"This counts as one game; it doesn't count for any more than that. Muschamp said Monday. We've got a great opportunity setting in front of us here at our home stadium at 3:30 [Saturday]. That's how I look at it. We won't put in any more hours this week than we did three weeks ago."
The victory over Tennessee was Muschamp's first win over a ranked opponent; now it is time to make an even bolder statement as head coach. This will count as only one win in the standings, but it will show the rest of the college football world that the Gators are once again to be taken seriously.
A win would also ease the minds of the many Gator fans who had had doubted whether Muschamp was the right man for the job.
A win does not guarantee a shot in the national championship, or even the SEC Championship. It does show that this program in on the right track and will soon return to glory.
LSU Hasn't Looked Like Championship Contenders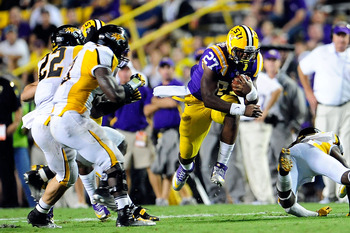 Stacy Revere/Getty Images
Remember when LSU was supposed to be even better in 2012?
The defense looked to be the same dominant unit it was a year ago. The offensive line was ridiculously good and the running back position was as deep as any team in the land. Oh, and quarterback Zach Mettenberger was going to be the next Matt Leinart and finally give this Tigers offense a true passing game.
After five games, it seems like none of those things have happened.
The offensive line is banged up and has allowed 11 sacks. The passing game is ranked 95th in the country and the offense has turned the ball over five times in the last two games. The Tigers were nearly upset by Auburn and needed more than the first half to beat Towson last week.
It looks like it is only a matter of time before LSU suffers a loss.
This is clearly not the same team that we saw a season ago. Towson was able to run the ball for 188 yards last week; I can only imagine what the Gators are going to do to this team that is barely holding onto its Top 5 ranking.
Florida Is Only Getting Better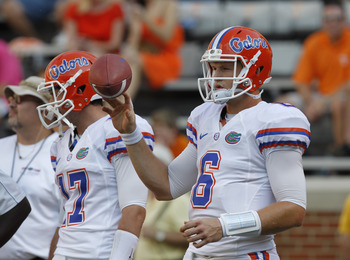 John Sommers II/Getty Images
The Florida Gators that have been one of the surprise teams through the first month of the season.
The defense has been solid, allowing less than two touchdowns per game, and the offense seems to be coming along as the weeks go by.
The passing game is ranked 13th in the SEC, but quarterback Jeff Driskel is completing 69 percent of his passes, including 83 percent in the fourth quarter. He is also getting more comfortable in the offense and is becoming more comfortable using his legs, racking up 116 yards on the ground over the last two games.
Speaking of running, Florida's rushing attack is ranked 20th in the country.
Running back Mike Gillislee is second in the SEC, averaging 100 yards on the ground a game. He has five touchdowns, is averaging close to six yards a carry and has broken five runs of over 20 yards.
With each week that passes by, it seems like things are coming together for this Florida football team. This will be by far the biggest test for this LSU program in 2012. The Tigers have already struggled against less talented teams.
Trouble is only around the corner for Les Miles and company.
Florida Has Had Two Weeks to Prepare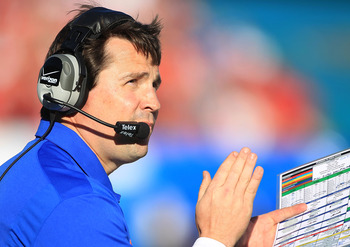 Scott Halleran/Getty Images
When you are the underdog, you use time to your advantage.
While LSU was struggling against Towson last week, the Gators were resting and using the extra week off to prepare for the No. 4 team in the country.
Head coach Will Muschamp has had two weeks to make coaching adjustments. He had extra time to figure things out, such as how to slow down the running game of the Tigers, how his offensive line will be able to open up running lanes against a talented front seven of LSU and how to confuse quarterback Zach Mettenberger.
It also gave Gator players suffering from injuries, such as receiver Trey Burton, defensive lineman Sharrif Floyd and offensive lineman Chaz Green, an extra week to recover.
You can say playing a team such as Towson was just as good as receiving a week off, but players still received hits and didn't have as much time to study this week's opponent. I'll take the fresher team that happens to be at home, which leads us to another advantage the Gators have...
The Game Is Being Played in the Swamp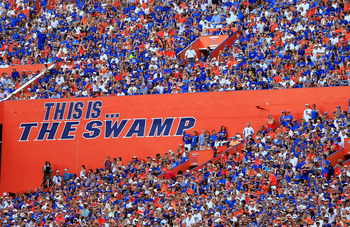 Sam Greenwood/Getty Images
The LSU Tigers' Death Valley may be the most intimidating venue in college sports, but The Swamp isn't far behind.
Ben Hill Griffin Stadium is known for getting loud and making things very difficult for opposing teams. With the playing surface below ground level, the fans are practically on top of the players, providing one of the best home-field advantages at the collegiate level.
LSU head coach Les Miles had this to say to Jim Kleinpeter of The Times Picayune about The Swamp:
"It's a great place to play. If you enjoy classic college venues, and if you enjoy the SEC, that's as good as it gets. Quality opponent on the road, loud, I think it's a great place to play."
Coach Miles may be able to appreciate how passionate the fans are in Gainesville, but he can't be too excited about having to play a game there. LSU has lost nine of the last 12 games in this stadium, and with a first-year quarterback and struggling team, this is the last place Tiger fans want to see their team play.
The crowd will be relentless all afternoon. The Tigers almost lost in Jordan–Hare Stadium.
They are in for a rude awakening this weekend.
Keep Reading

Florida Gators Football: Like this team?