Rey Mysterio and Sin Cara: How Will WWE Get Them to a WrestleMania Showdown?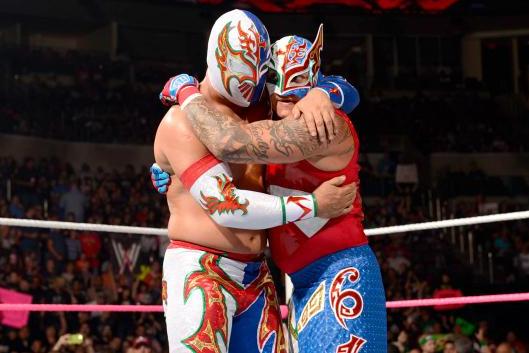 Photo Credit: WWE.com
Right now, Sin Cara and Rey Mysterio are a pretty good bet to get to the finals of the the WWE Tag Team Championship Number One Contenders tournament. Their only obstacle will be the winner of Kofi Kingston & R-Truth vs. The Prime Time Players, which will be seen on TV this Friday on SmackDown.
Assuming the luchadores are victorious, they will wrestle the winners of The Rhodes Scholars vs. Zack Ryder & Santino Marella, the latter earning a victory last night on the premiere episode of WWE Main Event over Justin Gabriel & Tyson Kidd.
Mysterio and Sin Cara are crowd favorites. There are no two wrestlers in WWE who can match their style and their masks bring a presence not seen this side of the border. They are destined to get a shot at the finals in this tournament.
And that is where it will likely end.
The only thing more exciting than seeing the two masked men of WWE team up is seeing them face off against each other, and there would be no more appropriate a stage for such an event than WrestleMania XXIX, where fans from all over the world will be converging.
On what will already be a loaded event card, likely featuring Brock Lesnar and The Rock in some form, Rey Mysterio and Sin Cara could have a match together that will ignite and excite like nothing else previously seen in WWE.
All we have to do is figure out how to get there.
Begin Slideshow

»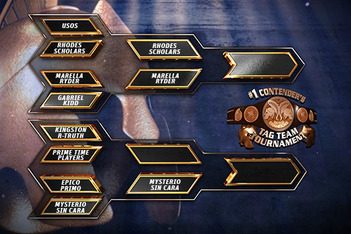 Photo Credit: WWE.com
At some point, possibly next week, Rey Mysterio and Sin Cara will be facing the winner of the last first-round match between the Prime Time Players and Kofi Kingston & R-Truth.
I honestly don't know who will come out on top in that battle, but I have a hunch that Kofi & Truth will pull it off, only to be screwed out of a victory by the PTP during the semifinal match. This would not only put Mysterio and Sin Cara into position as finalists, but it would also give two other teams something to battle over during their time of climbing back into contention.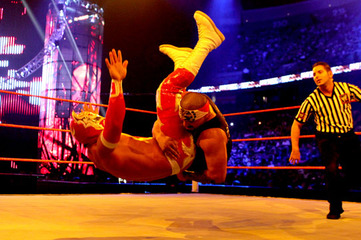 Photo Credit: WWE.com
We have all seen Sin Cara miss a move or two during his time in WWE, and it is not something that can be hidden very well on live TV. The high risk offense that Sin Cara has utilized while in WWE (even more than Mysterio at the moment) could be what leads to the downfall of his partnership with Rey Mysterio.
Whether it is going for his old finishing move or simply going to the well at the top rope one too many times, he could miss his opponent and get pinned or tap out as a result. This will cause a rift between Mysterio and Sin Cara that leads to Rey walking out on his partner, leaving the status of the tag team uncertain.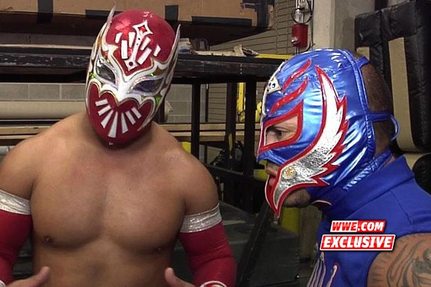 Photo Credit: WWE.com
From the time of their loss, Mysterio and Sin Cara will not get along very well. They will continue to lose because of lack of communication, bad teamwork and failing to tag each other in when necessary.
Things will look grim for weeks, perhaps even months until one night on Raw when Mysterio grabs a microphone and begins telling Sin Cara about what it means to be a luchador, what it means to the people of not just Mexico but the entire world. They have lost their way and need to reexamine what it means to be a Mexican star, remember where they came from.
Of course, they have not lost their way at all. Mysterio is simply planting the seeds for what is to come next.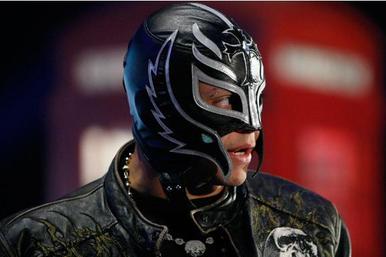 Photo Credit: WWE.com
On a fateful night in 2013, Sin Cara and Rey Mysterio get one last shot at the WWE Tag Team Championships with WrestleMania XXIX coming up soon. They are in perfect harmony as a tag team, performing the same kind of high-flying offense in tandem that has both won over and clung to so many fans.
Once again, however, they come up short. Rey Mysterio helps his partner to his feet, reassuring Sin Cara that there will be another day...
...and lays him out, ending not just their partnership but a 10-year love affair between Mysterio and the WWE Universe.
The following week, Sin Cara is nowhere to be found while Mysterio addresses the crowd and cuts loose. He has stood and signed autographs, taken pictures, visited needy children and gone overseas for as long as he has been a wrestler. Where has it gotten him? What good did all of that publicity do for him?
While Mysterio was being WWE's company guy, a new star was being born in his native country. Sin Cara, the John Cena of Mexico, was selling out arenas all across Mexico for years while Mysterio was beginning to age and suffer numerous injuries. The jealousy has boiled over and now that they have finally crossed paths, Mysterio wants to prove who the greatest luchador in the history of Mexico really is.
Naturally, there is only one place where this could happen.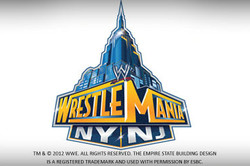 Photo Credit: Examiner.com
Discussion of this match has been happening for nearly two years. WWE wants to set a world record for the most people wearing lucha masks at once, and there would be no greater occasion for this (and possibly never another chance) than Sin Cara vs. Rey Mysterio.
There could even be some traditional lucha libre stipulations thrown into the mix, such as mask vs. mask or even mask vs. career if Mysterio is considering calling it quits after this. With the proper buildup, this will be a spectacle that such a huge audience in North America has never before had the chance to witness.
The only catch is for both Mysterio and Sin Cara to remain healthy until April. Both men had lengthy periods of time off since Sin Cara's debut for several reasons each. If they can keep it together, it will be just one of many reasons that WrestleMania XXIX could be an incredibly memorable one.
Thank you as always for reading, and please discuss below how you think the path to Rey Mysterio vs. Sin Cara could be traced!