USC Football: All You Need to Know About Kyle Negrete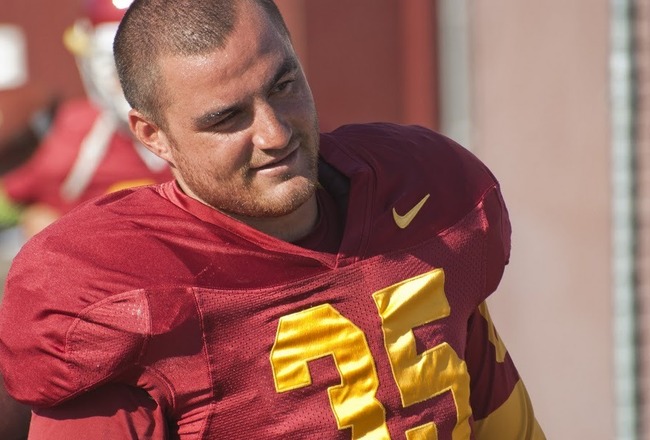 It has been 16 games since USC punter Kyle Negrete has had a touchback.
Zack Jerome of Lost Angeles & The Arrogant Nation movement calls Negrete's leg "the cyborg leg." He's not far off.
Negrete, a Fresno native and former walk-on, is an inspiration to the Trojan family. Not only did he just earn a scholarship in this, his senior season, but he maintains a 3.29 GPA, volunteers in the community and has a deep commitment to his religion.
He is an unusual young man who carries a maturity and strong sense of self that belies his years.
However, the road Negrete has walked to be a Trojan and share in the spirit of the Trojan family has not always been easy and did not always take the straightest path.
Game by Game with Negrete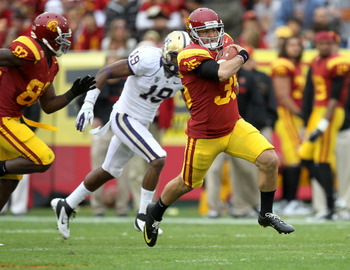 Stephen Dunn/Getty Images
(via USCTrojans.com)
2011
| | | | | |
| --- | --- | --- | --- | --- |
| | P | YDS | AVG | LG |
| Minnesota* | 4 | 149 | 37.2 | 46 |
| Utah* | 5 | 159 | 31.8 | 38 |
| Syracuse* | 2 | 83 | 41.5 | 44 |
| Arizona St.* | 2 | 95 | 47.5 | 57 |
| California* | 5 | 210 | 42.0 | 54 |
| Notre Dame* | 2 | 44 | 22.0 | 22 |
| Stanford* | 5 | 184 | 36.8 | 54 |
| Colorado* | 3 | 142 | 47.3 | 51 |
| Washington* | 5 | 212 | 42.4 | 53 |
| Oregon* | 4 | 164 | 41.0 | 46 |
| UCLA* | 2 | 120 | 60.0 | 62 |
| 2011 (Jr.)... | 39 | 1562 | 40.1 | 62 |
(via CFBstats.com)
2012
| | | | | |
| --- | --- | --- | --- | --- |
| | P | YDS | AVG | |
| Hawaii | 3 | 137 | 45.67 | |
| Syracuse | 3 | 150 | 50.0 | |
| Stanford | 6 | 255 | 42.50 | |
| California | 2 | 86 | 43.00 | |
| 2012 (Sr.)... | 14 | 628 | 44.86 | |
Negrete's Football Pedigree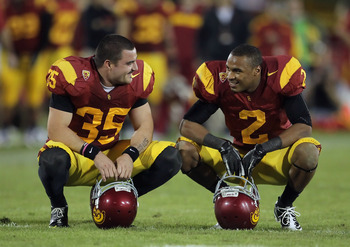 Jeff Gross/Getty Images
Kyle Negrete didn't just grow up wanting to be a football player—it is in his blood.
His father, Jeff, was a linebacker at Fresno State during the 1983 and 1984 seasons.
His grandfather, Jim Sweeney, was the head coach at Montana State (1963-67), Washington State (1968-75) and Fresno State (1967-77, 1980-96) and had 200 career wins.
Negrete's uncle, Kevin Sweeney, played at Fresno State from 1983-86 and went on to play in the NFL for the Dallas Cowboys in 1987 and 1988 and in the World League of American Football for the Montreal Machine in 1991.
Negrete's cousins are Cornell senior tight end Beau Sweeney and Washington's senior safety Nate Fellner.
Like his grandfather, father, uncle and cousins, Negrete is a big guy with a linebacker's build. At 6'0 and 225 he is not your typical punter.
However, he was not always a punter.
Mama's Boy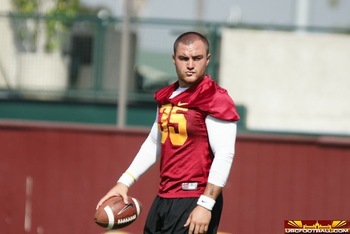 Negrete's mother Patty died of breast cancer when he was just 12 years old.
According to the OCRegister, on game days, Kyle wears a "Mom's the Bomb" T-shirt that he made for her in third grade.
He writes the date of his mother's death on his left arm.
You'd think seeing his mother fight cancer and lose her battle with it would be all this young man had to endure, but it's not.
Negrete's Fate Takes a Turn...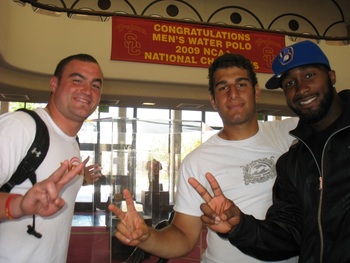 As a senior at Fresno's Clovis West High School, Negrete had intended to attend Stanford and walk on to Jim Harbaugh's team. However, in February 2008, Kyle fell asleep at the wheel of his Chevy Silverado.
He hit a light pole and the truck went into a spin. The driver's side wrapped itself around a tree with the force of the collision.
He had been on his way home from a friend's house where they had eaten dinner and watched a movie.
When rescue personnel got to the scene, they reported that the tree's trunk was flush with the back of the driver's headrest. Negrete escaped a near certain death or being paralyzed by the thickness of his truck's headrest alone.
His injuries were numerous. His collarbones were shattered, his sternum broken, one of his lungs collapsed and he needed 150 stitches in his face.
Negrete would make a full recovery, a testament to his strength, his faith and the support system surrounding him.
Due to the crash, Negrete didn't walk on at Stanford. Instead, he enrolled at the University of San Diego, where the Toreros play in the I-AA Division of college football.
In the 2009 season, Negrete debuted as a linebacker, despite having injured his back during training camp of his sophomore year. He played through the pain and became familiar with ice baths and electro-stimulation.
As it turned out, Kyle had two herniated disks in his back. It would be two years and one intense back surgery before he healed and landed at USC as a transfer.
But he knew his days as a linebacker were over. He became a punter. This latest test and challenge instilled in Negrete a desire to compete at the highest level he could.
At about the time USC got Negrete's tape, new coach Lane Kiffin had recently hired John Baxter after 13 seasons as the special teams coach for the Fresno State Bulldogs.
Baxter had recruited Negrete, the son and nephew of former players and grandson of their former coach, since he was a kid. Baxter had told Negrete he was more suited to the role of a punter at a Division 1/FBS school.
Negrete would have to walk-on at USC for his chance to punt for the Trojans. It didn't matter. This young man would do, will do, whatever it takes to achieve his goals.
USC was then slapped with NCAA sanctions, making the scholarship situation even tighter. Negrete's father paid USC's tuition while Kyle punted for the Trojans as one of the few starters not on scholarship.
Giving Back, Inspiring Faith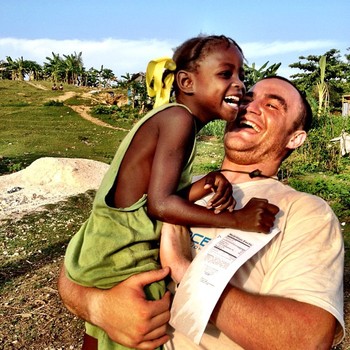 You'd think that with all Negrete has faced and overcome that simply being a scholarship athlete at a major FBS program would be enough. You'd think he'd take time to be a college student, drink some beer, join a fraternity, date some sorority girls or Song Girls.
I am sure Kyle has fun. He appears to have a joyous and irrepressible spirit.
Instead, he gives back, not just his community, but to parts of the world that need a touch of humanity and kindness. Places where residents need their faith restored due to circumstances of poverty, natural or man-made disasters.
While Negrete was at the University of San Diego, he created a mentoring program for student-athletes called Best Buddies, where student-athletes are paired with people with autism. In fact, to this day, Kyle still mentors Joel Anderson, an autistic artist of note.
In the spring of 2012, Negrete and 15 of his USC teammates spent five days in Haiti building homes and helping those still reeling from the devastating effects of the 2010 earthquake.
During Christmas break in 2010, he spent 11 days in Nigeria visiting orphans, widows, villagers and prisoners. He did construction work, distributed supplies and shared his faith with those he encountered.
Inscribed on Tommy Trojan are the attributes of an ideal Trojan: Faithful, Scholarly, Skillful, Courageous and Ambitious.
I'd say that Kyle Negrete is all five of those things plus one more: inspiring.
Keep Reading

USC Football: Like this team?