Projecting the Cubs 2013 Lineup with Keepers, Free Agents and Prospects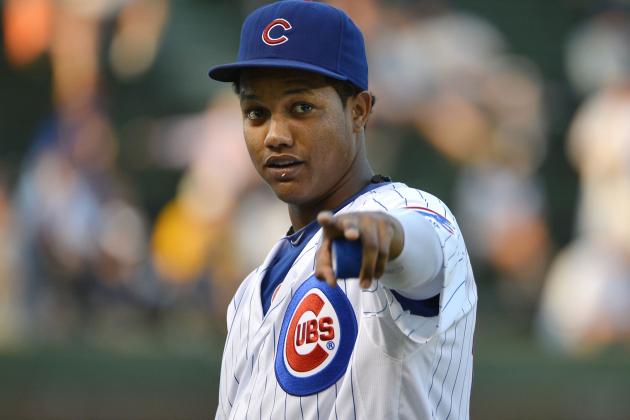 Brian Kersey/Getty Images
Starlin Castro will be the Cubs shortstop for the next seven years.
Theo Epstein's first season as team president of the Chicago Cubs began what looks to be a long-term rebuilding project on the north side of the city.
Veteran pitchers Ryan Dempster and Paul Maholm were traded for prospects, as was catcher Geovany Soto, as Epstein and general manager Jed Hoyer attempt to bolster the talent level and depth of pitching in their minor league organization.
The Cubs have young talent to build around in Starlin Castro, Anthony Rizzo and Brett Jackson. On the pitching side, Jeff Samardzija, Matt Garza and Travis Wood give the team some strong young arms as well.
Epstein isn't looking for a quick fix, so Cubs fans will probably have to suffer through some more growing pains over the next two to three seasons. Will the Cubs lose 100 games again next season? Not if the right free agents are brought in to supplement what's already on hand. The right pitchers, in particular, could make a huge difference next season.
The Houston Astros will no longer be in the NL Central to keep the Cubs from the bottom, however. The other four teams in the division look like playoff contenders too, so the next few years could be rough. But the Cubs could be intriguing to watch as they build for the future.
What will the Cubs starting lineup look like next season? The roster might not look as different as some fans would like. But the team could add some free agents to the pitching staff that should make them more competitive. Here's the opening day lineup we project for the Cubs in 2013.
Begin Slideshow

»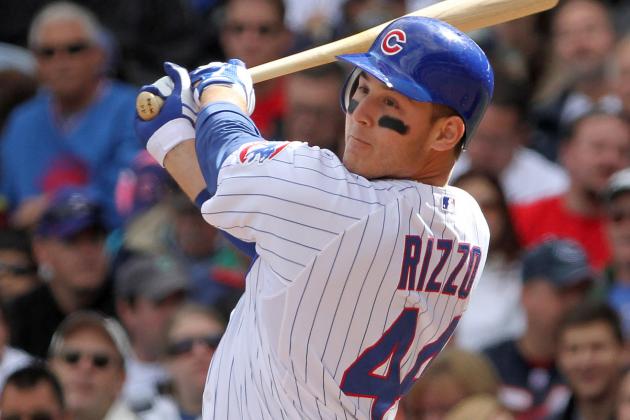 Tasos Katopodis/Getty Images

This might be the lock of the 2013 Cubs lineup.
Is there a chance of anyone else other than Anthony Rizzo playing first base (on a regular basis, that is) for this team next season?
Since getting called up in late June, Rizzo has been everything that the Cubs and their fans expected. He looks like a future cornerstone player, one who can put 30 home runs and 100 RBI on the board.
In 86 games as of Oct. 2, Rizzo is batting .288/.346/.468 with 15 home runs and 48 RBI in 360 plate appearances. Though some feel he should earn consideration as NL Rookie of the Year, I personally think he's appeared in too few games compared to the league's other top first-year players. That doesn't mean he hasn't had an impressive rookie season, however.
As could probably be expected, the left-handed Rizzo needs to improve against left-handed pitching. This year, he's batted .212/.248/.364 versus southpaws with four home runs and 17 RBI. Obviously, a 22-year-old player has vast room for improvement, but his performance against lefties is probably a good place to start.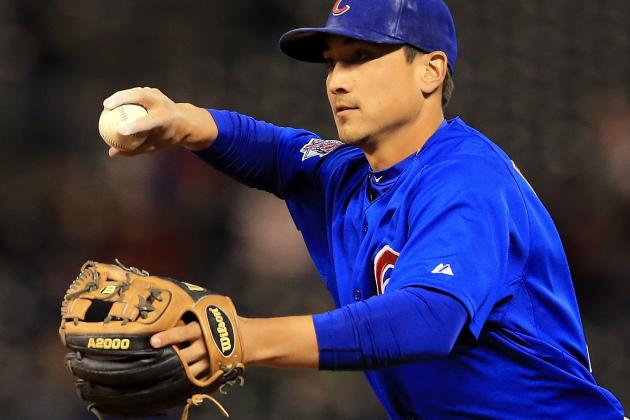 Doug Pensinger/Getty Images

One of the intriguing curiosities of this season is how highly Baseball-Reference.com's version of WAR (wins above replacement) regarded Darwin Barney.
A second baseman hitting .256 with a .658 OPS (On-base plus slugging) is among the top 20 National League players in WAR? Yes, 16th in the league, to be exact. See for yourself. At one point during the season, Barney was in the top 10.
Barney's stellar defense at second base was a huge factor in his ranking. FanGraphs' Ultimate Zone Rating rates him as the best at that position in MLB, saving nearly 12 runs more than an average second baseman and notching 27 defensive runs saved for the season.
Though Barney could be trade bait during the offseason, the Cubs had plenty of opportunity to deal him to any team looking for middle infield help (the Detroit Tigers among them). Epstein didn't trade him before the July 31 deadline, so why do it this winter?
He's under club control through 2016, which would make him appealing to other teams. But that also makes him exactly the sort of player the Cubs should hang onto.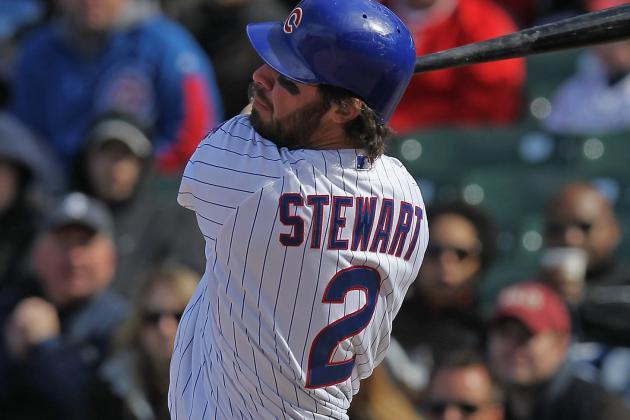 Jonathan Daniel/Getty Images

This might be an unpopular choice. But the same reasons that the Cubs traded for Ian Stewart to be their third baseman in 2012 also apply in 2013.
Josh Vitters has shown that his glove at third base isn't major-league ready. Javier Baez might be the top prospect in the Cubs minor league system now, but he's likely two to three years away from getting called up to the majors.
Stewart wasn't terribly impressive in the 55 games he played before breaking his wrist. In 203 plate appearances, he hit .201/.292/.335 with five home runs and 17 RBI. But he did play good defense at third base, according to FanGraphs' UZR, which gives him an advantage over Vitters in competing for the position next year.
With one more arbitration season remaining, the Cubs can bring Stewart back next year at a relatively low price and use him as a stopgap player until Vitters develops, Baez makes a big jump from the minors or the team decides they have to make a free-agent upgrade. (That third option would probably be a mistake, however.)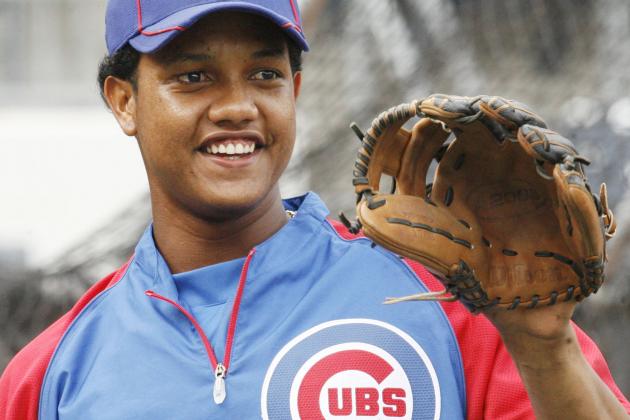 Charles LeClaire-US PRESSWIRE

OK, maybe we were wrong about Anthony Rizzo being the lock of the Cubs' 2013 season. Starlin Castro probably earns that label.
After signing a seven-year, $60 million contract extension in August, the Cubs made a major commitment to Castro as their shortstop of the present and future. Any thought that the team might consider trading him should be shelved.
Castro has had a solid season offensively, batting .284 with a .752 OPS, 14 home runs, 78 RBI and 25 stolen bases.
Defensively, he's been average at shortstop, which Cubs manager Dale Sveum attributes to some bad habits he needs to get rid of. As ESPN Chicago's Doug Padilla wrote, Sveum feels Castro plays too far back, near the cut of the grass too frequently, believing his strong arm will make up for not charging the ball.
Sveum will also try to get Castro to increase his concentration, as he's still prone to embarrassing and costly mental lapses in the field.
The Cubs obviously feel those problems can be fixed, however. Unless they're willing to spend seven years ironing the wrinkles in Castro's game out.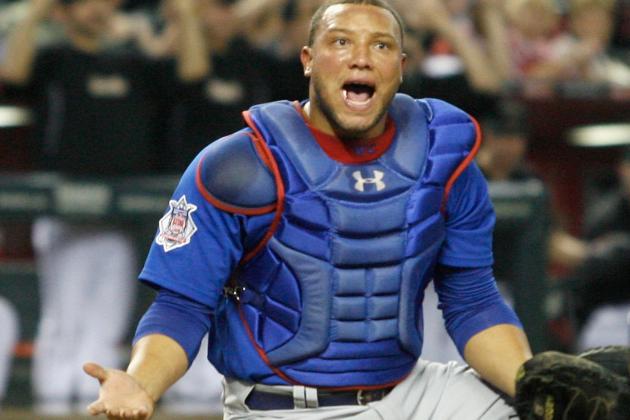 Ralph Freso/Getty Images

Wellington Castillo officially became the Cubs catcher of the present and future when Geovany Soto was traded to the Texas Rangers before the July 31 trade deadline.
Castillo has shown his bat is major-league ready, batting .271/.344/.428 with five home runs and 22 RBI in 186 plate appearances.
However, the third-year catcher still has serious work to do with his defense.
Castillo does a solid job of blocking balls behind the plate, allowing four passed balls and 14 wild pitches. But he needs to improve significantly in controlling the opposition's running game. Allowing 32 stolen bases in 41 attempts is far too many. That's throwing out only 22 percent of opposing base stealers. Runners can put themselves into scoring position after reaching first base.
The Cubs should sign a veteran backup for next season as insurance against Castillo not improving his defense. Signing someone like Gerald Laird as a free agent or trading for the Rockies' Ramon Hernandez could fill that role nicely.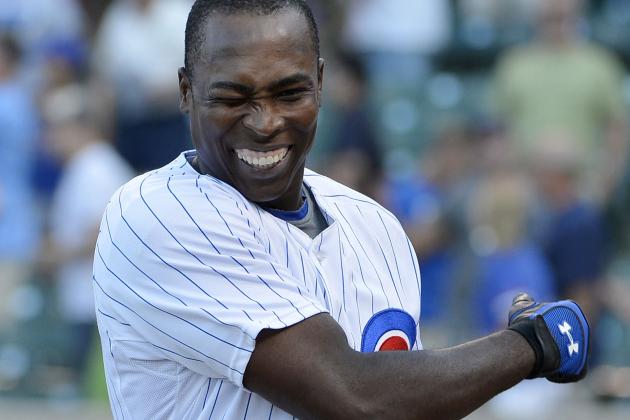 Brian Kersey/Getty Images

Alfonso Soriano had a resurgent 2012 season for the Cubs, slugging 32 home runs with 108 RBI. Those are his best numbers in Wrigleyville since joining the Cubs in 2007.
That would seem to boost Soriano's trade value, making him extremely appealing to a team looking for a power-hitting left fielder. The remaining $36 million on the final two years of his contract would be tough to digest, but 30-homer power isn't easy to come by.
In fact, that's one reason Cubs manager Dale Sveum wouldn't mind keeping Soriano around.
"That's been our one cornerstone as far as run production," Sveum told MLB.com's Carrie Muskat. "It's hard to replace that. [Anthony] Rizzo should be fine in a full season and then you find somebody else who can hit home runs to hit fifth. That's where you start at."
Replacing Soriano's production would be nearly impossible. At this point, it might be preferable to keep him as protection in the lineup for Rizzo, who's still establishing himself as a major-league hitter.
However, if the right offer comes along and Epstein can deal Soriano for some pitching prospects to add depth to the minor-league system, he will very likely make that move.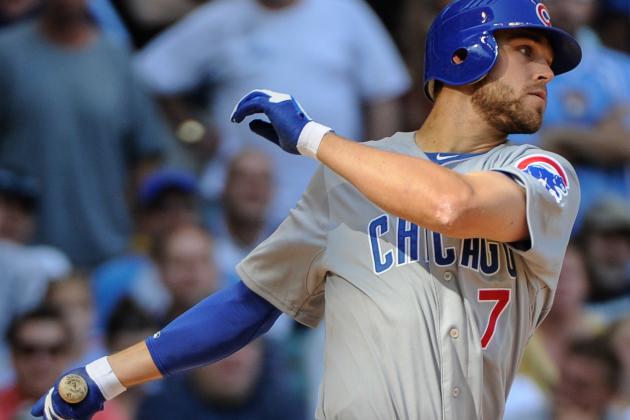 Benny Sieu-US PRESSWIRE

Brett Jackson was regarded as the Cubs' top prospect going into the season. But ever since getting called up from Triple-A Iowa in early August, he's had a rough introduction to the major leagues.
As of Oct. 2, Jackson is batting .174/.296/.348 with four home runs and nine RBI in 135 plate appearances. Perhaps that should have been expected after he hit only .256 in Iowa, though he did compile an .817 OPS.
Jackson has already been thinking ahead to the work he'll put in during the offseason to improve. According to the Chicago Tribune's Paul Sullivan, Jackson plans to do more drill work in an attempt to increase his strength and improve the coordination of the top (left) hand in his swing. As a natural right-hander, he still needs to learn to use his left hand more.
Tony Campana will surely be back as Jackson's backup—or perhaps the starter, if Jackson's hitting struggles continue. Campana gives the lineup plenty of speed with 29 stolen bases this season, though a .601 OPS will probably prevent him from being a full-time player.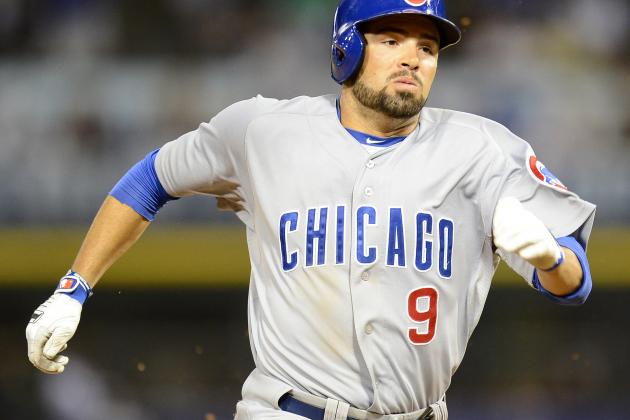 Mike DiNovo-US PRESSWIRE

David DeJesus is signed for $4.25 million next season with a $6.5 million club option for 2014. (The Cubs buying out that option for $1.5 million seems likely.)
Bryan LaHair would probably be the more popular choice in right field, but his second-half collapse has buried him on the Cubs' depth chart. Since the All-Star break, LaHair has batted .192/.263/.269 with only one home run and eight RBI.
But really, LaHair had one good month in April and rode that to an All-Star invitation. He batted .390/.471/.780 with five homers and 14 RBI, looking like a breakout star. Instead, he turned out to be the proverbial flash in the pan and probably doesn't have much of a future with the Cubs.
DeJesus has been reliable enough this season, batting .264/.351/.406 with nine home runs and 50 RBI. Those aren't spectacular numbers certainly, but they're not terrible either.
The Cubs could try to upgrade right field through free agency, but the speculation is that the front office will devote most of its resources to bolstering the starting rotation.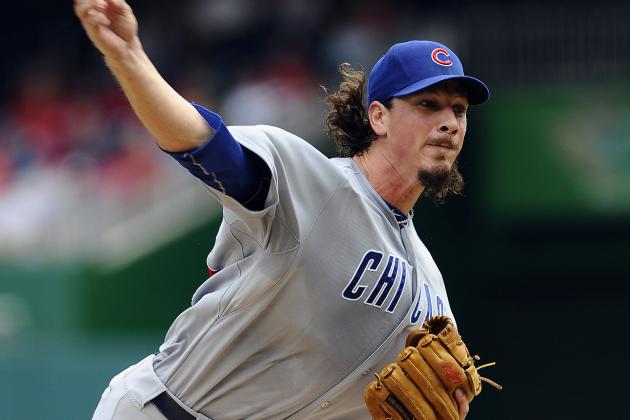 Brad Mills-US PRESSWIRE

Jeff Samardzija
I've written previously that I think Samardzija has become the ace of the Cubs starting rotation and will be their No. 1 starter next season.
While his 9-13 record may not look impressive, Samardzija's 3.81 ERA indicates he pitched much better than that in converting from a reliever to a starter.
He led Cubs starting pitchers with 174.2 innings, striking out 180 batters while walking 56. His strikeout rate of 9.3 per nine innings is the second-best among NL starting pitchers. What will he be capable of in his second full season, during which he'll likely pitch 200 innings?
Matt Garza
Garza would probably take issue with the assertion that Samardzija is the Cubs' No. 1 starter now. But he lost that designation after being shut down in August with a stress reaction in his right elbow.
How long will Garza be with the Cubs next season? It seems unlikely that he would be traded during the offseason with teams unsure about the health of his elbow. Epstein may have to wait until midseason for Garza to build his trade value back up again.
Yet with one arbitration season remaining, the Cubs might prefer to hang on to Garza for 2013. He will probably earn something close to the $9.5 million he was paid this season, which is probably what they would have to pay for a similarly talented free agent.
Francisco Liriano
Hoyer told reporters recently that the Cubs will have financial flexibility and intends to be aggressive in pursuing free-agent starting pitching.
It seems more likely, however, that the team will pursue lower-cost starting pitching, perhaps so they can sign more than one arm for their rotation.
Liriano went 6-12 with a 5.34 ERA this season, which doesn't look terribly impressive. But he still struck out 167 batters in 156.2 innings. His strikeout rate of 9.6 per nine innings is his best since 2006.
The Cubs' rotation could use a hard-throwing left-hander who has strikeout stuff. Liriano would be one of the best available on the open market.
Travis Wood
Trading Sean Marshall to acquire Wood was a controversial deal for the Cubs. But Wood showed he can be a middle-of-the-rotation starter next season, capable of providing 32 to 33 starts and possibly 200 innings as well.
Wood is finishing the season strong, putting together a 2-2 record and 3.34 ERA with 31 strikeouts in 35 innings. (His most recent start, during which he gave up five runs in five innings vs. the Arizona Diamondbacks, wasn't a great one, however.)
That has to be an encouraging sign for the Cubs who have one less spot in their rotation to worry about with Wood's performance. Where he slots in the rotation depends on what sort of free-agent help the team brings in.
Joe Blanton
Cubs fans surely hope the team pursues the likes of Edwin Jackson, Brandon McCarthy or Ervin Santana on the free-agent market. There will be plenty of appealing arms that should be a good fit for what the Cubs need.
But even if the Cubs sign a second-tier pitcher for the middle—or top—of their rotation, a third-tier arm may also need to be brought in to fill the back end of the starting staff. Perhaps Chris Volstad could be that guy for the Cubs. However, the quintessential fifth starter will be available in Joe Blanton.
Blanton can give a team 200 innings and perhaps win 10 to 12 games. He can also provide a decent strikeout threat for the fifth spot in a rotation, with a rate of nearly eight strikeouts per game.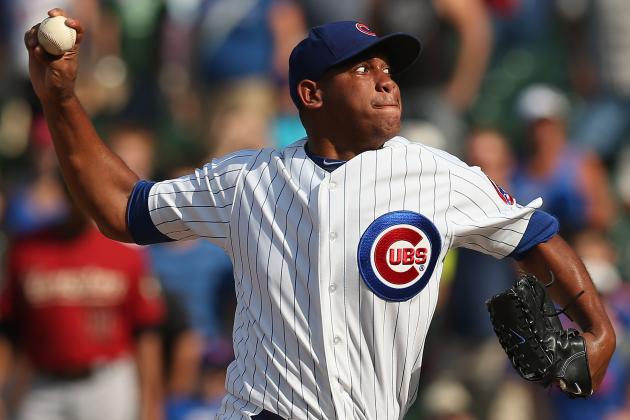 Jonathan Daniel/Getty Images

Carlos Marmol
Epstein would surely love to trade Marmol to any team looking for bullpen help. But he still walks far too many hitters to be considered a reliable closer or setup man.
Marmol can blow away hitters, averaging nearly 12 strikeouts per nine innings, and that firepower is what makes him so appealing. Yet he can't always control where the ball is going. Marmol's rate of 7.6 walks per game is just far too high.
Something else that might be considered too high by other teams is Marmol's $9.8 million salary for next season. That will make it very difficult to trade him. So the Cubs are probably stuck with Marmol as their closer. If he can locate his fastball, that wouldn't be a bad thing.
Shawn Camp
How highly does the Cubs manager think of Camp?
''Besides Alfonso Soriano, Shawn Camp probably has been our MVP,'' Sveum said to the Chicago Sun-Times' Gordon Wittenmyer.
''If we don't fill that void [at the back end of the bullpen] with him, it would have been even tougher times.''
Camp led Cubs relievers with a 3.33 ERA. Perhaps more importantly, he contributed 75.2 innings, easily the highest total out of the bullpen this season.
The Cubs surely didn't imagine they'd get that kind of production from a 36-year-old reliever who became available after the Mariners cut him in spring training. There's no reason to think he won't be the team's setup man next year.
James Russell
Every bullpen needs its designated left-hander. Russell fills that role for the Cubs and he did it well this season.
In 76 appearances (second-most among Cubs relievers), Russell compiled a 3.34 ERA with 55 strikeouts in 67.1 innings.
Sveum didn't use Russell exclusively as a left-handed specialist, however. He's pitched nearly 80 more plate appearances against right-handers, for one thing. But lefties also hit better against Russell than righties do. Left-handers hit .270 vs. Russell while right-handers batted .253.
Russell pitched well enough that he will be part of the middle relief crew for the Cubs next year. But the team might want to bring in more of a lefty specialist to give Sveum more options in later innings.
Follow @iancass on Twitter