Boston Red Sox: 3 Heralded Prospects Who Will Live Up to the Hype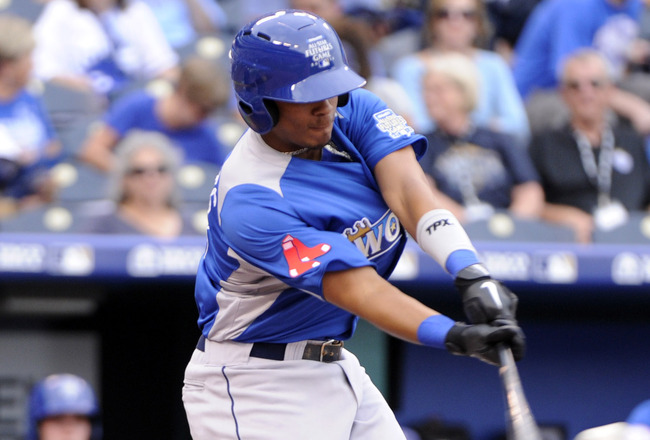 Xander Bogaerts
H. Darr Beiser-USA TODAY
Despite the well-documented, season-long struggle of the Boston Red Sox that set the stage for their blockbuster deal with the Los Angeles Dodgers, it was actually a highly successful year for the team's farm system.
Considered to possess an underwhelming crop of prospects headed into the 2012 season, breakout performances by Matt Barnes, Jackie Bradley, Garin Cecchini and Brandon Workman quickly altered the aforementioned outlook, and the continued success of 19-year-old Xander Bogaerts netted the team a legitimate top-25 prospect.
However, as is the case with most large-market clubs, a substantial gap exists between what prospects have accomplished in the minors and whether they are able to ultimately live up to such hype in the major leagues.
Of all the talented prospects within Boston's system, here are the three players whom I believe are most likely to reach their potential.
Garin Cecchini, 3B
Courtesy of soxprospects.com
Up until this past season, Cecchini always demonstrated flashes of his potential despite a series of injuries: He tore his ACL in the spring before he was drafted and broke his wrist (via hit by pitch) in the middle of his impressive professional debut in 2011.
Now 21 years old, the left-handed hitter is fresh off a breakout campaign, as he is batting .305/.394/.433 with 46 extra-base hits (38 doubles), 51 stolen bases and 90/51 K/BB in 118 games.
His lack of power was somewhat of a surprise, as was his base-stealing prowess, although more of his doubles should begin to clear fences as he matures and adds a slight loft to his swing.
It's hard to say where Cecchini fits into the team's long-term plan as a third baseman, considering Will Middlebrooks' performance this season and the looming arrival of Xander Bogaerts.
However, I believe Cecchini's speed and left-handed hit tool could make him an attractive second baseman, if the Red Sox chose to explore that angle.
Jackie Bradley, OF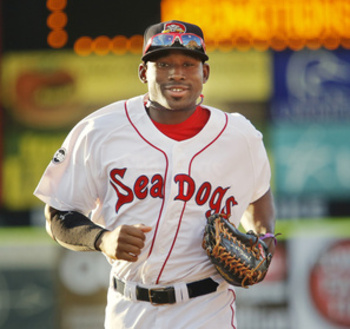 Courtesy of MiLB.com
After an unimpressive junior campaign at South Carolina that featured a season-ending wrist surgery, Bradley slipped to the Red Sox in the supplemental-first round of the 2011 draft. As a true center fielder, there's a lot to like about the 22-year-old: He's a plus defender with above-average range, he possesses an above-average hit tool with plus plate discipline and he has enough speed to conceivably steal 20 to 30 bases annually.
After batting .315/.430/.482 with 146 hits, 55 extra-base hits, 24 stolen bases and 89/87 K/BB in 128 games between High-A and Double-A, the left-handed hitter has the potential to reach the major leagues at some point next season.
Xander Bogaerts, SS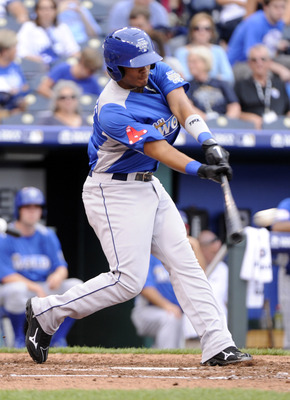 H. Darr Beiser-USA TODAY
After batting .260/.324/.509 with 16 home runs and a 71/25 K/BB rate in 2011 for Low-A Greenville, there were legitimate concerns about Xander Bogaerts' plate discipline headed into the 2012 season—more specifically, how it would be impacted following a promotion to High-A.
While his 85/43 K/BB left something to be desired, the 19-year-old's .302/.378/.505 slash line and 15 home runs in 104 games for High-A Salem was much better than expected. In fact, it was so impressive that it earned him a late-season promotion to Double-A Portland, where he ultimately batted .326/.351/.595 with 15 extra-base hits and 21/1 K/BB in 23 games.
There are still legitimate concerns surrounding his plate discipline, as he posted a 106/44 strikeout-to-walk rate in 127 games between two levels. However, what I find most concerning is that Bogaerts posted unusually poor line-drive rates at both stops despite his excellent overall production.
At High-A, the right-handed hitter registered an 8.4-percent line-drive rate, which was well below the 13.6-percent league average. Then, at Double-A, the rate increased to 14.7 percent, which was still below the 18.2-percent league average.
The good news is that he's clearly found a way to be successful despite the inefficiency. And entering just his age-20 season, there's still plenty of time for the youngster to improve. He seems poised to reach the major leagues well ahead of schedule, and will likely open the 2013 season back at Double-A with a chance at a September call-up.
Keep Reading