Atlanta Braves: 5 Ways the Braves Are Better Than Each NL Playoff Team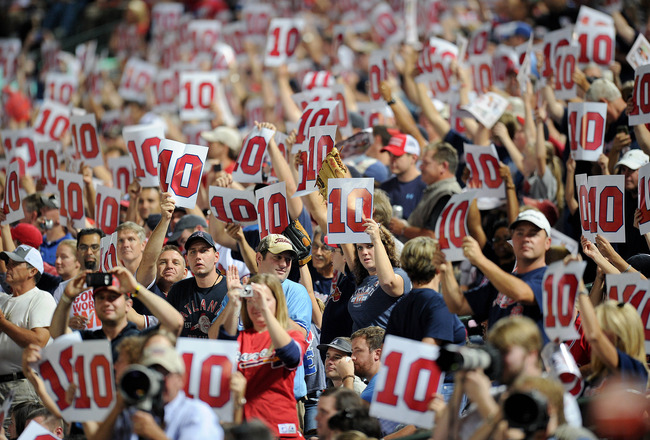 Kevin Liles-US PRESSWIRE
The 2012 Major League Baseball playoffs are upon us. This being the first year of the newly introduced dual wild-card system, the Atlanta Braves will most likely square off against the St. Louis Cardinals in a one-game playoff to see who moves on to the postseason.
The Atlanta Braves have one of the best all-around teams entering the playoffs for the National League, and they must use every advantage they have—speed, power and quality starting pitching—to continue playing into October.
Here are the top 5 advantages the Atlanta Braves have over the other teams in the National League playoff picture.
Depth of Starting 8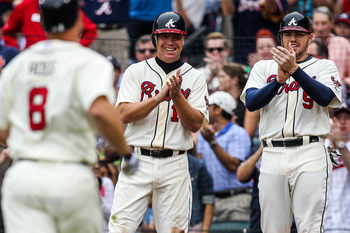 Daniel Shirey/Getty Images
The Atlanta Braves have the most intimidating lineup in the National League. Seven out of the eight starters have nine home runs or more, six have over 60 RBI and seven have an OBP over .334.
The Braves get on base, they drive in runs and they hit home runs. Also, Michael Bourn has stolen more bases than any other player on any of the NL playoff teams.
Here is what the Braves playoff lineup should look like barring any injuries.
1. Bourn CF
2. Prado LF
3. Heyward RF
4. Jones 3B
5. Freeman 1B
6. Uggla 2B
7.McCann C
8. Simmons SS
Emergence of Kris Medlen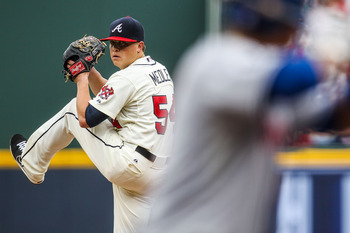 Daniel Shirey/Getty Images
The Atlanta Braves have not lost a game in Kris Medlen's last 23 starts. Any coach in baseball would be out of their mind if they did not want to ride the coat tails of a statistic like that.
Playoff baseball is about winning. No matter how ugly, or how magnificent, a win is a win. And if Medlen wins, he has to pitch.
So far in 2012, Medlen is 10-1 (the one loss coming in a blown save) with a 1.57 ERA, 120 K's and only 23 walks. He also has two complete games in just 12 starts.
There is nothing better for a team entering the playoffs than a starter who has been dominating the opposition and pitching into the late innings of games.
Look for Medlen to make the start in the wild-card game and turn the Braves' winning streak in his starts from 23 to 24.
This will likely result in a playoff date with the Washington Nationals.
Closer: Craig Kimbrel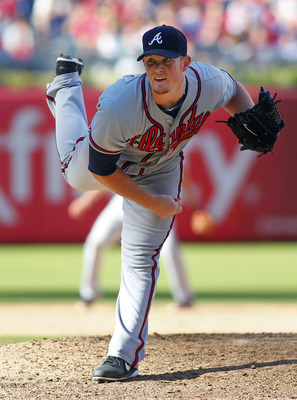 Rich Schultz/Getty Images
The Atlanta Braves have the best closer in baseball. No questions asked. Craig Kimbrel is a one of a kind talent.
Kimbrel will be in consideration for the NL Cy Young award in 2012. His ability to dominate hitters will give the Atlanta Braves a huge advantage if they have leads going into the eighth and ninth innings of a playoff game. Also, look for Kimbrel to make more than the traditional three-out saves in the playoffs if they need him.
Kimbrel has been virtually unhittable in 2012. In 61.2 innings, he has 113 strikeouts and only 14 walks. Absolute domination. Oh yeah, he also has an NL leading 42 saves and an ERA of 1.02.
Kimbrel is the best NL closer by far; hopefully Atlanta can takes leads late into games and let Kimbrel put his skills on display.
Kimbrel may be the biggest advantage of any team in the entire 2012 MLB playoffs.
Leadoff Hitter: Michael Bourn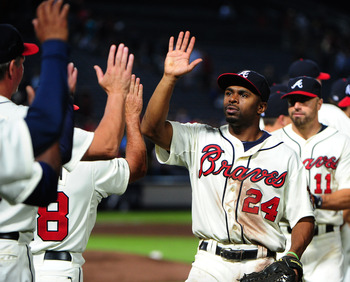 Scott Cunningham/Getty Images
The Atlanta Braves have the best leadoff hitter in the NL playoffs. Except for his amount of strikeouts, Michael Bourn is the epitome of a perfect National League leadoff hitter. He hits for a solid average (.276), steals a league-leading amount of bases (40), scores a lot runs (94) and is ranked in the top 10 in walks (68). He is also ranked in the top six in WAR at 6.1.
Every single run counts in the playoffs; a leadoff hitter who can get on base, steal a bag, and generate runs is extremely valuable to any playoff team.
Bourn will be the key to a deep playoff run for the Atlanta Braves in 2012.
Veteran Leadership: Chipper Jones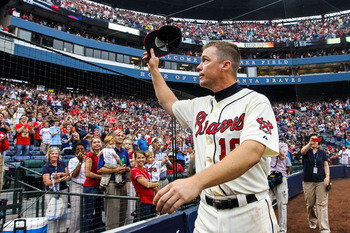 Daniel Shirey/Getty Images
Every playoff team needs a veteran to help steer the ship when the winds get rough. The most successful, experienced, veteran of any National League playoff team is without a doubt the Atlanta Braves' Chipper Jones.
A sure first ballot inductee to the Baseball Hall of Fame, Jones has proved again he can still produce at the age of 40. In only 383 at-bats in 2012, Jones has a .287 average, 14 home runs, 23 doubles, 62 RBI and an OPS of .834.
Playoff baseball is stressful. With Jones' experience, he can keep the big picture in the minds of his players: A World Series championship. Jones has seen everything baseball has to offer, now it's time to put those skills to use and help the Braves to another World Series.
Chipper is set to retire at the end of this season. The Braves need Jones to step up and motivate his players for one last big run in his honor. Veteran leadership may be one of the most underrated advantages that the Braves have over their competition in this year's playoffs.
Keep Reading

Atlanta Braves: Like this team?