USC Trojans Football: 5 Keys to the Game vs. Utah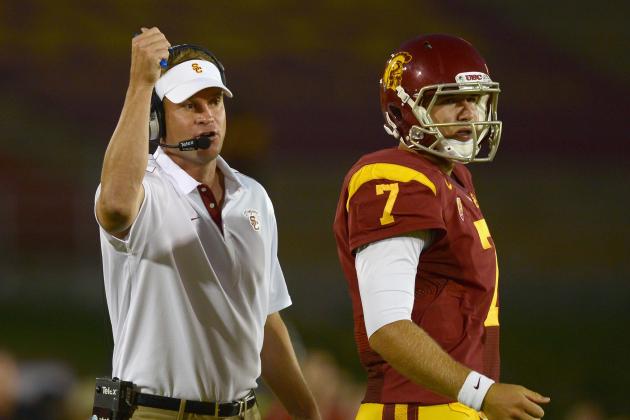 Harry How/Getty Images

If asked, many Trojan football fans would probably say that USC's most important game will be against Oregon or perhaps Notre Dame...maybe even UCLA.
Nonsense.
The truth of the matter is that the most important game of 2012 for the men of Troy will take place this Thursday on the road against the Utes in Salt Lake City, Utah.
That is because the Trojans have, quite frankly, been disappointing so far in 2012.
With a 3-1 record that has been highlighted by a boat full of inconsistency, USC entered this bye week searching for their first complete game of the year.
For Lane Kiffin and his coaching staff, that game needs to at least approximate realization against Utah.
Having the benefit of extra time to work out the season long kinks, USC needs to approach the potential so many thought they had when Matt Barkley decided to complete that "unfinished business."
But how will they do it?
They can begin by satisfying five important keys against the Utes and this slide show will highlight those areas that can ensure a Trojan win in as important a game they will play all year.
Begin Slideshow

»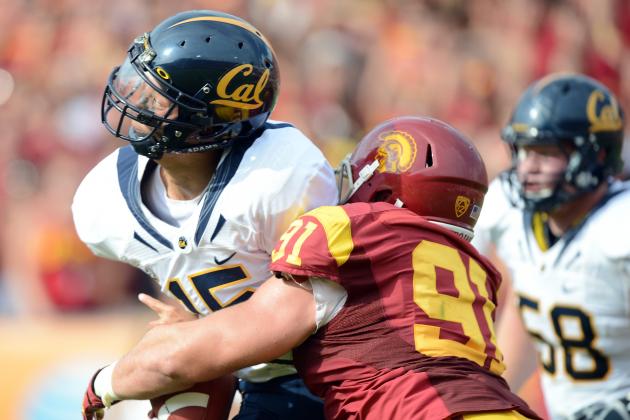 Harry How/Getty Images
Morgan Breslin
Surprisingly, the Trojans most consistent unit so far in 2012 has been the defensive line.
Led by defensive tackle George Uko and stud end Morgan Breslin, the Trojans' D-line has been a pleasant surprise so far this year.
Against Utah and their 1,500-plus yard (2011) tailback John White IV, the Trojans must bottle up the Ute's running game because, frankly, Utah's passing portion of their offense is not going to instill fear in anyone.
White is a talented running back, but he has been struggling with injuries all season. However, his backup, former Trojan recruit Kelvin York, also has the ability to make USC pay if their containment falls short.
Through four games, USC ranks 32nd in the nation in rushing defense, and they have only allowed three touchdowns to their opponents on the ground.
For the Trojans to dominate defensively in this game, they must stuff the run, because if they can turn Utah into a passing team, USC will thrive.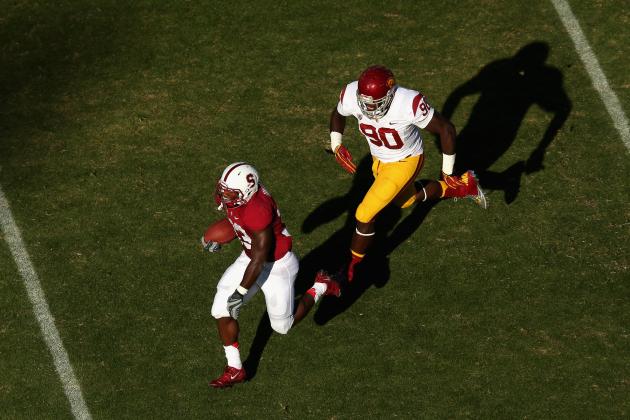 Ezra Shaw/Getty Images
George Uko
As stated before, the Trojans defensive line has been a revelation so far in 2012.
If the Trojans can successfully bottle up Utah's running game as suggested in the prior slide, Breslin, Uko and company ought to pile up a bunch of sacks when the Utes attempt to turn to their woeful passing game.
How bad is Utah's passing portion of their offense?
As of writing this, they are ranked 102nd in the nation out of 120 listed teams.
Meanwhile, USC is tied for 12th in the nation in tackles for loss and sixth in sacks.
If the Trojans can force the Utes into obvious passing situations, they can have Utah quarterback John Hayes running for his life Thursday.
And that will bring a wide smile to the face of defensive coordinator Monte Kiffin to be sure.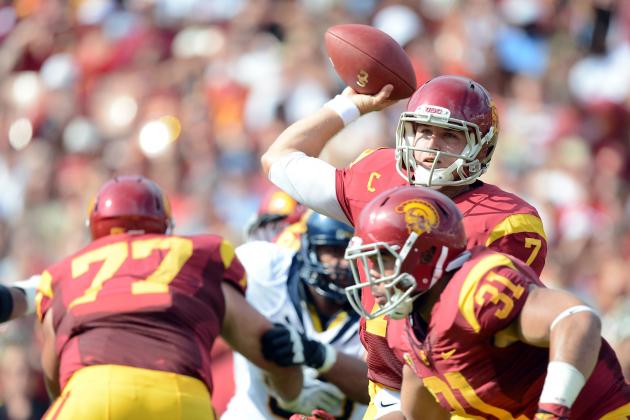 Harry How/Getty Images

Although the 2012 version of Matt Barkley still has a long way to go to catch up to last year's model, there are good reasons for this.
A very suspect offensive line (more on that later) coupled with some questionable game planning (more on that later too) has put Barkley in an uncomfortable position far too many times this year.
Having said that though, there is something decidedly missing from this year's preseason Heisman Trophy favorite.
Whether it is dropped passes by his star receivers, which there have been a few of, or opposing defenses keying on a Trojan offense that has been missing a consistent running game, Barkley just hasn't been the quarterback that he was expected to be this year.
Against Utah, Barkley doesn't have to have a Heisman-worthy game but does need to embark on the road that finds him turning in game-changing performances.
Those beginning steps need to be taken this Thursday.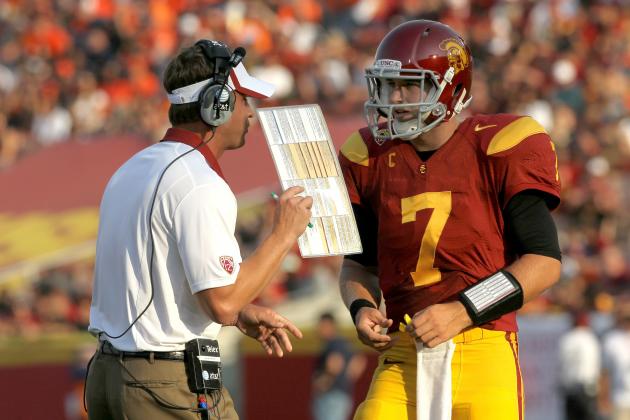 Stephen Dunn/Getty Images

This year's Trojan offense has far too many weapons to continue on their pedestrian path they have been on so far.
While some of the lack of production falls squarely on the shoulders of the players, Kiffin must accept responsibility also.
In possession of one of college football's finest offensive minds, Kiffin has been slow to react to both the inconsistency of his offense and the myriad of defensive schemes thrown at him by opposing defensive coordinators.
Also troubling for fans of the program, Kiffin has far too often been willing to point fingers at his players without looking in the mirror at the person who is ultimately responsible for putting them in winning situations.
Like so many other facets of the deficient Trojan offense, Kiffin is much too brilliant to let this continue.
Against Utah, he needs to find a game plan that brings USC from potential to production.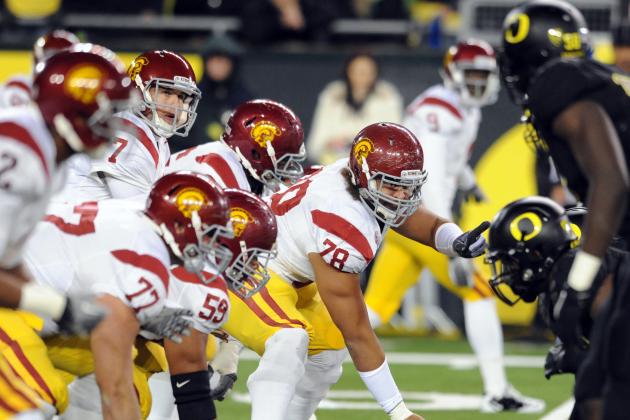 Steve Dykes/Getty Images

Speaking of finger pointing, a very large index finger must be aimed at the Trojans' offensive line.
Considered a strength going into 2012, coach James Cregg's unit has alternated between average and horrible, depending on the opponent.
Part of the problem has been an injury to center Khaled Holmes, who is the heart and soul of this group, but a disturbing fact that accompanies Holmes' ailment is that the rest of the O-line simply hasn't been very good.
With Holmes likely returning for the Utah game, this group needs to return to the form of 2011 which saw them opening gaping holes for the running game and leading the nation in keeping their quarterback, Matt Barkley, upright.
This is the unit that has the most to prove against the Utes.
Step 1 in accomplishing that must begin Thursday.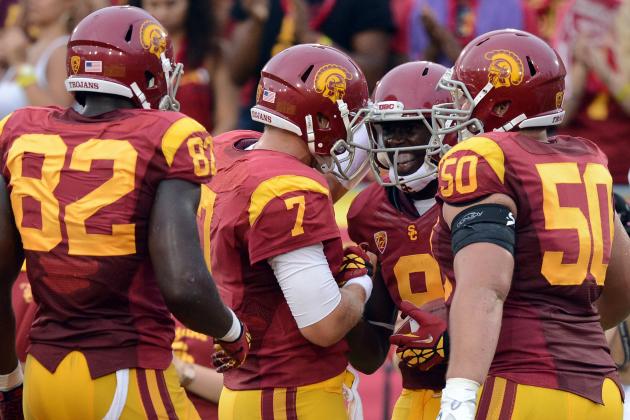 Harry How/Getty Images

A valid argument states that all games are equally important and that in the grand scheme of things, when you are in USC's position, every game must be won.
To some extent, that is true.
However, given the circumstances, this game at Utah is extremely important because it will set the tone for all to follow.
Last year, the Trojans came out of a mid-season bye week and began a run which saw them finish the 2011 campaign as one of the hottest teams in the nation.
Thursday, USC will attempt to recreate that post-bye week magic against the Utes and find their bearings in a season where their performance has been uneven at best.
To achieve this, they will have to do many things right, not the least of which is the five keys outlined in this slide show.
Handle them, and the chances for future glory becomes more attainable.
Fail to do so, and what has already been a difficult season becomes a potential nightmare.