Boxing: 2012 Set to Go out with a Bang with This 12-Pack of Great Fights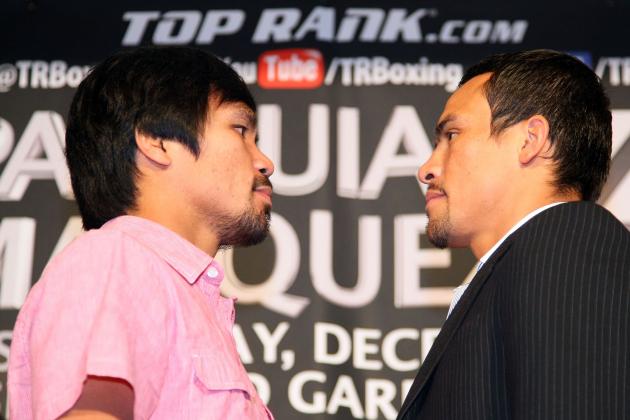 Victor Decolongon/Getty Images
Manny Pacquiao and Juan Manuel Marquez will cap off 2012, but there are lots of great fights before we get there.
The fall is here, and while most eyes use this time of year to turn their attention to football, there are still many great fights on the horizon as boxing closes out 2012.
This has been an interesting year for the fight fan, featuring everything from the controversial (Bradley's win over Pacquiao and Rios' win over Abril) to the outright impressive (Martinez's dominance of Chavez Jr.).
But the year is not yet done, and this 12-pack of fights is sure to send 2012 out with a bang!
Begin Slideshow

»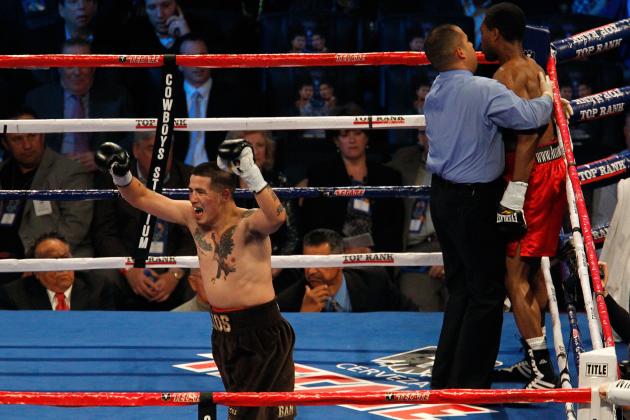 Tom Pennington/Getty Images
"Bam Bam" Rios and Mike Alvarado are sure to put on a war.
Brandon "Bam Bam" Rios and Mike Alvarado will meet this coming Saturday night on HBO in what promises to be an all-action war. This fight, simply put, has Fight of the Year candidate written all over it.
Rios (30-0-1 22 KO) and Alvarado (33-0 23 KO) are both power punchers who love to mix it up. That's a recipe for something special, as neither man will back down an inch.
Both are undefeated, though many would argue that Rios deserve to lose his April fight with Richard Abril, and in the prime of their careers. A win would skyrocket either man into the ranks of boxing's elite and huge fights in the future given that the junior welterweight and welterweight divisions are simply loaded with talent.
If you catch one more fight this year, make it this one. Somebody is getting knocked out.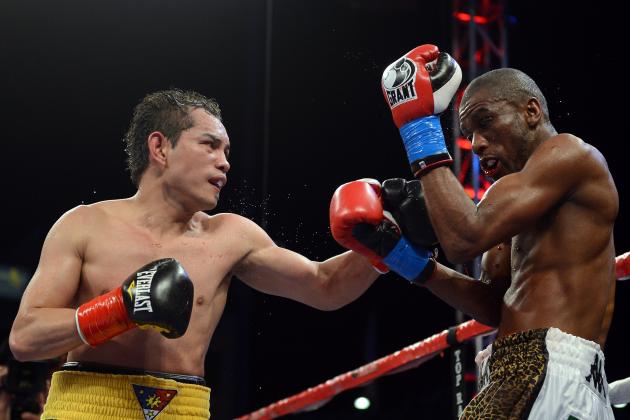 Harry How/Getty Images
Donaire hopes to be the next Manny Pacquiao, but has to get by the rugged Nishioka on Saturday.
It's a testament to the hype surrounding the Rios-Alvarado clash that Nonito Donaire is barely being talked about before his fight this weekend.
The Filipino sensation will defend his IBF and WBO super bantamweight titles against rugged and tough-as-nails Japanese challenger Toshiaki Nishioka. This is another fight between two guys in the lower weight classes who will not back down.
Donaire (29-1 18 KO) has not lost since his second pro fight and has seemed untouchable recently, winning wipeout decisions against world-class opposition.
Nishioka (39-4-3 24 KO) has spent nearly his entire career in his native Japan. His only fight in the United States was his last fight, in November of last year, where he defeated Rafael Marquez by decision.
Donaire may be the heavy favorite coming into the fight, but Nishioka will not back down. Expect another war.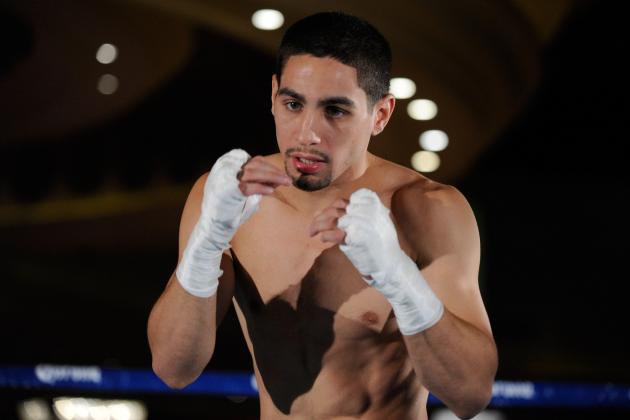 David Becker/Getty Images
Garcia hopes to once again defeat Erik Morales in October.
Danny Garcia burst on the scene in a big way in July, defeating Amir Khan by a stunning and brutal fourth-round technical knockout. It was a coming-out party of sorts for the undefeated junior welterweight champion, and he will seek to prove it was no fluke at the end of this month.
Garcia (24-0 15 KO) will defend his WBC and WBA junior welterweight titles against Mexican legend Erik Morales (52-8 36 KO) at the Barclays Center in Brooklyn, New York in just a shade under three weeks time.
Garcia defeated Morales earlier this year by unanimous decision to capture the WBC title and will look to once again put a huge notch in his belt and cash in on his stunning victory over Khan.
Morales, who could not make weight for their first fight, fought hard but didn't have enough to hold off Garcia the first time. He was down in the 11th round and lost a unanimous decision. For the legend, he has to figure this is probably one of his last shots, so he'd better make it count.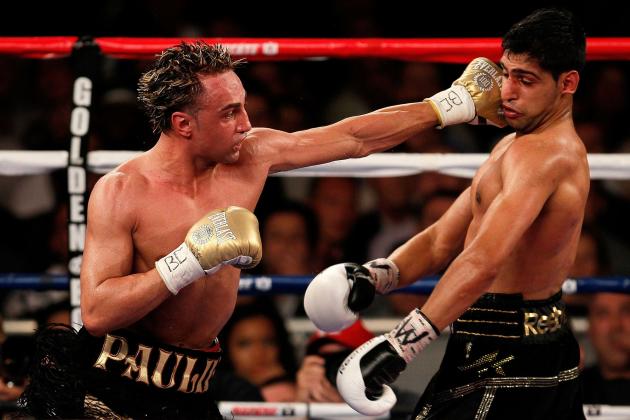 Chris Trotman/Getty Images
Malignaggi, who lost to Amir Khan, is fairing better than him these days.
Paulie Malignaggi captured the WBA welterweight title with a rare knockout victory over Vyacheslav Senchenko in April, and he has chosen a hell of a first opponent to defend against.
Malignaggi (31-4 7 KO) will make his first defense against hard-hitting Mexican prospect Pablo Cesar Cano at the Barclays Center at the end of October.
Cano (25-1-1 19 KO) is one of Mexico's fastest rising prospects and has the power to give Malignaggi problems if he connects clean. That, of course, is easier said than done, as Paulie is a slick boxer who uses movement to frustrate his opponents.
This should be a very interesting stylistic fight.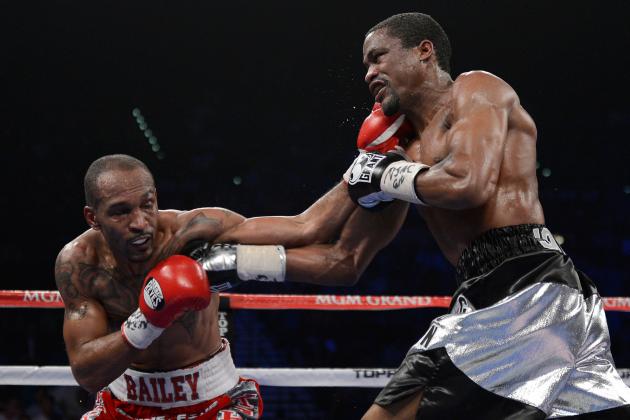 Kevork Djansezian/Getty Images
Bailey stunned the boxing world with his knockout of Mike Jones on the Pacquiao-Bradley undercard.
Randall Bailey shocked boxing with his knockout of heavily-favored Mike Jones on the June 9 undercard of Pacquiao vs.Bradley. He had lost virtually every minute of every round before hitting the home run shot and taking Jones' IBF welterweight title with an 11th-round knockout.
Bailey (43-7 37 KO) has always been known for his devastating punching power and will make the first defense of his title against slick southpaw boxer Devon Alexander on October 20th.
Alexander (23-1 13 KO) dominated Marcos Maidana in his last fight at welterweight earlier this year. His only loss was a technical decision against Timothy Bradley in 2011.
There is a fair amount of bad blood between the two fighters, with their camps exchanging inflammatory charges after the fight was postponed earlier this year.
It'll be an interesting contrast to see if Bailey can check Alexander's chin or if he'll be outboxed by what is clearly the better boxer.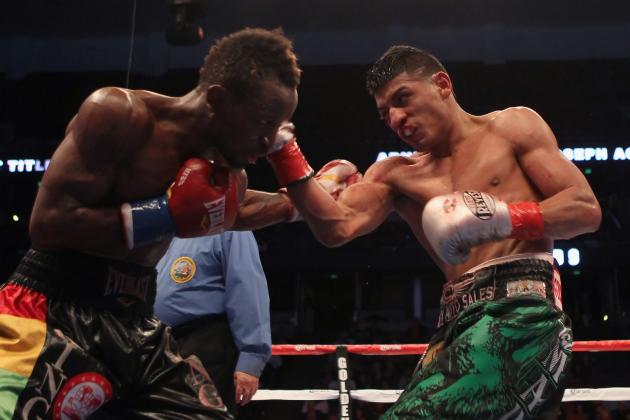 Jeff Gross/Getty Images
Mares is one of the best P4P fighters many have never heard of before.
Abner Mares belongs in the top 10 of any pound-for-pound list, but doesn't get his due respect because he fights in the lower weight classes.
Mares (24-0-1 13 KO), the WBC super-bantamweight champion, has defeated world-class fighters in five consecutive fights, defeating Yonnhy Perez, Vic Darchinyan, Eric Morel and Joseph Agbeko twice.
He will once again face an extremely dangerous challenger in November when he is challenged by long-reigning bantamweight champion Anselmo Moreno.
Moreno (33-1-1 12 KO) is another of those pound-for-pound fighters who doesn't get his due credit. He has held the WBA bantamweight title for over four years and will be stepping up in weight to face Mares.
For both men, this is a potential career-making fight, with a showdown with Nonito Donaire on the horizon for the winner. And that would be the biggest super-bantamweight fight in quite some time.
Josh Hedges/Getty Images
Canelo will be carefully watching the Martirosyan-Lara fight, he's mandated to face the winner.
WBC president Jose Sulaiman stated recently that his organization's junior middleweight champion, Saul Canelo Alvarez, has to face the winner of the Vanos Martirosyan-Erislandy Lara eliminator in November.
Whether he will do that or not is up for debate, as he seems to be targeting bigger fights. But that doesn't change that this match is exciting in and of itself.
Martirosyan (32-0 20 KO) and Lara (17-1-1 11 KO) are both considered top contenders in the 154 pound division. And a win for either, while it might not lead to a Canelo clash, would position them in the title picture at junior middleweight and lead to bigger fights down the road.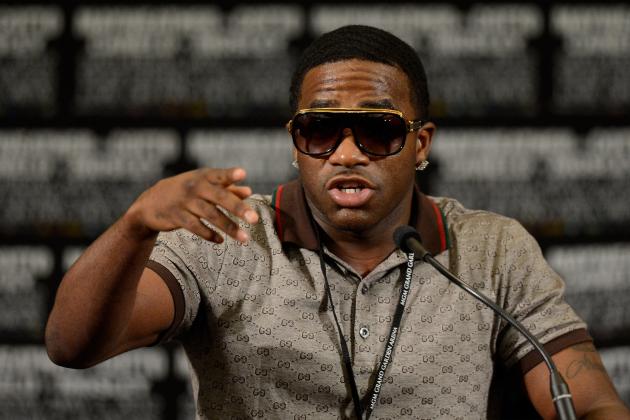 Ethan Miller/Getty Images
"The Problem" is taking a step-up in facing Antonio DeMarco.
Adrien "The Problem" Broner is widely considered one of the top, if not the top prospect in boxing. He will be taking a big step-up in competition in November when he jumps to lightweight to challenge WBC champion Antonio DeMarco.
Broner (24-0 20 KO) decided to make the move after failing to make the super-featherweight limit in his last fight, a fifth-round TKO of Vicente Escobedo and was stripped of his title as a result.
DeMarco (28-2-1 21 KO) came from way behind to stop Jorge Linares to win the WBC lightweight title in October of 2011. He was well behind on all three scorecards at the time of the stoppage. He has since successfully defended his title twice.
Both Broner and DeMarco are power punchers, and they don't seem to be terribly fond of one another. Expect some fireworks.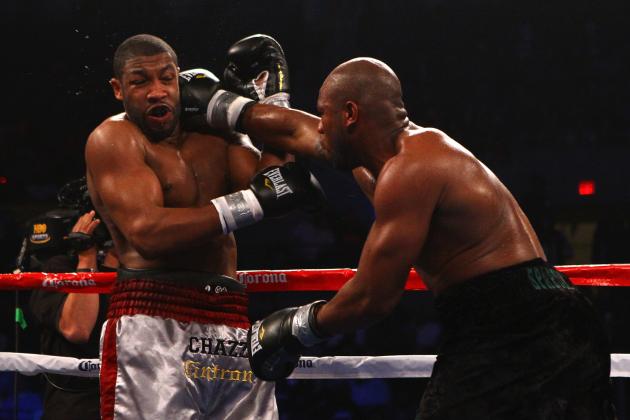 Al Bello/Getty Images
Could Mitchell be the heavyweight American boxing fans have been waiting for?
American boxing fans have been waiting for a heavyweight fighter capable of dominating the division to emerge for seemingly forever now. Many have tried and ultimately flamed out, some spectacularly.
Seth Mitchell is the latest in a long line of men to hold the title of hopeful. He is big, undefeated and has shown flashes of great power, winning his last 10 fights by knockout.
Mitchell (25-0-1 19 KO) will face fellow American prospect Jonathan Banks (28-1-1 18 KO) on November 17 in Atlantic City. The fight will be a semifinal eliminator for a WBC title shot against champion Vitali Klitschko.
If Klitschko retires, which there has been some speculation he will do, it could even lead to a title shot against a less imposing fighter. And it could help Mitchell establish himself as the next great American hopeful.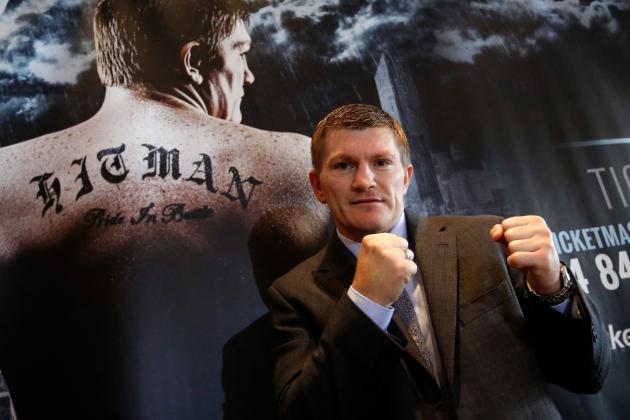 Paul Thomas/Getty Images
Ricky Hatton deserves credit for taking a tough first comeback fight.
Ricky Hatton retired in 2009 after suffering a devastating second-round knockout loss against Manny Pacquiao. At the time, there were rumors about his commitment to the sport and training.
Hatton announced recently that he would be returning to the ring at the age of 34 and would be taking on former WBA welterweight champion Vyacheslav Senchenko. It is a difficult fight, and one Hatton deserves credit for taking on after a three-and-a-half year layoff.
Hatton (45-2 32 KO) was considered one of the toughest fighters in boxing during his prime. But he was defeated in lopsided fashion by both Floyd Mayweather, Jr. and Manny Pacquiao. It will be interesting to see what he has in the tank given his age and long time out of the ring.
Senchenko (32-1 21 KO) was undefeated before his last fight, where he was knocked out by light hitting Paulie Malignaggi in his native Ukraine.
Despite the loss, he is a live dog in this fight and could derail Hatton's comeback before it even hits the ground.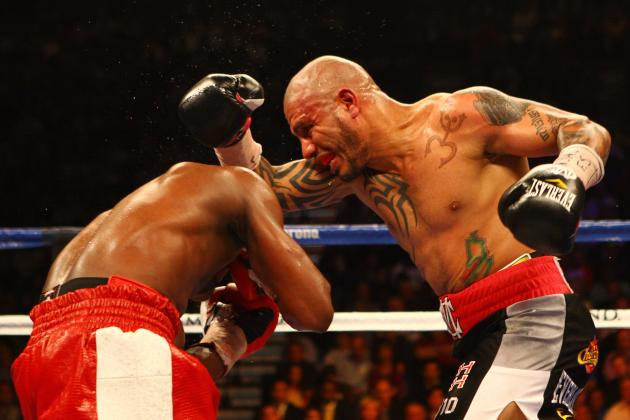 Al Bello/Getty Images
Cotto was unable to solve Floyd Mayweather Jr, but seeks to regain a share of the 154 pound title against Austin Trout.
Austin Trout is one of the best prospects in the 154-pound division. But he's taking a huge step up in class, defending his WBA title against Miguel Cotto on December 1 in Madison Square Garden.
Trout (25-0 14 KO) has been seeking a big fight for a while now, and found one in former WBC champion Cotto.
Cotto (37-3 30 KO) proved he was still a top-level fighter with his spirited but clear decision loss to Floyd Mayweather, Jr. in May. He was clearly defeated, but placed a level of pressure on Mayweather that no fighter to date has been able to do.
This is an intriguing fight, as a victory for Trout would catapult him into the public spotlight. He would even likely benefit from a competitive loss.
For Cotto, the stakes are clear. He's only 31, but most consider him an old fighter for his young age. A win would keep him relevant. A loss could signal his time has come to call it a career.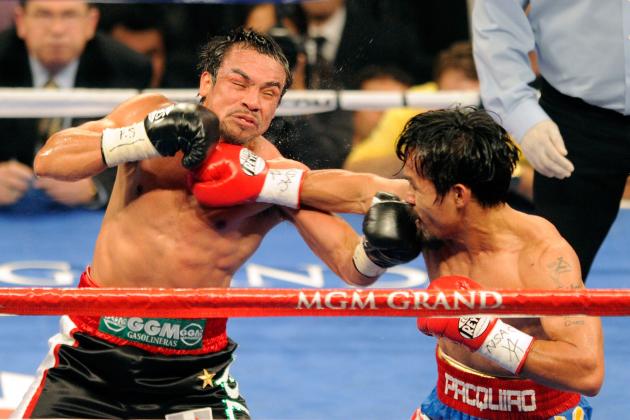 Ethan Miller/Getty Images
Pacquiao and Marquez will once again dance in the ring this December.
You could literally score each of the three fights between Manny Pacquiao and Juan Manuel Marquez for either guy. You could see Pacquiao winning all three fights and back it up. You could score all three for Marquez and be totally justified.
Each of the 36 rounds between the two men is just that close. And their fourth fight promises to be no different, despite pronouncements from each fighter that they are seeking a decisive knockout.
Pacquiao (54-4-2 38 KO) and Marquez (54-6-1 39 KO) have virtually identical records. Both of them hope to walk out of the MGM Grand in Las Vegas with win No. 55.
One thing is for sure. Short of a knockout, this is likely to be another one of those fights that will be argued and debated for years regardless of who emerges victorious. And that's what makes it the perfect fight to close out the boxing year.