St. Louis Cardinals vs. Atlanta Braves: 5 Key Matchups in NL Wild Card Game
Scott Cunningham/Getty Images
The Braves have the chance to exact revenge on the Cards.
The Atlanta Braves and the St. Louis Cardinals baseball franchises have met in the postseason only three times throughout both team's illustrious histories.
They tangled most recently 12 years ago, as Will Clark helped the Cards sweep the Braves in the 2000 League Division Series, defeating future Hall of Famers Greg Maddux and Tom Glavine, and the talented Kevin Millwood.
Four years prior, the Braves roared back from a 3-games-to-1 deficit in the NLCS to beat the Cardinals in seven games (Tony La Russa's first year in St. Louis). Sadly, the Braves couldn't seal the deal, falling to the Yankees in the World Series.
In 1982, St. Louis swept NL MVP Dale Murphy and his Braves, three games to none, on their way to a World Series win over the Milwaukee Brewers (AL team in 1982).
But it's not the seesaw playoff battles that intrigues us in this matchup. It is the fact that the Braves essentially surrendered their rightful Wild Card playoff position last year to the Cardinals, who proceeded to surge on to one of the most unlikely championships in baseball history.
Each club took a slightly different route to reach Bud Selig's inaugural Wild Card playoff.
Atlanta rode strong starting pitching, a lights-out bullpen and excellent team defense to 94 wins and a second-place finish, right behind the upstart Washington Nationals.
The season was a fitting testament to Chipper Jones' lifetime credentials, that he was one of the most important batters in the Braves lineup.
Of course, that is also an indictment of the Braves middle-of-the-pack offense, as well.
The Cards possessed a highly productive offense and reliable starting pitching that was unfortunately shackled by a leaky bullpen and mediocre defense.
Though even more maddening was the Cards lack of clutch hitting in close, late-game situations. The team led the the NL in batting most of the season and had five 20 HR players for the first time in franchise history, yet often struggled to drive in runs when the opportunity arose.
But a midseason trade for Edward Mujica settled the bullpen and the second half slumping bats of Carlos Beltran and Matt Holliday finally began to contribute down the stretch—at least enough to lift the Cards to a 12-4 finish.
As fans prepare for Friday's sudden-death showdown in Atlanta, lets look at five key matchups that will determine the outcome of this tilt.
Begin Slideshow

»
Dilip Vishwanat/Getty Images
Cards manager Mike Matheny justified his appointment in his first season in the dugout.
By most accounts both Fredi Gonzalez and Mike Matheny are stand-up managers.
Neither seems inclined to wade in the political waters of a team's front office. They are content to field a competitive team, to make hard decisions from time to time, so it will be interesting to see how the pressure of a single elimination game effects each manager's style.
Gonzalez took a lot of heat last year for how he handled his bullpen, especially late in the season. Conversely, Matheny let several games get away from him by staying with failing bullpen hurlers too long.
But considering the Braves are at home, and with 2011's last-minute meltdown fresh in their minds, the pressure is on Fredi Gonzalez to lead the Braves into the next playoff round.
Who will blink first?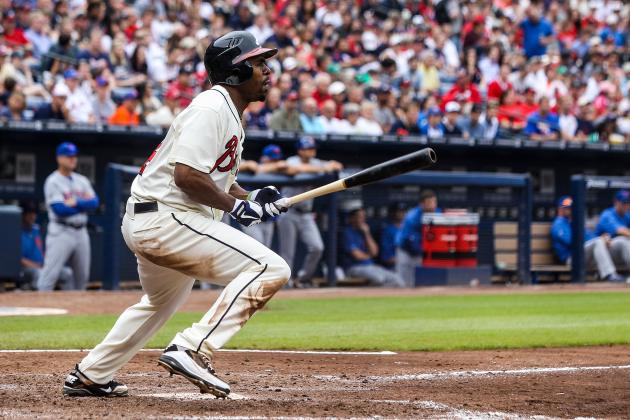 Daniel Shirey/Getty Images
Michael Bourn was the Braves' top speedster.
As the grueling 162-game regular season wears on, statistical trends seen over the entire year sometimes fade into obscurity.
Other times, late season and early postseason contests distill down those trends into a highly concentrated and sometimes volatile issue.
The Braves, offensively, were in the middle of the National League pack in runs scored (7th), but in the past 32 games, the team has batted only .222 and scored two or fewer runs in exactly half of those games.
A key matchup to watch is the speed of Michael Bourn (and to a lesser extent Martin Prado and Jason Heyward) on the base paths and how Gold Glove catcher Yadier Molina plans to keep the baserunners in check.
Braves manager Fredi Gonzalez may be tempted to jump-start his anemic offense if anyone gets on base, but the Braves will run themselves out of a rally if they test Molina at the wrong time.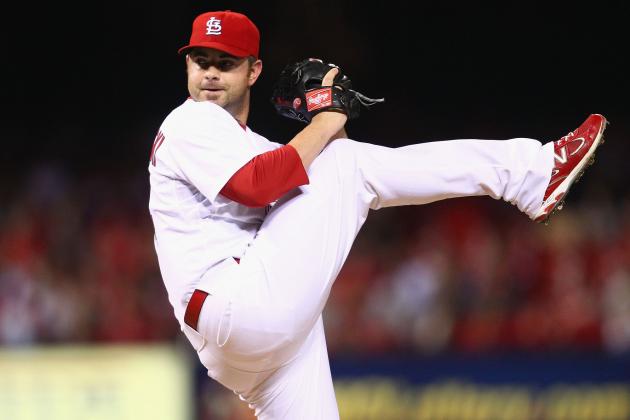 Dilip Vishwanat/Getty Images
Mark Rzepczynski finds himself a key cog in the Cards playoff bullpen again.
The top three power threats for Atlanta are all left-handed, and each have been solid all year.
Jason Heyward leads the Braves attack with 27 home runs, followed by first baseman Freddie Freeman (23) and catcher Brian McCann (20).
For that, Atlanta probably breathed a sigh of relief when the Cardinals announced that righty Kyle Lohse will be taking the mound on Friday instead of lefty Jaime Garcia.
Here are the trio's batting splits against left-handed pitchers this season (listed as batting average, on-base percentage, slugging percentage, on-base plus slugging):
Freeman .237/.315./.399/.714
Heyward .224/.280/.354/.634
McCann .236/.265/.408/.673
Against righties, Jason Heyward is toting a hefty .935 OPS with Freeman not far behind at .855. So depending on how successful these slugging southpaws are against Lohse, Mike Matheny is almost certain to use left-hander Rzepczynski in a crucial situation.
Unfortunately for the Cards, Rzepczynski has been terrible in high-leverage situations this season. Rookie lefty Sam Freeman has great stuff, but is very green. Matheny's best option may be to use Garcia in relief, should the game situation dictate.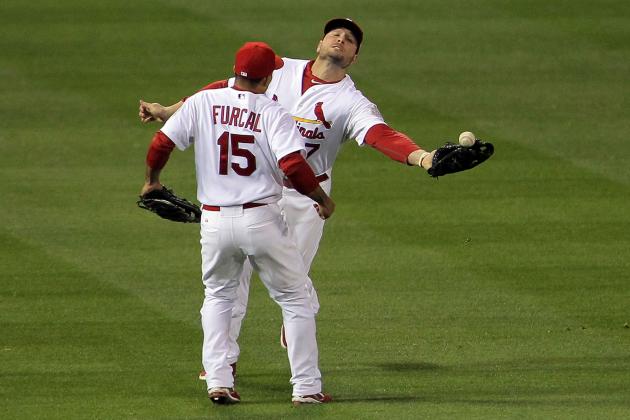 Doug Pensinger/Getty Images
Matt Holliday has made even routine fly balls interesting this year.
The Braves and Cardinals are a fascinating study of opposites, and this is no more evident than when one compares each team's defensive efficiency.
Atlanta is far and away the best defensive team in baseball while the Cardinals have been very generous in providing their opponents with extra outs in the field.
Per baseball-reference.com, Atlanta as a team has saved 103 extra runs above the average defensive player, while the Cardinals are near the bottom with 22 runs surrendered below average.
The starkest contrast is found when comparing the outfielders.
Atlanta has the top three defensive outfielders in terms of runs saved. Michael Bourn leads the pack with 39 runs saved, followed by Jason Heyward (26) and Martin Prado (17).
As a team, Atlanta has saved 82 runs in the outfield. By comparison, the next closest outfield defense is San Francisco with 20 runs saved. The Cards are ranked 14th of 16 NL teams at 30 extra runs surrendered.
And the worst rated outfielder in the National League is Matt Holliday at -16 runs allowed. Earlier in the season, Carlos Beltran was right behind Holliday, but did "improve" somewhat to -8 runs allowed.

Jon Jay leads the Cardinal outfield with 6 runs saved which places him 17th in the NL.
In a sudden-death playoff game, mistakes made in the outfield, or excellent catches hauled in can easily sway the advantage one way or the other.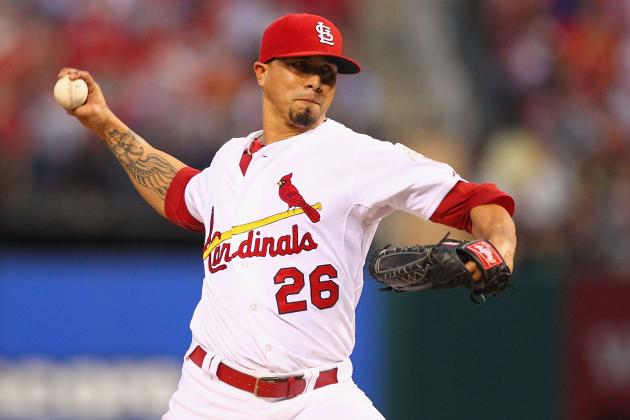 Dilip Vishwanat/Getty Images
Kyle Lohse hopes to have better playoff this year.
Kyle Lohse was the obvious and easy choice by Cardinals manager Mike Matheny to start the NL Wild Card playoff game in Atlanta.
In fact, Lohse has been quite underrated the past two seasons.
If not for an uneven offense and unreliable bullpen, Lohse's 16-3 record this year could have been more reminiscent of David Cone in 1988 (20-3 for the Mets that year).
Yet there are red flags abound with this decision by Matheny. One doesn't have to look any further than Lohse's playoff performance last year when he allowed 11 earned runs in 12 and 2/3 innings of work as to why.
His pitch-to-contact approach is very effective against lesser opponents, but in the playoffs there is no margin for error. If the umpire has a tight strike zone or the sinker isn't sinking, what options does Lohse have?
On the whole, Lohse's 5.54 postseason ERA indicates he has really never been effective beyond the regular season.
Chipper Jones has had great success against Lohse historically (.462 in 20 plate appearances) as has Martin Prado (.429) and Dan Uggla (.333).
That can't inspire much confidence from the Cardinal faithful.
If Lohse's pitching stats offer any consolation, it can be found in his right-hand vs left-hand batter splits this season. The numbers are nearly identical.
Lohse vs. Right-handed batters .226/.263./.360/.623
Lohse vs. Left-handed batters .253./.287/.377/.664
If Lohse throws shutout inning after shutout inning against Atlanta, Matheny will look like a manager who had complete confidence in his veteran.
But it Atlanta reaches him for several runs as they did on May 30 (5.0 IP, 5 ER, 2 HR), fans will only wonder if starting lefty Jaime Garcia wasn't the better choice.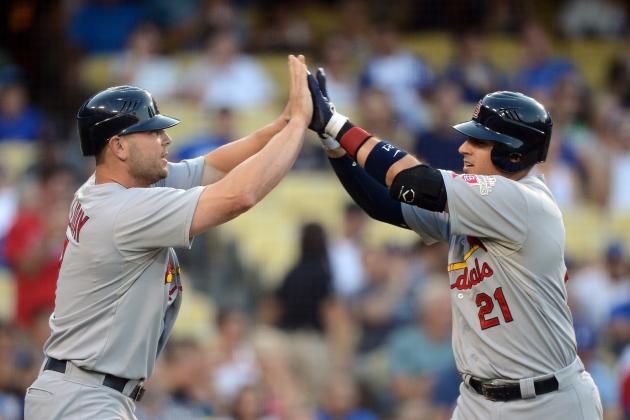 Harry How/Getty Images
St. Louis could be the most dangerous team in the NL playoffs.
Atlanta Players to Watch:
Chipper Jones
With 2012 being Jones' final season, it would shock no baseball fan if he left his mark on the NL playoffs with a clutch performance. On the whole, the Braves' stars are on the young side and lack postseason experience. They will look to their Hall of Fame veteran to lead them.
Michael Bourn
While the Cardinals had just eight fewer stolen bases as a team than the Braves, they do not possess a speedster like Bourn. If he can reach base and use his speed to pressure the Cards into giving up an early run or two, it will completely change the complexion of the contest in the Braves' favor.
St. Louis Players to Watch:
Yadier Molina
The Cardinals team MVP has to be at the center of everything the club does for the team to be successful. He will have to coax a great performance out of Kyle Lohse, shut down the Braves' running game, and contribute with some clutch hits as he has done all year.
Allen Craig and David Freese
Craig and Freese just completed their first full major league seasons, as hard as that is to believe and it's clear the season's grind has worn them both down a bit. However, each has greater upside that aging veterans Matt Holliday and Carlos Beltran. If Freese and Craig can recapture their postseason magic from 2011, the Cardinals will find themselves moving on to the next round.
Final Game Prediction:
Atlanta scores in the bottom of the first, but the Cardinals nick Kris Medlen in the top of the second for a couple runs. The cold Braves bats will continue to slump in front of a tense Atlanta crowd as the Cards add on in the middle innings against the Braves bullpen.
Cardinals 6 Braves 2