4 Reasons Why Ryback Will Be a WWE World Champion (and 2 Reasons Why He Won't)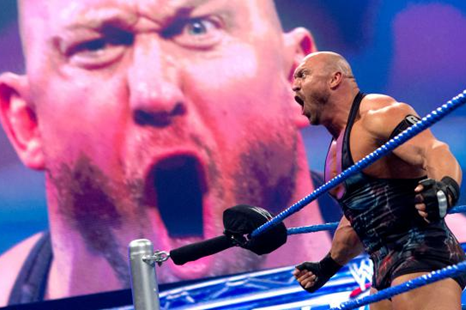 Credit: WWE.com
WWE Raw ended with a CM Punk-Ryback stare down that still has the Internet buzzing.
Will Ryback replace John Cena at Hell in a Cell?
Will Ryback turn out to be a "Paul Heyman guy"?
Is he associated with Mick Foley?
While we await answers to these questions, one thing has become clear this week: Ryback will be a world champion.
You read that right. It won't happen in 2012, and it likely won't happen in 2013. But Ryback will be a world champion. And there are four reasons why.
Begin Slideshow

»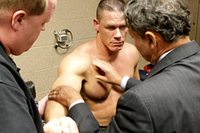 Credit: WWE.com
One issue facing the WWE today is the realization that John Cena won't be around forever. Since 2005, Cena has been the face of the WWE—and like all great things, that will eventually come to an end.
He recently had elbow surgery and reportedly has other physical ailments. He has been going non-stop since the day he was drafted to the Raw brand, and that has to take its toll on the man.
The WWE needs to groom John Cena's replacement. That man could be Sheamus, but he has struggled to get comfortable in his World Heavyweight Championship reign. Plus, his character has no problem stealing cars and causing tremendous property damage. Not to mention his short temper and love for a good old-fashioned fight. Sheamus might not be "the guy."
Meanwhile, Ryback is doing everything right. His charisma is spot-on for his character. He did a great job in his backstage interaction with Subway's Jared Fogle. He combines a unique look with WWE-friendly size.
Ryback has everything the WWE would look for when trying to fill this need.
In every city on the WWE circuit, one man gets a stronger reaction than anyone. That man is John Cena. He's the most requested mainstream media interview. He has the most commercial endorsements. He sells the most merchandise.
That reaction is also heard for stars like Randy Orton and Sheamus, and is remembered by fans when thinking about legends like Bret Hart, Shawn Michaels, Steve Austin, The Rock and Hulk Hogan.
One new superstar has begun getting strong reactions from fans all over the WWE circuit as well. That man is Ryback. As soon as "Feed Me!" blasts through the speakers, the people react.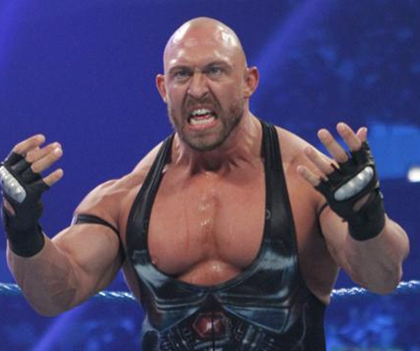 Credit: WWE.com
You might scoff at the notion of a catchphrase making this much of a difference. But all the greats have them.
Hulk Hogan had you saying your prayers and eating your vitamins.
Ric Flair made sure you knew that you had to beat the man if you wanted to be the man.
Bret Hart was so good, he was the best there is, was, and ever will be.
When Steve Austin spoke, it was the bottom line. Because he said so.
The Rock wanted to make sure you could smell what he was cooking. And that he was finally back to your city. And that it didn't matter what you thought.
And John Cena constantly reminds you that you can't see him. Even when you can.
Get the picture? Those are marketable catchphrases that can be immediately linked to the performer. They sell T-shirts—and believe it or not, they sell tickets, too.
When Ryback is nearing the end of a match, the people scream "Finish It!" with him. And after this match, they all continually chant "Feed Me More!"
Kids are a huge part of the modern-day appeal of the WWE. John Cena has granted more "Make-A-Wish" wishes than anyone. He's worshipped by children, and he appears in posters on more of their walls than we will ever know.
Ryback can be that guy. He's already larger than life, literally. He's huge. He can amaze young kids with what he does in the ring. They can wear his shirt and scream "Feed Me More!" in the school yards.
He can also catch on in mainstream sports. Imagine a defense chanting "Feed Me More!" when they take the field, wearing Ryback shirts under their shoulder pads. It happened with the NWO.
Look at the commercial included with this slide. You can do that with Ryback.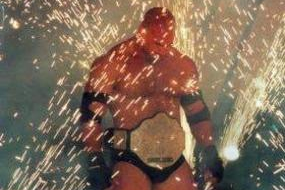 Credit: AllWrestlingSuperstars.com
There are two items that could potentially stand in the way of Ryback being World Champion.
The Goldberg Comparison
While the chants of "Goldberg!" have become less prevalent when Ryback makes an entrance, the comparison is still there. Can the WWE book Ryback with an added layer of depth that will separate him from the former WCW World Champion?
Injuries
Ryback missed two years of college football due to a foot injury. He had a rib injury when he was part of the 2004 $1,000,000 Tough Enough. He also suffered a broken ankle in 2010 that lead to his hiatus and his return (as Ryback). He's also dealt with an eye infection during his current undefeated streak.
For Ryback to consistently get to the main event, he has to be reliable. If he's labeled as "injury prone" he will have a harder time getting a world championship.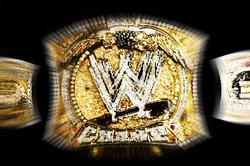 Credit: ScenecReflections.com
People are already buying into his stare down with CM Punk, and he is positioned to be a major player in the promotion. While any push can go the way of Tensai, it appears that Ryback is primed for a successful career with the WWE.
Despite the Goldberg comparison and his prior injury history, Ryback will be a world champion. He has the charisma and his return to WWE television has been memorable.
Now Feed Me More: Share your thoughts! Will be Ryback be a world champion? If not, why not? If so, when do you think it happens?
Greg DeMarco is a wrestling fan of over 28 years and has also worked on the independent circuit as a promoter, announcer, character and booker. More of his work can be found at www.411Mania.com. Greg also hosts a weekly radio show found atwww.blogtalkradio.com/gregdemarco and streaming worldwide each weekend at www.vocnation.com.
Twitter: www.twitter.com/gregdemarcoshow.
Facebook: www.facebook.com/gregdemarco411
Email: gregdemarcolives@gmail.com