New York Yankees vs. Boston Red Sox October 1-3 Series Preview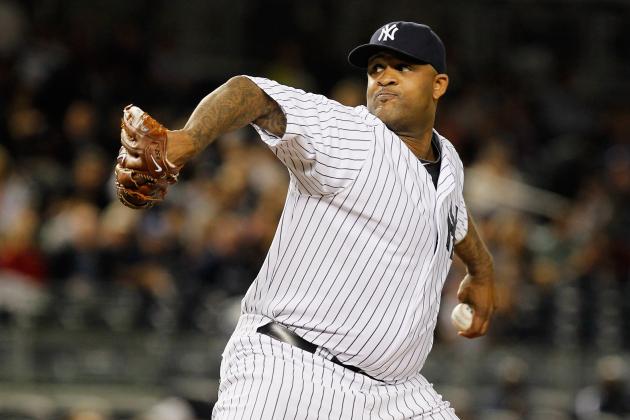 Mike Stobe/Getty Images
CC Sabathia takes center stage Monday night hoping to pitch the Yankees one step closer to the AL East title.
It's fitting that in a year where the Yankees have blown what once was a comfortable lead in the division that they'll face a team who knows what blowing a division title is all about. The Yankees take on their hated long-time rival, the Boston Red Sox, for the final three games of the season at Yankee Stadium with so much at stake.
The Red Sox squandered a sure posteason berth down the stretch last season and missed out on the playoffs. The Yankees did just clinch a playoff berth with the Angels' loss to Texas last night but a 10-game lead in mid-July has been washed away and the Yankees are dead-even with Baltimore entering the final week of the season.
The Yankees need to throttle Boston or they may be looking at a precarious scenario that could see them playing a dangerous one-game playoff battle against Oakland all the way on the west coast with everything at stake, if they don't take care of business this week against Boston.
The Red Sox looked lifeless, punchless and borderline disinterested in getting swept by the Orioles this past weekend in Baltimore. Some Yankees fans had to wonder if they're more vested in seeing the O's advance while doing anything they can to prevent the Yankees from winning the division.
At least that's how it may seem purely by virtue of how the pitching matchups stacked up for their previous series and now this finale at Yankee Stadium. The Sox will send out Clay Bucholz, Jon Lester and Daisuke Matsuzaka to face the Yankees.
While none of the three pitchers have had good seasons, they are all capable of highly efficient games and should be viewed by the Yankees as a significant challenge considering how much is on the line. Lester has befuddled the Yankees a few times this season.
The Bombers will send their staff ace to the bump on Monday night in CC Sabathia, followed by David Phelps and then Hiroki Kuroda on Wednesday night.
The Yankees are 10-5 against Boston this season, having most recently taken two of three at Fenway Park in mid-September. The Red Sox come in with nothing to play for other than personal pride and the chance to give their fans something to cheer about by putting a dent in the Yankees' postseason hopes.
The 2012 season did not start out with low expectations for the Sox—in fact, quite the opposite. Boston was considered to be a front-runner to win the division. Injuries, clubhouse discord and poor performance has derailed the Sox season.
Ownership also blew up what were the Red Sox earlier this summer in the deal that sent Josh Beckett, Adrian Gonzalez and Carl Crawford to Los Angeles.
The Red Sox have been decimated by injuries—from Jacoby Ellsbury to Dustin Pedroia to Will Middlebrooks—and it's shown in their record. David Ortiz was having an exceptional season, once again hitting over .300 and belting 23 home runs, until an Achilles strain sidelined him for the rest of the year.
Cody Ross and Pedroia have been bright spots in the lineup, but Adrian Gonzalez had been a disappointment at first base, particularly when you consider Boston was paying him just under $22M. Jacoby Ellsbury is just hoping this season will end. Ellsbury was one of the best players in all of baseball last season.
What a difference a year makes. This season, Ellsbury has missed two months due to injury and since coming back has been a lackluster hitter for Boston. Yet for all of Boston's faults, they're still incredibly 12th in the majors in team OPS. The Yankees should not take them for granted.
The Yankees are hoping to pounce on their prey and beat down the Red Sox at Fenway by building off what was a big-time offensive effort in the late innings yesterday in Toronto. The Bombers fought back from a 5-1 deficit and the whole comeback was completed without a home run.
Eric Chavez belted a solo shot early in the game for the Yankees first run but that was not part of the later inning fireworks.
Russell Martin has come alive for the Yankees at the right time as they near another AL East division crown. The Yankees can only hope that A-Rod's dormant bat comes alive and Mark Teixeira's new addition to the lineup will make a big difference
When baseball's biggest rivalry comes up, you can throw out the proverbial records. The Yankees have to feel better about themselves after such an inspiring, gritty comeback in Toronto yesterday. Surely, the Bombers are hoping that was the extra lift they needed to keep scoring plenty of runs over the next several days.
Here is an offensive tale of the tape and a breakdown of the pitching matchups:
By the Numbers (Major League rank through games played on October 30th):
Team OPS (On Base + Slugging Percentage):
Yankees: T-1st
Red Sox: 12th
Team Home Runs:
Yankees: 1st
Red Sox: 14th
Runs Scored:
Yankees: 2nd
Red Sox: 7th
Batting Average:
Yankees: 8th
Red Sox: 9th
Batting Average with Runners in Scoring Position (RISP):
Yankees: 18th
Red Sox: 5th

Top Hitters:
Yankees: Robinson Cano (.306 BA, .904 OPS, 30 HR, 85 RBI); Derek Jeter (.318 BA, .795OPS, 15 HR, 58 RBI); Curtis Granderson (.226 BA, .792 OPS, 40 HR, 100 RBI)
Red Sox: Dustin Pedroia (.288 BA, .790 OPS, 15 HR, 64 RBI); Cody Ross (.269 BA, .818 OPS, 22 HR, 79 RBI); Jarrod Saltalamacchia (.225 BA, .755 OPS, 25 HR, 58 RBI)
Begin Slideshow

»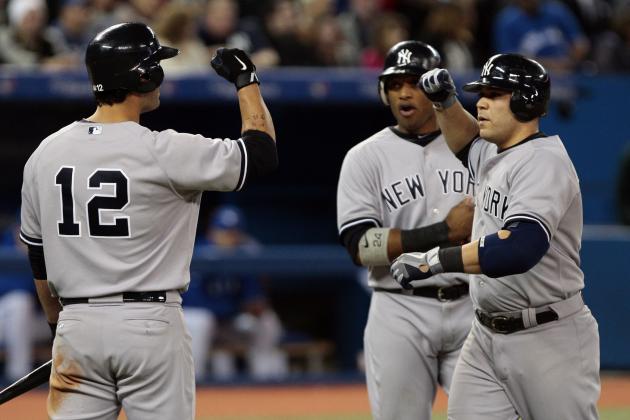 Abelimages/Getty Images
Russell Martin and the Yankees are all fired up following their huge comeback win yesterday in Toronto.
Everything. For the Yankees, that is.
The Yankees have already clinched a postseason berth but they have a wonderful opportunity to win the American League East with a strong performance over the next three games. The Yankees will face two of Boston's better pitchers—Clay Buchholz and Jon Lester—that are capable of big performances.
The Yankees send out their two best pitchers of the 2012 season tonight and Wednesday night, and then rookie David Phelps on Tuesday. It's a bit of a roll of the dice with Phelps but the decision to start the Notre-Dame product over Ivan Nova, at this point, seems very logical.
Phelps did struggle early in the month of September in a big start at Yankee Stadium against Baltimore and then the following week against the O's at Camden Yards. Though, in a year where he has shown a tremendous amount of resolve and determination, Phelps has bounced back and pitched quite well over his past two starts and in relief.
The Yankees have to feel confident with Sabathia and Kuroda and especially since Mark Teixeira is returning to the lineup. Boston will not play Pedroia and Ellsbury tonight though it's likely they will be back in the lineup for the final two games.
Either way, the Yankees have everything to play for and the Red Sox are only aiming to spoil the Yankees chance at yet another AL East division title. The Yankees will send out their best players while the Red Sox will send out what is tantamount to a minor league lineup, at least tonight.
The Yankees need to hit and hit some more and also hope that the pitching is on point. It's time to take care of business and sweep Boston right onto the golf course just like Baltimore did this past weekend to the Sox.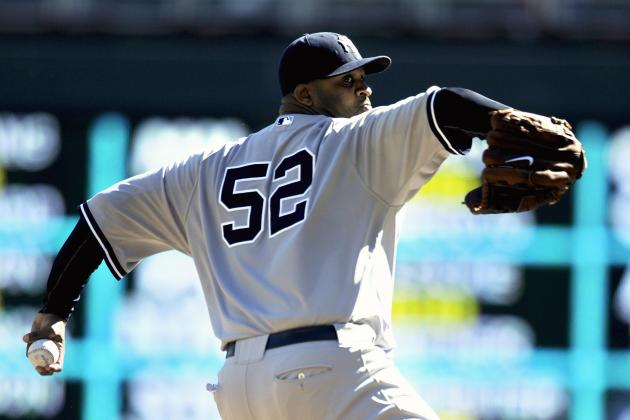 Hannah Foslien/Getty Images
CC Sabathia takes the ball in the series opener.
Monday October 1st, 7:05pm
CC Sabathia knows what big games are all about and he's risen to the occasion over his past two starts. He has another opportunity this evening to prove his worth as a big-money starter against a weak Boston club.
Yankee fans can only hope that the CC that they see tonight at the Stadium is the one that has been totally dominant over his last two starts. In those two starts Sabathia is 1-0 with 16 innings pitched, 21 strikeouts and only two earned runs. That's the ace that the Bombers' fan base has grown to love.
Clay Buchholz was touched up for four earned runs and eight hits last week against Tampa Bay but prior to that pitched two consecutive quality starts of seven innings each, allowing only one run in those 14 innings.
Buchholz has been downright awful and at times very overpowering, but he's largely improved as the season has worn on. He'll likely be viewing tonight as his own personal playoff game before hitting the offseason on Thursday.
The Yankee bats have to be up to the challenge.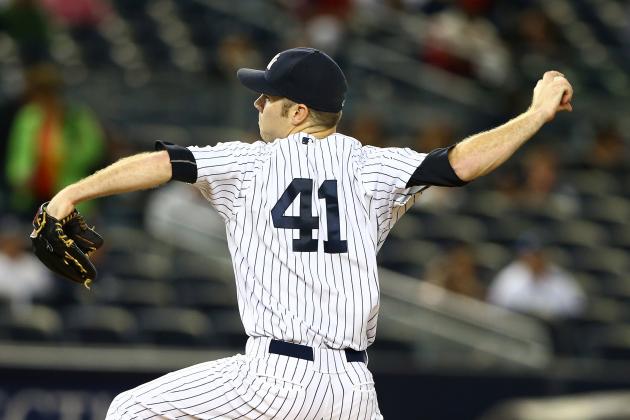 Al Bello/Getty Images
David Phelps will make the biggest start of his life on Tuesday night.
Tuesday October 2nd, 7:05pm
David Phelps steps into the spotlight against a big-time pitcher who has struggled to find his rhythm this season yet is still capable of a shut-down performance. The Bombers' top rookie in 2012 opposes Jon Lester in the middle game of the series in an intriguing duel.
Phelps will be backed by a strong Yankee offense that demonstrated yesterday that it can persevere and score runs if needed. Phelps is stepping in to take the spot of Ivan Nova who has faltered in his last two starts and likely seen his last action of the 2012 season.
This is an absolutely gigantic spot for Phelps who has earned the trust of manager Joe Girardi thanks to some nifty starting and relief work. He just needs to remain confident in all of his pitches and trust that Russell Martin will help guide him through such a momentous game.
Jon Lester is having a horrendous 2012, there are no two ways about it. Few and far between have been the dominant outings that Lester was known for in recent seasons yet he has improved recently. He has lowered his ERA by over half a run since his outing against the Yankees on July 28th.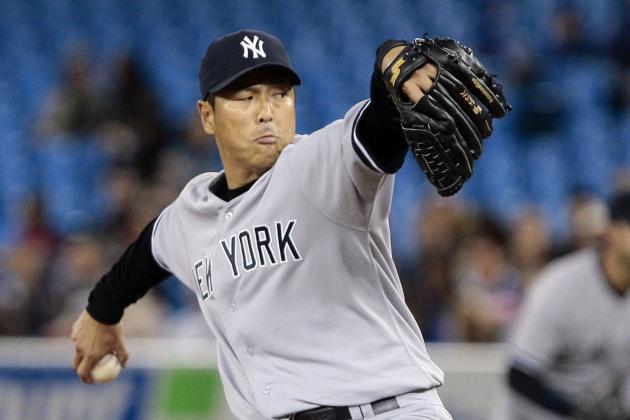 Abelimages/Getty Images
Hiroki Kuroda may have the chance to pitch the Yankees to a division title on Wednesday night.
Wednesday October 3rd, 7:05pm
Hiroki Kuroda had to have known that part of what he signed up for this offseason was the chance to pitch in incredibly important baseball games. Wednesday night is yet another one for the veteran hurler and he'll get to oppose his countryman, Daisuke Matsuzaka, to help add a Far Eastern flair to the series and season finale.
Kuroda is struggling somewhat with his location and had to work out of multiple jams against Oakland and then Toronto in his last two starts. Kuroda is a ground ball pitcher and will work to get back to using his deadly "shuutu" pitch, which dives and sinks in at right handed batters, to shut Boston down.
Daisuke Matsuzaka has made only 10 starts for Boston this year and it's been a year that the 32-year old would love to forget. "Dice-K" has had two good starts out of eight and his 7.68 ERA is certainly testament to that. His control has been off and the Yankees must make him pay and score early on him so he doesn't get comfortable.
In some ways, seeing Kuroda pitch the regular season finale with so much at stake is fitting for a man who has put the Yankees on his back at times and contributed so much to their success all season long. This could be his opportunity to leave an indelible, victorious mark on the Yankees' season.
Then again, even more will be expected of him next week.