Manchester United: Points to Ponder Following Defeat to Tottenham Hotspur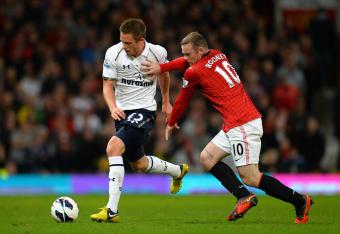 Shaun Botterill/Getty Images
Manchester United were defeated by Tottenham Hotspur 3-2 at Old Trafford in the English Premier League over the weekend, with the Red Devils left to rue their poor start and costly turnovers by a much more focused and switched on Spurs outfit.
Sir Alex Ferguson's men were greeted by the welcome return of England international Wayne Rooney into their Premier League lineup, having watched their star striker sit on the sidelines for the past few weeks due to a leg injury.
Yet the return of Rooney was quickly forgotten by the dynamic attack and flowing play of Tottenham Hotspur, who finally showed manager Andre Villas-Boas that they are a top team in the EPL this year and can be a top-four threat once more.
United were simply overrun and outgunned on their home pitch and must find the answers to several questions that stemmed out of the loss.
Here are some points to ponder for the Red Devils and their fans, in light of their domestic and European fixtures to come over the next few weeks.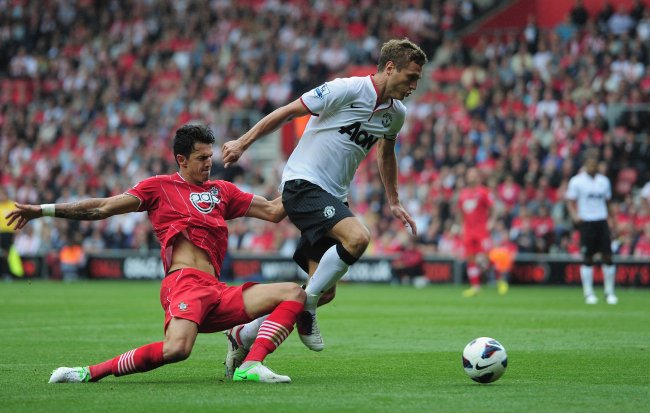 Jamie McDonald/Getty Images
Is the absence of Vidic going to cost United once more?
When captain and star defender Nemanja Vidic went down last season against FC Basel in the UEFA Champions League, United fans feared the worst.
They feared obviously for the health and long-term future of Vidic, but many knew that with the injury, United's chance at success in both the English and European competitions would be made increasingly more difficult.
And if we're going to be completely honest, it was. Life without Vidic was more difficult for United than had he still been available.
It is pure speculation of course, but you'd have to accept that the Red Devils would have been more likely to win the Premier League (which they only lost on goal difference) had they had their inspirational captain at the back.
Now, the question must be asked as to whether the same thing is going to happen again this season? Is the absence of Vidic going to cost the Red Devils?
The defender is out for at least another two months (according to Sports Mole), and according to Premier League legend Alan Shearer, that period should be enough time to prove that the Red Devils cannot win the title this year.
Speaking via The Sun (per Sports Mole):
"With the loss of [Nemanja] Vidic now for two months, I am even more convinced that the Premier League trophy will either be staying put [at Manchester City] or heading to Stamford Bridge."

"It's early days in the title race but already Manchester United have been dealt a huge blow from which they will not recover..."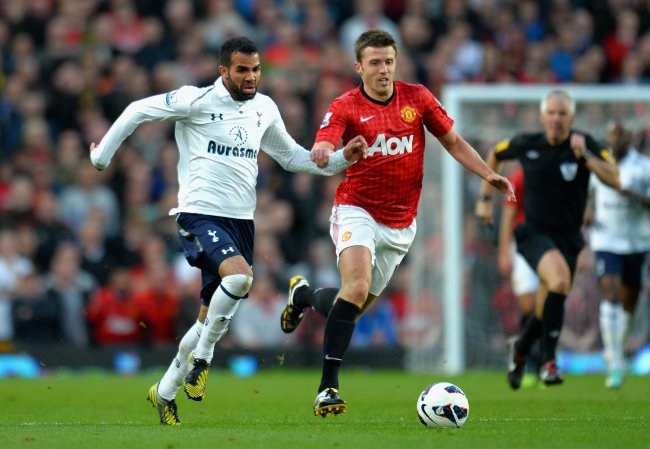 Shaun Botterill/Getty Images
Are Paul Scholes and Michael Carrick the right CM pairing?
It seems like we are saying the same thing every season that goes by, but Paul Scholes simply is one of the top midfielders in world football and a class act despite being one of the most "senior" players in this United side.
Scholes was once again instrumental against Tottenham Hotspur—racking up an incredible 160 touches and still completing his passes at above 90 percent—and is showing just why Sir Alex Ferguson was so desperate to bring him out of retirement last season.
The manager made the desperate plea to Scholes last year in order for United to have a shot at winning the Premier League, so will he put the veteran midfielder in the starting side more often this year for the same purpose?
If paired with Michael Carrick, the answer would appear to be yes.
Both Tom Cleverley and Darren Fletcher are top-class players and more than capable replacements for the Red Devils—the type of squad players that you need to truly succeed in many competitions in the one season.
But neither possess the ability to open up a game like Scholes or Carrick do, and neither can create the same relationship that the veteran United midfielders have established throughout the years together at Old Trafford.
Big games must surely mean that Scholes and Carrick are paired together in midfield; it just seems to be the only relationship that's working for the moment.
Or maybe I'm just overreacting a little on this one.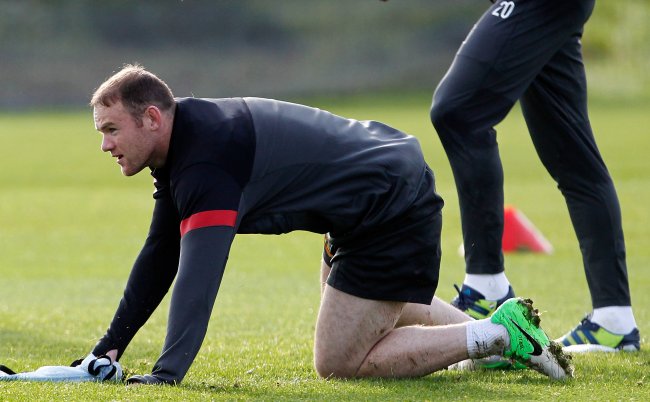 Paul Thomas/Getty Images
Wayne Rooney: United's new left winger?
One more thought before we conclude this week's thoughts, and like so much of the discussion surrounding Manchester United at the moment, it's to do with Wayne Rooney and how to best use him at the Red Devils.
Which, really, is quite a funny thought. The notion that Rooney is the one that must be accommodated for despite the fact he was at the club well before van Persie or Kagawa should be remembered—as should the fact that he is a world-class player.
And world-class players know how to adjust with new players in their side, even if those players encroach on their "playing style" or "space" within a team.
The attacking trio at Old Trafford are all world-class and can play at any position that the manager asks them to—that's just what it means to be a professional.
Thus against Tottenham, to see Rooney out on the left at times wasn't a great surprise, nor was it any shock to see him succeed on the left flank. I have full confidence that Kagawa and RVP would also both succeed on the left flank also, should they be played there.
The Japanese international and Dutch international are seemingly "must-include" players for United this season, particularly in big games, and thus for Rooney to fit into the lineup as well, the best place for the England international could well be out on the left wing.
He has the pace and skill to terrorize defenses, and obviously has the finishing ability in attack to provide the extra dimension of attack that is lacking from the Red Devils at times.
Can Rooney succeed out on the left wing this season?
But more importantly, he is a world-class player and can adjust to whatever role or position is needed for the team—up front, in behind or out on the left.
It will be interesting to see how the Rooney, Kagawa, Van Persie attacking trio plays itself out over the next few weeks—particularly given the talent they must face in the English Premier League.
The Red Devils play Newcastle away, Chelsea at Stamford Bridge and Arsenal at Old Trafford all in the next five weeks. We'll get a great chance to see just where this team is at throughout that time.
What did you make of the loss vs. Tottenham Hotspur?
Comment below or hit me up on Twitter: Follow @dantalintyre
This article is
What is the duplicate article?
Why is this article offensive?
Where is this article plagiarized from?
Why is this article poorly edited?

Manchester United: Like this team?